The Worst Week Yet:

January 15-21, 2023
Jim Goad
2,201 words
Iranian Refugee Taunts Ethnic Germans: "Demographically, You're Definitely Going Away"
As the Chinese proverb goes, "Do someone a favor, and they'll never forgive you."
When he was but a wee beardless lad of only ten, the Iranian-born Behzad Karim Khani and his family successfully applied for refugee status and left Iran for Germany. He grew up to resemble the Happy Merchant, if someone had dipped him in urine. Today, the swarthy ingrate is showing his gratitude for the German public providing his family with a safe haven by penning an essay for the Berliner Zeitung, one of Germany's biggest newspapers, celebrating the genetic annihilation of ethnic Germans, whom he disparages with the slang term "bio-Deutsch."
You may have heard of mass rapes in the German city of Cologne on New Year's Eve in 2015. The overwhelming majority of reported assaults involved immigrants raping indigenous German women. But of an estimated 1,200 perpetrators, only a handful were successfully prosecuted.
A few weeks ago, there were "attacks on police and emergency services during the New Year's Eve celebrations in ethnically diverse urban areas across Germany."
Because some of the German public groused about the migrants getting uppity again, Khani decided to pen an essay blaming institutional racism against migrants for the simple fact that Germans dared to complain:
You know, strange things happen when you start two World Wars and lose both. When you fight to the last bullet for the craziest idea in history. . . . Strange things also happen when you gas, shoot, or exile almost all of your intelligentsia . . . one of my Israeli friends once said, jokingly and not entirely without glee: "The Arabs are the Jews' revenge on the Germans."
The Jews may not have thought out this revenge scheme entirely, since Muslims in Germany reportedly hate Jews twice as much as indigenous Germans do. Jews in Germany who claim to have been attacked for their overt Jewy-ness describe their attackers as either Middle Eastern or "far-Left" in appearance about three times more often than they describe them as "far-Right."
Ah, well, I guess that's the Jews' problem. I have my own problems, as do the Germans. Khani continues:
Let's start with the simple statement that we — migrants, foreigners, people with . . . call us what you like — are not going to leave that easily. And neither do you, dear organic Germans. Though, demographically, you're definitely going away. They're dying out. . . . Perhaps we should realize that if you start a World War for the idea of racial purity, you might find yourself forced to become an immigration country after its defeat. . . . What is certain: we are here. Not only for your pension funds, but because we ensure that the Aryan nightmare never becomes a reality in this country. For the fact that this reality is so far away that even the Nazis apparently gave it up, just as we all gave up the idea of this social-democratic comprehensive school and middle-class coexistence. Without extreme violence, eclipsing that of Hitler's Germany, that nightmare will not come true. This tooth has finally been extracted.
Racial purity? Does this vengeful, greasy dimwit realize that the Nazis declared Iranians to be honorary Aryans?
Khani's essay was written in a climate of increasingly open anti-German sentiment in Germany. Germany's Green Party recently rolled out a plan to ban "organic Germans" from a third of available jobs. The country's anti-discrimination minister Ferda Ataman, who is Turkish by blood, referred to ethnic Germans as "potatoes" in 2022.
Have the Second World War and 78 ensuing years of programmed ethnic demoralization finally extinguished the German spirit? Have they, as Khani alleged, been forever defanged? Or do the Germans still have some fight left in them?
Dumpy Whore Tennessee Cop Makes Herself a Sperm Spittoon for Male Officers
As a man who has endured extended phases of crippling loneliness and soul-flattening heartache, I still can't understand why anyone would want to fuck Maegan Hall. She has all the sexual appeal of a discarded turnip.
Regardless, the uncomely trollop has recently brought shame and scandal to the Nashville suburb of La Vergne, Tennessee for what the Daily Mail describes as "steamy sexcapades with six male officers." In a city that is a quarter black, a quarter Hispanic, and nearly half-white, Hall willingly engaged in carnal relations with male policemen of all three flavors. Along with five other cops, she was recently fired from the department for licentious behavior that La Vergne's mayor has described as "unacceptable."
Allegations erupted last Tuesday of booty calls, dick pics, oral sex in the police department's gym, and of Hall blind-drunk and topless in a hot tub as a male officer poured vodka down her throat.
The official police report about Hall's misadventures is startlingly graphic, considering it's, you know, a police report:
[Officer Patrick] Magliocco told Patton that he was aware of Hall and Sgt. Powell. Magliocco said that Hall had told him about Powell's "big black dick." Magliocco said he was aware that Hall had given Sgt. Powell a blowjob while on duty at the substation. Magliocco also said he was aware that Hall and Larry Holladay had kissed while at a shift party to watch a NFL football game at Holladay's house. Magliocco admitted to Patton that in the Spring of 2022, he and his wife had decided on having an open marriage and that Hall had asked him about "doing things" between he, her, and his wife. Magliocco told Patton that at one party, Hall and Magliocco's wife started kissing and Hall's husband came in the room and seemed upset. . . . Hall confirmed that she went to the top of the hill with Magliocco and gave him a blowjob. Hall confirmed that she gave a blowjob to Sgt. Powell while on‐duty at the Police Substation. Hall confirmed she had sex with Lugo at a hotel in Murfreesboro, 2-3 months ago, after meeting him at the Go Cart USA center.
Until now, I hadn't realized that the word "blowjob" was officially accepted law-enforcement terminology.
There were also allegations that Hall had attempted suicide and also once fired an empty gun at her head "so she could hear what it sounded like." Hall is only 26 years old, was hired as a cop in 2020, and received yearly raises besides repeatedly crashing her patrol car.
She had claimed to some of her suitors that she was in an open marriage, which apparently came as news to her hubby, a sheriff's deputy named Jedidiah. But even after all the recent revelations, Jedidiah is reportedly vowing to patch things up with his shameless whore of a wife.
Although there's almost nothing to respect about Maegan Hall — including the unforgivable way she spells the uncomplicated name "Megan" — I respect her husband even less.
"TransCanine" Woman: "Dog Cum in Coffee Is the Best Creamer"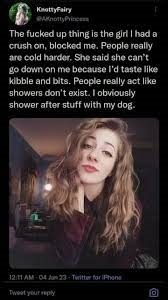 In an even more sickening case of an unhinged and unpunished female libido, a redhead whose real name is apparently Rose Tancready, but who calls herself @AKnottyPrincess to her nearly 200,000 Twitter followers, recently made waves — waves of nausea — by claiming to be the world's first "TransCanine" woman. She was recently banned from the do-it-yourself porn site OnlyFans after allegedly posting a video of herself having sex with her dog.
In case you were unaware, Twitter — which, even in the Musk era, is prone to banning you for something as inoffensive as saying you don't approve of illegal immigration — allows oceans of disgustingly graphic hardcore porn videos to be posted without even blinking. Although Ms. TransCanine didn't post any videos or images more explicit than photos of her tiny boobs, her Twitter feed is littered with videos of women tongue-kissing canines and clips of her pleasuring herself with a giant dildo while wearing panties and boasting that she doesn't care if her visiting cousins hear her squeals of ecstasy.
The following are all unexpurgated excerpts of what she's written recently on Twitter:
People literally out here trophy hunting animals , simply to brag that they killed that particular animal. That's ok tho. You have literally made multiple animals go extinct by hunting them. You bring animals deaths , I bring them orgasms. I'm a better alternative. So stfu
Human men can kiss me feet. I am TransCanine. I can't have sex with anything that isn't Canine. It's actually bestiality for me to have sex with human men.
When men say they don't eat Pussy . . . haha I don't need you , I have 4 dogs
I'm wifey goals. And now that other girls have been messaging me and telling me they are also like me. I am going to make it normal for girls to have sex with dogs. I think this is the best way to stop women from cheating on their men , or unwanted teen pregnancy. I will save us
I think I'll buy a wolf pup with my first Onlyfans check. They are huge and I'm a size queen.
Dog cum in coffee is the best creamer, and it helps you have clear skin. It's sad that the government has us taking chemicals , when the best remedies are natural. I'm Happy those pill companies got sued. Forcing unnatural chemicals in us.
I realize it's still January, but I don't feel as if I'm being needlessly hasty in declaring we've already found a winner for Most Repulsive Woman of 2023.
Black Teen Shoots, Kills White Teen — but Apologizes!
Although blacks killing whites is a daily occurrence in America, you don't often see them apologizing for it.
A couple of Saturday nights ago in the western Pennsylvania town of Sharon, a dreadlocked 19-year-old Negro male named Curtis Coleman III started randomly firing at a group of young bicyclists. One of the bullets found its way to a 17-year-old white male named Gavin D. Beighley, killing him.
A memorial page for Beighley says he lost his life due to "gun violence" rather than "black violence."
Police say that Coleman's younger brother snitched on him, leading to the killer's arrest "at his fast food restaurant job." After his arrest, Coleman admitted to the murder and wrote apology letters to Beighley's family and friends. He has been arraigned on charges of criminal homicide.
Now, we all realize that if Coleman had been white and Beighley had been black, Coleman never would have shot him in the first place. Okay, I guess what I meant to say is that if the races had been reversed, this would have been a national "man bites dog" story. But since we clearly won't have a fair and honest media until all the dust has settled and all the debts have been paid, I find it absolutely refreshing that this aspiring young lifelong criminal had the decency to apologize for his actions.
It won't change anything, though. Apologies never do. Despite the postmortem apology, the deceased will remain stubbornly deceased.
Norwegian Government Funds Million-Dollar Study About the Problematic Whiteness of White Paint
In Easy Rider, Jack Nicholson famously lamented the state of America: "This used to be a hell of a good country."
I'm sure the same can be said of Norway. I was there in 1985 and found it to be absolutely wonderful. But that was 1985.
Assuming this is not some Sokal affair-level hoax, Norwegian taxpayers are being bled to the tune of 12 million kroner (about $1.2 million in US dollars) to fund a study called "How Norway Made the World Whiter (NorWhite)."
Apparently in 1916, two Norwegian chemists invented "a chemical method that separated the iron and titanium in the mineral ilmenite to produce pure, non-toxic white paint." And apparently spreading whiteness of any kind demands vigorous atonement. According to the new study, which was coauthored by Ingrid Halland, an extremely white-looking Norwegian woman:
Whiteness is one of today's key societal and political concerns. Within and beyond academia worldwide, actions of revolt and regret seek to cope with our racial past. In the pivotal works in whiteness studies within art and architecture history, whiteness is understood as cultural and visual structures of privilege. . . . Two core premises underpin the project: Whiteness is not only a cultural and societal condition tied to skin colour, privileges, and systematic exclusion, but materialise everywhere around us. Second, one cannot understand this materialisation without understanding the societal, technological and aesthetic conditions of the colour itself.
I did not understand any of that. Not even three words of it.
Interestingly, the project is also being partially funded by Titania AS and Kronos Titan, two companies that facilitated the mass production of white paint in the 1920s and the resultant sinful "whitewashing" of paintable surfaces worldwide. Is this some kind of penance by the paint companies for helping to spread whiteness around the world?
If this "research project" is designed to be anything besides a very tacky public expiation of imagined Norwegian racial guilt, can anyone explain to me what its purpose is? Why spend a million dollars to somehow link white paint to white power? Was it simply a cynical money-making scheme by scam artists who know how to push all the white buttons?
I wanna see ya paint it. Paint it white. White as day. White as snow. I wanna see the night blotted out from the sky.

*  *  *
Counter-Currents has extended special privileges to those who donate $120 or more per year.
First, donor comments will appear immediately instead of waiting in a moderation queue. (People who abuse this privilege will lose it.)
Second, donors will have immediate access to all Counter-Currents posts. Non-donors will find that one post a day, five posts a week will be behind a "Paywall" and will be available to the general public after 30 days.
Third, Paywall members have the ability to edit their comments. 
Fourth, Paywall members can "commission" a yearly article from Counter-Currents. Just send a question that you'd like to have discussed to

[email protected]

. (Obviously, the topics must be suitable to Counter-Currents and its broader project, as well as the interests and expertise of our writers.)
To get full access to all content behind the paywall, sign up here:
Paywall Gift Subscriptions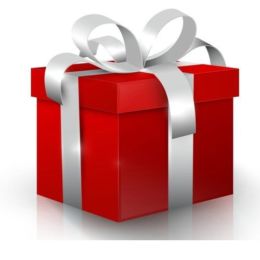 If you are already behind the paywall and want to share the benefits, Counter-Currents also offers paywall gift subscriptions. We need just five things from you:
your payment
the recipient's name
the recipient's email address
your name
your email address
To register, just fill out this form and we will walk you through the payment and registration process. There are a number of different payment options.