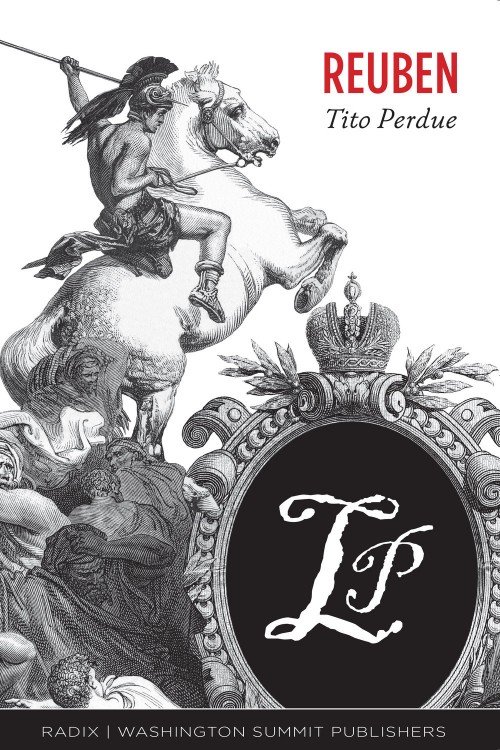 Reuben
Tito Perdue
Whitefish, Mt.: Radix, 2014
296 pages
First Edition, Autographed
Note: Counter-Currents has a few copies of the first edition of Reuben. Most of the books are slightly "hurt," i.e. dented corners from shipping. But to make up for that, all of them are signed by the author.
About Reuben:
Under the tutelage of Lee Pefley, Reuben learned what must be done. And when the time came, he left Alabama and took up the task of conquering the world, or at least the Occidental share of it. This novel is a chronicling of Reuben's necessary, great, and terrible deeds.
"Tito Perdue's latest novel, Reuben, continues in the tradition of his novel The Node. Reuben is a satirical meditation on the fallen state of white America and how a white vanguard might be organized to turn the world around. Reuben is highly entertaining and thought-provoking, with biting humor and arresting turns of phrase on every page."
—Greg Johnson
"The unforgettable character of Lee Pefley embodies a paradox that some of those who seem by today s standards to be the most acerbic, the most misanthropic, the most irrelevant and out of touch may secretly be the greatest idealists of all."
—Derek Turner, The Quarterly Review
About the Author
Tito Perdue was born in 1938 in Chile to American parents with deep Southern roots. His family moved back to the United States at the outbreak of the Second World War, settling in Alabama. He took degrees in English literature, European history, and library science. He worked in the Midwest and Northeast as a bookkeeper, a library administrator, and an insurance underwriter. In 1982, he took an early retirement and returned to the South to write full-time, which he has done ever since. Perdue's first novel, Lee, was published in 1991, to widely positive reviews. His next two novels, The New Austerities and Opportunities in Alabama Agriculture, appeared in 1994; The Sweet-Scented Manuscript appeared in 2004, followed by Fields of Asphodel in 2007;  The Node came out in 2011 from Nine-Banded Books; and Morning Crafts came out in 2012 from Arktos.