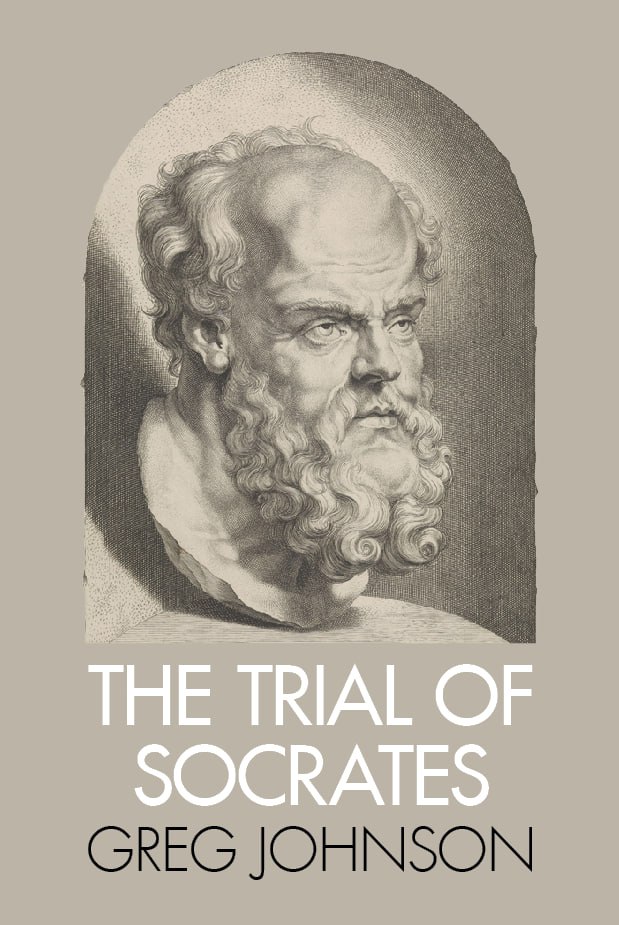 The Trial of Socrates
Greg Johnson
San Francisco: Counter-Currents, 2023
238 pages
About The Trial of Socrates
The trial of Socrates is a pivotal event in world history. Before Socrates, philosophy had put society on trial. Now society was striking back.
The Trial of Socrates first presents the case for the prosecution based on Aristophanes' comedy Clouds, which mocks Socrates as a preacher of atheism and moral corruption. The case for the defense is drawn from five of Plato's dialogues, which explore the permanent tensions between intellectual freedom and social order, as well as how they might be harmonized.
Praise forThe Trial of Socrates
"Socrates was the pivotal figure in the emergence of Western philosophy. Greg Johnson's The Trial of Socrates is the clearest and most incisive introduction to the life and teachings Socrates that I have ever read."
—Collin Cleary, Ph.D., author of Wagner's Ring & the Germanic Tradition
"In The Trial of Socrates, Greg Johnson guides us through the difficult and ambiguous evidence concerning one of the most crucial turning points in the West's cultural history: the career and eventual execution of the Athenian philosopher Socrates. In doing so, he brings the reader close to the heart of our tradition and what it means to be an heir of that tradition today."
—F. Roger Devlin, Ph.D., author of Sexual Utopia in Power
"Plato's Apology of Socrates is the court report of the trial and death sentence of history's most famous philosopher. Greg Johnson's The Trial of Socrates is an important companion to anyone approaching the text for the first time, providing the historical context to bring this key text back to life."
—Mark Gullick, Ph.D., author of Vanikin in the Underworld
 "Nietzsche's hope to 'reestablish the broken link with the Greeks' finds very few adherents in academia today. Teachers with the enthusiasm, talent, learning, and seriousness for such a task have been driven out of our colleges and universities. Where does one turn for guidance? With the publication of The Trial of Socrates—a lively, engaging, and accessible introduction to the fundamental moral-political and philosophic problems embodied in the life of Socrates—Greg Johnson steps into the void and helps fulfill a vital need in our destitute time."
—Anonymous Heidegger Scholar
Contents
Preface — iii
Introduction — 1
The Background to Aristophanes' Clouds — 28
Aristophanes' Clouds — 56
Plato's Theages — 96
Plato's Euthyphro — 121
Plato's Apology of Socrates — 143
Plato's Crito — 170
Plato's Phaedo — 194
Index — 219
About the Author — 230
About the Author
Greg Johnson, Ph.D., is Editor-in-Chief of Counter-Currents Publishing Ltd. and the Counter-Currents webzine (https://counter-currents.com/). He is the author of 19 books, including The White Nationalist Manifesto (2018), From Plato to Postmodernism (2019), Graduate School with Heidegger (2020), and White Identity Politics (2020).