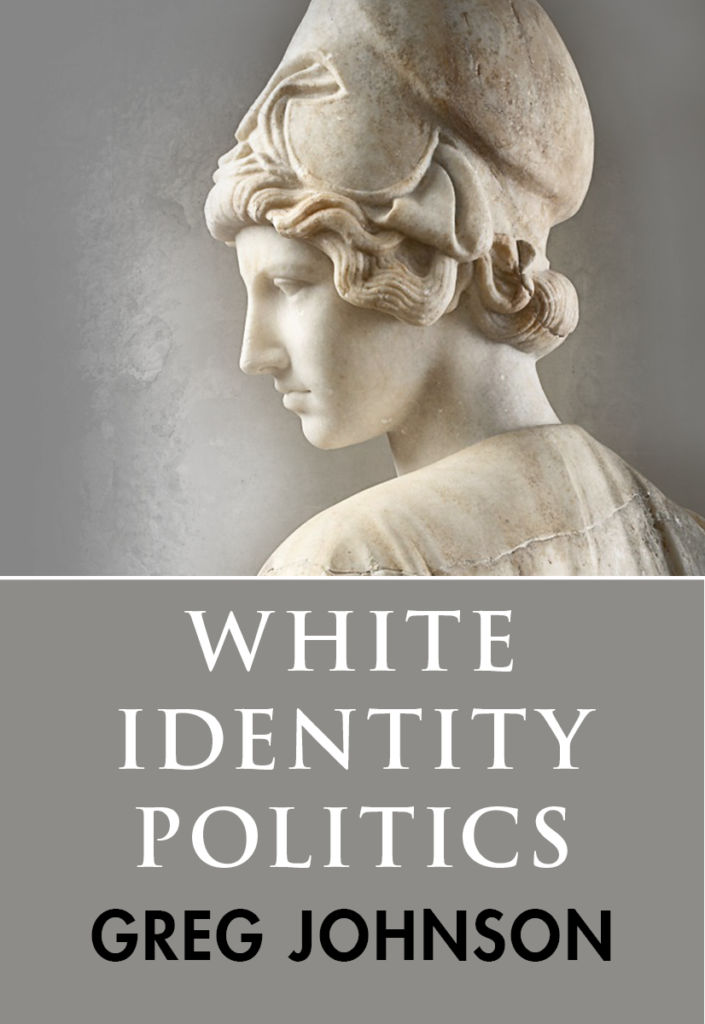 White Identity Politics
Greg Johnson
San Francisco: Counter-Currents, 2020
150 pages
About White Identity Politics:
White identity politics is the wave of the future.
Since 2015, Western elites have been in full panic at the rising tide of nationalism, populism, and white identity politics. To beat back this tide, the parties of the center-Right and center-Left have formed a united front, along with the media, academia, and big business. They have resorted to campaigns of vilification, censorship, and outright electoral fraud.
In White Identity Politics, Greg Johnson cuts through the lies and hysteria. He argues that white identity politics is inevitable as a consequence of multiculturalism, necessary if whites are to survive, and completely moral. He explains the three foundational concepts of white identity politics: kinship, culture, and love of one's own. He debunks the idea of "white privilege" and the accusation that populism is "anti-democratic." Finally, he explores how "uppity white folks" can build a vital political movement and outlines a path to power.
White Identity Politics is the sequel to Greg Johnson's pathbreaking 2018 book The White Nationalist Manifesto and is written in the same clear and compelling style. White Identity Politics is required reading to understand the fundamental ideas and deep social trends behind Trump, Brexit, Orbán, and Salvini—and why uppity white folks are not done yet.
Like the Manifesto, White Identity Politics will also be released in a limited hardcover edition for patrons of the project.
The full table of contents and information on how to order are below.
Praise for White Identity Politics:
"Greg Johnson's White Identity Politics offers a timely answer to the worldwide push to promote identity politics of every description except white identity politics, which, on the contrary, is suppressed in an increasingly coercive manner. Johnson argues that white identity politics is inevitable, necessary, and moral, and he provides white identitarians with the philosophical foundations for a counterattack."
—Kerry Bolton, author of The Decline and Fall of Civilisations
"In White Identity Politics, political philosopher Greg Johnson excoriates the misdirected policies of the Trump era and American 'conservativism,' pointing a way forward for identitarians and populists who want to reconstitute a coherent American nationalism. Johnson argues that American populism must embrace the welfare state, economic protectionism, social conservatism, and the demographic renewal and cultural dominance of America's white majority."
—Margot Metroland
"The late Gordon Baum once admonished Greg Johnson to take racial nationalism and 'get it down where the chickens can get at it,' i.e., communicate to the widest possible audience. In White Identity Politics, he does just that, explaining highbrow ideas in a clear, often conversational style. Johnson covers white identity politics from the Alpha to the Omega: from the basic morality and normalness of racial communitarianism to the necessity of embracing environmentalism and social justice, despite the  superficial appearance that such causes belong to the 'Left.' White Identity Politics belongs in the library of every intelligent white advocate or serious student of the subject."
—Sam Dickson
"White Americans are arguably the most successful group in human history, attracting enormous numbers of people of other races wishing to enjoy the benefits of a civilization they are unable to create for themselves. Soon Americans of European descent will be out-voted on all matters of importance, an arrangement guaranteed to be devastating to our interests and ideals. What will our quality of life be as a minority in a country fractured by wildly different races, religions, languages, cultures, and mindsets? To avert such a future, Greg Johnson's White Identity Politics merits your emergency attention."
—Tito Perdue, author of Materials for All Future Historians
"It is hard to imagine a more timely book than Greg Johnson's White Identity Politics. Trump has been pushed out of the presidency. Big Tech is striving for complete ideological control. Black Lives Matter and Antifa are running amok in our neighborhoods. Anti-white propaganda surrounds us everywhere. Whites have their backs against the wall. But don't lose hope. This easy to read, very well-argued book offers a solution. It explains why it is both necessary and ethical for whites to take their own racial side. This is a political primer on defending the interests, heritage, and identity of whites in a measured, fair, and open-minded manner."
—Ricardo Duchesne, author of The Uniqueness of Western Civilization
"White Identity Politics, like its predecessor The White Nationalist Manifesto, brings lucidity to the debate surrounding European political and cultural advocacy—at once the most important movement of our times and the target of massive and deliberately hostile obfuscation by our enemies. Even the reader who cannot accept all of Dr. Johnson's conclusions will finish the book with a clearer understanding of what he does believe and why."
—F. Roger Devlin, author of Sexual Utopia in Power
Contents
Introduction — 1
1. WHITE IDENTITY POLITICS: INEVITABLE,
NECESSARY, MORAL
What Is White Identity Politics? — 7
Basic Distinctions — 8
White Identity Politics Is Inevitable — 12
White Identity Politics Is Necessary — 13
White Identity Politics Is Moral — 16
Love of One's Own — 19
Self-Actualization — 22
Universalizability — 26
Fairness — 28
Consequentialism — 30
Will We Win? — 31
2. THREE PILLARS OF WHITE IDENTITY POLITICS:
KINSHIP, CULTURE, LOVE OF ONE'S OWN
"This Is Who We Are" — 33
Kinship — 36
Culture — 40
Love of One's Own — 46
3. THE VERY IDEA OF WHITE PRIVILEGE — 55
4. IN DEFENSE OF POPULISM
The Specter of Populism — 69
Political Ideology or Political Style? — 70
Principles of Populism — 71
Two Senses of "the People" — 71
Ethnic & Civic Peoplehood — 72
Populism & Elitism — 73
Populism & Classical Republicanism — 74
Populism & Representation — 76
Populism & Democracy — 79
Populism & White Identity Politics — 80
Justifying Popular Sovereignty — 81
5. NATIONAL POPULISM IS HERE TO STAY
The Revolt Against Globalism — 83
Eatwell & Goodwin's National Populism — 84
Distrust — 86
Destruction — 89
Deprivation — 92
Dealignment — 93
Riding the Wave — 96
6. UPPITY WHITE FOLKS & HOW TO REACH THEM
After The White Nationalist Manifesto — 102
A Modest Proposal — 104
Eatwell & Goodwin's National Populism — 107
Ashley Jardina's White Identity Politics — 113
From Identity to Identity Politics — 117
7. THE IDENTITARIAN MATRIX
Bring Back the Iron Curtain — 122
The Anti-Globalist Carnival — 123
Identitarianism & the Spirit of Music — 126
Creating Alternative Spaces — 129
The Limits of Play — 132
In Their Hearts, They Know We're Right — 134
8. THE UPPITY WHITE FOLKS MANIFESTO — 137
Make Multiculturalism Work for You — 138
Ninety-Percent White Nationalism — 142
Medicare for All Plus Slurs — 145
Index — 151
About the Author — 156