Here are the Young Men:

Remembering Ian Curtis

(July 15, 1956–May 18, 1980)

Mark Gullick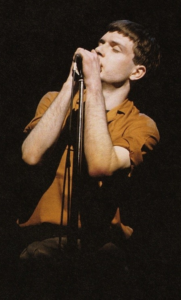 1,745 words
Here are the young men.
But where have they been?
— Ian Curtis, "Decades"
Everything resembles the truth, everything can happen to a man.
— Nikolai Gogol, Dead Souls
It is said that, although not many people bought the first Velvet Underground album, everyone who did formed a band. The same is often said about Sex Pistols gigs, one of which was certainly responsible for English post-punk band Joy Division. The band members met in their hometown of Manchester at a Pistols gig in 1976 and went on to record two studio albums and several singles. Their critical acclaim lasted from 1979 and the album Unknown Pleasures, until May of 1980, when singer Ian Curtis watched Werner Herzog's bizarre film Stroszek alone in his semi-detached house in Manchester, then hung himself in his kitchen. He died on the eve of what would have been the band's inaugural tour of the USA. He left a wife and a daughter. Shortly after Curtis' death, the band's album Closer was released.
Joy Division was briefly called Warsaw, and almost went with the suggestion made by Pete Shelley of another Mancunian band called Buzzcocks, which would have made their name Stiff Kittens. However, Joy Division took their name from House of Dolls, a pulp novel about concentration camps, the "joy division" being Jewish women used for the sexual gratification of camp guards. This was part of a simmering controversy concerning the band, who were often linked with Nazi imagery. Just look at the cover of their EP, An Ideal for Living. The band's short life was an odyssey of mental unbalance for singer Ian Curtis.
Curtis' insanity is all the more disturbing for its ordinariness. His was a suburban madness of angst and prescription drugs. He was not Antonin Artaud, Syd Barrett, or Brian Wilson, out there and pushing the limits of illegal drugs. The suburbs of great cities are interesting areas. This I know, having grown up in the margins of London. There is a special madness there. "I'm sorry that I hit you but my string snapped," sings Siouxsie Sioux on "Suburban Relapse." And the lure of the city, the fierce glamour it puts on the suburbans, creates a dynamic of its own. Thus Curtis on "Interzone": "I walked to the city limits / Attracted by some force within it."
After Curtis' death, the remaining members of Joy Division added a keyboard player, the drummer's wife, and became New Order, the name doing nothing to disassociate the band from a trace element of Nazism. The band's game-changing hit "Blue Monday" set a musical trend for pop/dance music. Their first album, Movement, obviously contains some works in production intended for Joy Division, and the band echoes there, the only note missing being the sad, deep croon of its dead singer.
I once spent an enjoyable evening with New Order and their entourage after they had played at the Reading Festival in the 1980s. I had already been introduced to bassist Peter Hook, years before, by Ian Curtis. I felt sure Hooky (as he is known) would not remember and so I said nothing. I talked mostly with Barnie, Bernard Sumner, the guitarist, and there seemed to be a member of the entourage of roadies and helpers who was employed solely to keep joints rolled at an industrial pace. I quizzed Barnie. "He is employed," said the guitarist who, in Joy Division, called himself Bernard Albrecht, "just to roll."
I first heard Joy Division at a party when I was 18 and it stopped me in my tracks. The track "Digital" was on a sampler EP from Factory Records, Joy Division's record label. The robotic bassline and thuggish disco beat were compelling, as was the combative, dark-tinted vocal. I bought Joy Division's debut album, Unknown Pleasures, as soon as it came out.
The same week, my then-girlfriend and I went to see the band at the University of London. Echo and the Bunnymen supported them and had to repeat a song as an encore as they had only written six and they had played them all. Essential Logic played too, as did The Teardrop Explodes.
These were heady times. Robert Smith of The Cure chatted to me outside — my band all knew The Cure — and Smith introduced me to Matt Johnson of The The. I needed the toilet and so my girlfriend and I went into the Student Union bar using NUS (National Union of Students) cards, hers real, mine faked.
Exiting the toilet, I saw my girlfriend perched in the bar, where two other people were also sitting. I walked in and sat down, nodding to the other couple, a man and a woman. The woman I now know was Annik Honoré, Ian Curtis' Belgian journalist girlfriend, and not his wife Deborah, and the man was Curtis himself. There is a very good movie called Control, and, if you haven't seen it and like the band, do watch it.
We talked for about half an hour, the girls pairing off and talking easily. Curtis and I talked mostly about music, what was happening in Manchester, what was happening in London. He had a great love of what we English call "Krautrock," bands like Can and Faust, as well as The Velvets, Bowie, and The Stooges. Sadly, I and my girl were turfed out of the bar by someone from the college, and we said our goodbyes to Ian and Annik. A few hours later, I would see him again.
The gig changed my life, musically speaking. They were probably the best band I have ever seen, and my first gig was Zeppelin in 1975. Joy Division is not really a repeatable band. They sported the classic rock four-piece line-up of voice, guitar, bass, and drums, but what they did with the formula is unique. The song "Atrocity Exhibition," with its tribal drum roll and jagged guitar and bass, with Curtis moaning "this is the way, step inside" changed what I thought rock songs could be.
Two weeks later I saw Joy Division again, one of six times I saw the band. Making my way towards the cavernous old dance floor of London's Lyceum Theatre, I heard someone call my name. That soft Mancunian accent again. I looked sideways and it was Ian Curtis, sitting with Peter Hook, to whom Curtis introduced me. We chatted again and I told them both I was looking forward to the gig.
A few months later he was dead. I have played Joy Division's music regularly since then, and it doesn't take long to hear the taint of death all over the songs. Joy Division songs tend to have sturdy central bass lines and drum patterns, with the guitar often as an ornament rather than a driving force. Curtis's voice, often desperate and on the cusp of a desperate anger, is singing, to quote the title of a Joy Division song finally recorded by New Order, in a lonely place.
Like fellow Mancunian bands The Smiths, The Fall, and The Stone Roses, Joy Division attracted and kept either reverent worshippers or those who bought into neither the music nor the mythos. But whereas The Smiths and The Stone Roses were consummate songwriters, Joy Division — like The Fall and yet unimaginably distant — created soundscapes as a canvas for Curtis's monochrome expressionism. Joy Division was a monochrome band, from their graphics to their stage clothes, dressing as they did when playing live as office workers. Curtis had worked in a benefits — or welfare — office.
Live performance was Joy Division's milieu, and finding a representative song is not easy. The sinister tumbril-dance of "Atrocity Exhibition," the punk-krautrock of "Transmission," the majesty and loss of "New Dawn Fades." But for me, the song "Dead Souls" drew me to the band when played live.
Named for an unfinished novel by 19th-century Russian author Nikolai Gogol (Curtis was a well-read, literate man), "Dead Souls" opens with a comfortable, almost melodic duet between Sumner's Shergold Masquerader guitar and Hook's Rickenbacker 4001 (I play one myself). The music builds cavernously into a roaring chord descent, then back to the calm waters of the opening before Curtis's desperate plea, "someone take these dreams away. . ."
By the time Curtis is screaming "They keep calling me!" Sumner and Hook are fighting out a brutal dogfight over a tribal drumbeat. The song just ends. It has nowhere else to go. "Dead Souls" was one of those Joy Division pieces which seemed to possess Curtis. He was famously epileptic — hence the need for medication that may have cost him his life — and both his signature deranged dervish dancing style and the song "She's Lost Control" are comments on his condition. I saw him collapse on stage more than once. Epilepsy. The king's sickness. Epileptics have often been viewed in history as though they had a type of second sight, like Prince Myshkin in Dostoevsky's The Idiot.
Rock music, on its wilder shores, throws up a lot of anomalies. Ian Curtis was a rock singer. Then again, so is/was Alice Cooper, Joey Ramone, Paul Rodgers, Roger Daltrey. Joy Division, and Curtis's petit guignol psychological melodramas, remain one of the bands that show the edges of the territory which a classic four-piece rock band can visit, and from which they can report back.
Joy Division's albums, curiously, had a huge impact on American trash and grunge music, being cited by many of its stars. Kurt Cobain was a fan. You can hear the domination of the monolithic central bass in U2, the Gothic element in Siouxsie Sioux, Bauhaus, and The Cure, the introspection of some strands of rock music since Curtis's confessionals.
So, goodbye then, Ian Curtis. Rest in peace. You obviously couldn't find that here. One of your songs was even entitled "From Safety to Where?" You certainly had an effect on me, and I recall fondly our too-brief conversations.
Procession moves on.
The shouting is over.
— Ian Curtis, "The Eternal"
*  *  *
Counter-Currents has extended special privileges to those who donate $120 or more per year.
First, donor comments will appear immediately instead of waiting in a moderation queue. (People who abuse this privilege will lose it.)
Second, donors will have immediate access to all Counter-Currents posts. Non-donors will find that one post a day, five posts a week will be behind a "paywall" and will be available to the general public after 30 days.
To get full access to all content behind the paywall, sign up here: