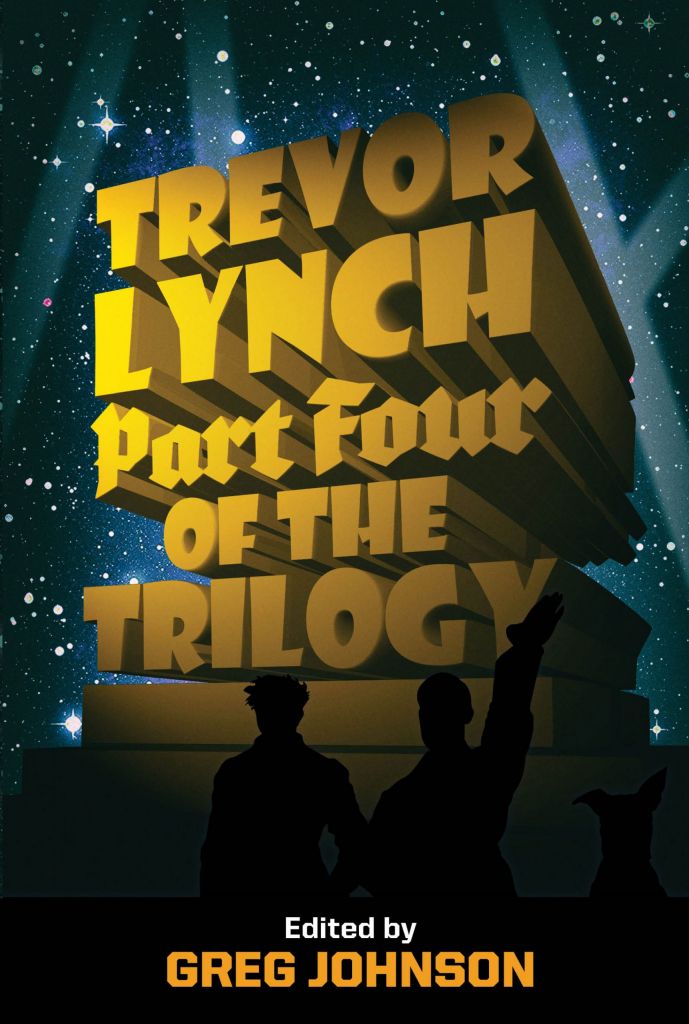 Trevor Lynch: Part Four of the Trilogy
Trevor Lynch
San Francisco: Counter-Currents, 2020
228 pages
Edited by Greg Johnson
About Trevor Lynch: Part Four of the Trilogy
Since 2001, Trevor Lynch has developed a fervent following with his insightful and sometimes vicious dissections of philosophical, political, racial, and sexual themes in a wide variety of films and television shows. Trevor Lynch: Part Four of the Trilogy is his fourth anthology, covering thirty-three films, including two documentaries, plus two TV shows.
Lynch includes extensive essays on David Lynch's Blue Velvet and Lost Highway, as well as a shorter treatment of The Straight Story. He also offers detailed commentaries on Stanley Kubrick's Eyes Wide Shut, Akira Kurosawa's High and Low, Sidney Lumet's Network, Luchino Visconti's The Leopard, David Fincher's Fight Club, and John Huston's Wise Blood.
Other outstanding reviews interpret Martin Scorsese's The Aviator, Blake Edwards' Breakfast at Tiffany's, John Schlesinger's Far from the Madding Crowd, Anthony Minghella's The Talented Mr. Ripley, and René Clément's Purple Noon.
Lynch gives special attention to a number of films that convey politically incorrect messages, often in spite of themselves, such as American Pimp, Cabaret, Look Who's Back, Once Upon a Time in Hollywood, Quiz Show, Richard Jewell, Starship Troopers, and Storytelling.
Finally, Lynch hilariously pans Gattaca, the finale of Game of Thrones, Joker, and Star Wars: The Rise of Skywalker.
Trevor Lynch: Part Four of the Trilogy further burnishes its author's status as a leading New Right cultural critic.
Praise for Trevor Lynch
"The Hollywood movie may be the greatest vehicle of deception ever invented, and the passive white viewer is its primary target. Yet White Nationalist philosopher and film critic Trevor Lynch demonstrates that truth is to be found even in this unlikeliest of places. If American audiences could learn the kind of critical appreciation Mr. Lynch demonstrates for them, their seductive enemies in Tinseltown wouldn't stand a chance."
—F. Roger Devlin, author of Sexual Utopia in Power
"Trevor Lynch reviews today's films from an artistically sensitive, culturally informed, but most of all unfailingly pro-white perspective. He doesn't just warn you away from the obviously bad, but explains how the poison works and where it comes from, and even finds racially uplifting stuff where you'd least expect it. Read it, and you'll never feel the need to pay good money to be seen weeping at another Holocaust movie again."
—James J. O'Meara, author of Mysticism After Modernism
About the Author
Trevor Lynch is a pen name of Greg Johnson, Editor-in-Chief of Counter-Currents Publishing Ltd. He is the author of Trevor Lynch's White Nationalist Guide to the Movies (Counter-Currents, 2012), Son of Trevor Lynch's White Nationalist Guide to the Movies (Counter-Currents, 2015), and Return of the Son of Trevor Lynch's CENSORED Guide to the Movies (Counter-Currents, 2019). He writes regular film reviews for The Unz Review, www.unz.com.