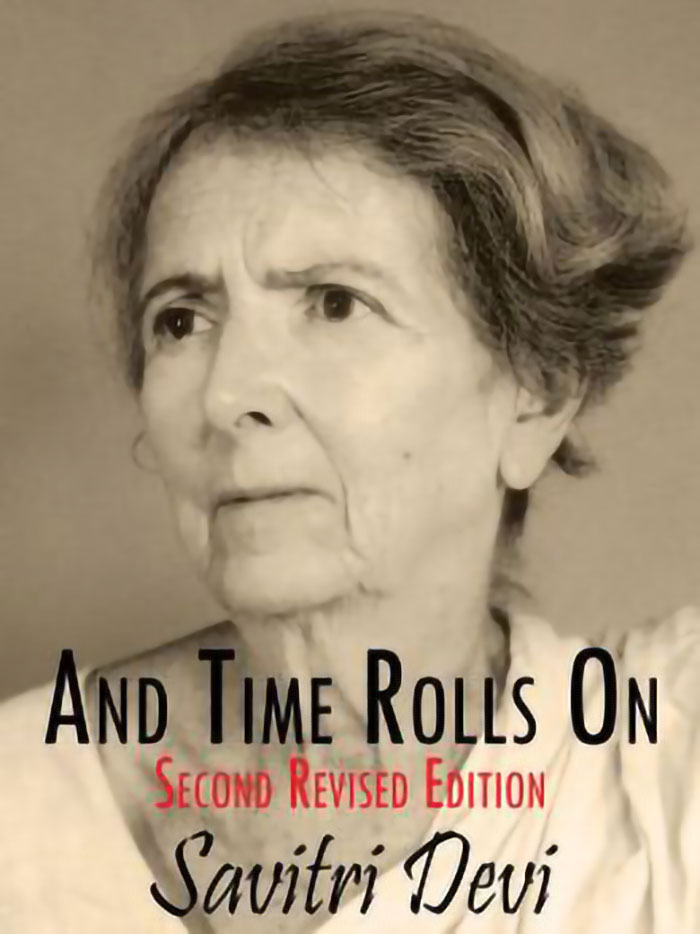 And Time Rolls On:
The Savitri Devi Interviews
Savitri Devi
San Francisco: Counter-Currents, 2012
224 pages
Edited by R. G. Fowler Second, Revised Edition
About And Time Rolls On:
"I embraced Hinduism because it was the only religion in the world that is compatible with National Socialism. And the dream of my life is to integrate Hitlerism into the old Aryan Tradition, to show that it is really a resurgence of the original Tradition. It's not Indian, not European, but Indo-European. It comes from back to those days when the Aryans were one people near the North Pole. The Hyperborean tradition." — Savitri Devi
Savitri Devi became known as the high priestess of "esoteric Hitlerism" for her unique synthesis of National Socialism, Hindu mythology, and the Indo-European cyclical view of history in her 1958 book The Lightning and the Sun. In 1978, Savitri Devi recorded ten hours of interviews on her life, her thought, and her experiences in the National Socialist movement both before and after World War II. These edited transcripts of those hard-to-find recordings are an ideal introduction to this brilliant and controversial thinker. This Second, Revised Edition corrects a few mistakes in the first edition and makes this important work available to new audiences.
Contents
Editor's Preface
1. Autobiography
2. Comrades
3. Religion
4. Life in the Kali Yuga
5. "1953"
Index
About the Authoress
Savitri Devi (1905–1982) is one of the most original and influential National Socialist thinkers of the post-World War II era. Born Maximine Julia Portaz in Lyons, France, she was of English, Greek, and Italian ancestry and described her nationality as "Indo-European." She earned Master's degrees in philosophy and chemistry and a Ph.D. in philosophy from the University of Lyons. Her books include A Warning to the Hindus (1939), L'Etang aux lotus (The Lotus Pond) (1940), A Son of God: The Life and Philosophy of Akhnaton, King of Egypt (1946), later republished as Son of the Sun (1956), Akhnaton: A Play (1948), Gold in the Furnace (1952), The Lightning and the Sun (1958), Pilgrimage (1958), Impeachment of Man (1959), Long-Whiskers and the Two-Legged Goddess (1965), Souvenirs et réflexions d'une Aryenne (Memories and Reflections of an Aryan Woman) (1976), and Forever and Ever: Devotional Poems (2012)