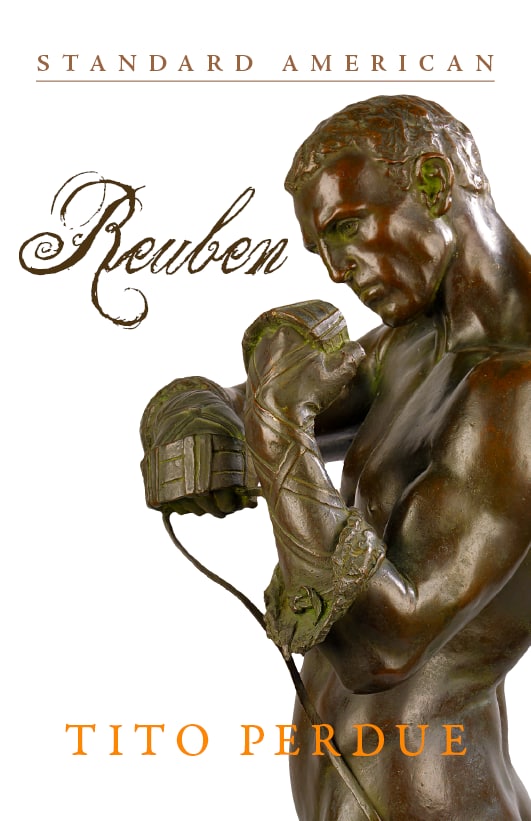 Reuben
Tito Perdue
Brent, Alabama: Standard American Publishing, 2022
170 pages
Second Edition
About Reuben
Under the tutelage of Lee Pefley, Reuben learned what must be done. And when the time came, he left Alabama and took up the task of conquering the world, or at least the Occidental share of it. This novel chronicles Reuben's necessary, great, and terrible deeds.
"Reuben is my favorite Tito Perdue novel. Reuben is a satirical meditation on the fallen state of white America and how a white vanguard might be organized to turn the world around. The story begins when a thug named Reuben chances upon a teacher, Tito Perdue's alter ego Lee Pefley, who fashions him into a cultured thug and a man of destiny. Reuben is a masterful piece of writing, moving effortlessly between mythic, epic, and satirical modes. It is also highly entertaining and thought-provoking, with biting humor and arresting turns of phrase on every page."
—Greg Johnson, author of The Year America Died
"The unforgettable character of Lee Pefley embodies a paradox that some of those who seem by today's standards to be the most acerbic, the most misanthropic, the most irrelevant and out of touch may secretly be the greatest idealists of all."
—Derek Turner, The Quarterly Review
About the Author
Tito Perdue is the author of twenty-three novels, including Lee (1991), The New Austerities (1994), Opportunities in Alabama Agriculture (1994), The Sweet-Scented Manuscript (2004), Fields of Asphodel (2007), The Node (2011), Morning Crafts (2013), the William's House quartet (2016), Cynosura (2017), Philip (2017), The Bent Pyramid (2018), Though We Be Dead, Yet Our Day Will Come (2018), The Philatelist (2018), The Smut Book (2018), The Gizmo (2019), Love Song of the Australopiths (2020), Materials for All Future Historians (2020), and Vade Mecum (2021). In 2015, he received the H. P. Lovecraft Prize for Literature.