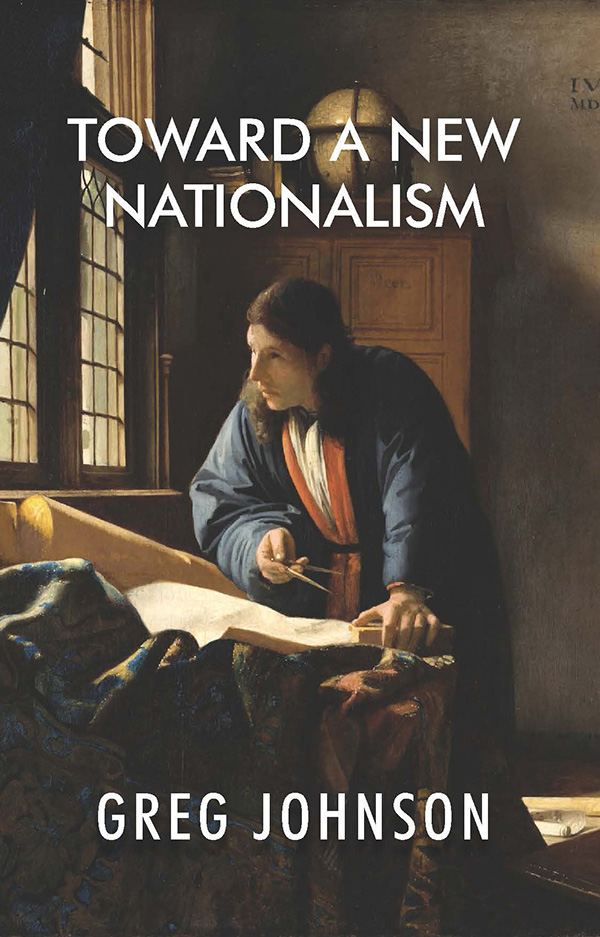 Toward a New Nationalism (Second Edition)
Greg Johnson
San Francisco: Counter-Currents, 2023
190 pages
About Toward a New Nationalism
Greg Johnson's Toward a New Nationalism is a companion volume to his The White Nationalist Manifesto. Toward a New Nationalism offers a White Nationalist analysis of race realism, white identity, the problems with conservatism and libertarianism, "hate," "white privilege," American ethnic identity and nationalism, technological utopianism, freedom of speech, metapolitics, the Jewish question, the rise and fall of the Alt Right, and the ethos of idealism, duty, and self-sacrifice that white advocates need to cultivate if they are to change the world.
The Second Edition of Toward a New Nationalism is based upon the French edition. It keeps all the essays of perennial importance, but it omits three essays on the "Deep State" and a number of dated, journalistic essays on the Alt Right and adds the classic essay "It's Okay to Be White." The result is a slimmer, easier-to-read, and more impactful volume.
We also have a few copies of the limited first edition run of 200 numbered hardcover copies for $100 each. 
Praise for Toward a New Nationalism
"In this new essay collection, Greg Johnson touches upon many aspects of the new white identity politics and illuminates them all. He is perhaps at his best distinguishing our long-term struggle from the rise and fall of its recent incarnation, the 'Alt Right.'"
—F. Roger Devlin, Ph.D., author of Sexual Utopia in Power
"Greg Johnson is quite simply my favorite thinker and writer. He has a gift for making profound thoughts easy to grasp. Toward a New Nationalism collects some of his best recent work. He brings fresh new insights to endlessly discussed questions like the reality of race, the uselessness of conservatism, and the value of free speech. . . . Greg Johnson shows us how to move mountains by first moving minds."
—Tom Goodrich, author of Summer, 1945: Germany, Japan & the Harvest of Hate
"As one would expect from Dr. Greg Johnson, the essays in Toward a New Nationalism are full of insights and perspectives on the vexing matters of our day that are as new and fresh as they are thought-provoking and illuminating. The range of his purview includes subjects both topical and historical, timely (the fallout from Unite the Right) and timeless (the nature of race), all discussed in lucid prose. Those who enjoy seeing the Western intellect countering unreason with reason, subjectivity with objectivity, should find this collection most satisfying."
—Richard McCulloch, www.theracialcompact.com
Also read John Jackson's review of the first edition at American Renaissance.
Contents
Preface — iii
White Nationalism
1. Why Race is Not a Social Construct — 1
2. Who Are We? Nordics, Aryans, & Whites — 12
3. Why Conservatives Conserve Nothing — 19
4. The Refutation of Libertarianism — 26
5. Why "White" Nationalism? — 31
6. The Specter of White Nationalism — 36
7. Is White Nationalism Un-American? — 41
8. What is American Nationalism? — 47
9. Is White Nationalism Hateful? — 53
10. Why Boomers Need Not Fear White Nationalism — 58
11. Technological Utopianism & Ethnic Nationalism — 61
12. Freedom of Speech — 72
13. The European Fighting Spirit — 81
14. In Praise of Extremists — 87
15. It's Okay to Be White — 90
The Jewish Question
16. Reframing the Jewish Question — 97
17. Why the Holocaust Happened & Why it Won't Happen Again — 101
The Alt Right
18. What is the Alternative Right? — 106
19. Against Right-Wing Sectarianism — 139
20. Redefining the Mainstream — 146
21. Punching Right 2 — 155
22. Beyond the Alt Right: Toward a New Nationalism — 161
Index — 175
About the Author — 182
About the Author
 Greg Johnson, Ph.D. is Editor-in-Chief of Counter-Currents Publishing Ltd. He is the author of nineteen books, including Confessions of a Reluctant Hater (Counter-Currents, 2010; second, expanded ed., 2016), New Right vs. Old Right (Counter-Currents, 2013), Truth, Justice, & a Nice White Country (Counter-Currents, 2015), In Defense of Prejudice (Counter-Currents, 2017), The White Nationalist Manifesto (Counter-Currents, 2018), White Identity Politics (2020), and The Year America Died (2021).