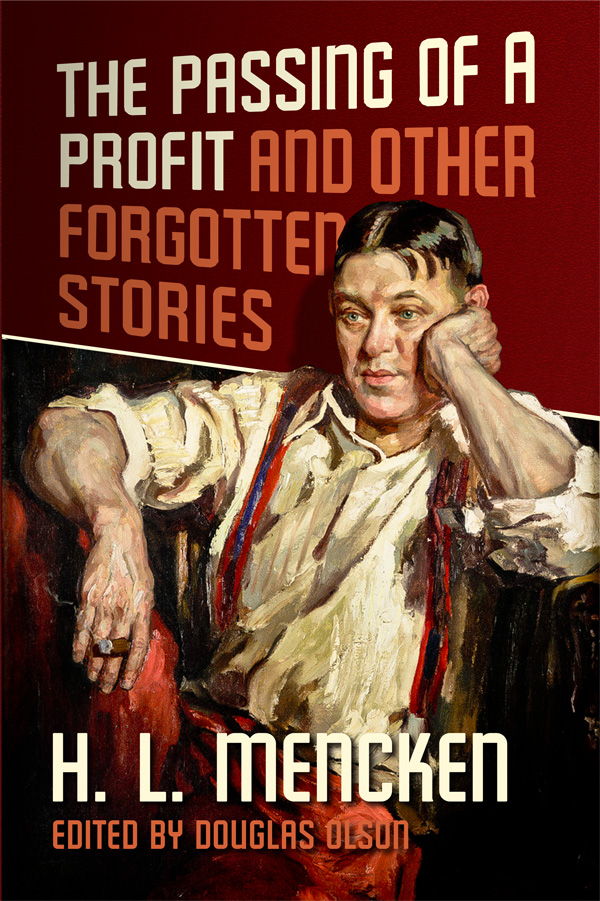 The Passing of a Profit & Other Forgotten Stories
H. L. Mencken
San Francisco: Forgotten Stories Press, 2012
216 pages
Edited by Douglas Olson
About The Passing of a Profit
Before H. L. Mencken became "Mencken" he tried his hand at writing short stories for a wide variety of popular magazines. But ultimately he decided that fiction was not his forte and instead focused his energy on the essays and criticism that made him famous.
Mencken's short stories have been virtually forgotten: omitted from bibliographies, overlooked by scholars, and available only to intrepid readers who hunted down copies of the original magazines. Thus Douglas Olson's collection of 17 forgotten stories written between 1900 and 1906 will be welcomed by Mencken aficionados.
Sparkling with Mencken's trademark wit and irony, most of these stories are about "ugly Americans" pushed to their limits in dealings with "others": women, Europeans, Latin Americans, and Blacks. Several stories draw upon Mencken's travels in Jamaica. Although most of these stories are light farces with abrupt endings, "The Last Cavalry Charge" (1906) is a terrifying prophecy of the mechanized slaughters that were soon to define the twentieth century.
Nobody who loves H. L. Mencken's voice will be immune to the charms of these stories. It is not often that a new book appears by a writer who has been dead for more than 50 years, but this volume will be new to virtually everyone. The Passing of a Profit is obligatory reading not merely for Mencken scholars but also for his legions of avid admirers.
Contents
Editor's Foreword by Douglas Olson
The Defeat of Alfonso
The Cook's Victory
The Woman and the Girl
The Crime of McSwane
Like a Thief in the Night
The Flight of the Victor
The Point of the Story
A Double Rebellion
Hurra Lal, Peacemaker
Firing and a Watering
The Passing of a Profit
The Heathen Rage
The Fear of the Savage
The Bend in the Tube
The Star-Spangled Banner
The King and Tommy Cripps
The Last Cavalry Charge
About the Author
Henry Louis Mencken, 1880–1956, the "Sage of Baltimore," was one of the most influential American journalists and critics of the first half of the 20th century, renowned for his keen intellect, independent judgment, and acerbic wit. Mencken's books include The Philosophy of Friedrich Nietzsche (1907), In Defense of Women (1918), The American Language (1919), Prejudices (1919–1927), Treatise on the Gods (1930), Treatise on Right and Wrong (1934), and his memoirs Happy Days, 1880–1892 (1940), Newspaper Days, 1899–1906 (1941), and Heathen Days, 1890–1936 (1943).