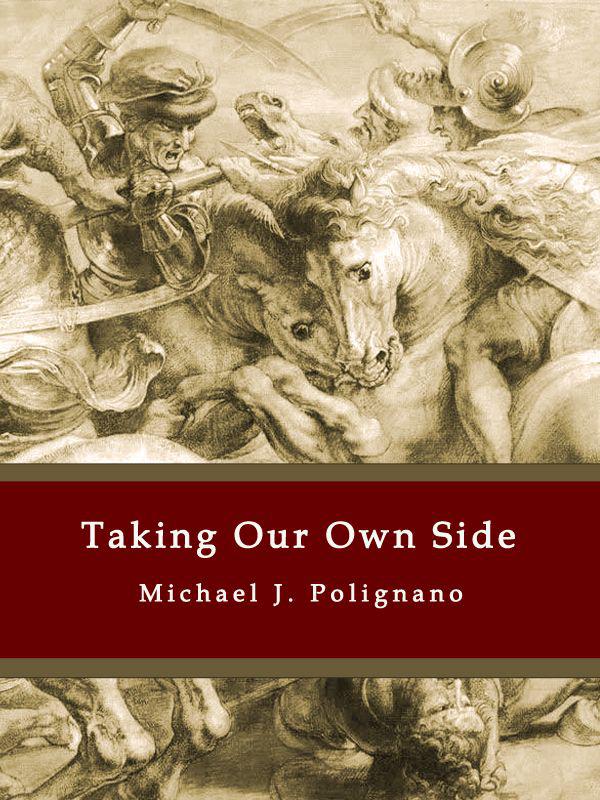 Taking Our Own Side
Michael Polignano
San Francisco: Counter-Currents, 2010
204 pages
Edited by Greg Johnson Foreword by Kevin MacDonald
About Taking Our Own Side:
Michael Polignano first came to national attention in 2000 when, as an undergraduate at Emory University, he ignited a storm of controversy by writing in the school newspaper about the scientifically established fact that racial differences are largely genetic.
Taking Our Own Side is a collection of 45 short essays, editorials, reviews, and satires. These lucidly written, carefully reasoned essays are profound, poignant, and occasionally prophetic. They are also sometimes brutally frank and hilariously funny.
Michael Polignano shows how to make the most radical positions seductively reasonable. Taking Our Own Side establishes him as one of the most compelling and versatile writers in the North American New Right.
Praise for Taking Our Own Side:
"Today's college graduates emerge zombie-like, mouthing politically correct platitudes they heard from their brilliant professors, mindlessly looking forward to an impossible future of racial harmony where the White minority adapts seamlessly and joyously to life among their non-White brothers. Michael Polignano somehow managed to overcome all that. And what's really amazing is that he did it while still a college student. . . . Mike Polignano gets it. This is about racial survival. . . . People like Michael Polignano are a rare and courageous breed. We need a lot more like him. And we have to find ways to sup-port them financially as they continue their careers as effective writers and activists on behalf of the White majority of America."
— Kevin MacDonald, author of The Culture of Critique and Cultural Insurrections
"Over the years, whenever there's been a demonstration or activity to support our beleaguered people, I have run into Mike Polignano. In this remarkable collection of essays, I have discovered another Mike: a writer as well as a doer, who eloquently shatters the dogmas of our soft totalitarian system. If, when still an undergraduate, he made the learned doctors and esteemed savants of Emory University look like unlettered fools, the reader can well imagine what awaits him in this, Mike's first book."
— Michael O'Meara, author of Toward the White Republic
"This collection of essays demonstrates, rather refreshingly, the comprehensive failure of modern university education in America. It pleases me to imagine Michael Polignano's Leftist former professors — what one can only imagine to have consisted of a troop of bearded, sandaled, coprocephalous, foaming-at-the-mouth Marxist propagandists, perverts, freaks, weirdos, and pathological albophobes — rending their garments and banging their heads against rough granite walls, tormented, infuriated, and exasperated by their former pupil's cheerful rejection of the ideology of progress, political correctness, and leveling-down egalitarianism."
— Alex Kurtagic, author of Mister
Contents
Foreword by Kevin MacDonald
Preface
The Morality of White Survival
1. Taking Our Own Side
2. White Pride & White Guilt
3. The Ethics of Racial Preservation: Frank Salter's On Genetic Interests
Diversity = Death
4. No Place Like Home
5. The All-American
6. Potemkin Equality
7. Indigenous Peoples Day
8. The Browning of America
9. Scientific American on the Reality of Race
10. Defensible Racism: Edgar Steele's Defensive Racism
11. Educators Baffled by Stubborn Achievement Gap
12. "Just Go!"
White Racial Activism
13. A Revolutionary Act
14. Why I am Not a Conservative
15. A Party of Our Own, Part I
16. A Party of Our Own, Part II
17. My Awakening Too
18. Motivation
19. Meet, Eat, & Move Forward
20. Real History, Real Community
21. What We Can Learn from Leftists
Sexual Politics
22. Sex Differences
23. Women & White Nationalism
24. Strong Women
25. The Return of Eugenics
26. Race-Mixing vs. Diversity
Mike vs. Emory:
A Case Study of Political Correctness on Campus
27. Mike vs. Emory
28. Emory Must Choose: Unity or Diversity
29. Genes May Determine Racial Attributes
30. An Open Response to President Chace
31. The Racial Intelligence Gap is Still an Unresolved Issue
32. Political Correctness Doesn't Bring Reconciliation
33. A Balance Must be Struck Between Nature & Man
34. Apathy Elimination: Three Suggestions
35. Is Diversity Really a Strength?
36. "What to Do?"
Sports
37. Swimming Lessons
38. Elusive American Virtues & the Olympics
Jewish Questions
39. The Christ-Killers Today
40. Fantasizing Fascism
41. Wagner: Desecrated but not Defeated
The Passing Scene
42. Nader Inspires Hope (2000)
43. September 11, 2001
44. Students for Proposition 54
45. Vote for Bush (2004)
Index
About the Author