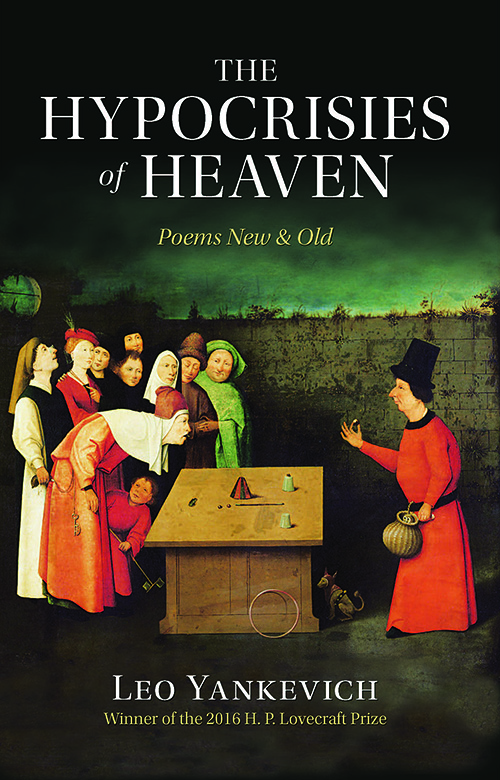 The Hypocrisies of Heaven: Poems New & Old
Leo Yankevich
San Francisco: Counter-Currents, 2016
148 pages
About The Hypocrisies of Heaven
The Hypocrisies of Heaven: Poems New and Old collects 131 poems by leading formalist poet Leo Yankevich, winner of the 2016 H. P. Lovecraft Prize for Literature.
Praise for Leo Yankevich
"This long-awaited and very welcome collection, The Hypocrisies of Heaven, gathers together the great bulk of Leo Yankevich's recent poetry, along with some earlier works. It establishes, without any cavil or doubt, his crucial importance as one of the foremost poets of our day, in both style and substance. Together with Tikkum Olam and Journey Late at Night, this collection will be the backbone of Yankevich's literary corpus, though I hope and trust that he will remain with us for many more years to come, producing further work in the same vein. Yankevich is a poet of notable gifts, but even more important, he is also a poet of strength, courage, and forcefulness of a non-literary kind. The world has plenty of poets, some of them actually competent. But it has very few poets of the hard-bitten toughness and honesty of Leo Yankevich. I salute him as the Spanish nationalists saluted their leader: Viva siempre!"
—Joseph S. Salemi
"This courageous selection of poems new and old is arranged alphabetically from the first 'After Hieronymus Bosch,' an ekphrasis sonnet of biblical apocalypse, to the final 'Your Mother's Eyes, Your Father's Chin' a villanelle of our impending Islamic apocalypse; between these verses of yesterday and today are observations, criticisms, and quarrels spoken artfully, directly, plainly to those who understand where we have been, and who see where now we are.  In these masterfully crafted poems, Leo Yankevich demonstrates, once again, why he is now counted, why he will be remembered among the strongest voices of our days."
—Michael Curtis
"The Hypocrisies of Heaven is an astonishing and crowning achievement, for if there is a sovereign king among the muses on mount Parnassus it is Leo Yankevich."
—David Castleman
"Not since Céline has one written so much so honesty and well. Mister Yankevich takes us in his poems where we have never been before."
—Michael Axtell
"Leo Yankevich is not only the greatest living English-language poet, but, in my view, the greatest since William Butler Yeats. In The Hypocrisies of Heaven he astonishes with his tremendous range and masterful skill, whether it be in syllabic verse or iambic pentameter."
—Michael Daugherty
"I am humbled by the breadth of range, the troubling and illuminating insights, the mastery in which content and form are married to each other, for better or worse. The Hypocrisies of Heaven may be the most important volume of poetry written in the last one hundred years."
—Geoffrey Hill
About the Author
Leo Yankevich was born in Farrell, Pennsylvania, a small steel town in the Rust Belt of Middle America. He now resides in Gliwice (Gleiwitz), an industrial city in Upper Silesia. His books include The Unfinished Crusade, The Last Silesian, Tikkun Olam (San Francisco: Counter-Currents, 2012), and Journey Late at Night: Poems and Translations (San Francisco: Counter-Currents, 2013). He is the winner of the 2016 H. P. Lovecraft Prize for Literature.H. P. Lovecraft Prize for Literature.