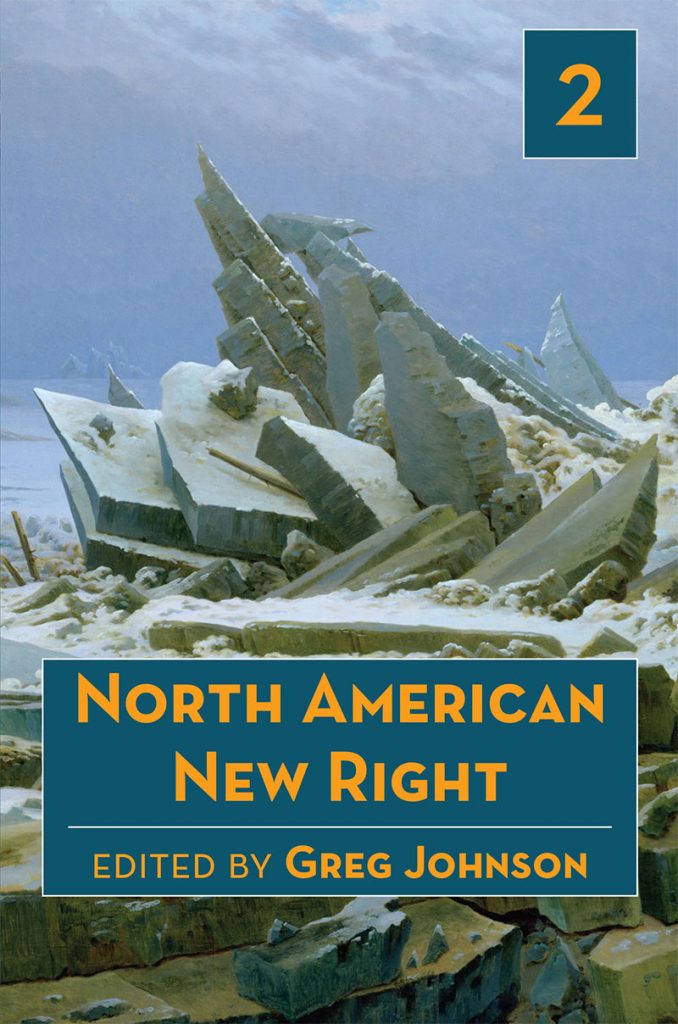 North American New Right, vol. 2
Multiple authors
400 pages
Edited by Greg Johnson
About North American New Right, volume 2
North American New Right is the journal of a new intellectual movement, the North American New Right. This movement seeks to understand the causes of the ongoing demographic, political, and cultural decline of European peoples in North America and around the globe — and to lay the metapolitical foundations for halting and reversing these trends.
The North American New Right seeks to apply the ideas of the European New Right and allied intellectual and political movements in the North American context. Thus North American New Right publishes translations by leading European thinkers as well as interviews, articles, and reviews about their works.
NOTE: The hardcover edition of NANR is so expensive because it is a premium available to donors who give more than $120 in a given year. If you have already given such a donation, you already own a copy. If you have already given such a donation anytime in the past five years, you already own a copy. Please contact Greg Johnson at [email protected] to receive your copy.
Contents
Opinion
Greatness is the Unifying Idea of the Right
Aedon Cassiel
Essays
The Enlightenment from a New Right Perspective
Ricardo Duchesne
Leo Strauss, the Conservative Revolution, & National Socialism
Greg Johnson
White Nationalist Answers to Post-Colonialist Questions
Donald Thoresen
We are the Real Subalterns: Deleuze, Guattari, & the New Right
Mark Dyal
Selection by Lot & White Nationalism
Simon Lote
Cinematic Nightrider?: Race in the Films of D. W. Griffith
Andrew Hamilton
God Has Become Cancer: Damien Hirst, Religion, & Death
Christopher Pankhurst
A Heroic Vision for Our Time: The Life & Ideas of Colin Wilson
John Morgan
Review Essays & Reviews
A Book for Our Time: Ricardo Duchesne's The Uniqueness of Western Civilization
Collin Cleary
Jack Donovan's The Way of Men
Jef Costello
The Political Soldier: Carl Schmitt's Theory of the Partisan
Greg Johnson
The Rising: The Revolutionary Lessons of Michael Collins
Gregory Hood
Opfergang: Masterpiece of National Socialist Cinema
Derek Hawthorne
Rethinking Democracy: Alain de Benoist's The Problem of Democracy
F. Roger Devlin
Between Capital & Archaic Socialism: Jean-Claude Michéa's Notre Ennemi, le Capital
Michael Walker
Greg Johnson's New Right vs. Old Right
Kevin MacDonald
About the Editor
Greg Johnson, Ph.D., Editor-in-Chief of Counter-Currents Publishing Ltd. He is the author of Confessions of a Reluctant Hater (San Francisco: Counter-Currents, 2010; second, expanded ed., 2016), New Right vs. Old Right (San Francisco: Counter-Currents, 2013), Truth, Justice, & a Nice White Country (San Francisco: Counter-Currents, 2015), In Defense of Prejudice (San Francisco: Counter-Currents, 2017), and You Asked for It: Selected Interviews, volume 1 (San Francisco: Counter-Currents, 2017).
His writings have been translated into Czech, Danish, Dutch, Estonian, French, German, Greek, Hungarian, Norwegian, Polish, Portuguese, Russian, Slovak, Spanish, Swedish, and Ukrainian.