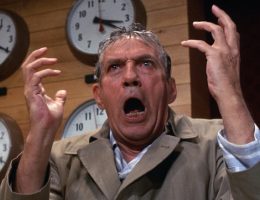 1,249 words
Imagine a scenario: You're walking down the street, minding your own business, and then suddenly, a stranger waltzes up to you and tweaks your nose. You are seized by righteous anger and start pursuing him. When you actually catch him, he has the gall to ask you why you are so angry and even theorizes that you're not really angry at him, but that you're angry at yourself and your own shortcomings as a person, shortcomings that you do indeed have seeing as how you're a human being. Your assailant then proceeds to tweak your nose again and declare that if you get angry, he shall have to have you removed from the street for being a threat to democracy.
Now, any rational person would of course pay no heed to those words and proceed to enact righteously brutal revenge on the nose-tweaker. Nevertheless, my years of experience of observing the human animal has convinced me that the logic of interpersonal relations rarely translates well nto the societal scale. We thus have a problem wherein the West's hostile ruling class has endeavored to demographically displace the native white population and replace us with non-whites. This is being done through a combination of active importation, subsidization of non-white reproduction, and suppression of white fertility, particularly by means of poisoning and deconstructing white culture. I don't know about you fine folk, but I'm feeling a wee bit miffed about all that.
We live in a world where white men are not allowed to get angry. The notion of "angry white men" is treated with a combination of mockery and alarmism. The mockery is there to demoralize us, to make us doubt ourselves and our anger. The alarmism is there to mobilize our enemies, given that nothing gets their asses in gear better than the image of an angry white man. They fear our anger because it is a precondition of a white counterattack against those who would destroy us and take over our homelands. As the man said in the film, "Things have got to change. But first, you've gotta get mad! . . . You've got to say, 'I'm as mad as hell, and I'm not gonna take this anymore!"
I've heard it here and there that America or the world is too angry, that there is too much anger floating around, and that anger is this vile spirit which possesses people and wreaks havoc. I read and hear these pronouncements and I think to myself that whoever made them is lying or blind. We are nowhere near angry enough, especially not when compared with the magnitude of what has been done to us and what is still ongoing. A man who is suddenly attacked in the street would certainly be mad. Why isn't a civilization that has been assaulted continuously for 150 years mad? We should be mad. Of course, there are those who yell and profess anger, but it's usually those whose job it is to misdirect anger. Liberals derisively called the late Rush Limbaugh and his many imitators rageheads, but none of the rageheads ever did anything productive with the anger they ginned up. All it did was get more sniveling GOP snakes elected.
If a white man gets angry, and even more importantly gets angry for the right reasons and directs his anger at the perpetrators of the crimes against our people and our civilization, he's deemed a threat to be neutralized at any cost. His anger will be pathologized and portrayed as stemming from his own failings. Since everyone has failings, they can easily be spotlit and used to demoralize us. Hence, the enemy will usually say things like, "You're not mad at the ruling class or the Jews or the immigrants, you're really mad at yourself for being unable to adapt to a dynamic modern world. So, don't get mad, but work on yourself and become a better person." But no amount of self-improvement will remove the ethnic aliens from our homelands, nor ae their negative effects on the economy, labor market, and demand only secondary woes. Our primary complaint is that they're here at all, in our homeland, where they do not belong, and that they're being used to displace us. This goes for every form of alien, be it a Mexican or Arab laborer or a Chinese or Indian programmer. Their presence in our lands is an affront to our ancestors and our traditions, and we should be mad as hell about it.
As the man said, anger is an energy. Anger gives strength to keep going long after fickle hope abandons us. Anger makes possible what duty and faith ordain. Anger is the great fire in a man's belly which burns long after his dreams lose their luster. Anger is the great furnace in which the steel of justice is forged. Anger is the great will from beyond the mind which drives us forward, the nourishment of a just cause, the fuel of the champion's burning heart. An angry man can get things done, things that the same man in a state of contentment would deem impossible. Anger is the will that God gave us with which to enact justice.
But as my father used to say about fire and water, they are good servants but cruel masters. So it is with anger. When we rule our anger, we have the great strength it provides. But when our anger rules us, we expend ourselves to serve it. We burn up and slam our burning bodies against brick walls because we are possessed by anger and compelled by it to do something — anything — to exorcise it. We seek to become less angry by acting on anger. This is the wrong approach. When we feel anger, we should not run from it nor seek to exorcise it by acting immediately, but we should rather cultivate our anger. We must become its master, keep it within us, and make it serve our purpose, only acting in anger when we are certain of success. It is in this way alone that can we experience healthful anger as well as accomplish our cause.
When we cultivate anger, we learn to marshal it and keep it cold. This doesn't mean we're no longer angry, but only that we won't act on our anger impulsively. We will, however, act on our anger in a controlled and constructive fashion. We will enslave this fiery demon and place it in our bellies, where it will serve as the engine of our will. We will attain cold anger, which is the motivational equivalent of cold fusion: a source of infinite energy, if you can keep it cold. We will execute justice with expeditious and cruel efficiency and never lose our smiles.
In the spirit of righteous and controlled anger, I would like to invite you to get mad as hell and donate to the cause. Every dollar towards the Counter-Currents fundraiser is a strike delivered against the enemy, a dollar in service to the justice we seek. As we know from our previous meditations, ideas are weapons, thinkers are warriors, and we are at war. Being the university of the Dissident Right, Counter-Currents is a weapons factory and a barracks-room for thinkers. Your anger will sustain this magnificent edifice of the war of ideas, and our anger will see our cause through.
The great fire will rise, and the great cause shall prevail! We're mad as hell, and we're not going to take this anymore!
*  *  *
Counter-Currents has extended special privileges to those who donate $120 or more per year.
First, donor comments will appear immediately instead of waiting in a moderation queue. (People who abuse this privilege will lose it.)
Second, donors will have immediate access to all Counter-Currents posts. Non-donors will find that one post a day, five posts a week will be behind a "Paywall" and will be available to the general public after 30 days.
Third, Paywall members have the ability to edit their comments. 
Fourth, Paywall members can "commission" a yearly article from Counter-Currents. Just send a question that you'd like to have discussed to

[email protected]

. (Obviously, the topics must be suitable to Counter-Currents and its broader project, as well as the interests and expertise of our writers.)
Fifth, Paywall members will have access to the Counter-Currents Telegram group. 
To get full access to all content behind the paywall, sign up here:
Paywall Gift Subscriptions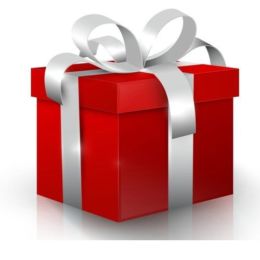 If you are already behind the paywall and want to share the benefits, Counter-Currents also offers paywall gift subscriptions. We need just five things from you:
your payment
the recipient's name
the recipient's email address
your name
your email address
To register, just fill out this form and we will walk you through the payment and registration process. There are a number of different payment options.
Enjoyed this article?
Be the first to leave a tip in the jar!