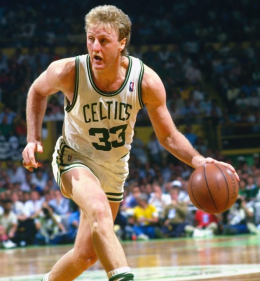 2,542 words
I don't know where I first heard this joke:
"How do you keep 5 blacks from raping a white woman?" "Throw them a basketball."
This is taken from the novel Semi-Tough by Dan Jenkins, which is about pro football:
"What is pro basketball?" asks the owner of a pro football team. "Every 24 seconds, 10 niggers jump."
My Childhood and Basketball
I used to love niggerball. Excuse me, I mean basketball. But I don't anymore. What happened?
Maybe I should start from the beginning. I grew up in the 1960s and 70s in the town of Hammond, Indiana which borders both Gary, Indiana and the south side of Chicago. Hammond's location gave me ties to both Chicago and to the entire state of Indiana of which I was a resident. For all intents and purposes, Hammond was a suburb of Chicago, but it was still true that we, in Hammond, were Hoosiers. As we used to say, "A bottle of pop and a big banana; I'm from Hammond, Indiana."
I can remember checking out short Hoosier Hysteria basketball novels from my Catholic grade school (St. John Bosco) library when I was about 10 or 11 years old. These all concerned the Indiana high school state basketball tournament, and undoubtedly were all inspired by the true story of Bobby Plump and his 1954 Milan High School, which was made nationally famous by the 1986 movie Hoosiers, starring Gene Hackman. Plump and his team made it to the championship game and won the state championship on a last-second shot by Bobby Plump himself. It was truly a Cinderella story of a tiny all-white rural Indiana high school defeating a big city high school with numerous tall black players.
Now for the Chicago connection. My two older brothers attended a Catholic boy's high school named Mount Carmel on the South Side which was long famous for both academic and athletic excellence. James T. Farrell, the author of the American classic novel Studs Lonigan, was an alumnus. Mount Carmel is located in the Woodlawn neighborhood of Chicago, one of the blackest and therefore one of the most dangerous neighborhoods in the city. Despite this fact, many white Catholic families (including my parents) had no problems with sending their sons to high school at Mount Carmel. In 1965, I was 9 years old and in the third grade; my older brothers were junior and freshman at Mount Carmel. Mount Carmel won the Chicago Catholic league basketball championship and was slated to play the public school champs for the All-City Championship of Chicago. Marshall High School was the public school champion, and the high school was all black. Mount Carmel had 2 white starters along with 3 blacks. It was truly multicultural (at least from the Mount Carmel side). It was close, but Mount Carmel won the game and it was extremely exciting. I was overjoyed, and it was probably my first kumbayah moment. I can also remember being warned that it might be dangerous leaving Chicago Stadium, as people associated with Marshall High School might want to take revenge. There was no trouble, however, and we made it to our car and back home to Hammond safely.
Mount Carmel won no more Chicago City Championships during the rest of the decade. However, the neighborhood had grown more dangerous in the five years from 1965-1970. Also, my brother told me that in 1968, there were sometimes fights in the school hallways between blacks and whites. When it came time for me to go to high school in 1970, my parents wisely kept me from taking the South Shore train to attend Mount Carmel. They knew, better than I did, that I was quite likely to be mugged, if not murdered, by the blacks that lived in that neighborhood. I attended a super-majority white public high school (Gavit High School) in Hammond and I survived.
In 1966, the NCAA Championship pitted all-white Kentucky against all-black Texas Western, dramatized in 2006's Glory Road. I remember watching the game and rooting for Kentucky without perhaps knowing why. Kentucky lost the game, however, and this was the end of an era for their great white coach, Adolph Rupp. By the time Glory Road came out, I was 100% White Nationalist, had never watched it, and have no intention of ever watching it.
Now back to Indiana high school basketball for 1966. Rick Mount of Lebanon, Indiana was on the cover of Sports Illustrated as the best high school basketball player in America. Mount and his high school were all white. Unlike Bobby Plump, Mount was not able to lead his school to the Indiana High school championship. But I read the article with enthusiasm, and Mount was one of my first white Hoosier basketball heroes. I did not know about Plump and his Cinderella team of 1954. Also, I did not know and could not know about the greatest of all white Hoosier basketball heroes. He was just my age (actually 11 months younger than me) and he was many years from making his mark in the game. See below for a detailed analysis of the self-proclaimed "Hick from French Lick," Indiana.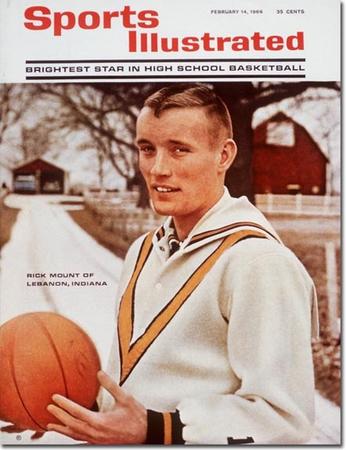 It was also about this year that I began to watch the pro game. Here were further examples of great players of both races: Bill Russell, Oscar Robertson, and Wilt Chamberlain were black, while Jerry West, John Havlicek, and Jerry Lucas were white.
Fast forward to 1970. Sports Illustrated featured the College All-Americans with 3 whites (Rick Mount, "Pistol" Pete Maravich, Dan Issel) and two Blacks (Bob Lanier and Calvin Murphy). But the title page emphasized Maravich: "Hot shot of a super crop." It was all multi-cult all the way. I liked them all, but I liked Maravich the best. He was the white player whose style was the closest to blacks. He was more than just a pure shooter, like Rick Mount. He could dribble and pass behind his back as well as any black player. He was the first player I remember who could spin the ball on his finger. He inspired me to learn to do the same. By this time, I was 14 and first string on my Catholic grade school team. Alas, this was to be my final note in formal basketball. From here on, it would be nothing but pickup games, and when I got to college, a little intramural.

1979: Larry Bird, the greatest of all of the great white hopes
The first time I saw Larry Bird play was on television in the 1979 NCAA championship game. Bird was the star of a small school, Indiana State University. The championship game had ISU versus Michigan State University, a much larger school with a great black player, Magic Johnson. I had heard about Bird during the year, but I never saw him play, even on television, until the final game. I discussed the upcoming game with a black co-worker and the subject of Bird came up. "He's really fucking good," said the Negro. I was hoping that this would be another Cinderella tale and ISU would win. It was not to be. While Bird matched up well with Magic Johnson, the other ISU players did not compete well with the MSU supporting cast. MSU tripled teamed Bird and won the game by 11 points.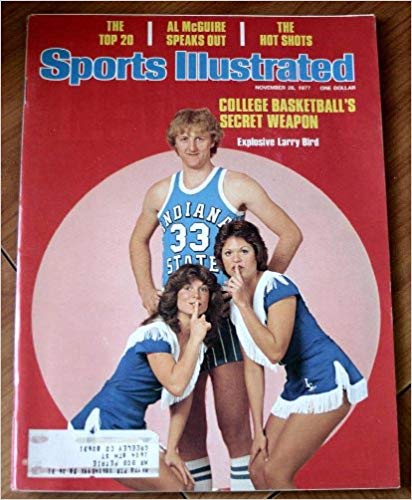 Bird went on to the pros to play 12 seasons with the Boston Celtics. I watched every game that I could on TV and saw him play twice in person. I followed him daily in the newspapers and monthly in Sports Illustrated. He was voted Rookie of the Year in 1979-1980. He won 3 Most Valuable Player awards for the regular season, 2 MVP awards for the NBA championship series, and led the Celtics to 3 world championships. He made the first-team all-professional games every year that he played.
1984: The Boston Celtics and their star Larry Bird won the Eastern Division of the NBA. The Los Angeles Lakers and their star player Magic Johnson won the Western Division. I was teaching philosophy part-time at Santa Monica College in California, and during the classroom break, got into a conversation with one of my students about the championship. He said something like "McHale is pretty good for a white guy." Kevin McHale was the white power forward for the Celtics; he was 6'11" and he was an outstanding player, but nothing compared to Bird. Bird was the small forward. I said, "Wow, what about Bird?" His answer was that "Bird was not white. Nobody that good in basketball could possibly be white. If you think he is white, it is an optical illusion."
In 1985, I went to San Luis Obispo, California to attend engineering school at California Polytechnic State University. As was my habit in those days, I would get into pickup basketball games with whomever happened to be there. We had a 5-on-5 full court and there was one black on the other team. The rest were white. 
One of the white guys on my team got a minor injury, and wanted to quit. Another white guy said, "You can play; Bird plays hurt." The black on the other team heard the remark and said "Fuck Bird." You could sense the hatred in the remark and the tone of voice with which he said it. I can't imagine that some white pickup player would have said the same thing about Magic Johnson.
1986: This was Bird's greatest year. He won the regular season MVP award, led the Celtics to the NBA Championship, and won MVP of the championship series.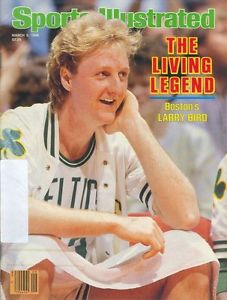 Also, the movie Hoosiers was released in 1986. This is truly a white person's movie. If you haven't seen it yet, I highly recommend it. Part of the charm of this true story is the classless status of high schools in Indiana at the time. There was only one state tournament for all schools, no matter how big or small in population they were. This allowed for underdog stories of tiny white schools defeating the giant mostly black schools. 
The Hoosiers story was possible in those days. Sadly, in the 1990s, Indiana changed the rules to provide divisions based on school size. So, the Hoosiers story is no longer possible.
1987: Bird and Rodman. My whiteness begins to come out. This year, the Celtics were trying to repeat as NBA Champs, but first had to win the Eastern Conference. Their opponents were the up-and-coming Detroit Pistons. The Celtics were struggling and two of their starters were injured. Yes, they played, but they weren't at 100%. In game 6, the Pistons were at the point of winning the series, but in the very last seconds of the game, Larry Bird stole the ball on an inbound pass and quickly passed to Dennis Johnson, who went in for a layup and the Celtics won. Dennis Rodman, the Detroit Pistons Power forward, was interviewed, and said that Bird was overrated because he was white. This remark angered me intensely and was probably one of my first steps into White Nationalism. The Celtics won the series, although they did lose to the Lakers in the NBA championship. 
1991: I see Bird play for the second time in person in Dallas. I had to pay $100 for the ticket.
1992: Bird retires and I completely lose interest in basketball as there was no white successor to Bird.
Conclusion
Give it up. Yes, go ahead and watch Hoosiers every 4 or 5 years. But just face it: blacks are better at basketball than we are. How could they not be? They constitute 6% of US males, yet more than 70% of the NBA. Jumping is very important in basketball for shooting, rebounding, and shot-blocking. And blacks have more fast-twitch muscles in their legs that are necessary for jumping. Yes, we have Jerry West, "Pistol" Pete Maravich, and even Larry Bird. But the blacks were always somewhat better. Just admit it. Get over it. They have Oscar Robertson, Bill Russell, Wilt Chamberlain, Kareem Abdul Jabaar, Magic Johnson, and the greatest player of all, Michael Jordan. To think that we can be as good as blacks are on average is like thinking we can make blacks as smart as we are on average. Yes, we have Larry Bird, but the blacks have Thomas Sowell. Just as the existence of a Thomas Sowell doesn't show that blacks are as smart on average as whites, so the existence of a Larry Bird doesn't show that whites are as good on average in basketball as blacks.
I wasted so many hours (hundreds if not thousands), shooting by myself, getting into one on ones with a good friend, getting into 3-on-3 half-court pick-up games, getting into 5-on-5 full-court pickup games, watching basketball on TV, reading about basketball in Sports Illustrated, occasionally attending college or high school games. I could have kept myself in good shape by distance running and spending all those other hours learning Latin, Greek, Mathematics, whatever. Niggerball was such a waste of time for me.
Another reason I have lost interest in basketball is that it has turned into nothing more than a corrupt business; all the spirit of the game is gone. This is not only true at the professional level, but at the college level as well. Read Tom Wolfe's great novel I am Charlotte Simmons for a glimpse into the total corruption of college basketball, and by extension, the corruption of the university as well. To invert an old saying: "We're going to have a university that will make the basketball team proud." Also, I don't want to support blacks in any way, as blacks clearly hate us and are hating us more and more every year. Things have changed a lot since I watched Mount Carmel defeat Marshall in 1965.
However, I don't want to end on a totally sour note. I have attached a link to a short video from a few years ago, an interview with 4 players (now in their 60s) from the 1971 Indiana State High School Champions, the East Chicago Washington Senators. East Chicago is in Indiana, bordering my hometown of Hammond. This team was quite probably the best high school team in the history of Indiana and even in the entire history of the USA. It wasn't at all like the 1954 team of Milan High School and its star Bobby Plump. The school had a large population and several tall black players. However, you can sense that there still was a spirit in the game. I saw them play in person several times as I was a freshman in high school in 1971 and they were amazing. If you are, or used to be like myself, a basketball fan, you will probably enjoy this video. And ECW had two white starters both of whom appear in the video.
1971 East Chicago Washington Senators – A Team For The Ages
*  *  *
Counter-Currents has extended special privileges to those who donate $120 or more per year.
First, donor comments will appear immediately instead of waiting in a moderation queue. (People who abuse this privilege will lose it.)
Second, donors will have immediate access to all Counter-Currents posts. Non-donors will find that one post a day, five posts a week will be behind a "paywall" and will be available to the general public after 30 days.
To get full access to all content behind the paywall, sign up here:
Enjoyed this article?
Be the first to leave a tip in the jar!