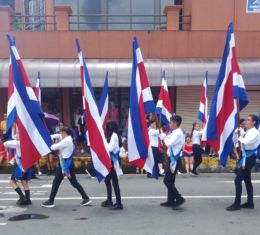 2,408 words
Noble patria, tu hermosa bandera
Expresión de tu vida nos da.
Bajo el límpido azul de tu cielo
Blanca y pura descanza la paz.
Noble homeland, your beautiful flag
Expresses for us your life.
Under the limpid blue of your skies
Peace reigns, white and pure.
— First verse of the Costa Rican national anthem
It is a fine feeling to see the town in which I live awash with the famous flag of red, white, and blue. It's a day of celebration on which unabashed patriotism is even more pronounced than on the other days of the year. There is no greater collective feeling than a comfortable, celebratory nationalism, and as a British man I find the display of flags moving. But they are not British flags. This is Costa Rica, and it is la día de la independencia.
On September 15, 1821, Costa Rica co-signed the Act of Independence of Central America at a congress in Guatemala which granted all of Central America — not only Costa Rica but also Honduras, El Salvador, and Nicaragua — their independence from Spain. Ticos — which is what Costa Ricans call themselves, and Ticas of course — didn't find out they were their own boss until October 13, as the message had to travel by horseback from Guatemala. Costa Rica stayed within the Central American Republic, as the resultant league was known, until 1838, when it became properly independent. Today, a torch is lit in Guatemala on September 9 and relayed by runners across Central America, arriving on September 14 in Costa Rica's old capital of Cartago.
Spain was glad to be rid of Central America. She had been badly mauled by Napoleon, who had even imprisoned their King, Ferdinand VII, and the Latin enterprise was becoming a chore. Thus, a whole swathe of Central American countries were suddenly under home rule, albeit with very different outcomes. Honduras, El Salvador, Guatemala, and Nicaragua remain poor, and are properly described as Third World countries. Costa Rica, however, has been nicknamed "the Switzerland of Central America."
Costa Rica is certainly also Third World, but its economy is boosted by being a far bigger and safer tourist attraction (albeit one hit hard by Covid for that very reason) than its more dangerous Central American cousins. The electricity cuts out at least once a week here, usually for a few minutes, but a couple of years ago it went out for three hours. In Venezuela, the power regularly goes out for a week at a time. That means everything in your fridge — if there is anything in your fridge — will be spoiled, and you have to eke out your phone time and hope that the outage doesn't affect your provider as well. I met a Venezuelan who told me that people were breaking into Caracas zoo to steal animals — and not to keep as pets. That was two-and-a-half years ago, and I don't imagine things have improved.
Latin America in general is looking a bit shaky. There have been mass demonstrations way down there in Chile, but the biggest shock has been Argentina. A member of the G20, the country held its presidency in 2018. They are still in the club today, despite their inflation rate being 125% — which is down from a high of over 400%. But Costa Rica's economy is robust, with healthy exports of medical supplies and equipment, coffee, and teak. Inflation, at the time of writing, is at the global average of 8.3% — although some staples have increased sharply in price — and 25 years of relatively sensible fiscal policies have attracted foreign investment, aided by increasing trade liberalization. The World Bank is very pleased with the land Columbus named "the rich coast."
Costa Rica also prides itself on its ecological programs, which are successfully implemented without the condescending crowing and incessant nagging we hear across Europe and the United States. Costa Rica is the only country to have reversed deforestation. Costa Ricans are very respectful of nature — it is illegal to feed wild animals — because for them nature is Costa Rica and Costa Rica is nature, and they love both and respect their symbols of nationhood, of which their habitat is one.
The national anthem is a good piece of Latin American marching music, with the obligatory minor-key section in the middle reflecting the indefinable strain of sadness — la tristeza — that runs through Central America. The lines below show a romantic attachment to national soil, and also need to be put in the context of Costa Rica itself:
Quando alguna pretenda tu gloria manchar,
Verás a tu pueblo valiente y viril
La tosca herramienta en arma trocar.
If anyone should try to stain your glory,
You will see your people, valiant and virile,
Turn their rustic tools into weapons.
National Anthem: Costa Rica – Noble patria, tu hermosa bandera
Beating ploughshares into swords, indeed. Actually, if Nicaragua to the north or Panama to the south decided to get uppity and invade, that would be the only option. Costa Rica has had no standing army since 1948, when President José Figueres Ferrer was so appalled at the bloody carnage of a 44-day civil war that he disbanded it. This explains why the police here are all as fit as a butcher's dog. You don't see any of the waddling fatsos I used to see posing as police officers in London. Even the gardacostas look like Action Man.
The coastguards are far busier than the police for the simple fact that every last grain of cocaine from Bolivia or Colombia and destined for the United States has to pass through, over, or around Costa Rica. The Americans give their old Coast Guard boats to Costa Rica, and I imagine they keep a weather eye on the country — although America has no more will to win its war on drugs than its wars on anything else.
Costa Rica is not immune to the outreach of the new global superpowers. Football is a religion here — after Covid, the soccer pitch opened up for training before the churches reopened — and the capital of San José opened its $11 million national stadium in 2011. China was good enough to pick up the tab.
But Costa Rican nationalism is the simple pride of a simple people for the simple fact of belonging to their country. It is uncomplicated and entirely natural. Ticos don't need to be instructed to love their country. It doesn't need to be Independence Day for flags to be flown.
I suspect I know something about the Costa Rican flag that a lot of Ticos don't, however. The town's resident expert on the country's history, an ex-Franciscan monk who now teaches Spanish to gringos and props up the local bars, was not aware that the wife of the first President wished the red, white, and blue of the flag to have exactly the same color tones as the French tricolor. How did they do this without, what's it called? Chromography? They hired the best local artist, I suppose, to cast his expert eye over the French flag and come up with just the right shade of crushed beetle, or whatever they used as dye. So any Frenchies visiting Costa Rica may feel a subliminal pang for France on seeing the Costa Rican flag, and not know why.
The Costa Rican flag is one of those horizontally symmetrical designs, so it's impossible to hang it upside down. Britain's flag seems the same, but look closely and you will see whether or not it is the right way up. It is disrespectful to hang the Union Flag upside-down, and disrespect seems to be the current fate of European and British flags. There is certainly nothing like America's admirable Pledge of Allegiance (which I imagine is under threat). Just take the last night of the Proms.
The Proms are a famous British musical institution the climax of which is the singing of "Land of Hope and Glory," traditionally accompanied by a crowd waving Union flags. This year, they were usurped by a mass of European Union flags. This was obviously a stunt organized by the BBC in collusion with some bunch of whining Remainers (those who voted to stay in the EU, often called "Remoaners") or other, and is just another instance of a certain stripe of Brit who wants to peck away at tradition because it is linked in their monochromatic minds with white supremacy, or the patriarchy, or fascism, or whatever else these dolts have replaced their father with this week. The greatest visual metaphor for the attitude of the EU to what remains of nationalism is surely Angela Merkel's face as she confiscates a German flag from one of her colleagues. There is not much call for flags in the new woke metaverse.
Land of hope and glory Last Night of the BBC Proms 2012
"Woke" and all its works never really flew in Latin America. It is very unlikely that the local Municipalidad will be instructing schools to arrange drag queen story hour anytime soon, and a Pew Research poll three years ago suggested that just 5% of Latinos have heard of — and 3% use — the clumsy construction "LatinX." This is how Latins feel about being described using an ugly term invented by some undoubtedly even uglier Harvard academic cat lady. Costa Ricans don't think of themselves as "Latino" or "LatinX" or any other collective noun. They think of themselves as Costa Ricans.
There is no self-hatred in Central America, no state-mandated disrespect of the nation you were born and raised in. Wandering through the central park in Guatemala City, I passed various statues of famous Guatemalans: soldiers and statesmen, poets and priests. If a bunch of kids started throwing ropes around any of this statuary in order to pull it down, the locals would beat the crap out of them, and the police would help. When this iconoclasm happens in the United Kingdom or the United States, the locals stand around and watch.
A love of one's own country is more vital an attribute than ever when we see the forces railed against our own homelands. They act like outside enemies, but they are inside the gates. These self-haters go by many names. Sir Roger Scruton called them oikophobes, from the Greek for "home." Guillaume Faye called them ethnomasochists. Takuan Seiyo referred to them as mea culpists. But these few are ashamed of their countries and their cultures, their disproportionate media presence artificially amplifying their voice.
Nationalism in and of itself needs to be qualified. I've seen the brutish side of English nationalism: fat and tattooed men draped in the English flag, frightening the locals in some European square and chanting "No surrender to the IRA!", or something else from their choral repertoire. But football in England, while of course it has supporters who are just ordinary sports fans, has always attracted those who seem evolutionarily challenged.
But I have also felt the uplifting side of what it is to be English, and what is heartbreaking is that ideologues in power seek to eradicate that just to spite others. I'm not proud of being English because it isn't something I achieved. It would be like being proud of having brown eyes. But I am proud of what my country did, the peerless literature it produced, its empire, its industrial revolution, and proud of England's green and pleasant land, husbanded and cherished for centuries while America was still a wildflower garden.
I am up at 4 AM on Independence Day, but that's because I am up at 4 AM every day (I go to bed at 8 PM). It is very close to the equator here and, give or take a few minutes throughout the year, it begins to get light at 5 AM and it begins to get dark at 5 PM. I like the cool and the quiet of the early morning, plus at 4 AM here it is 11 AM in Britain, meaning that any news stories will have already broken. I couldn't really sleep past 4.30, anyway, just at the moment, as a tiger heron — a beautiful bird, although I never see him — has taken to breakfasting on my roof, and around that time he emits a cry that sounds like a Bull Mastiff trying to bark with a really sore throat.
Costa Ricans are famed, as I suspect many Latins are, for having a fairly cavalier approach to punctuality. The gringos talk of "Tico time." But you can't say that about the wildlife, which runs like clockwork. About 6.30 AM, Scarlet Macaws fly directly over the apartment, on time as ever and for all the world as though they were going to the office.
And there is an extra feature on Independence Day: last-minute rehearsals. The main feature of the town parade is the drumming bands, who play in the traditional Costa Rican style, which is rather an odd one. A massed drumming band playing a hybrid of martial and Latin rhythms is accompanied by musicians playing the lyre (lee-re), which actually is lyre-shaped and has a steel xylophone inset. It produces a light, Tinkerbell sound that is totally at odds with the furious maelstrom of drumming it decorates. I will see many such bands at the parade. They started rehearsing just after 4 AM, and have been playing for weeks before the big day. I often fall asleep to this strange, incongruous music.
I've never seen the streets so crowded. There are only 20,000 people in the town, and tourists have swelled the ranks. Everywhere is red, white, and blue. The girls wear national costume — which they didn't buy, but which their mothers sewed, and quite possibly wore themselves in parades long passed. Thousands of people were present, both performing and watching, and I counted three policemen, two of them keeping the traffic off the main street. For a nationalist parade in England, the police would have lined every street.
There's just a pang of sadness for me, standing in a country and watching its people happy and untroubled to be just that: its people. Then I will return home and, through the prism of the media, see more Britain-hating reportage from my country, where its folk are relentlessly instructed to despise, blame, and ridicule England (the other UK home countries get a pass).
If anyone should try to stain your glory, you will see your people, proud and virile, turn their rustic tools into weapons. I think the Costa Ricans really would do that, whereas in England they don't even know how to take the weapons from the wall.
* * *
Like all journals of dissident ideas, Counter-Currents depends on the support of readers like you. Help us compete with the censors of the Left and the violent accelerationists of the Right with a donation today. (The easiest way to help is with an e-check donation. All you need is your checkbook.)
For other ways to donate, click here.
Enjoyed this article?
Be the first to leave a tip in the jar!