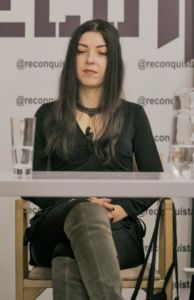 1,782 slov
English original here
Přinášíme rozhovor s ukrajinskou přispěvatelkou Counter-Currents Olenou Semenyakou. Olena se v současnosti nachází v Kyjevě na Ukrajině. Včera (6. března 2022) si udělala čas a poskytla mi rozhovor prostřednictvím e-mailu. Kromě opravy překlepů a drobných gramatických nedostatků není tento rozhovor editovaný.
Jak to v Kyjevě teď vypadá? S jídlem, vodou, elektřinou atd.?
Využívám příležitost poskytnout vám krátký rozhovor v době, kdy dochází k dočasnému zpomalení vojenských akcí na Ukrajině. Před několika dny Rusové zasáhli plynovod, což postihlo část města, ale škody již byly odstraněny. Jejich cílem byla budova Ministerstva obrany Ukrajiny. KyivKhlib nadále peče chléb pro město, ačkoli fronty jsou obrovské a základních produktů, jako je například mléko, je nedostatek. Humanitární pomoc dodává potřebným potraviny a zdravotnické potřeby. Metro je využíváno 24 hodin denně jako kryt. Jeden vlak, zhruba každou hodinu, objíždí město jako dopravní prostředek. Celkově jsou však občané vyzýváni, aby své čtvrti opouštěli pouze v případě nutnosti.
V Kyjevě platí zákaz vycházení, obvykle od 20:00 do 8:00. Na každém rohu města jsou kontrolní stanoviště a mosty jsou pro osobní auta uzavřeny. Cílem je bojovat proti ruským sabotážním skupinám, které se snaží proniknout do města a také odhalovat a blokovat tajné sabotéry. Před měsícem pronikli ruští agenti do všech měst a pronajatých bytů a nyní zanechávají na budovách, stromech a silnicích značky, které ve tmě svítí, aby naváděly ruské rakety a také aby verbovaly kolaboranty. Sabotéry a ty, kteří jsou přistiženi při podezřelém fotografování pozic ukrajinské armády, zatýkají jednotky územní obrany. Jednotek je nyní tolik, že pro dobrovolníky není dostatek zbraní.
Tento režim byl v Kyjevě zaveden poté, co Rusko zasáhlo několik panelových domů řízenými střelami a ruské tanky, jakmile prorazily obranné linie, začaly jezdit po spících obytných čtvrtích a rozjíždět civilní auta. Před několika dny Rusové raketami, včetně Iskanderů, vyhodili do povětří ropný sklad nedaleko Kyjeva a zasáhli kyjevskou televizní věž, přičemž zabili pět lidí. Předevčírem se rovněž ozývaly výbuchy v různých částech města. V těchto dnech se však to nejhorší děje na přístupech ke Kyjevu, ve městech Hostomel, Buča, Irpiň a Borodjanka. Obytné čtvrti těchto měst těžce utrpěly: nekonečné kolony ruských tanků, Rusové vypálili rakety z Ruska i Běloruska a letecké údery zaměřili na civilisty a civilní infrastrukturu. Obléhání se zatím nedaří, ale nepřítel není daleko. Infrastruktura těchto měst je zničená a z velké části jsou města odříznutá. Ostřelování pokračuje zejména v noci.
V Charkově, Černigově a Mariupolu však vypuklo opravdové peklo. Dne 3. března 2022 zahynulo v důsledku náletů téměř 50 obyvatel Černigova. Včera zůstalo celé město v protiatomových krytech. Žádné humanitární koridory nejsou možné. Město je obležené, stejně jako okolní vesnice. V Charkově, prvním hlavním městě Ukrajiny, zasáhli okupanti raketami městské i oblastní správní budovy, o domech ani nemluvě. Mariupol zůstává kvůli neustálému ostřelování bez elektřiny, topení a vody. Pokusy o zorganizování humanitárního koridoru končí ostřelováním ze strany Rusů. Ve všech těchto případech je mnoho civilních obětí, včetně dětí, počet mrtvých roste, protože záchranná služba a záchranáři nacházejí pod troskami domů nové oběti.
Před hodinou zničili Rusové osmi raketami letiště Vinnycja na západě střední Ukrajiny.
Překvapila vás ruská invaze?
Poté, co Putin vyhlásil nezávislost dočasně okupovaných území Doněcka a Luhanska, takzvaných DNR a LNR neboli LDNR, jsem si myslela, že se je pokusí uznat v rámci administrativních hranic Doněckého a Luhanského regionu a pak se pokusí postoupit, pokud to bude možné. Když začali v noci ostřelovat vojenské základny v Kyjevě a po celé Ukrajině, pochopila jsem, že plnohodnotná válka byla už předem naplánovaná, ale od samého začátku jsem ji považovala za odsouzenou k nezdaru. Putinova rozvědka ho špatně informovala; plánoval nastolit loutkové vlády jako v Doněcku, Luhansku a na Krymu a očekával, že vojenská "operace" a civilní oběti nevyvolají solidární reakci celého světa. Přesto byla Ukrajina, dokonce i její údajně "Rusku nejpřátelštější" regiony, připravena Putinův útok odrazit jak vojensky, tak i ve vztahu k politice a informacím. Ve městě Cherson na jihu Ukrajiny, jehož centrum bylo obsazeno Rusy, dokud je obyvatelé z města doslova nevyhnali, proběhly obrovské proti-ruské demonstrace. Totéž se děje v nedalekých městech Melitopol a Berďansk. Je docela možné, že Rusko plánovalo dokončit svou "vojenskou operaci" na Ukrajině během několika hodin a nebude za chvílí kontrolovat ani jedno správní centrum.
Protesty navíc začaly i na dříve okupovaných územích Luhanské a Doněcké oblasti. Ani "elitní" čečenské jednotky pod velením Ramzana Kadyrova neměly takový úspěch. Jeho autorita byla založena na hrubé síle a nyní byla výrazně podkopána. Shrnuto: spíše mě překvapilo, že je Putin tak hloupý, ale invaze jako taková začala už před osmi lety a její vyhrocení se dalo očekávat. Neustále jsem se střetávala s ruskými lobbisty na informační frontě, takže jsem nikdy nebyla v klidu, že válka nezačne.
Jak podle vás bude vypadat vítězství?
Obnovení územní celistvosti Ukrajiny, včetně Krymu, svržení režimu v Rusku, což povede k "demilitarizaci" Ruska a k ukončení jeho geopolitické expanze na Západ. Konsolidace zemí střední a východní Evropy (Intermarium), které jsou potenciálně dalším cílem Ruska a reformace Evropské unie na jejím základě. Západní Evropa začala poměrně rychle poskytovat Ukrajině zbraně a nejrůznější pomoc, což znamená, že geopolitické vyhlídky na Intermarium jako evropské pevnosti jsou na vzestupu. Skutečnost, že NATO nezasáhlo, je velmi výmluvná; evropský bezpečnostní systém ale zasáhl. Netřeba dodávat, že to povede ke změně celého světového řádu. Dlouhá válka nízké intenzity a vznik horkých míst v celém regionu jsou však docela možným scénářem na cestě k tomuto předpokládanému vítězství.
Pokud Ukrajina ve válce zvítězí, jak chcete udržet mír?
Ukrajina ukázala, že "druhá nejsilnější armáda na světě" se jí nevyrovná. Ruská vojenská strategie je katastrofální: kolony tanků a další vojenské techniky se dostávají do pasti a jsou likvidovány, protože Rusko nemá prostředky na obsazení země. Je zřejmé, že jejich hlavní rezervy jsou již vyčerpány a jednání s Ukrajinou 7. března nepochybně využijí k doplnění svých sil.
Jejich rakety (také jich nemají neomezené množství) a běloruský front (oficiálně je země "neutrální", přesto bylo z území Běloruska odpáleno 70 raket) jsou nejsilnější a zároveň nejzákeřnější stránkou ruské armády, protože jim umožnily postupovat na Kyjev ze severu. Ruská vojenská letadla a vrtulníky jsou Ukrajinou pravidelně sestřelovány, zejména včera (5. března 2022), kdy bylo zničeno devět letadel. Takže nelze říci, že mají vzdušnou převahu. Systémy protivzdušné obrany však nejsou všemocné a to Rusku umožnilo přejít k taktice teroru proti civilnímu obyvatelstvu tím, že zasáhlo obytné domy a nechalo celá města bez vody, topení a elektřiny a někdy i bez zásob potravin. Zároveň nebylo dosaženo cíle této taktiky: Lidé jen ještě více nabyli odhodlání bojovat proti ruské invazi až do konce. Jinými slovy, místo Putinem ohlášené "denacifikace" Ukrajiny se národní sebeidentifikace Ukrajinců ještě více přiostřuje. Mnoho Ukrajinců, zejména těch s dětmi, uprchlo ze země, ale mnoho jich naopak přijelo bojovat ze zahraničí, o zahraničních dobrovolnících ani nemluvě. Počet mrtvých ruských vojáků podle ukrajinských zdrojů přesáhl 11 000.
Putinovi jde především o to, aby zamlčoval ztráty ruské armády doma. Facebook a Twitter tam již byly zablokovány. Telegram a YouTube fungují s omezeními. Ukrajina se naopak snaží dostat k rodičům zabitých Rusů informace a publikuje rozhovory se zajatci na oficiálních webových stránkách: https://t.me/rf200 a https://200rf.com. Rusové vycházejí do ulic navzdory kriminalizaci hesla "Ne válce!" a zavedení patnáctiletého trestu za "dezinformace" a "fake news" týkající se ruské "vojenské operace". Ekonomický tlak sílí a lze předpokládat odpor ze strany ruských oligarchů.
Kremelská propagandistická mašinérie však připravuje Rusy na druhou mobilizační vlnu, takže i tam rostou ultra-patriotické nálady a nenávist k "prozápadním ukrajinským nacistům". Právě teď Rusko zabavuje civilní dopravní prostředky pro válečné potřeby. Ale výsledek ruské agrese pro Rusko, stejně jako pravda o zkáze, kterou Rusko na Ukrajině způsobilo, to vyvažuje. Další konsolidace sousedů Ukrajiny bude jedním z klíčových faktorů jejího vítězství v informační válce a dost možná i v té vojenské. Například Polsko iniciovalo změny v legislativě, které umožňují jeho občanům podílet se na obraně jiné země – tedy obraně Ukrajiny. Vysoká motivace Ukrajinců a jejich sousedů, kteří jim ochotně asistují a pomáhají ostatním posílat pomoc a dostat se na Ukrajinu, jsou v této válce neméně důležité než zbraně. Bělorusko i Čína si nakonec vždy vyberou své vlastní národní zájmy, nikoliv potápějící se ruskou loď. Někteří běloruští generálové již rezignovali a odmítli se války na Ukrajině zúčastnit.
Ukrajinci a ukrajinská delegace na mírových jednáních vidí vítězství opět v osvobození ukrajinské země od ruské okupace jako takové, včetně Krymu. Pokud by Putin nepodstoupil riziko invaze na Ukrajinu jako celek, pochybuji, že by se tak někdy bezpodmínečně stalo. Mírové oddělení Ukrajiny od Sovětského svazu před 30 lety se stává skutečností až nyní, neboť vše má svou cenu. Snaha o solidární řešení tohoto starého konfliktu a současné přetváření světového řádu jsou jedinou cestou, jak z této války vyjít vítězně. Zatímco Ukrajina poprvé od druhé světové války znovu ukáže svůj pozoruhodný obranný potenciál. Naštěstí se mnohé potřebné změny dějí automaticky a budou reflektovány až zpětně.
Myslíte si, že počet zabitých Rusů je přesný? Připomíná mi to "počty mrtvých" z vietnamské války, které byly značně nadsazené.
Je to docela pravděpodobné číslo, pokud vezmete v úvahu nákladní letadla a počet zničených nepřátelských kolon (jedno vozidlo často vezlo až 15 vojáků). Boje vysoké intenzity probíhají neustále po celé Ukrajině, a to již 11 dní (1000 mrtvých denně na velkém území). Rusko své vojáky nikdy nepočítalo. Vezměte také v úvahu poměr zajatých a zabitých (zdokumentováno na webu, který jsem už zmínila), a ty, jejichž těla se doposud nenašla, jsou hlášeni jako zajatci. Ukrajina tvrdí, že čísla mohou být ještě větší.
Věřím, že Rusko už nepřekoná výsledek svých dezinformací týkajících se Ukrajiny a katastrofálních důsledků této agrese, kterou se jim nepodařilo zamaskovat jako pouhou speciální operaci. V současné době Rusové bojují dál, protože už nemají co ztratit. Je těžké si představit, že země, která se rychle mění v obrovskou Severní Koreu, bude schopna udržet svou vojenskou sílu. Změna režimu je velmi pravděpodobná.
Navíc, pokud se Ukrajině podaří získat Krym zpět, nevznikne tím trvalý problém? Vždyť Ukrajina bude vždy sousedit s Ruskem. Pokud nedojde k nějakému sblížení, může to vést k problémům trvajícím desítky let nebo i déle.
Domníváme se, že desetiletí problémů a nepokojů nás každopádně čekají. Uspokojit Rusko je nemožné, jak ukazuje zkušenost Běloruska. Buď se stanete součástí Ruska – což je po 24. únoru pro Rusy a Bělorusy obzvláště nevábné – nebo se stanete jeho nepřítelem. Pro Ukrajinu, Rusko a celý region není cesty zpět.
Co to je Intermarium Support Group a jaká je vaše role v ní?
Vedu nevládní organizaci Intermarium Support Group, která od roku 2016 podporuje integraci střední a východní Evropy. Během této doby spolupracovala především s politickou stranou Národní sbor, kterou založili veteráni Azovského pluku Národní gardy Ukrajiny (ten v současnosti stojí na stráži v Mariupolu, který v roce 2014 získali zpět od separatistů). Od roku 2020 její program konečně získal státní podporu. Dne 1. října 2020 byla založena největší frakce v ukrajinském parlamentu, Intermarium, založil ji poslanec vládní strany Služebník lidu Sviatoslav Yurash. Od té doby s parlamentní skupinou Intermarium spolupracuji také já jako jeho asistentka.
Olenu Semenjakovou můžete podpořit prostřednictvím kryptoměny Bitcoin na následující adrese:
bc1qsfps8k6n6ydgemtqrgfgcxhswqkc0uwg6q4nj6.
This translation originally appeared at Delian Diver.
*  *  *
Counter-Currents has extended special privileges to those who donate $120 or more per year.
First, donor comments will appear immediately instead of waiting in a moderation queue. (People who abuse this privilege will lose it.)
Second, donors will have immediate access to all Counter-Currents posts. Non-donors will find that one post a day, five posts a week will be behind a "paywall" and will be available to the general public after 30 days.
To get full access to all content behind the paywall, sign up here:
Paywall Gift Subscriptions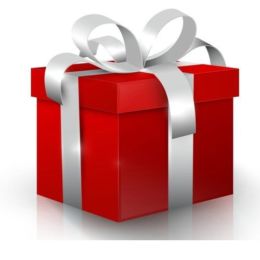 If you are already behind the paywall and want to share the benefits, Counter-Currents also offers paywall gift subscriptions. We need just five things from you:
your payment
the recipient's name
the recipient's email address
your name
your email address
To register, just fill out this form and we will walk you through the payment and registration process. There are a number of different payment options.
Enjoyed this article?
Be the first to leave a tip in the jar!