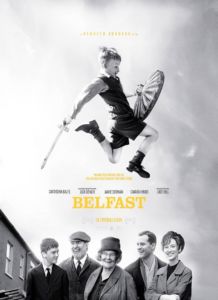 1,450 words
What is it like to be part of a family as large as a nation? If that family is the city of Belfast and that nation is the Irish, then Kenneth Branagh's Belfast gives us quite the clue. Effectively, this film is a love letter to the Irish people — and everything in it suggests that "the Irish" refers only to those who share a common ethnicity. Yes, there are a smattering of Asians in the film — which may be realistic, given that the story takes place in 1969 — but these so-called "people of color" are not employed against history as props but as fittingly minor aspects of the Belfast backdrop. This story is about the Irish and the Irish only.
Integral to the story is how young Buddy and his Protestant family will stay together during the Troubles while sharing their neighborhood with a large number of Catholics. The irrepressible Buddy, played by the debuting Jude Hill (a real find for a child actor, by the way), has to manage his crush on a cute Catholic girl while dealing with his parents' marital problems and the bitter fact that his dear old granddad is dying. He also has to avoid getting killed whenever violent Protestant gangs terrorize his neighborhood. Ultimately, the story becomes the subject of a Clash song: Should his family stay or should they go?
That's basically it, and with a story this quaint, that's about all you need. The plot is fairly loose, the pacing gentle, and the production values relatively low-tech. Branagh shot most of the film in black-and-white and almost never moved the camera except to pan it. Indeed, as a director, he practiced an admirably light touch as he guided his story to an unexpectedly gut-wrenching climax. A notable exception, however, appears near the film's opening, when the Troubles invades Buddy's happy and bustling neighborhood. Branagh circles his camera around the terrified Buddy, who'd recently been playing swashbuckler in the street with a toy sword and a garbage can lid for a shield. That garbage can lid quickly becomes a real shield against flying debris as his mother rescues him from a potentially lethal situation. A gripping scene.
We should remember that, in Belfast, Branagh is not trying to make the greatest film ever; he's gunning for perhaps the most charming film ever. He does this through his representation of the Irish as folk. Buddy's neighborhood is a tight-knit community where everyone knows each other's name and business as well as their personal strengths, quirks, and foibles. No one is shy about interacting with others.
Also absent is any form of generational chauvinism — and nothing denotes the overall innocence of a people better than the lack of generational chauvinism. It's as if generation gaps simply do not exist in Buddy's neighborhood. The old get along swimmingly with the young. Buddy loves his grandparents as much as he loves his parents and brother, and his grandparents love him as much as they love each other. It's sweet, and especially so in Belfast, which has a scintillating script and capable actors (with Judi Dench and Ciarán Hinds playing the grandparents). In one of my favorite scenes, the grandfather instructs Buddy to deliberately use bad penmanship in his math homework — for example, by making 1s look like 7s and vice versa — all so he can have multiple horses in the race in case he gets an answer incorrect.
While the clothing styles are contemporaneous for the time period and we get a lot of the movies and television which were popular back then, there's almost none of the sex, drugs, and rock 'n' roll that films (probably inaccurately) tend to include when telling stories taking place in 1969. And best of all, no hippies, no commies, and no feminists. Remember the annoying teenaged daughter in the wonderful film The Dish? That was another film set in 1969, and she couldn't stop ranting about sexism and the patriarchy as it related to the Moon landing. Thankfully, there's none of that in Belfast.
In fact, there seems to be no 1960s counter-culture at all — unless you consider armed loyalist thugs or pig-tailed girls enticing Buddy to steal candy bars to be "counter culture." This means there's no Cream or Jimi Hendrix on the soundtrack, and we don't have to sit through the thousandth iteration of "Gimme Shelter" or "For What It's Worth," as if those two songs embody what it meant to be alive in 1969.
Instead, all we get is Van Morrison.
This is both good and bad. Sure, Van Morrison is great, and the songs they selected are perfectly thematic and only a little bit anachronistic for the time period. But with classics like "The Bright Side of the Road" or "The Healing Has Begun" taking up about 90% of the film's soundtrack, it gets a little old after a while. It also begins to smell like home cookin'. It's as if Kenneth Branagh wasn't sure his audience would get the "Ain't the Irish great?" messaging in Belfast and decided to bang the point home with some of the most beloved tunes from Ireland's greatest bard. This isn't the worst of flaws, mind you, but I think Branagh would have been better served to dig up some regional hits from lesser-known Irish bands from the time period, and save Van the Man for the film's most poignant moments, of which there are quite a few.
On the bright side, we're not forced to listen to the execrable Sinead O'Connor. So there's that.
Another Belfast peccadillo is the casting of Buddy's parents. This is a story about small-town people living in a populous city (think "Rain Street" by the Pogues, minus all the alcoholism and X-rated details). There's no urban sophistication in Buddy's working-class neighborhood. And this is perfectly fine, except for the fact that Buddy's mother is played by the stunningly beautiful Catrίona Balfe, and his father is played by the stunningly handsome Jamie Dornan. Since the end credits for Belfast state that the film is dedicated to all the Irish who left and all the Irish who were lost and all the Irish who stayed (pretty much all the Irish, I would say), realism had better play a big part in the film's appeal.
And we get a lot of that – except that in reality, gorgeous people like Ma and Pa wouldn't be caught dead in a dead-end neighborhood like Buddy's. Instead, they would have taken the first plane to London to pursue high-paying modeling and acting careers, Irish identity be damned. I'm reminded of the time when Pierce Brosnan offered to play the role of the father in the film Angela's Ashes and was dissuaded by Frank McCourt, the novel's author, for being "too pretty." Belfast would have been more believable if Pa were a bit overweight and goofy-looking, and if Ma were attractive yet jarringly less than beautiful.
I'm not being entirely fair to Balfe and Dornan, however. The pair made up both halves of one of the film's most moving scenes. Pa, you see, has a job which keeps him away from the family for weeks at a time. But he's also a stand-up guy who defends his family and neighborhood when under attack. This puts him on the wrong side of the aforementioned loyalist thugs who want to terrorize his Catholic neighbors. Wanting to avoid such a dicey situation, as well as the depressed Belfast economy, he tries to persuade Ma into moving to London, where his company has offered him a higher-paying position. They're sitting on the bus which will soon take him to the airport, so it's not like they have a lot of time to chat.
Ma, on the other hand, does not want to leave Belfast. It's all she knows. She identifies with Belfast, and she loves its people. Further, she is terrified of moving somewhere where she and her family will be a minority. No one will know them or understand what they say.
This is ethnocentrism in its pureist form, and Ma, streaming tears, knows she cannot escape it. The pain in Pa's face reveals that he understands this as well. It's a beautiful scene rendered by Balfe and Dornan.
Belfast is a charming and delightful film for many reasons. It can be knocked for being a little too charming at times, but that in no way detracts from the film's overall appeal or from the power of its haunting and unforgettable ending. Ultimately, Belfast depicts what it's like to be part of a family as large as a nation. It also demonstrates how history can strengthen the ties which keep this family together — as well as break them apart forever.
*  *  *
Counter-Currents has extended special privileges to those who donate $120 or more per year.
First, donor comments will appear immediately instead of waiting in a moderation queue. (People who abuse this privilege will lose it.)
Second, donors will have immediate access to all Counter-Currents posts. Non-donors will find that one post a day, five posts a week will be behind a "paywall" and will be available to the general public after 30 days.
To get full access to all content behind the paywall, sign up here:
Paywall Gift Subscriptions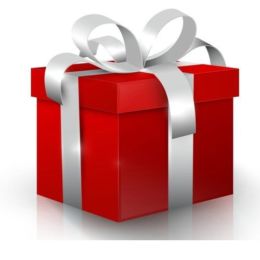 If you are already behind the paywall and want to share the benefits, Counter-Currents also offers paywall gift subscriptions. We need just five things from you:
your payment
the recipient's name
the recipient's email address
your name
your email address
To register, just fill out this form and we will walk you through the payment and registration process. There are a number of different payment options.
Notice
: Trying to get property 'ID' of non-object in
/home/clients/030cab2428d341678e5f8c829463785d/sites/counter-currents.com/wp-content/themes/CC/php/helpers/custom_functions_all.php
on line
150