Příliš velká výhra? Zamyšlení nad výsledky voleb v Maďarsku
John Morgan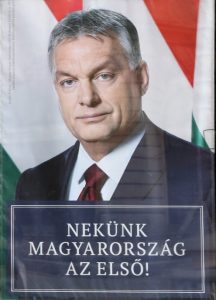 1,119 slov
English original here
Navzdory předpovědím o opozici povzbuzené vysokou volební účastí, jíž se v nedělních volbách mělo podařit snížit parlamentní převahu strany Fidesz Viktora Orbána, se po sečtení více než 98% hlasů zatím výsledky příliš neliší od minulých voleb v roce 2014. V době psaní tohoto článku (9. dubna – pozn. DP) Fidesz získal v parlamentu 66,83% (čili 133 křesel), a tak nejen podle očekávání udržel svou většinu, ale zachoval si dokonce i svou dvoutřetinovou většinu ústavní, takže pro případné ústavní změny nebude potřebovat spolupráci ostatních stran. Podržel si tedy politický monopol na národní úrovni.(Konečné výsledky lze nalézt zde – pozn. DP) Reakce v Bruselu, Washingtonu a kosmopolitních kancelářích nejrůznějších Sorosových organizací jistě nebyly zrovna nadšené.
Výsledky byly nejen důvodem k oslavám pro Orbánovy příznivce, ale také tvrdým direktem pro opozici, která letos působila podstatně energičtějším dojmem a sama z velké části uvěřila své rétorice o rostoucí všeobecné nespokojenosti s Fideszem napříč Maďarskem. Jejich nadějím se zdála nahrávat i vysoká volební účast (68%), nejvyšší za posledních více než 10 let. Zprávy z terénu ukazovaly na vyšší zapojení voličů znechucených Orbánem než v předchozích letech, a v neděli večer dokonce i mluvčí strany otevíral zadní vrátka možnosti ztrátu ústavní většiny pro Fidesz. Zpětně je však jasné, že vyšší účast liberální velkoměstské opozice vyvážila podobná mobilizace venkovských konzervativců, znepokojených reálnou možností oslabení Fidesz. Opozici se tak nejen že nepodařilo Fidesz svrhnout, což se ostatně ani nečekalo, nenaplněn však zůstal i skromnější cíl připravit ho o ústavní většinu. Síla Fidesz se tedy ve výsledku nezmenšila ani o píď.
Stejně jako před čtyřmi i osmi lety skončil za vítězným Fideszem přesně podle předpovědí pozorovatelů Jobbik. Ten se od posledních voleb stihnul distancovat od svých radikálně pravicových kořenů a snažil se nově vyprofilovat jako liberálně konzervativní strana, což se mu zdá se do jisté míry podařilo – přestože si totiž odcizil mnoho svých někdejších voličů, dosáhl tentokrát o něco lepších výsledků: 13,07% hlasů a 26 křesel (aktuálně 12,56% hlasů a 25 křesel – pozn. DP)  oproti 11,56% a 23 mandátům před čtyřmi lety. Přesto však nejen lidé v Jobbiku samém, ale i řada jejich nových liberálnějších voličů, kteří ve straně i přes jistý odpor k její dřívější rétorice viděli nejlepší naději na zlomení nebo alespoň oslabení Orbánovy suverénní moci, projevili z tohoto výsledku zklamání. Zda byla nová strategie Jobikku, tedy výměna tradiční voličské základny za novou (a z pohledu pravice značně znepokojivou), při zisku tří (dvou – pozn. DP) křesel navíc úspěšná, zůstává otázkou – strana si však přinejmenším nepohoršila.
Předseda strany Gábor Vona už během kampaně slíbil, že pokud Jobbik nevyhraje, ze své pozice odstoupí, což také v rámci svého nedělního projevu, v němž přiznal porážku, učinil. Není sice vyloučeno, že při stranickém sjezdu bude znovu nominován na předsedu, jasné to však zatím není. Pochybnosti zahalují také další směřování strany: bude pokračovat v nastoleném kurzu posledních let, kdy se prezentuje jako "anitorbánovská" strana, nebo se pokusí vrátit k autentičtěji pravicovému programu? V tuto druhou možnost doufají mnozí někdejší příznivci, současně však také věří, že si strana odnese cenná poučení ze své nové strategie a bude se jí tak dařit oslovovat širší spektrum voličů. Mají potenciál postavit se Fidesz, není však úplně jisté, zda se této příležitosti dokáží chopit a zda budou pokračovat v novém směru nebo se vrátí ke svým kořenům
Zbytek opozice se umístil až daleko za Jobbikem: socialisté z MSZP získali 10,05% voličů a 20 křesel (oproti minulým volbám jedno ztratili), prozápadní Demokratická koalice (DK) dostala 4,52% hlasů a 9 mandátů (v roce 2014 jen tři) a Zelení LMP obdrželi hlasy 4,02% Maďarů a 8 křesel (polepšili si z pěti). V roce 2014 vytvořily MSZP a DK s několika dalšími levicovými stranami volební uskupení Jednota, tentokrát se jim podobný projekt uskutečnit nepodařilo. A protože levicové strany i v součtu získaly jen o pár mandátů více než menší z pravicových stran – která navíc lehce posílila – je jasné, že maďarské levici se stejně jako v letech 2010 a 2014 naprosto nepodařilo přijít s programem, kterým by oslovila větší část svých krajanů. Dílčí úspěchy na tomto hodnocení nic nemění. Pravice tak společně ovládá téměř 80% parlamentu, což na levici jistě v následujících měsících a letech vyvolá chaos i pokusy o reflexi, jakkoliv to v dohledné budoucnosti bude Jobbik – ať už se vydá kteroukoliv cestou – kdo bude plnit úlohu hlavní opoziční síly.
Někteří pravicově smýšlející Maďaři, s nimiž jsem mluvil, vyjádřili obavy, že takovýto jednoznačný úspěch může být pro Fidesz i zemi jako takovou paradoxně nebezpečný: od roku 2015 se z Fidesz stala strana jednoho tématu, když se věnuje skoro výhradně imigraci a s ní spojeným střetům s Bruselem ohledně kvót. Přestože to lidé na pravici v Maďarsku i za hranicemi hodnotí pozitivně, děje se tak na úkor přehlížení mnoha dalších problémů, které zemi tíží, jak jsem naznačil ve svém nedávném článku na toto téma. Oslabení většinové pozice mohlo Fidesz postrčit k rozpracování šířeji zaměřeného programu. Za stávající situace ale dost možná strana propadne sebeuspokojení a jednoduše bude pokračovat v tom, co už dělá. A jakkoliv mnoho Maďarů očividně Orbána podporuje a jasně dali najevo souhlas s jeho pohledem na imigraci jako na hlavní prioritu země, rozhodně se netěší nekritickému obdivu a pokud do budoucna nepřijde s dynamičtějším programem, klidně může "nastartovat" trend obrození levice a poklesu vlastní podpory. Obliba Fidesz ostatně znatelně upadala už v roce následujícím po volbách roku 2014 a byla to jen eskalace migrační krize a Orbánova reakce na ni, která tento vývoj zvrátila. Přestože to bohužel nevypadá, že by masová imigrace měla v blízké budoucnosti coby téma pro Maďarsko i Evropu vyblednout, v zemi sužované mnoha problémy souvisejícími s chudobou to samo o sobě nemusí stačit na zachování přízně většiny národa donekonečna.
Pozitivem výsledků voleb je potvrzení skutečnosti, že se Maďaři nenechali ovlivnit varováními západních médií a (často ze Západu sponzorované) domácí opozice – měli bychom zmínit, že americké ministerstvo zahraničí poskytlo opozičním médiím grant ve výši 700 000 dolarů (stejné vměšování do vnitropolitických záležitostí proběhlo i v ČR – pozn. DP)  – že Orbán je diktátor, že jeho Fidesz podkopává demokracii a že většina země nesdílí Orbánovo znepokojení z imigrace a raději by viděla těsnější spolupráci s Evropskou unií (což je vlastně kódové označení pro přijímání migrantů) a nijak za ním nestojí ani v jeho konfliktu se Sorosem a jeho pohůnky ohledně jejich vlivu na směřování Maďarska. Maďaři sice svého premiéra vnímají kriticky, což rychle zjistíte, když se s nimi o Orbánovi začnete bavit, ale za stávající situace ho jasně vnímají jako svou nejlepší možnost. Při pohledu na jeho konkurenci pak lze s tímto hodnocením jen těžko nesouhlasit.
My, Nemaďaři se tedy můžeme těšit na další přinejmenším čtyři roky vlády spolehlivě protibruselského partnera v otázce masové migrace, iniciátora snah o vytvoření možné neliberální alternativy k EU v podobě Visegrádské skupiny a příkladu úspěšné populistické pravicové strany v srdci Evropy. Nezbývá než doufat, že Viktor Orbán neusne na vavřínech a přijde s ambicióznějším programem řešení domácích i zahraničních problémů své země.
Překladatel: Tomáš Kupka
Source: https://deliandiver.org/2018/04/prilis-velka-vyhra-zamysleni-nad-vysledky-voleb-v-madarsku.html
Enjoyed this article?
Be the first to leave a tip in the jar!