Frantz Fanon's Black Skin, White Masks:

A Primary Text of Post-Colonial Jive
Part 2
Beau Albrecht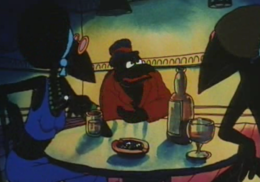 4,334 words
Part 2 of 4 (Part 1 here, Part 3 here)
The Negro and Language
After the opening matter ate up about 20% of the text, the book begins for real. As it starts to get to the point, the moaning opens up in earnest:
The problem that we confront in this chapter is this: The Negro of the Antilles will be proportionately whiter — that is, he will come closer to being a real human being — in direct ratio to his mastery of the French language.
He could've written that Antillean society is tiered such that it advantages blacks who are fluent in normative French over those who only speak Creole. Instead of putting it plainly, he squeezed out this nugget of 24-karat butthurt. This sort of thing makes it little wonder the self-flagellation junkies in Leftist academia like this book so much.
This continues, stating that Antilleans who stay in France long enough to pick up French customs are regarded as cooler when they return. It's considered to be a good thing to know normative French and pronounce it correctly. After some digression, more riffing follows that these things increase one's social standing. Native Africans have lower standing. Creole is discouraged in schools, and there's hardly any poetry written in it. This sort of rambles off to the vague and "above it all" style in the Preface:
And if I cry out, it will not be a black cry. No, from the point of view adopted here, there is no black problem. Or at any rate if there is one it concerns the whites only accidentally. It is a story that takes place in darkness, and the sun that is carried within me must shine into the smallest crannies.
Much anguish follows about how whites talk to blacks in France. For example:
You are in a bar, in Rouen or Strasbourg, and you have the misfortune to be spotted by an old drunk. He sits down at your table right off. "You — Africa? Dakar, Rufisque, whorehouse, dames, café, mangoes, bananas . . ." You stand up and leave, and your farewell is a torrent of abuse: "You didn't play big shot like that in your jungle, you dirty nigger!"
Well, drunks aren't much for conversation; what does he expect? All told, whites were making assumptions about the language proficiencies of black visitors. He found it quite irksome when whites tried to imitate pidgin talk. (Likewise, whites speaking in Ebonics might get a pretty bad reaction!) They even did that when blacks opened the conversation in normative French. Blacks who get too proficient in French are regarded with suspicion, however.
I do note an interesting parallel with the experience of American visitors to France; sometimes there's not too much love lost on either side. Still, I've done pretty well there and have no complaints about the French. (Even the Arabs were friendly to me in Paris, despite my country's recent history of messing in their home turf because our politicians suck up to their Israeli buddies. I'm almost sorry for calling them unassimilables earlier.) I found that knowing French tolerably well gets me a lot of credit for making the effort to learn it. Even so, they'll often switch to English. Somehow I've never taken offense at that, or written a jeremiad about the woes of American tourists in the clutches of the cheese-eating surrender monkeys. Anyway, those who don't like France might prefer to stay home — just saying!
The Woman of Color and the White Man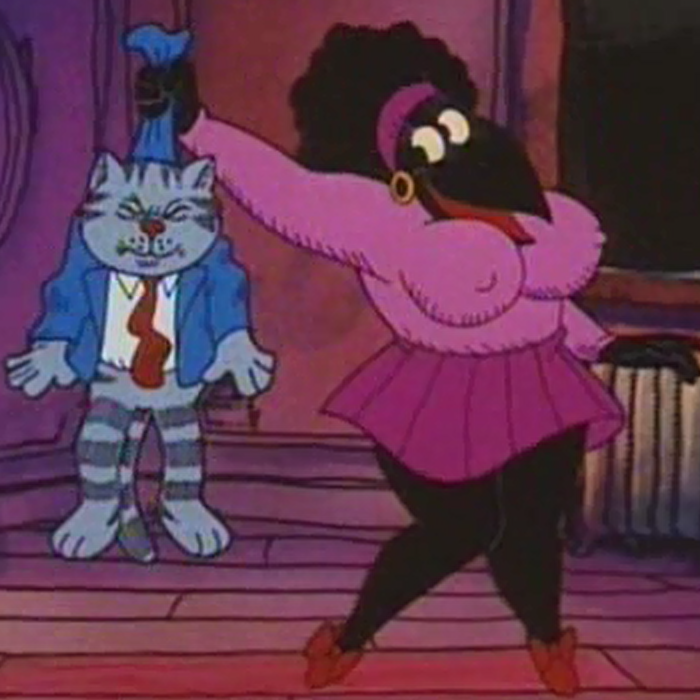 Rassenschande is one of the author's favorite topics in the book. I cannot relate. I've had opportunities, but I won't go there because I don't care to be a hypocrite. Anyway, aside from getting a big whiff of high-octane hair conditioner, I don't imagine that sleeping with black ladies would be a remarkably exotic experience. It's not like they have green feathers down there, do they? Besides that, if I ever catch Yellow Fever and start poaching gookettes, I hope someone will remind me with all due severity to be the change I seek in the world.
This chapter starts in the usual roundabout fashion. The second paragraph reads:
In reaching an understanding of phenomena of this sort, the analyst and the phenomenologist are given a difficult task. And, if a Sartre has appeared to formulate a description of love as frustration, his Being and Nothingness amounting only to an analysis of dishonesty and inauthenticity, the fact remains that true, authentic love — wishing for others what one postulates for oneself, when that postulation unites the permanent values of human reality — entails the mobilization of psychic drives basically freed of unconscious conflicts.
Frustration is an odd way for Tartre, the great Leftist celebrity, to put it. Wasn't this wall-eyed graphomaniac from Innsmouth notorious for his frequent threesomes with Simone the Beaver and her students she picked up as jailbait-of-the-month? What more could a toad-faced Leftist drip with minimalist hygiene possibly ask for? What a wet blanket old Mopey Smurf was, turning oui into ennui.
Then there's much discussion of Je Suis Martiniquaise, a book about a star-crossed mixed-race romance. I haven't read it, so I can't tell you how it rates against Rassenschande classics like West Side Story or the customary Rodgers and Hammerstein fare. Fanon especially didn't care for it:
Mayotte loves a white man to whom she submits in everything. He is her lord. She asks nothing, demands nothing, except a bit of whiteness in her life. When she tries to determine in her own mind whether the man is handsome or ugly, she writes, "All I know is that he had blue eyes, blond hair, and a light skin, and that I loved him."
His objection is that the protagonist values her lover for his race, holding him in higher esteem for being white, and wishing to whiten herself (so to speak) by way of her relationship. Although gold digging is the true oldest profession, Fanon's disapproval isn't really about social climbing. It seems he simply disapproved of black ladies catching Tundra Fever and stalking polar bears. Now hold that thought . . .
Others have arrived at different interpretations of Je Suis Martiniquaise, to the effect that it was a cautionary story with the moral that it's better to stick to one's own kind. Furthermore, it's debatable as to how autobiographical it might be. It's therefore possible that Fanon was missing the author's point with all that, as well as psychoanalyzing a fictional character to make a real-world argument. Either way, clearly he didn't care for competition:
It is always essential to avoid falling back into the pit of niggerhood, and every woman in the Antilles, whether in a casual flirtation or in a serious affair, is determined to select the least black of the men. Sometimes, in order to justify a bad investment, she is compelled to resort to such arguments as this: "X is black, but misery is blacker." I know a great number of girls from Martinique, students in France, who admitted to me with complete candor — completely white candor — that they would find it impossible to marry black men.
Once you go white, you'll never go back? Ouch! More seriously, I disapprove of mate-poaching on general principles, so this much isn't so objectionable. Whatever one can say about the phenomenon that Leftist types call "colorism" lately, I'll add that Fanon's father was pure black and his mother was part white. His own nature therefore casts significant doubt on his assertion in this chapter that Antillean women almost always reject men who aren't lighter-skinned than them. Did he suppose that his mother was desperate, or made a mistake?
Then Black Skin, White Masks takes a shot at the book Nini. A light-skinned mulatta gets a love letter from a pure black, quite sweet and romantic. Then she causes a massive DEFCON-1 uproar about it, the likes of which wasn't seen again until #MeToo Mania. Meanwhile, half-breed women are wild for white guys. Most don't find the oil driller of their dreams, and will end up as old maids because they refuse to settle for their own kind. I haven't read Nini, either, but it seems pretty likely that this much is satire, and Fanon might not have been getting it, since he takes it dead seriously as if it's for real.
Again, psychoanalyzing novels — especially while missing the point — has limited applicability to commenting on real-world society. Literary analysis has its place, but only goes so far. For example, if I wanted to write the biggest critique of the business world since Das Kapital, it wouldn't be so helpful to base most of my argument on Dilbert and Office Space. Moreover, it would make matters worse if I fail to get the jokes, or even realize it's all meant as black humor.
The Man of Color and the White Woman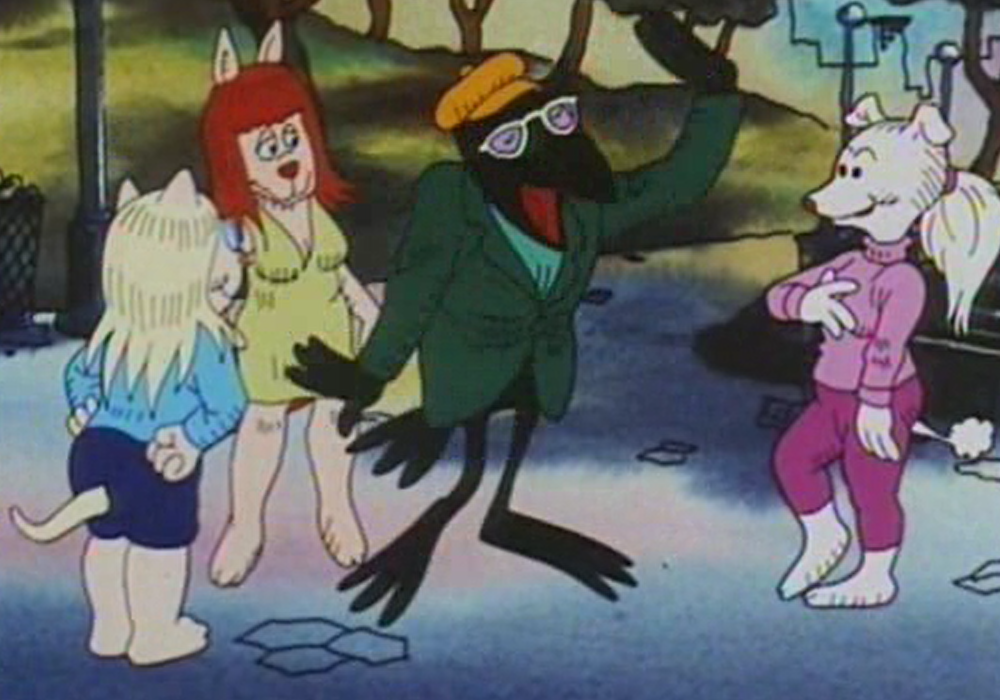 As it happens, Fanon certainly knew a thing or two about the other side of Rassenschande, and was a repeat offender at that. He complains bitterly about white people for page after page, yet was hardly averse to fraternization. (Of course, right?) When his first white girlfriend got pregnant, he dropped her like a hot potato — as usually happens — and found another white woman, this one an 18-year-old high schooler. His daughter from the first relationship followed in his footsteps and became an anti-racism activist. (Of course, right?) This is despite him abandoning her before birth and not involving himself in her life thereafter.
This chapter starts off right down to the point:
Out of the blackest part of my soul, across the zebra striping of my mind, surges this desire to be suddenly white.
I wish to be acknowledged not as black but as white.
Now — and this is a form of recognition that Hegel had not envisaged — who but a white woman can do this for me? By loving me she proves that I am worthy of white love. I am loved like a white man.
I am a white man.
The last chapter criticized Antillean women for the very same attitudes. Recognizing the absurdity, did he steer clear of this false consciousness? No, he did the exact same thing, but in full seriousness — unlike the literary irony that he didn't recognize.
On that note, how can race-mixers be taken seriously as advocates of their people? In Fanon's case, this wasn't like some youthful indiscretion incited by too much (((TV propaganda))). He touted himself as an outspoken black revolutionary, yet literally was in bed with the enemy; hardly a sign of faith in his race. Still, that's fairly common behavior for skintellectuals, just as it is for rap stars and black athletes. It's as if they feel they're incomplete without a white woman to show off as proof that they've made it in the world, rather like having a golden trophy with a bottom that can be unscrewed and used as a Fleshlight. In the author's case, there's more to it than social climbing:
Her love takes me onto the noble road that leads to total realization . . .
I marry white culture, white beauty, white whiteness.
When my restless hands caress those white breasts, they grasp white civilization and dignity and make them mine.
Some thirty years ago, a coal-black Negro, in a Paris bed with a "maddening" blonde, shouted at the moment of orgasm, "Hurrah for Schoelcher!" When one recalls that it was Victor Schoelcher who persuaded the Third Republic to adopt the decree abolishing slavery, one understands why it is necessary to elaborate somewhat on the possible aspects of relations between black men and white women.
If it weren't so nauseous, this would be comically absurd. This isn't exactly about the dusky loooove here. Those types think they're getting something over on us. (Of course, right?) Although their actions reveal that they consider their own women to be second-rate. If Fanon suffered from some kind of inferiority complex, he was a psychiatrist — physician, heal thyself!
Instead, he psychoanalyzed another book. This one is Un homme pareil aux autres by René Maran, another black writer who specialized in writing about being black. Fanon characterizes it as autobiographical. This is true at least very loosely, but it's uncertain to what degree this is so, and likewise how much the story might be jazzed up for rhetorical purposes. The book is rather obscure lately, and it's unclear whether the romance plot itself is real, embellished, or fictitious. One literary analysis says that Fanon seems to have been confusing the characters' attitudes with those of the author. Moreover, rendering part of this analysis into English:
All of the purpose of Frantz Fanon is to prove the alienation which has been shown by Jean Veneuse: here he would be, according to the psychiatrist, an "aggressive introvert", "afflicted by a neurosis of abandonment". Morbidly insecure, he dreams only of becoming the "other", that is to say, the white, and of possessing a white woman. Doing so, Andrée Marielle would symbolize the absolute fantasy of every black, dreaming of possessing otherness. But for this, Fanon always writes, there must be the assent of the white, the brother, the friend. This is the role that Pierre Coulonges plays, who "gives" him authorization to love Andrée Marielle in a long letter quoted almost in full by Fanon, as a charge against Maran.
A particularly revealing passage renews a divide altogether heartbreaking between "you" and "us": "In fact you are like us — you are 'us.' Your thoughts are ours. You behave as we behave, as we would behave. You think of yourself — others think of you — as a Negro? Utterly mistaken! You merely look like one. As for everything else, you think as a European." It is not at all certain that this letter is not precisely within the narrative device created by Maran a critique against systemic racism, a proof of the psychological suffering that Jean Veneuse feels to experience this divide even on the part of his most dear friends. The alternation of you/us is precisely that which kills the character gradually. That Fanon does not make the distinction between the talk of the characters who surround the main character, the main character himself, and the author reduces the scope of his criticism against the novel.
Psychoanalyzing a novel, assuming it's literally true, failing to detect narrative devices such as irony, and concluding from all this that colonialism made the author a neurotic self-hatred case? How does this seem so familiar? But besides the tedious literary analysis, the chapter does have some discussion of the real world, such as:
Talking recently with several Antilleans, I found that the dominant concern among those arriving in France was to go to bed with a white woman. As soon as their ships docked in Le Havre, they were off to the houses. Once this ritual of initiation into "authentic" manhood had been fulfilled, they took the train for Paris.
Enough of this – I've already had more Rassenschande than my stomach can handle.
The So-Called Dependency Complex of Colonized Peoples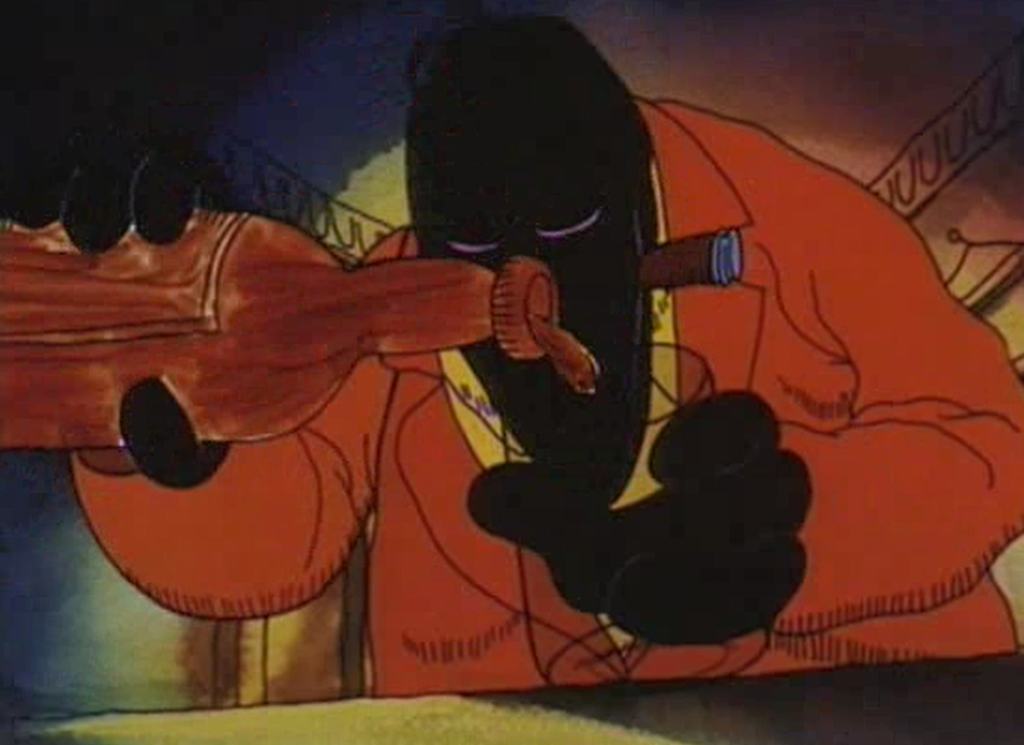 There's much discussion of Prospero and Caliban: Psychology of Colonization by M. Mannoni (actually Octave Mannoni). The title refers to characters in Shakespeare's farewell play The Tempest. I got dunked headfirst into that in college as well — part of what I learned for $50,000 back then. I'll give you a brief take for free. For starters, it is set in Bermuda, which is uninhabited except for the shipwrecked wizard Prospero, his daughter Miranda, the spiteful mutant Caliban, and a gaggle of spooky spirits. It's the basic Gilligan's Island setting, but with fewer main characters, darker in theme, and played seriously. As for the bizarre politicized retcon that came about lately, it's an odd interpretation that The Bard never would've imagined in his wildest dreams.
Although the Age of Exploration had been under way for a century, this is the only New World location in Shakespeare's plays. This figures into the politicized narrative surrounding it more recently which reimagines it as a colonial archetype. When The Tempest came out, it was intended as a special-effects blowout by the standards of the time, with lots of oboes and thunder giving the spirit-haunted island an eldritch atmosphere. Later generations sometimes projected their obsessions into the play. When Darwinism was new, Caliban was depicted as the missing link, with ape-like characteristics.
Lately, thanks to much post-colonial jive, he is often remodeled into a Third World subaltern, which of course makes Prospero a colonial oppressor in cultural Marxist terms. I suspect some of this is thanks to the influential director (((Sir Jonathan Miller))), of Litvak descent despite his veddy British name. (Of course, right?) I've read the play. Given Caliban's behavior, comparing him to a colonial subject is not much of a compliment to actual primitive natives. He unmistakably was a mattoid — "mooncalf" in the original. A number of Shakespearean characters were fairly neurotic, but this one is nearly as cracked as Gollum. In this case, Miranda is his "Precious." In fact, Caliban's remarkably bad attitude is not too dissimilar from certain obnoxious black writers promoted by The System:
O ho, O ho! would't had been done!
Thou didst prevent me; I had peopled else
This isle with Calibans.
All that said, Fanon's reaction to Mannoni is that he didn't go far enough in describing how bad colonialism is for the natives' psychological health. For starters, he basically disputes Mannoni's position that colonialism can bring out a latent inferiority complex, arguing instead that it's de novo. (In the original, all that's fairly wordy and roundabout.) A discussion follows stating that a society is either racist or it isn't, with no gradations. Then this:
But it does seem to me that M. Mannoni has not tried to feel himself into the despair of the man of color confronting the white man. In this work I have made it a point to convey the misery of the black man. Physically and affectively. I have not wished to be objective.
This is most interesting, and is practically an admission that he's peddling one-sided propaganda. Moreover, white people are the primary audience for his bellyaching. (Presumably he wouldn't need to explain the black experience to other blacks.) More to the point, it's absurd for whites to take all this endless kvetching by skintellectuals seriously. For some reason, Leftists eat up this demoralization propaganda like candy; I suspect they're gluttons for punishment. Other than that, here's an interesting passage, one among others like it:
Colonial racism is no different from any other racism. Anti-Semitism hits me head-on: I am enraged, I am bled white by an appalling battle, I am deprived of the possibility of being a man.
Why would an Afro-Caribbean, who soon would be rubbing elbows with Muslim terrorists, get so worked up here and elsewhere on behalf of the bagel connoisseurs? It's rather curious. He speaks of them elsewhere as whites, and this is well before some of them started fashionably declaring themselves to be non-white. With vehemence like that, I wonder if he cared about the Jews even more than his own people.
Other than that, he builds an argument for collective guilt regarding colonialism. (There's never any nod to the good things that colonialism did, such as putting in infrastructure, creating civilized order, introducing modern healthcare, bringing primitive tribesmen into the Industrial Age, and so on. Neither is there any recognition that whites have legitimate interests, of course — but again, he says he's not being objective.) Many quotes abound, such as by Fanon's mentor Aimé Césaire, the terrorist collaborator Francis Jeanson, and the Leftist drip Jean-Paul Tartre. Then it discusses dream analysis – finally, some real psychiatry at last. Nearing the end, there's a brief discussion of The Tempest:
Prospero, as we know, is the main character of Shakespeare's comedy, The Tempest. Opposite him we have his daughter, Miranda, and Caliban. Toward Caliban, Prospero assumes an attitude that is well known to Americans in the southern United States. Are they not forever saying that the niggers are just waiting for the chance to jump on white women?
Even if one knew nothing about the behavior of blacks in America, I'll just say that the prior chapter speaks volumes.
The Fact of Blackness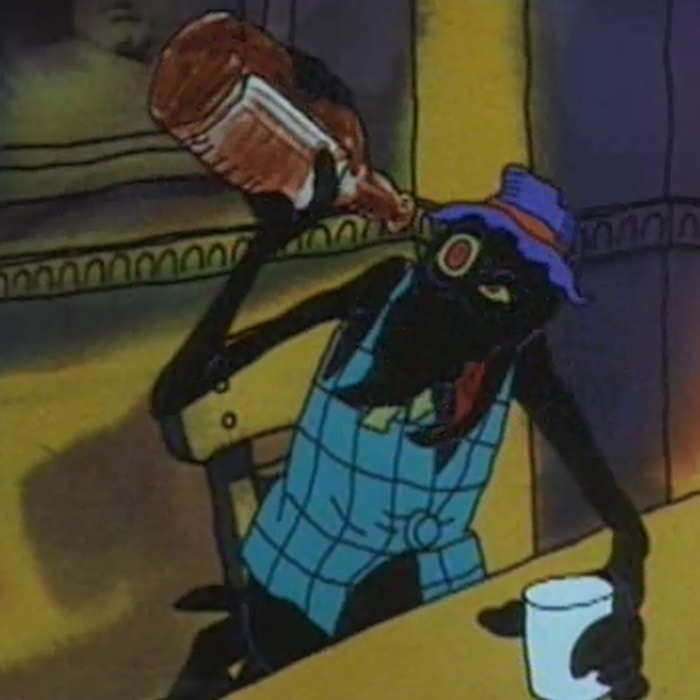 This chapter opens with a bang:
"Dirty nigger!" Or simply, "Look, a Negro!" I came into the world imbued with the will to find a meaning in things, my spirit filled with the desire to attain to the source of the world, and then I found that I was an object in the midst of other objects.
Speaking of warm welcomes, this reminds me of when I was on an Antillean island for business. I can't speak to conditions elsewhere in the Antilles, but the local blacks have an odd custom. On more than one occasion, I was walking down the main road when a truckload of blacks started hooting at me. Other than that, I caught some very hostile vibes from them in the dilapidated ruins of what used to be a neighborhood, and one started following me. (The place was in a worse condition than Beirut in 1990, and I later heard it was a no-go zone.) The locals didn't know the first thing about me, except that I'm white. Maybe I should write a book about that, huh? I'm sure it'll be a big hit in academia.
Much more feverish purple prose followed. This included a lot of vague, over-intellectualized writing. Some of it looked like it had been written by a postmodernist generator script. There were times I wished he'd just get to the point:
A slow composition of my self as a body in the middle of a spatial and temporal world — such seems to be the schema. It does not impose itself on me; it is, rather, a definitive structuring of the self and of the world — definitive because it creates a real dialectic between my body and the world.
Here's how he describes a train ride in which nobody wants to sit next to him:
I had already stopped being amused. It was not that I was finding febrile coordinates in the world. I existed triply: I occupied space. I moved toward the other . . . and the evanescent other, hostile but not opaque, transparent, not there, disappeared. Nausea . . .
He frequently bad-mouths Dixie in this book, but there he would've had special seating, avoiding this sort of awkwardness. He's really on a roll, bitterly wailing feverish Afro-dyspepsia at great length, such as:
What! When it was I who had every reason to hate, to despise, I was rejected? When I should have been begged, implored, I was denied the slightest recognition? I resolved, since it was impossible for me to get away from an inborn complex, to assert myself as a BLACK MAN. Since the other hesitated to recognize me, there remained only one solution: to make myself known.
The mood changes when he quotes Léopold Senghor's[1] words concerning rhythm. Some of Aimé Césaire's negritude-themed verses cheer him up as well. Then there's a brief riff about pagan African sexuality. (It's handled tastefully, and refreshingly cheerier than the extended temper tantrum leading up to this.) The text then goes into an Afrocentric tangent. Then, triumphantly, he announces to the reader:
I put the white man back into his place; growing bolder, I jostled him and told him point-blank, "Get used to me, I am not getting used to anyone." I shouted my laughter to the stars. The white man, I could see, was resentful. His reaction time lagged interminably . . . I had won. I was jubilant.
Okay, dude. After that, a quote from Jean-Paul Tartre's Black Orpheus throws a monkey wrench into his extended flight of fancy. It speaks of dialectics, in which white supremacy is the thesis and negritude is the antithesis. Then Tartre writes:
But this negative moment is insufficient by itself, and the Negroes who employ it know this very well; they know that it is intended to prepare the synthesis or realization of the human in a society without races. Thus negritude is the root of its own destruction, it is a transition and not a conclusion, a means and not an ultimate end.
After that, the chapter trails off into the moroseness with which it started, wrapping up with this:
Yesterday, awakening to the world, I saw the sky turn upon itself utterly and wholly. I wanted to rise, but the disemboweled silence fell back upon me, its wings paralyzed. Without responsibility, straddling Nothingness and Infinity, I began to weep.
I don't care for the society-without-races notion, either, as it sounds like the usual sort of globalist slop. But unlike Fanon, I can proudly say that my own actions have not diluted my race and increased genetic confusion.
In any event, the Black Orpheus passage struck a sour chord with him. I'll add that Tartre was an ally — and with friends like that, who needs enemas? It's strange that a short passage caused his mood to turn on a dime. Why did he take it so seriously? It's not as if this stuff was Scripture. Well, I suppose that's what happens when someone reads too much Tartre. Did I mention that the guy was a Leftist drip? Céline went further, accurately describing this graphomaniac as "a donkey in glasses" and much more.
* * *
Like all journals of dissident ideas, Counter-Currents depends on the support of readers like you. Help us compete with the censors of the Left and the violent accelerationists of the Right with a donation today. (The easiest way to help is with an e-check donation. All you need is your checkbook.)
For other ways to donate, click here.
Note
[1] Léopold Senghor was a cultural figure who became President of Senegal in 1960, ruling until 1980. Although a Leftist with dictatorial tendencies, he was more sensible than the usual lot.
Enjoyed this article?
Be the first to leave a tip in the jar!