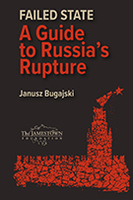 2,202 words
Janusz Bugajski
Failed State: A Guide to Russia's Rupture
Washington, DC: The Jamestown Foundation, 2022
Failed State: A Guide to Russia's Rupture is a sober examination of the Kremlin's weaknesses and the prospect of Russia's disintegration in the near future. Bugajski predicts that Russia's disunity, political corruption, repressive climate, and economic exploitation of its citizens will result in its demise as Europe's last colonial empire. Russia's decline demonstrates the flaws of imperialist civic nationalism and the inviability of Russia as a bulwark against modern Western liberalism.
The elephant in the room here is that Bugajski is a fellow at the Jamestown Foundation, which has been linked to neoconservative figures. However, most of Failed State simply outlines predictions based on empirically observable trends and historical precedent. It is well-researched and thorough, and its predictions are compelling.
The biggest existential threat to Russia is its failure to establish a civic identity and unify its vastly disparate regions and peoples. Its ethnic minorities have resisted Russification and are hostile to Russian rule. Their resentment will reach a boiling point now that Russia is no longer able to uphold the tacit "social contract" whereby minorities cede political power in exchange for a decent standard of living (p. 81). Regions that are mostly Russian yet are culturally distinct from Moscow and harbor grievances against the Kremlin are also candidates for secession.
Russia consists of a few developed cities and a vast rural backwater that is sucked dry by Moscow and is mired in poverty. The relationship between Moscow and the rest of Russia is perhaps best encapsulated by the fact that Moscow alone generates 20% of Russia's waste, which it quietly dumps in overflowing landfills in surrounding regions, to the detriment of their inhabitants (p. 95–96). Russian society is characterized by extreme economic inequality: 500 Russians control more wealth than the poorest 99.8% (p. 84). Most Russians are poor, and inflation and economic sanctions have caused their standards of living to decline even further. The Kremlin has incentives to foster this disparity: It concentrates power and wealth among oligarchs loyal to the regime, the poor are more likely to join the military and become cannon fodder for Moscow's imperial ambitions, and poverty creates a buffer against regional pride and thus separatism. This situation has taken a toll on the Russian populace's morale: Russia has low birth rates, the third-highest divorce rate in the world, and high rates of drug abuse and alcoholism (so much for being "trad").
If Russia possessed a cohesive national identity, it would have a better chance of remaining intact in the face of economic hardship, corruption, and widespread demoralization. Instead, the issues facing Russia are deepening already existing fault lines within its population and exposing its fragility. This will usher in a revival of the pro-independence movements that emerged after the collapse of the USSR.
The ascent of separatist movements in Russia will be hastened by the country's changing demographics. The population of ethnic Russians is shrinking: Their total fertility rate is a mere 1.3. Meanwhile, the non-Russian population is expanding. The federal subjects with the highest fertility rates all are disproportionately inhabited by ethnic minorities. Between 2018 and 2020, Chechnya, Ingushetia, Dagestan, and Tuva were the only federal subjects that recorded more births than deaths. By 2050, between one-third and one-half of Russia's population will be Muslim, compared to 11% now (p. 68).
Predominantly Russian regions are experiencing steep declines in population. For instance, the Far Eastern Federal District lost 23% of its population between 1990 and 2014 (p. 67). This is due to emigration and high mortality rates as well as low birth rates. Since the beginning of Putin's presidency, more than two million Russians have emigrated (p. 68).
To counter Russia's low birth rates and the outflow of skilled workers, Putin has tried to attract migrants. Russia is home to 11 million foreign-born migrants (about 60% of them are Ukrainian, but the rest are non-Slavic), and Moscow has the largest Muslim population of any city in Europe. More than 100,000 Tajiks became Russian citizens in 2021. Russians who are vocally opposed to Putin's liberal immigration policies and advocate ethnonationalism are punished. In 2011, an anti-immigration organization was banned by the Kremlin and was described as "pure evil."
The combination of the continued decline of the ethnic Russian population, the economic stagnation facing Russia, and the failed invasion of Ukraine will have major destabilizing effects. Bugajski cites many examples of Russian regions that could break apart from Russia in the foreseeable future as a result (what follows below is merely a brief overview).
The North Caucasus, particularly Chechnya and Ingushetia, has been a hotbed of separatism and insurrectionist violence since the 1990s. The militants are jihadists backed by the Islamic State, but they are motivated by nationalism as well as religious fanaticism. Moscow's attempts to quell violent resistance in the North Caucasus have been successful in the short term but have heightened resentment against Russia, which does not bode well given the centrality of revenge in Caucasian cultures. A renewal of the insurgency in the North Caucasus is inevitable.
There are also secular separatist movements in the North Caucasus and the surrounding area. The Circassian nationalist movement, for example, has enjoyed a significant resurgence in popularity in recent years. One catalyst for this was the 2014 Sochi Olympics, which were held on the site of the Circassians' humiliating defeat in the last battle of the Russo-Circassian War. The Circassian genocide, in which up to 1.5 million Circassians were massacred by the Russians, remains fresh in the minds of Circassians today.
Bordering the North Caucasus, the Republic of Kalmykia (inhabited mostly by Kalmyks) is involved in a territorial dispute with the neighboring Astrakhan Oblast (inhabited mostly by Russians). The persecution of members of the Oirat-Kalmyk People's Congress, a Kalmykian nationalist group, may radicalize Kalmykians into seeking independence.
The Middle Volga region is comprised of Tatarstan, Bashkortostan, Chuvashia, Mordovia, Udmurtia, and Mari El, all of which contain a significant non-Russian contingent. The "Free Idel-Ural" movement (named for the historical designation of the Middle Volga) seeks to secure sovereignty for each republic in the region and undo Russification. Russia recently deemed it an "undesirable organization." Tatarstan and Bashkortostan both attempted to become independent states in 1990, and Tatarstan recently defied Moscow's demand to term their leader a "Head" rather than a "President" (a term reserved only for Putin). If Moscow encroaches further on Tatarstan's relative autonomy, it could lead to political unrest.
Siberia is a hub of separatist sentiment. Several native Siberian peoples pushed for greater autonomy or declared independence after the collapse of the Tsarist empire and the collapse of the Soviet Union. For instance, the Yakuts, the largest indigenous ethnicity in Siberia, declared Yakutia an independent state in 1918 and founded a Yakut state in 1990. Yakutia remains staunchly opposed to Russian rule. In southern Siberia, Tuva, homeland of the Tuvans, existed as an independent state between 1921 and 1944 and has an active separatist movement. There have also been Siberian independence movements motivated by anti-colonialism and regional patriotism. Moscow has attempted to suppress Siberian regional consciousness: for example, in August 2014 a protest in Novosibirsk that promoted the slogan "Stop Feeding Moscow!" was halted by local authorities and its organizers were arrested. In a move reminiscent of the Soviet Union's designation of "sluggish schizophrenia," authorities committed an anti-Putin Yakut shaman to a psychiatric hospital in 2020.
Separatist movements are not confined to regions with a significant population of non-Russians. In 1993, the Ural Republic was formed from the six oblasts that comprise the Ural Federal District, which is mostly Russian. Other examples include Kaliningrad Oblast, which is located in what was once East Prussia and is geographically isolated from the rest of the country, and the Pomors of Arkhangelsk Oblast, who are genetically Russian but have a distinct culture due to their maritime economy and interactions with nearby Scandinavia. A Pomor republic was created in 1991.
Russia's Far East has a strong regional identity. The Far Eastern Republic, an independent state encompassing five present-day subjects of the region, was established in 1921, and there have been attempts to recreate it. Tensions in the region reached a high point in 2020, when the Governor of Khabarovsk Krai, Sergei Furgal, who defeated the Kremlin-backed candidate and whose approval ratings were higher than Putin's, was kidnapped and imprisoned by Moscow authorities. This prompted mass protests in Khabarovsk and throughout the Far East. Khabarovsk's discontented populace, strong economy, and geographical distance from Moscow make it ripe for secession.
Northwestern Russia (which is mostly Russian) could also pose a threat to Moscow. Regional elites may look to the Novgorod Republic, a thriving Slavic state in northern Russia that was annexed by Moscow in the fifteenth century, as an example of an alternative to Muscovite rule.
Bugajski predicts that separatist movements on the part of ethnic minorities will have a ripple effect and will provoke demands for greater autonomy and self-sovereignty among regions with Russian majorities as well. In response, he predicts that the Kremlin would scapegoat minorities, which would exacerbate inter-ethnic tensions. The Kremlin may also attempt to pacify ethnic minorities with economic benefits, which could engender resentment toward ethnic minorities and could incentivize other regions to rebel in the hopes of receiving state funding. Conversely, it could be that ethnically Russian regions will be the first to secede, since the Kremlin has taken fewer precautions to subdue them.
The 2024 Russian presidential election could be a major turning point. The falsification of election results in favor of Putin (who is eligible for reelection) could lead to mass protests in a reprise of the "Snow Revolution" of 2011–2013, when tens of thousands of ordinary Russians marched in protest of the rigging of the 2011 legislative election. Strikes may also occur as workers' dissatisfaction with their circumstances grows. A wave of mass protests and strikes across the country would further delegitimize the regime and embolden separatists. If police crack down on the protesters, it could lead to further radicalization and violence.
Another contributing factor to Russia's political instability will be intra-elite conflict. Putin will not be able to count on oligarchs' loyalty to him because they are motivated primarily by economic incentives. Intra-elite power struggles could result in alliances between factions of Moscow elites with regional elites in an effort to undermine other factions, or even potentially a coup.
Bugajski outlines a few "rupture scenarios," ranging from peaceful, limited fragmentation to violent confrontation resulting in several declarations of independence. In the latter scenario, which seems more likely, the Kremlin would attempt to violently subdue and integrate would-be separatist regions, which would be met with armed resistance. Moscow's forces would be stretched thin and overtaxed, and separatist regions would assert their statehood.
Moscow may also use military force against its neighbors in an effort to divert attention from its internal failures and unite Russians against a common enemy. Like the invasion of Ukraine, this would likely backfire. It would also alienate ordinary Russians, the majority of whom believe that Moscow's foreign aggression negatively impacts their standards of living, according to a 2019 poll (p. 352).
Russia's military intervention in Ukraine has been costly and ineffective and will hasten its demise. Russia's failure in Ukraine has delegitimized and humiliated Moscow, especially given the perception of Ukraine as backward. In addition, Russians who subscribe to the Kremlin's narrative that Russians and Ukrainians are the same people are likely to be alienated by Russia's brutality toward Ukrainian civilians. Most crucially, Russia's military losses undermine the notion that rebelling against Russia is a futile endeavor.
In the final chapter of the book, Bugajski shifts from making predictions to offering several policy prescriptions for the United States. Here is where his political sympathies become apparent, as his policy prescriptions are motivated by the desire to protect "Western democracies" and secure the interests of the United States and its allies. Bugajski's calls for the United States to subvert the Kremlin and provide support to separatist movements smack of Washington's odious history of destabilizing nations in order to profit off their decline and promote American hegemony. That said, considering that the "Western democracies" he has in mind are all white nations whose existence is threatened by a multiracial empire, any measures taken to come to their defense and curb Russian imperialism would be beneficial from a White Nationalist point of view. Ideally, however, the interests of Russia's neighbors would be protected by something like the Intermarium concept rather than American/NATO meddling.
Regardless of one's attitude toward Russia, the reality of Russia's political volatility and lack of unity is a matter of fact and not opinion. The main takeaway from this for White Nationalists should be that Russia is a failed experiment in multiracial imperialist civic nationalism.
Peace can only exist in empires whose subjects inhabit homogeneous communities and are granted local autonomy. If this arrangement is disrupted (e.g., if subjects are perceived to be insubordinate and are subjected to greater control), it will cause conflict. In the Ottoman Empire, fears of nationalist rebellion in the nineteenth century ignited a movement to undermine the autonomy of its self-governing ethno-religious communities ("millets") and unify the empire with a common culture and language. This created internal dysfunction and led to the Hamidian massacres, and later the genocides of the 1910s and 1920s, the last gasp of a dying empire. Time will tell whether Russia will meet a similar end.
* * *
Like all journals of dissident ideas, Counter-Currents depends on the support of readers like you. Help us compete with the censors of the Left and the violent accelerationists of the Right with a donation today. (The easiest way to help is with an e-check donation. All you need is your checkbook.)
For other ways to donate, click here.
Enjoyed this article?
Be the first to leave a tip in the jar!