Remembering Dominique Venner

(April 16, 1935 – May 21, 2013)
Greg Johnson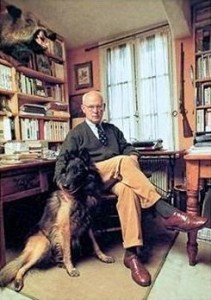 537 words
The French soldier, historian, and European patriot Dominique Venner was born on this day in 1935. He famously ended his life with a bullet on the altar of the Cathedral of Notre Dame in Paris on May 21, 2013 to protest the demographic replacement of Europeans. Through both his life's work and his death, Venner wished to draw attention to the demographic decline of European man and to indicate what we must be prepared to give to save our people: everything. But his death will be in vain unless it is remembered. So take this day to remember Dominique Venner: his life, his work, and his sacrifice.
Venner's Last Words:
"The Reasons for a Voluntary Death" (Translations: Croatian, Czech, Danish, Dutch, Finnish, German, Greek, Hungarian, Italian, Norwegian, Polish, Portuguese, Spanish, Swedish)
"The May 26 Protests and Heidegger" (French original; translations: Czech, Finnish, Hungarian, Portuguese, Spanish)
Tributes to Venner:
Venner's Writings at Counter-Currents:
More About Venner:
See also articles tagged Dominique Venner.