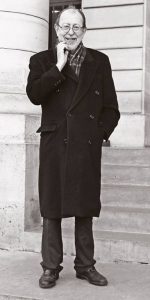 2,146 words
English original here
Tłumaczenie z węgierskiego autorstwa György Balázs Kun, ponownie przetłumaczone na Polski.
Poniższy wywiad pojawił się w węgierskim konserwatywnym czasopiśmie kwartalnym "Kommentár", w jego drugim numerze 2019 roku. Przypisy zostały dodane przez Counter-Currents.
"Stara Prawica nie żyje, niech żyje Nowa Prawica!" To może być naszym okrzykiem po obejrzeniu przychylnych zmian politycznych ostatniej dekady. Wzrost prawicy środkowoeuropejskiej – znacznie bardziej tradycyjnej niż na zachodzie – i zarówno sukcesy rządu węgierskiego, triumf populizmu, pojawienie się "suwerennistośći" i i duchowa odnowa konserwatyzmu pokazują, że Prawica się zmienia. Ale odnowa kultury prawicy – jej nowoczesne ideologiczne zbrojenie – ma teraz za sobą pół wieczną tradycję. W 1968 roku Powstała nie tylko Nowa Lewica, ale także Nowa Prawica (Nouvelle Droite). Barnabás Leimeiszter rozmawiał z założycielem GRECE, głównym teoretykiem francuskiej Nowej Prawicy, i przetłumaczył jego słowa z francuskiego.
Od zadym studenckich po żółte kamizelki
Kommentar: W ubiegłym roku przypada pięćdziesiąta rocznica zamieszek studenckich w 1968 roku. Co robiłeś podczas tych gorączkowych dni?
Alain de Benoist: Obserwowałem tylko, byłem zwykłym obserwatorem. Nie należałem do tych, którzy walczyli z protestującymi. To było naprawdę interesujące i nie było w żaden sposób podobne do obecnego ruchu Żółtych Kamizelek. Większość studentów, którzy uczestniczyli w 1968 r., Miała pochodzenie klasy średniej. Poziom działalności politycznej, jaki wówczas mieliśmy, jest dziś nie do wyobrażenia. Kiedy byłem w szkole, dziewięćdziesiąt procent uczniów było członkami partii politycznej. Teraz jest inaczej. Protesty studenckie miały również surrealistyczny wymiar, a byli anarchiści, trockiści i entuzjaści Chin – to był wielki okres dla maoizmu. Te ostatnie były egzotyczną, naprawdę wyjątkową grupą, jeśli spojrzymy na nie. Widać wyraźnie, że intelektualnie rzecz biorąc, maoizm był najbogatszym i najbardziej produktywnym aspektem ruchu studenckiego. Oczywiście później pożegnali się także z rewolucją, ale ci, którzy byli wówczas związani z kręgami maoistów, stali się interesującymi autorami – w przeciwieństwie do trockistów, którzy dziś wydają się całkowicie bezpłodni.
K: Jak myślisz, czy rok 1968 ma pozytywne dziedzictwo?
AB: Po pierwsze, musimy zauważyć, że były dwa wymiary roku 1968 w tym samym czasie. Ten rok zdefiniował dwie wielkie ideologie. (Na razie odłóżmy na bok strajk generalny, który był oczywiście bardzo ważny ze społecznego punktu widzenia). Doceniam skrzydło ruchu z roku '68: Sytuacjoniści, uczniowie Henri Lefevbre i Jean Baudrillard , który zaproponowali radykalną krytykę Das Kapital, społeczeństwa spektaklu i logiki konsumpcjonizmu. Niestety, nie były to grupy, które zdominowały ruch, ale raczej elementy liberalne, indywidualistyczne i hedonistyczne wysunęły się na pierwszy plan, których zasadniczą cechą była odmowa autorytetu. Szybko doszli do wniosku, że społeczeństwo konsumpcyjne jest dla nich najlepszym środowiskiem do realizacji swojej ideologii opartej na pragnieniu i łatwo osiedlili się w tym systemie. Ale zachowali swoją nietolerancję i mentalność antyautorytarną, która spowodowała niezmierzone szkody, przede wszystkim w systemie edukacyjnym. Edukacja została po prostu zniszczona przez ideologię '68.
K: Jednocześnie w jednym z twoich ostatnich wywiadów powiedziałeś, że wydarzenia z '68 nie zmieniły tak naprawdę biegu rzeczy. Co dokładnie miałeś na myśli?
AB: Myślę, że nawet gdyby zjawisko "68" nie miało miejsca, francuskie społeczeństwo rozwinęłoby się w ten sam sposób, mówiąc ogólnie. Możliwe, że zmiany przebiegłyby nieco szybciej lub nawet trochę wolniej – kto wie? W niektórych krajach zachodnich nie było podobnych zamieszek studenckich, ale mimo to społeczeństwa zmieniły się mniej więcej w ten sam sposób. To dlatego, że dzisiaj wielkie ideologie przekraczają granice państwowe. Jeśli liberalny indywidualizm, liberalny kapitalizm zakończył się głęboko spleciony z rządzącą ideologią, to nie dlatego, że coś wydarzyło się w konkretnym kraju, ale dlatego, że wynika ze zsumowania cech społeczeństwa.
Nowa Prawica
K: Nie tylko zamieszki studenckie miały miejsce pięćdziesiąt lat temu. Rok 1968 oznacza także fundację GRECE, która może być postrzegana jako źródło nowej prawicy europejskiej.
AB: W przeciwieństwie do tego, co niektórzy twierdzą, GRECE nie była reakcją na zamieszki studenckie. Pierwszy numer czasopisma organizacji ukazał się już na początku 1968 roku. Ale oczywiście ta symultaniczność wydarzeń jest znacząca: podobnie jak GRECE, zamieszki studenckie były rzeczą pokoleniową. Nowa Prawica pojawiła się równolegle z Nową Lewicą. W dzisiejszych czasach nie używam terminu "Nowa prawa", ponieważ jest przeładowany, jest zbyt niejasny, a jednocześnie ogranicza. Oczywiście od tego czasu, wszystkie inne grupy "Nowej Prawicy" pojawiły się w innych krajach, które nie mają żadnego związku z naszym sposobem myślenia, a które nawet się od siebie różnią. Więc możemy mówić o Prawicy, ale dobrze byłoby wiedzieć, co to znaczy! Nasza decyzja w jakiś sposób miała charakter pokoleniowy. Mieliśmy pewne doświadczenie w polityce i zaczęliśmy zauważać, że prawica używała tylko starych, powtarzających się haseł, które odnosiły się do problemów, które należały do ​​przeszłości – podczas gdy szliśmy w kierunek nowej ery. Musieliśmy obserwować rzeczy z nowej perspektywy. W pewnym sensie musieliśmy zacząć wszystko od zera i rzucić się w fascynujący projekt, aby przedefiniować Prawicę na poziomie doktrynalnym, ideologicznym, kulturowym i filozoficznym. Ta przygoda trwa od pięćdziesięciu lat – i musimy przyznać, że to coś!
K: Czy uważasz, że reprezentowany przez ciebie wariant Prawicy ma tak samo intelektualny wpływ, jak śniłeś jakieś pięćdziesiąt lat temu?
AB: Zawsze trudno jest zmierzyć wpływ. Napisałem niezliczone książki; jak możemy obliczyć wpływ jednej książki? Spotkałem wielu ludzi we Francji i za granicą, którzy powiedzieli mi, że przeczytali jedną z moich książek, że naprawdę ją lubią i że jest ona dla nich bardzo ważna. Ale przynajmniej możemy stwierdzić, że nasza gałąź jest organiczną częścią francuskiego krajobrazu ideologicznego – i każdy uznaje ten fakt. W ostatnich latach sprzedajemy coraz więcej kopii każdego wydania naszego głównego czasopisma Éléments. Oczywiście jest to wyzwanie, ponieważ świat się zmienia i musimy się do tego dostosować. Nie chcemy powtarzać tych samych rzeczy w kółko, dlatego staramy się tworzyć nowe pomysły. Zwracamy uwagę na to, co się dzieje i staramy się zmierzyć nowe linie sił – tak też zrobiliśmy po upadku Związku Radzieckiego. Ostatnio pojawiają się nowe zjawiska jedno po drugim: wybory Macrona, powstanie Żółtych Kamizelek. Przez trzydzieści lat żyliśmy w epoce lodowcowej, ale obecnie – oczywiście powoli – ideologiczna zbroja zaczęła się topić i zaczęły się pewne procesy. W powietrzu wciąż jest trochę strachu, a nadal istnieją kajdany intelektualne, ale coraz mniej wiążą one myślenie ludzi. Ewolucja intelektualna wielu intelektualistów – takich jak Jacques Julliard, Régis Debray, Serge Latouche, Pierre Manent, Marcel Gauchet, Jean-Claude Michéa i inni – dowodzi tego. Zajęli stanowiska, które byłyby niemożliwe piętnaście lat temu. Krótko mówiąc: jesteśmy w trakcie przejścia, ale nie wiem, gdzie to się skończy.
K: W drugiej połowie lat 70. wydawało się, że Nowa Prawica stanie się częścią francuskiego konserwatywnego głównego nurtu, ale później rozpoczęła się potężna kampania medialna, która zniesławiła was wszystkich jako ekstremistów. To zdecydowanie spowolniło twój postęp. Jak to pamiętasz?
AB: W tamtym czasie Nowa Prawica istniała dziesięć lat. Na początku nikt o nas nie mówił. Wtedy zaczęliśmy być bardziej widoczni tylko dlatego, że udało nam się uzyskać sympatię Louisa Pauwelsa [1] w tym samym czasie, gdy kierownictwo Figaro poprosiło go o stworzenie dodatku, który później stał się magazynem Figaro. W czasie jego pracy jako redaktor naczelny czasopismo sprzedawało prawie milion kopii na wydanie. Chciał umieścić ludzi, którzy należeli do naszej szkoły myślenia w redakcji, a to spowodowało panikę w niektórych kręgach, którzy następnie przeprowadzili kontratak. W pewnym sensie ten attack odniósł sukces, ponieważ Pauwels przestraszył się i stopniowo musieliśmy opuścić magazyn. Jednocześnie międzynarodowa skala kontr-ofensywy umieściła nas na mapie i sprawiła, że ​​Nowa Prawica stała się sławna na takim poziomie, że nawet nie moglibyśmy o tym marzyć. W historii każdej organizacji są objazdy, zmiany, ludzie, którzy myślą inaczej, a ludzie przychodzą i odchodzą – to normalne. Problem polega na tym, że cudzoziemcy często tego nie widzą. Wielu obcokrajowców uważa nawet dzisiaj, że Nowa Prawica oznacza Alaina de Benoist i Guillaume Faye. Faye – który zbliża się do końca, nawet gdy tu rozmawiamy – opuścił nasze kręgi prawie czterdzieści lat temu. Jednocześnie nikt nawet nie wspomina o tych, którzy są obecnie ważni na prawicy: François Bousquet, Pascal Esseyric i Jean-François Gautier, żeby wymienić tylko kilku.
Meta-Polityka
K: Nigdy nie miałeś ochoty zostać politykiem?
AB: Nie, ponieważ nie mam do tego postaci. Jestem przekonany, że moja praca intelektualna i kulturalna pewnego dnia dojrzeje do sukcesu politycznego. Nie mogę przeciwstawić się własnej naturze. Mam temperament intelektualisty, z wszystkimi jego zaletami i wadami. Aby narysować pedantyczną paralelę: idee oświeceniowych myślicieli, twórców Encyklopedii [2], stworzyły tło Rewolucji Francuskiej – ale nie wzięli oni w niej udziału, a niektórzy z nich faktycznie stali się jej ofiarami . Moja postać prowadzi mnie do czytania, pisania, myślenia, rozwijania teorii i tworzenia artykułów i książek – robiłem to przez całe moje życie. Jestem przerażony pomysłem, że mogę być członkiem parlamentu, burmistrzem lub przedstawicielem samorządu lokalnego. . . Nie podoba mi się polityka polityków! Ponadto znajduję codzienne polityki nudne i jałowe. Interesują mnie ambitne nurty polityczne, takie jak ruchy, nowe idee, nowy typ społeczeństwa, w którym żyjemy, rzeczywisty moment historyczny – o czym można teoretyzować.
K: Wiadomo, że wysoko cenisz generała De Gaulle'a. Czy możesz wymienić inną postać polityczną z francuskiego życia politycznego w drugiej połowie XX wieku, którą szanujesz?
AB: Nie szanuję nikogo bezwarunkowo. Jedno jest pewne: po generale De Gaulle'u nigdy nie mieliśmy innej osoby tak wykwalifikowanej jak on, a prezydenci, którzy go zastąpili, nie byli tak szlachetni. Mitterand nie był złym prezydentem, ale popełnił wiele błędów. Po nim przyszło coraz więcej nędznych prezydentów: Chirac, Sarkozy, Hollande, Macron. To prawdziwa polityczna podróż do piekła.
K: Ale oczywiście De Gaulle też jest bardzo krytykowany. Niektórzy oskarżają go o otwarcie drogi dla zwrotu ku społeczeństwa konsumpcyjnego, dzięki jego polityce sprzyjającej wzrostowi gospodarczemu.
AB: Wiele osób twierdzi, że De Gaulle dał zbyt wiele władzy technokratą, którzy chcieli wszystko zmodernizować. Po wojnie, podczas "Trente Glorieuses" [3], francuskie społeczeństwo doświadczyło ogromnego wzrostu, więc fakt, że popierali konsumpcję, nie był sam w sobie tajemnicą – pod warunkiem, że nie przekształci się w ideologię. Pozwólcie, że zaprotestuję: De Gaulle zawsze stawiał politykę ponad ekonomię, podtrzymywał suwerenność narodu. Stanowisko, które przyjął przeciwko Stanom Zjednoczonym, miało znaczenie historyczne, podobnie jak wycofał Francję z NATO. I oczywiście nie tylko miał niezrównany prestiż jako żołnierz i autor, który przeżył wojny światowe i wojnę algierską. To dzięki niemu powstała cenna konstytucja i próbował stworzyć trzecią polityczną drogę między lewicą a prawicą, aby przekroczyć podział polityczny – nawet jeśli nie był w stanie znieść tego podziału. Problemy te pogarszały się raczej pod jego następcą, Pompidou, który był bardziej zainteresowany zachęcaniem do konsumpcji – ale nawet on nie może być uważany za jednego z najgorszych prezydentów! Krótko mówiąc: Nie, nie sądzę, aby De Gaulle ponosił jakąkolwiek znaczącą odpowiedzialność za tworzenie ideologii konsumpcyjnej – która, nawiasem mówiąc, miała miejsce na całym świecie. Kiedy popierał kontrolę państwa nad gospodarką i propagował politykę niepodległości, w rzeczywistości intensywnie stawał wobec tej ideologii.
K: W ciągu ostatnich kilku lat pojawiła się radykalnie nowa forma prawicy; pomyśl tylko o Alt Right. Młodzi ludzie zmęczeni poprawnością polityczną nie są tak naprawdę zainteresowani teoretyzowaniem. Zamiast tego trollują w Internecie, używając coraz bardziej szokujących żartów, aby spróbować zniszczyć dogmaty manierycznego myślenia. Proszę Cię, jako jednego z założycieli Nowej Prawicy: Co sądzisz o "najnowszej prawicy"?
AB: To zjawisko postmodernistyczne. Nie możemy go naprawdę przeanalizować, używając prawdziwych terminów politycznych. Jest częścią świata, który jest zainfekowany ekranami i jest połączony z niesamowitą siłą sieci społecznościowych – które, nawiasem mówiąc, są również połączone z ruchem Żółtych Kamizelek, jak widzimy. Przypuszczam, że ci młodzi ludzie są równie zdolni do bycia najlepszymi i najgorszymi. Uważają, że są całkowicie niezależni: mają swoje regulaminy, referencje i nie pożyczają ich od rozpadających się ideologii starego świata. Oni naprawdę starają się być kreatywni, co jest bardzo sympatyczne. Nowe pokolenie jest znacznie mniej konformistyczne niż poprzednie.
K: Czy istnieją powiązania między pokoleniem lat 60. a dzisiejszą młodzieżą? Czy te same pytania również zajmują ich umysły?
AB: Musimy zobaczyć, że istnieje ogromna różnica: po wieku pełnego zatrudnienia wkroczyliśmy w okres strukturalnego bezrobocia. Nawet jeśli pokolenie 68 narzekało, łatwo było im znaleźć pracę. Natomiast dziś bezrobocie jest istotną częścią systemu. Ekonomiczne "windy" i "ruchome piaski" stały się powszechne, normalne. . . Wielu młodych ludzi obawia się, że nie będą w stanie zarabiać na życie. Po tym nastąpiło zniknięcie klasy średniej, której liczba rosła po latach 50. i która obecnie zanika. W dawnych czasach, gdy ktoś mógł dostać się do klasy średniej, nigdy z niej nie wypadł. Ale dzisiaj sytuacja jest inna. Kiedyś dzieci zarabiały więcej niż ich rodzice, ale to też się zmieniło. Inną dużą różnicą jest to, że dzisiejsze pokolenie to pokolenie AIDS. W moich czasach mogliśmy spać z dziewczynami bez większych problemów; to nie było zbyt ryzykowne. AIDS, strach przed popadnięciem w niższą klasę, trudności finansowe, bezrobocie i wiele innych rzeczy sumują się, a to powoduje wiele obaw wśród młodych ludzi. Ale oba pokolenia pragną wolności. Na koniec chciałbym podkreślić: Żyjemy w okresie przejściowym i musimy być bardzo ostrożni, ponieważ rzeczy zmieniają się naprawdę szybko. Nikt nie mógł przewidzieć buntu Żółtych Kamizelek. Przebieg historii nie jest zdeterminowany.
Notatki
[1] Louis Pauwels (1920-1997) był wybitnym francuskim pisarzem i dziennikarzem, być może najbardziej znanym w anglojęzycznym świecie jako współautor popularnej (lecz bardzo mylącej) książki "Morning of the Magicians" na temat "okultyzmu nazistowskiego "Opublikowany w 1960 r. W 1977 r. Rozpoczął pracę dla Le Figaro, jednej z głównych francuskich gazet głównego nurtu.
[2] Encyclopédie, opublikowane we Francji w latach 1751–1772, było jedną z pierwszych encyklopedii w formie, którą znamy dzisiaj, i stanowiło katalog myśli Oświecenia.
[3] "Trente Glorieuses" odnosi się do okresu między 1945 a 1975 r., kiedy Francja charakteryzowała się dobrobytem gospodarczym, a także wysokim stopniem wzrostu gospodarczego i produktywności. W tym okresie powstał rozległy francuski system świadczeń socjalnych, jaki znamy dzisiaj.