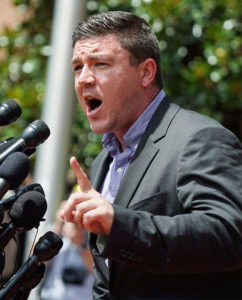 172 words / 2:00:27
To listen in a player, click here. To download the mp3, right-click here and choose "save link as" or "save target as."
On this episode of Counter-Currents Radio, Greg Johnson talks to Jason Kessler, legal activist and organizer of the Charlottesville Unite the Right rallies. They discuss Unite the Right, Kessler provides updates on his legal battles, and the two answer listener questions. Topics discussed include:
00:00:00 Charlottesville, background and aftermath
00:28:48 Ongoing legal battles
00:47:00 Trump's failure to deal with BLM
00:55:40 What legal outcome does Kessler hope for?
01:05:00 Organizational conflicts in Unite the Right and police corruption
01:22:30 Chris Cantwell
01:30:30 Dealing with haters
01:45:00 The upcoming election
If you want to support our work, please send us a donation by going to our Entropy page and selecting "send paid chat." Entropy allows you to donate any amount from $3 and up. All comments will be read and discussed in the next episode of Counter-Currents Radio, which airs every Friday.
Don't forget to sign up for the twice-monthly email Counter-Currents Newsletter for exclusive content, offers, and news.