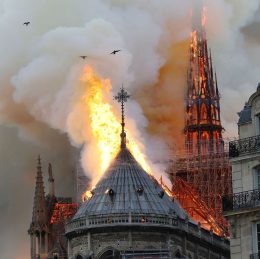 1,043 words
As news spread of the fire consuming the Notre Dame Cathedral in Paris, the first reaction of most people was shock and sadness. You don't have to be Catholic or French to feel as if some part of you has been lost. That was not just an old building or a historically important place. It was a symbol of Western civilization. Stand inside a great church and you feel the awe and power that inspired the builders. That cathedral was the primal roar of a people celebrating their creator and the essence of who they were as a people.
Of course, it did not take long for people to notice that its burning was a metaphor for the current crisis in the West. As Europe is swamped by Muslims, promising to replace Europeans in their own lands, it is only a matter of time before the great churches are turned into mosques or destroyed. Despite the endless propaganda from our rulers, most people here and there, are well aware of what's happening. They don't know how to articulate it or react to it, but they know. Watching the fire, they knew what it meant.
Not everyone had this reaction. The first reaction of Ben Shapiro was to make jokes about the fire and mock Trump's tweet about it. This makes perfect sense. He hates Trump and what he represents, so his natural instinct, regardless of the mood of the room, is to attack him. Despite his ridiculous claptrap about Judeo-Christianity, to Ben Shapiro, that cathedral was just a funny looking old building. It meant nothing to him. That fire meant no more to him than seeing an apartment block burn somewhere in Los Angeles.
In the fullness of time, that inability to pipe down and shut up while his target audience mourns the passing of their heritage, will be a turning point in the Potemkin cult of Ben Shapiro. Even the most blinkered of normies was taken aback by such a crude and malicious statement. He was not the only one to slither out of the shadows and reveal his nature in the light of the flames. Those strangers invited in by our rulers were quick to remind us why they should never have been allowed to come to our lands.
That anger people feel is not the sort of barbaric rage our rulers assume is in the heart of every white man. There will be no occidental riots or calls for pogroms against the invaders. It's a slow buzz as the batteries charge up, waiting for the moment somewhere down the line when the circuit is finally closed. That's how these things go. Decent people are willing to tolerate what seems like an unlimited amount of deprivation from their rulers, but it reaches a point when the batteries are charged and the circuit is closed.
That's why it is good to watch the footage and follow the coverage of this thing. Many of us have disconnected from the news, because it's just propaganda. You can be sure the media will first try to wave it all away as an accident, but we know how they would be reacting if it was a dumpy old mosque or a synagogue that burned, rather than a masterpiece of Western civilization. We know. Everyone knows. Watching it will make you a little angry, but that's a good thing. We need to charge those batteries.
Obviously, we'll never know what really caused the fire. A black church burns and the usual suspects tell us there is a rash of hate crimes against black churches. Catholic churches all over France have been burning for years and we're told it is a racist conspiracy theory to see a pattern. The same will happen here to people who wonder how an unoccupied building that withstood air raids suddenly caught fire in two places. It will be infuriating, but it just charges those batteries a little more each time you hear it.
Even if the cause was recklessness by some workers, that's probably worse. Like America, this kind of work in Paris is done by foreigners now. The work crews are no doubt Algerians, Tunisians and maybe some Africans. The few French involved spend their time keeping these tribes from murdering one another. To these strangers, that cathedral was as meaningless to them as the fire. There, as here, the cost of cheap labor is the loss of your heritage. Is cheap stuff really worth feeling like this every day?
Of course, the other charging source that comes from consuming the news coverage of this event is the reminder that we cannot believe anything we are told now. Before the roof collapsed, the authorities were telling us it was not arson and not terrorism. In other words, they were more concerned about the feelings of the foreigners than what this event was doing to their own people. These events are a reminder that the West is ruled by strangers, who see no difference between a Tunisian goatherd and patriot from Lyon.
It's a sad thing and you should be angry. Even though that anger is more like a building charge, it can still be put to good use. When your normie friend brings up Ben Shapiro or his nonsense about Judeo-Christianity, give him a little shot of that charge. When you are preparing for a day of box wine auntie and her nutty talk about the glories of diversity, give yourself a little shot of that charge, so you can be prepared to make her miserable with your mocking of her piety. Put that anger to good use in your daily life.
To borrow a turn of phrase, the burning of Notre Dame is not the beginning of the end, but the end of the beginning. These events open eyes and make the minds of our fellows receptive to the arguments we make. The subversive seeks to convince you to look away from the fire, so you don't see what is happening. The revolutionary wants his people to look into the fire, so they can see what he sees. We're all revolutionaries now. Our job is to take events like burning of Notre Dame and make more revolutionaries.
Enjoyed this article?
Be the first to leave a tip in the jar!