1,660 words
The coverage of the ongoing water crisis in Jackson, Mississippi signifies much that has become dysfunctional in modern America. If future historians (Hey, guys!) are ever searching for a symbol of the great American decline during its latter days, they could do a lot worse than this.
In the last week of August, heavy rains combined with many years of neglect caused the city's main water treatment facility to fail. This not only deprived many of Jackson's 150,000 residents of water, it also caused many businesses to shut down and prevented the city's firefighters from being able to do their jobs. It's been a major news story for well over a week now.
Joe Biden quickly declared it a federal emergency and authorized the Federal Emergency Management Agency (FEMA) to coordinate disaster relief in Jackson. Mayor Chokwe Antar Lumumba issued a notice to boil water, which is still in effect, and has called upon the National Guard to help distribute water bottles to residents. But, as CNN reported last week,
the distribution itself proved unsustainable. Residents of all ages were seen waiting in lines more than a mile long at Hawkins Field Airport for at least two hours Tuesday for just one case of bottled water. The event was supposed to span three hours, but barely ran two as people were eventually turned away when the 700 cases of water ran out.
This state of affairs isn't new in Jackson, of course. The city, which must be said is over 80% black, has experienced many water crises throughout the years, most notably in 2021. The mayor is black, and so are three of the five people in charge of Public Works, including Director and City Engineer Charles Williams Jr., PE, PhD and Deputy Director of Water Operations Mary D. Carter.
Click here and see for yourselves.
Since the start of September, however, things seems to have calmed down a bit. With state and federal help, an emergency rental water pump has been installed at the city's water treatment plant, and bottled water has been reaching the city's residents. Problems remain, however. The plant still does not offer uninterrupted service, the water still isn't fit for drinking, and the city is struggling to solve staffing shortages at its water facilities. In the meantime, it must rely on contracted third-party workers for day-to-day operations and maintenance.
So, this raises the obvious question: Why does this happen so often in Jackson and not in many other places? Unless you have a tight connection with someone working onsite, or can claim insider information on Jackson local politics, a definitive answer remains frustratingly elusive.
The official narrative assumes basically two positions. One suggests that Jackson's black residents and leadership suffer passively from ongoing technical problems and are constantly in need of assistance, which the state's white leadership is always reluctant to provide. The second simply blames racist white people. Either it's white flight, which eroded the city's tax base starting in 1970, when the city's public schools were integrated, or it's the result of malevolent neglect on the part of the state's white Republican leadership. One article states that Jackson has a water problem only because the state legislature has an even worse race problem.
Narratives countering these are difficult to find, unfortunately. Often they appear as examples of badthink in articles attempting to uphold the official narrative. For example, in 2021 this article shamed Tennessee Governor Tate Reeves for suggesting that the Jackson city leadership needed to do a better job of collecting water bill payments before asking for state or federal assistance. And in this Mississippi Free Press article, also from 2021, the state's Lieutenant Governor, Delbert Hosemann, and former Jackson Mayor Kane Ditto served up the following one-two punch:
Hosemann balked at the $1-billion price tag that Mayor Lumumba previously suggested would be necessary to wholly repair the city's crumbling water infrastructure. But he also said it must be the City of Jackson that serves as the principal actor on any proposal to extract it from the current — and persisting — crisis.
"The prime mover needs to be the city itself. It's the city of Jackson. Where do you start? What are the most complicated places? What's your plan? How much money is it going to take, and how do you even pay for it? I haven't seen any of that," Hosemann said.
The lieutenant governor reflected fondly today to the Mississippi Free Press on a much earlier administration. "You remember during Kane Ditto's administration, he did repair work on water and sewer. So what happened since then?"
Kane Ditto, who served as mayor of Jackson from 1989 to 1997 and as the last white mayor elected to the position, echoed some of Hosemann's concerns to the Mississippi Free Press today, though he acknowledged that the enormity of the problem was beyond any individual administration.
"The administrations after ours were not as concerned with making the routine repairs plus the major infrastructure projects that it would take to fix both the water and the sewer system," he said.
Got that? Not only do we have whitey blaming poor blacks for their own misfortunes, but they're being underhandedly racist about it. At least this is what Harvey Johnson, Jr. suggests. Johnson succeeded Ditto in 1997, and served as the city's first black mayor. In the same article, which is biased against Hosemann and Ditto, Johnson claims his administration spent over $200 million on improving water and sewer infrastructure and adding two new water storage tanks. Johnson then hopes aloud that "demographics" are not behind the so-called misinformation coming from Hosemann and Ditto. But if what Johnson says is true, then why does Jackson still have a water crisis? Author Nick Judin doesn't leave us with a clear answer.
Best of all from the anti-establishment perspective, Frank Corder of the Republican-leaning Y'all Politics writes the following:
In Jackson's case, years of financial mismanagement, internal squabbling, misplaced priorities, and a general lack of ability to operate a municipality are playing out in real time, and it is costing not only Jackson residents but every taxpayer in Mississippi, and now with the federal declaration from President Biden, it is costing every tax paying American as well. . . .
Every other city and town in Mississippi must operate within their means and provide critical services without relying on the State to bail them out. Expecting Jackson to do the same is not uncaring or reflective of some underlying racial inequity; it is fair and just for the other 2.75 million Mississippians that should not be on the hook for Jackson's poor management.
So what to make of all this? And how is this fiasco symbolic of America's decline?
It all boils down to how both conservatives and Leftists deny the reality of race. With lower average IQs and poorer impulse control, blacks as a group are simply less fit to be in charge of First World cities. This is the way it is, and there is nothing anyone can do about it. Instead of accepting this truth, however, conservatives and Leftists presume the false equality of blacks and whites. As a result, each side speaks to only that portion of the truth which suits their political purposes (which is, as always, to blame the other guy), and never the whole truth. Thus, both sides are equally true and false, but can never stop butting heads because they possess opposite sides of the truth.
I hope the following bullet list will make this clear:
The Left claims the issue is all about race. Correct, it is.
The Left also claims that it is primarily white people's fault. Incorrect, it isn't.
Conservatives claim that the issue is not about race. Incorrect, it is.
Conservatives also claim that black people are mostly at fault. Correct, they are.
And for all you visual learners out there: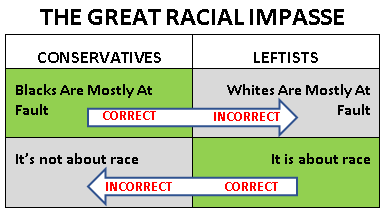 The above table represents what I call The Great Racial Impasse. Both sides possess half the truth (the cells in green), and use this to great effect (represented by the arrows) against where the other side does not possess truth (the cells in gray).
There is no solving this impasse except by convincing both sides of the provable science behind race realism, or by — God help us — violence.

Now, I know we all like to see elegance when constructing our own pet theories. But The Great Racial Impasse is not quite as elegant as it seems. Yes, each side possesses only half the truth, but only one side, the conservatives, are being morally responsible. It's one thing to misconstrue a cause, as the conservatives do. It's something far worse to assign blame to someone who doesn't deserve it, as the Left always does. This is basically why the Right calls conservatives stupid and the Left evil.
Not only this, but the blacks of Jackson fail to understand that by blaming whites for their troubles, they are alienating the very people competent enough to keep clean water flowing into their homes to begin with — sadly, an endemic problem wherever you find large numbers of blacks. This is why I cannot drum up too much concern for the plight of blacks in Jackson. Whatever water they are not getting in freebie drop-offs from the government, I'm sure they can make do with Kool-Aid (not the kind you mix, of course, but the kind that comes in pouches you can buy in bulk.) Their kids might like it better, and in any event, it suits their mindset given the lies their leadership continually tells them about white people.
When future historians assess the latter days of the American republic, they will find both sides of the Great Racial Impasse wielding half-truths like weapons, and contributing to the great unnecessary culture war which very well might claim us all. And nowhere will they find a better example of this than in Jackson, Mississippi's water crisis.
* * *
Like all journals of dissident ideas, Counter-Currents depends on the support of readers like you. Help us compete with the censors of the Left and the violent accelerationists of the Right with a donation today. (The easiest way to help is with an e-check donation. All you need is your checkbook.)
For other ways to donate, click here.