Poslední slova Jukia Mišimy k příslušníkům Společenství štítu
Yukio Mishima
473 words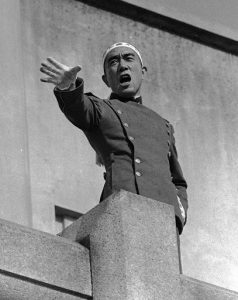 Original English translation here.
Příslušníkům Tatenokai (Společenství štítu):
Mezi vámi vidím jak mnohé z těch, kdo s námi neochvějně jsou už od založení organizace, tak členy páté třídy, kteří jsou s námi teprve devět měsíců. Přesto jsme, alespoň co se mne týče, bez ohledu na míru vašich zkušeností či zapojení, všichni druhy, spojenými identitou přesahující věkové rozdíly a touhou směřovat ke společnému ideálu. Jak víte, s oblibou jsem zkoušel pevnost vašeho odhodlání příkrými slovy, veden snem, že se všichni členové jako jeden muž pozvednou v boji za spravedlivou věc, a tak uvedeme ideje naší organizace do praxe. Právě to bylo mým největším celoživotním snem. Aby se Japonsko mohlo navrátit ke své skutečné a pravé podstatě, musíme soustředit veškerou energii Tatenokai a dovést naši věc do konce.
Proto jsme všichni mužně a bez slůvka stížnosti snášeli namáhavý výcvik. Mezi dnešními mladými bych myslím jen stěží našel mnoho dalších, kteří by pro vznešené cíle s takovou vytrvalostí snášeli tělesnou námahu a strádání tak zdatně jako vy. Rozžehnáním se s prázdným řečněním a teoretizováním, typickým pro mladé levicové revolucionáře, ve prospěch mlčenlivého, promyšleného činu, jsme společně kráčeli po cestě válečníků. Až nastane čas, prokážeme skutečnou hodnotu našeho Tatenokai před zraky celého japonského národa.
Příhodný okamžik však bohužel nenastal. Příležitost povstat a jako jeden konat pro náš ideál minula. Pod pláštíkem prosperity a stability Japonsko den za dnem stále zřetelněji vykazuje rakovinné známky pozbývání – snad nezvratného – své duše, přesto všechno jsme nedokázali než z povzdáli nečinně přihlížet. V časech nejzoufaleji volajícím po našich činech nám osud neprojevil svou přízeň.
K demonstraci této neutuchající bolesti a hněvu činem malé skupinky našich členů s co možná nejmenšími obětmi, tak už zbývá jen jediná cesta, o níž jsem většině z vás nic neprozradil. V žádném případě jsem se tím na vás nemínil dopustit zrady. A byť se nyní život Společenství štítu uzavírá, jak bych se mohl rozhodnout k takovému činu, kdyby nebylo víry, že ideál hrstky zrodí ovoce pro budoucnost váš všech, kteří ve Společenství tak vyrostli? Rád bych, abyste o tom důkladně přemýšleli.
I kdyby Japonsko upadlo až na samé dno své dekadence, zůstanete poslední skupinkou mladých, která poznala ducha i výchovu válečníka. Až se svých ideálů vzdáte vy, Japonsko zahyne.
V průběhu let jsem myslel – a snažil se přetavit ve skutečnost – jen na to, jak vás naučit mužné hrdosti. Z hloubi srdce doufám, že nikdo z těch, kdo kdysi náleželi ke Společenství štítu, až do své smrti nezapomene, co to znamená slovo "Japonci". To, co jste zde ve svém mládí získali, vám zůstane pokladem na celý život, jehož byste se nikdy neměli vzdát.
Tímto bych ještě jednou chtěl vyjádřit svou nejhlubší úctu k vašemu ušlechtilému ideálu a upřímnou vděčnost, že jsem s vámi mohl tuto dřinu a strádání sdílet.
At žije Jeho císařské Veličenstvo!
Jukio Mišima
Vůdce Tatenokai
Listopad, 45. rok Šówy
Translated into Czech by Délský Potápěč.
Enjoyed this article?
Be the first to leave a tip in the jar!