Smrt Jeffreyho Epsteina:

"Konspiračním teoriím sice nevěřím, ale…"
Greg Johnson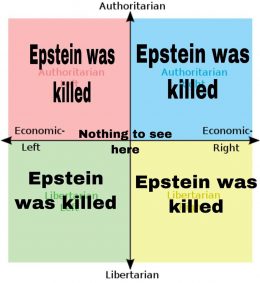 2,640 slov
English original here
Když Jeffrey Epstein 10. srpna 2019 zemřel, kvůli lidem, které mohl kvůli zapojení do jeho zločinů potopit, byl jedním z nejdůležitějších vězňů světa.
Epstein byl obviněn z mnohonásobného kuplířství a spiknutí za účelem nabízet nezletilé k sexu. Nebyl to ale žádný obyčejný zvrhlík ani pasák. Epstein vládl nesmírným majetkem záhadného původu. Přestože byl označován za finančníka, měl jediného známého klienta, Lese Wexnera, vlastníka Victoria's Secret a dalších společností.
Epstein svého bohatství využil k proniknutí do vrchních pater americko-anglo-židovské politické a finanční elity. Jeho černý zápisníček obsahoval kontaktní informace lidí jako Donald Trump, Bill Clinton, královna Alžběta II., princ Andrew, saúdskoarabský král Salmán, Alan Dershowitz, Ehud Barak, Henry Kissinger, Michael Bloomberg a mnoho dalších oligarchů a celebrit.
Epstein měl podle všeho slabost pro nezletilá děvčata. Ta samozřejmě podle zákona nemohou svolit s pohlavním stykem, takže se Jeffrey Epstein dopustil mnohonásobného znásilnění. Svými spády se nijak netajil a svému soukromému tryskáči říkal Lolita Express. V roce 2006 ho FBI začal vyšetřovat. Agenti postupně vypátrali více než stovku žen, řadu z nich nezletilých, které za sexuální úsluhy pro Epsteina či jeho bohaté a mocné přátele převzaly peníze.
V roce 2007 však Epstein uzavřel dohodu s prokurátorem Alexem Acostou, díky níž se vyhnul federálnímu stíhání i pobytu za mřížemi. Epstein v jejím rámci souhlasil, že přizná před státním (tj. nikoliv federálním) soudem vinu za dvě obvinění z prostituce. Výměnou za to i se svými komplici získal imunitu před federálními obviněními z kuplířství, které ho mohly poslat za mříže na doživotí. Epstein si "odseděl" 13 měsíců v soukromém křídle okresní věznice (county jail). Podle vyjednaných podmínek však směl šest dní v týdnu na 16 hodin denně vězení opustit. V podstatě tam tak jenom přespával. Jeho údajní spolupachatelé se pak stíhání vyhnuli úplně. Dohoda podléhala utajení, a tak se veřejnost o plném rozsahu a povaze jeho zločinů nikdy nedověděla. Epsteinův spis byl počátkem letošního roku odtajněn díky vytrvalosti novinářky Julie Brownové, následkem čehož došlo k jeho zatčení a posléze i jeho smrti.
Acosta se stal ministrem práce v Trumpově kabinetu. Jistému zaměstnanci Bílého domu, který tuto informaci předal novinářce Vicky Wardové, měl údajně říct, že s dohodou o zastavení Epsteinova stíhání souhlasil hlavně proto, že dostal pokyn "držet se od něj dál". "Řekli mi, že Epstein 'je u rozvědky' a že to mám nechat být." Pokud je to skutečně pravda, vnucuje se otázka: pro vyzvědače kterého státu Epstein vlastně pracoval? A kdo Acostovi nařídil, aby se držel zpátky?
Podle Philipa Giraldiho je nejpravděpodobnějším kandidátem Izrael. Epstein byl Žid, stejně jako jeho jediný známý klient Les Wexner. Jeho někdejší přítelkyně, důvěrnice a údajná spolupachatelka při kuplířství byla Ghislaine Maxwellová, dcera Roberta Maxwella (který se ovšem narodil na československé Zakarpatské Ukrajině jako Abraham Leib Hoch /později používal Ján Ludvík Hoch/), zámožného židovského podnikatele a podvodníka, který podobně jako Epstein zahynul za podezřelých okolností. Giraldi píše: "Když (Maxwell) zemřel, dostalo se mu izraelského státního pohřbu, na němž hned šest aktivních i bývalých šéfů izraelských zpravodajských služeb naslouchalo smuteční řeči expremiéra Jicchaka Šamira: "Pro Izrael udělal mnohem více, než si dnes kdo dovede představit."
Nabízejí se další nepohodlné otázky. Snažil se Epstein zlákat své bohaté a vlivné přátele ke spáchání pohlavního zneužití nezletilého? Shromažďoval o nich kromě toho také další více či méně kompromitující informace, aby je mohl finančně a snad i politicky vydírat? Tak se alespoň jeví mně.
Domnívám se, že Epstein nesjpíš byl izraelský agent, který pracoval pod krycí identitou bohatého finančníka s konexemi. Dodával nezletilé dívky bohatým a mocným zvrhlíkům, aby po nich mohl vyděračsky požadovat peníze a službičky v podnikání nebo politice. Tato teorie je nejlépe slučitelná se známými fakty, má schopnost predikce a další vyšetřování ji může ověřit či vyvrátit. Jestliže je to pravda, pak měl nejeden mocný člověk dobré důvody postarat se o to, aby Epstein nikdy nestanul před soudem nebo nedostal šanci domluvit se se státním zástupcem.
Jestliže jsem to, že Epstein je velmi pravděpodobným terčem úkladné vraždy, snadno dovodil já a nespočet dalších, muselo to být jasné i trestním orgánům a vedení newyorské federální věznice Metropolitan Correctional Center. Všichni ostatně měli vědět, že Epstein má na čele obří terč hned od svého zatčení 6. července 2019. A ti, kdo by to snad napoprvé přehlédli, rozhodně ztratili veškeré možné omluvy 23. července, kdy byl Epstein nalezen ve své celé zraněný a jen napůl při vědomí. Na krku měl stopy ukazující buď na pokus o sebevraždu, nebo vraždu. Co hůř, Epstein i jeho spoluvězeň o tom, co se stalo, zarytě mlčeli.
Když tak jen o pár dní později Jeffreyho Epsteina nalezli mrtvého se stopami na krku, jež ukazují na vraždu či sebevraždu, všichni s IQ vyšším než pokojová teplota a alespoň základním povědomím o jeho případu rychle museli dospět k závěru, že jeho smrt nebyla jen tak nějaká obyčejná sebevražda.
Pojďme to promyslet trochu důkladněji. Jeffrey Epstein byl zavražděn, nebo spáchal sebevraždu. Nikdo nepřišel s myšlenkou, že by zemřel z přirozených příčin. Trochu mě ale popravdě překvapuje, že nikdo nepřišel s hypotézou autoerotické asfyxie coby příčiny smrti, vzhledem k tomu, jaký zvrhlík to byl.
Protože Metropolitan Correctional Center disponovalo prostředky, jak Epsteinovi ve spáchání sebevraždy zabránit, byla-li to skutečně sebevražda, pak Epsteinovi dovolili zabít se. Mohlo se jednat buď o úmysl, nebo nedbalost.
Jestliže byla Epsteinovi sebevražda umožněna záměrně, byl motiv velmi pravděpodobně totožný jako v případě vraždy, tedy zabránit mu vypovídat.
Pokud se Epstein mohl zabít v důsledku nedbalosti, znamená to, že americká vláda, především pak ve městě New York, přestala být seriózní institucí a svým fungováním se řadí někam mezi latinskoamerickou banánovou republiku a zhroucený africký stát. Zejména se pak nabízí závěr, že lidé ve vedení newyorského Metropolitan Correctional Center se zachovali bud nedbale nebo zločinně – případně s nějakou kombinací obojího.
Kdokoliv se špetkou rozumu navíc všechno výše uvedené dokázal odvodit ještě předtím, než k nám začaly pronikat zprávy o záhadně nefunkčních bezpečnostních kamerách, záhadně přerušeném sledování vězně, který si pokusil vzít život a záhadně nepřítomných dozorcích.
Vražda nebo sebevražda – Epsteinova smrt je největším skandálem desetiletí. Bez ohledu na to, zda šlo o vraždu nebo sebevraždu a zda se někdy dozvíme pravdu nebo ne, Epsteinův případ nemůže než dále rozložit už tak dost otřesenou víru průměrného Američana v politický systém a mainstreamová média. A to jsou dobré zprávy pro populistické disidenty jako já, neboť rozklad důvěry v establishment je živnou půdou populismu.
Pokud budou na jedné straně debaty o Epsteinovi stát ti, podle nichž je systém dostatečně zlý na to, aby ho zavraždil, a na druhé lidé, podle kterých je dostatečně neschopný, aby ho nechal spáchat sebevraždu, systém nemůže zvítězit a my v disentu nemůžeme prohrát. Ať už se stalo cokoliv, pravda jim škodí a nám pomáhá.
Co když se ale pravdu nikdy nedovíme? Pak se debata povede mezi lidmi, podle nichž je systém dostatečně prohnilý, aby pravdu záměrně skryl na jedné straně a těmi, podle kterých je natolik neschopný, že ji nedokáže najít. Když padne hlava, disidenti vyhrávají, když orel, establishment prohrává.
A hra s takto rozdanými kartami se mi zamlouvá.
10. srpna navíc nezemřel jen Jeffrey Epstein, ale také něco dalšího, potenciálně mnohem většího než on: slovní spojení "konspirační teorie" pozbylo svou moc potlačit kritické uvažování o konsenzu vyrobeném a vynucovaném politickým a mediálním establishmentem.
V rukou elit se "konspirační teorie" stává prostě jen dalším pejorativním výrazem maskujícím se za objektivní kategorii. "Konspirační teorie" v jejich řeči znamená odlišný názor ohrožující její mocenské postavení.
Na konspiračních teoriích ale není nic špatného. "Teorie" je jednoduše vysvětlení spojující pozorované jevy pomocí souboru základních příčin, jako např. evoluční nebo atomová teorie. "Konspirační teorie" označuje vysvětlení, jež také spojuje pozorované jevy jejich základními příčinami, v tomto případě lidským plánováním. Latinský základ slova "konspirace", conspirare, ostatně znamená "společně šeptat".
Konspirace má coby forma lidského plánování a akce dvě zásadní charakteristiky. V prvé řadě jsou k ní potřeba přinejmenším dva lidé. Myšlenka zosnovaná a uskutečněná osamělým činitelem může být intrikou nebo zločinem, ale konspirace to není. Druhou nutnou podmínkou je utajení, jelikož o věcech, jež jsou předmětem konspirace, nelze hovořit otevřeně bez ohrožení celého plánu.
Konspirace jsou často, byť ne nezbytně kriminální. Někdy je nutné uchýlit se ke konspiraci i v případě dokonale legálních počinů, jelikož jejich otevřené plánování a uskutečnění by odkrylo karty protivníkům. Když se tak fotbalisté baví v hloučku, konspirují. Když podnikatelé připravují nové produkty, konspirují. Když vlády plánují špionáž a válečné scénáře, konspirují. Když politické strany a kandidáti promýšlejí volební kampaně, konspirují. A když disidenti pořádají setkání nebo jiné akce, konspirují. Osobně konspiruji každý den, od rána do večera.
Dějiny lidstva se z nemalé části odvíjejí od plánů a činů zosnovaných v utajení. Chceme-li tak odsoudit konspirační teorie jako celek, budeme muset zahodit všechna možná kriminální vyšetřování. Totéž platí i o většině novinařiny i historiografie, které se velmi často snaží svázat různá vlákna pozorované reality do jednotícího plánu. Zbavit bychom se museli také nejednoho z těch nejlepších literárních a filmových kousků o politice, špionech a zločinu. Dovedete si představit bondovku, kde by stačilo prohodit "konspirační teorie", aby to zmrazilo veškeré myšlení a akci?
Krom toho se titíž lidé, kteří "konspirační teorie" ostouzejí, v tomtéž uvažování sami vyžívají. Jen o nich nehovoří jako o teoriích, ale vydávají je za fakta. Vezměte si třeba následující lapsus Julie Ebnerové, která svou esej "Stop the Online Conspiracy Theories Before They Break Democracy" (Zastavme konspirační teorie na internetu, než zničí demokracii) začíná slovy: "Organizované sítě vyznavačů konspiračních teorií vedou masivní informační válku po celé Evropě." "Organizovaná síť" samozřejmě není nic jiného než neobratně vyjádřená "konspirace".
Na levici nejsou ruské spiknutí, patriarchát nebo bělošská privilegovanost konspirační teorie, ale fakta. Z toho plyne, že "konspirační teorie" označuje především něco, čemu podle establishmentu v žádném případě nemáte věřit. Místo "konspirační teorie" by se tak slušelo použít spíše "nesouhlasná myšlenka" a esej Ebnerové by se měla jmenovat "Zastavte opoziční smýšlení na internetu, než zničí demokracii".
Vsadím se, že jste měli za to, že jedním z hlavních prvků demokracie je ochrana oponujících myšlenek. Za tímto účelem byl nepochybně sepsán i první dodatek americké ústavy. Svoboda slova musí být ústavním právem, aby se díky ní lidé mohli odchýlit od mínění mocných, kteří by jinak mohli nesouhlasné hlasy umlčovat a trestat.
Stejně jako v případě "diskriminace" a "zobecňování", jimiž establishment také nasazuje psí hlavu odpůrcům, je spiklenecké teoretizování – a teorie obecně – prostě jen jedním z projevů inteligence. Právě k vytváření teorií se totiž uchylují chytří lidé, jsou-li postaveni před matoucí a složité fenomény. Když tak establishment vynáší do nebes důvěřivost a stupiditu, očividně má za lubem něco nekalého.
Výpad proti konspiračním teoriím jako takovým ostatně neklamně zavání prohlubujícím se zoufalstvím. Je-li pravda skutečně na vaší straně, vypořádat se s protichůdnými výklady by pro vás měla být hračka. Jediným důvodem k obecnému vyloučení všech nesouhlasných postojů tak je neschopnost jednotlivé opoziční postoje vyvrátit. Přesně to lze ale čekat od systému vystavěného na lžích; zvlášť nepravdě tak bizarní a protimluvné, jako je postulát, že všichni lidé jsou si rovni a rozdíly mezi nimi jsou vždy zdrojem síly.
Konspiračnímu myšlení se v poslední době daří stále více s tím, jak důvěra v establishment upadá – a ten se brání. Už před Epsteinovou smrtí jsme proto zaznamenali velice znepokojivý trend, kdy se nařčení z šíření "konspiračních teorií" stalo záminkou k umlčování disidentů.
Tak byl 6. srpna 2018 odstraněn veškerý obsah konspirátora Alexe Jonese a jeho webu InfoWars z platforem Facebook, iTunes od Apple, YouTube a Spotify. Co působí jako věrohodnější vysvětlení skutečnosti, že kvartet technologických gigantů vymazal Jonesův obsah v tentýž den: komplot nebo náhoda?
V lednu 2019 YouTube vyhlásil, že upraví své algoritmy tak, aby navrhovaly divákům méně videí šířících "konspirační teorie". Fantasmagorie o ruských zásazích pochopitelně pro YouTube konspirační teorií nejsou, Velká výměna a bělošská genocida ovšem ano.
Letos v srpnu pak Yahoo! News informovaly o interním oběžníku z FBI z útvaru ve Phoenixu, datovaném 30. května 2019, kde byly "konspirační teorie" jako Pizzagate a QAnon zařazeny mezi domácí teroristické hrozby
Po Epsteinově úmrtí se však už "konspirační teorie" nemusejí krčit někde v koutku. Vstoupily předním vchodem do hlavního proudu.
Donald Trump retweetnul spekulace, že za smrtí finančníka stál Bill Clinton. Demokraté si zase pohrávají s teorií, že za jeho koncem byl Trump. Trump i Clinton jsou známí sukničkáři a s Epsteinem se znali.
Bývalý newyorský starosta a státní zástupce Rudolph Giuliani označil příběh Epsteinovy sebevraždy za "neuvěřitelný" a dodal, že ho napadá "alespoň 50 velice důležitých lidí s motivem zabít ho".
Úřadující starosta New Yorku Bill De Blasio s ním souhlasil. Espteinova smrt byla "až moc příhodná" a těžko ji lze připsat na vrub "klasickému selhání lidského faktoru". De Blasio v podstatě prohlásil: "Konspiračním teoriím sice nevěřím, ale…" Jak však dodal, "někdy narazíte na sled událostí, jež se vzpírají normálním vysvětlením a žádají si vyšetřování v plném rozsahu" – což je de facto v kostce i postoj konspiračních teoretiků k této otázce.
Pokusy médií umlčet spekulace nálepkou "konspirační teorie" jsou od nalezení Epsteinova těla spíše rozpačité a nejvlažnější úsilí podle všeho vyvinuly hlásné trouby s největší autoritou. BBC tak kupříkladu nesouhlasně zvedá prst, když píše, že "jen několik hodin poté, co byl známý finančník Jeffrey Epstein v sobotu nalezen mrtvý, se na webu začaly ve velkém šířit nepodložené teorie o jeho úmrtí".
Epsteinova smrt je každému myslícímu člověku podezřelá na první pohled. Proto lidé pochopitelně okamžitě začali spekulovat o alternativních vysvětleních. Napadat je jako "nepodložené" je ovšem směšné. Samozřejmě jsou nepodložené, vždyť dosud nebyl čas je něčím podložit. Každá teorie je nepodložená, dokud není prověřena. Proto je musíme prověřovat. Neměli by se právě do toho pustit ti nejlepší investigativci z BBC? Lidé v BBC by však zdá se upřednostnili, kdybyste v Epsteinově případě odložili kritické myšlení stranou a jednoduše uvěřili tomu, co vám předkládají.
Po Epsteinovi jsou z nás všech konspirační teoretici. Hranice mezi okrajovými "konspiračními teoriemi" a "fakty" hlavního proudu se zhroutila. Jediné smysluplné dělení tak nyní je to na dobré a špatné konspirační teorie, kterými se hodlám zabývat v budoucí eseji. Považuji to za nezbytnou práci, jelikož se mi osobně značně příčí špatné konspirační teorie, jež až příliš často vycházejí z nesprávných metafyzických předpokladů a nezřídka zavání šílenstvím.
Konspirační teorie jsou navíc přirozeně spojeny s populismem. Jeho ústřední zásadní zní, že jedině taková vláda, která vládne v zájmu obecného blaha, je legitimní. Různé frakce a zvláštní zájmy jsou podle populistů nepřítelem dobrého vládnutí. Tento proces by podle nich měl co možná nejtransparentnější, aby se tak snáz dalo čelit subverzi zájmových skupin, jež už z podstaty věci proti obecnému blahu pletichaří ve stínech.
Jak jsem popsal výše, Epsteinova smrt by měla populistům pomoci bez ohledu na to, jak celý případ dopadne. Jeho podivné úmrtí v prvé řadě zbavilo označení "konspirační teorie" jeho schopnosti odsouvat na okraj, stigmatizovat a paralyzovat kritické myšlení. Zadruhé systém prohrává bez ohledu na to, na kterou stranu debaty o Epsteinově případu se postavíte: Pokud byl zavražděn nebo mu záměrně umožnili spáchat sebevraždu, je systém zlý. Jestliže padá jeho smrt vlastní rukou na vrub nedbalosti, je systém silně nekompetentní. A pokud se pravdu o jeho smrti nikdy nedozvíme, pak bude diskuse vedena mezi lidmi, podle nichž je systém dostatečně zlý na to, aby záměrně ututlal pravdu na jedné straně a zastánci pozice, že je příliš neschopný, než aby ji dokázal odhalit.
Všimněte si, že tyto zisky pro zisky pro populisty nejsou nijak závislé na odhalení pravdy o Epsteinově smrti. Systém už stihl tyto ztráty odepsat a pohnout se dál, takže bychom je měli plně využít. Nejlepší možný scénář pro systém znamená katastrofální ránu důvěře veřejnosti v něj, jeho prestiže i kontroly nad narativem.
Skoro to vypadá, jako by za Epsteinovou smrtí stáli lidé, kteří nemají zájem na dlouhodobější životaschopnosti amerického systému. Snad Amerika není jejich zemí. Nebo se obávají ještě mnohem horších eventualit
Proto se musím ptát: co by se stalo, kdyby se vyplnila ta pro systém nejčernější alternativa, tedy odhalení kompletní pravdy o Jeffrey Epsteinovi a jeho přátelích? Přihlédneme-li k ochabující síle konspirační nálepky a roli, již při pohnání Epsteina před spravedlnost sehráli opravdoví investigativní novináři, nacházíme jisté důvody k opatrnému optimismu. Neměli bychom však čekat na tento ideální vývoj a raději se usilovně snažit využít všechny zisky, které nám Epsteinův případ už nyní nabídnul.
Source: https://deliandiver.org/2019/08/smrt-jeffreyho-epsteina-konspiracni-teorie.html
Enjoyed this article?
Be the first to leave a tip in the jar!