"Enough from the Clown!"
Up Schmitt's Creek with Justin Trudeau
James J. O'Meara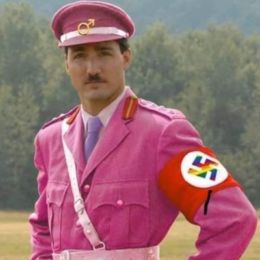 1,674 words
You've seen these films, haven't you, my man? — Manhunter
The sovereign is he who decides on the state of exception: If there is some person or institution, in a given polity, capable of bringing about a total suspension of the law and then to use extra-legal force to normalize the situation, then that person or institution is the sovereign in that polity. — Carl Schmitt, Political Theology 5
Snap! Crack! Pop! (Ow!)
That was the sound as the knees of "conservatives" began jerking over the weekend when the Rt. Hon. Justin Trudeau, the fey, foppish Prime Minister of Canada who has been the butt — if you will — of macho conservative derision for years now apparently ran out of bubblegum and began kicking ass.
Suddenly, all the jokes about Shining Pony were forgotten, and he stood revealed as a big, bad meanie, the brute!
You expect this stuff from the Left, of course; the likes of Bill Maher began evoking the Little Corporal's name several days earlier, when Trudeau complained about having to "tolerate" the unvaccinated (just as they called Trump Orange Hitler for referring to "bad hombres" coming in from Mexico).
But there's nothing a conservative likes more than a chance to holler "fascist!" at the Left;[1] except, perhaps, a chance to holler "Racist!" at the same folks. And for the same reason: The conservatives have been running away from fascism as much as from racism (that is, racial solidarity), perhaps even more so: the Second World War was a rather more decisive defeat than even the Civil Rights Act.[2]
So I've definitely seen this film before; it's the one where conservatives realize they've seen another film before as well, for this is "exactly how Nazi Germany started." The Tribal members among them, who seem to be the dominant part these days, probably had racial nightmares of the Cossacks when Trudeau sent the horses in.
Just as the Left always seems to be doing something "racist," because "racism" is simply natural, so any kind of effective government action smacks of "fascism," the most natural and effective form of government.
Rather than attempt to defend fascism, conservatives have opted for their usual "cunning plan" of agreeing with the Left on fascism as the Ultimate Evil, but then "owning them" by pinning the label on the other side.
Hence conservatives have been trapped in a reflexive posture that makes them oppose any kind of effective government action to promote the welfare of the people, from Social Security to National Health Insurance. Rural electrification? Fascism![3] The National Highway System? Why not call it an Autobahn, eh, comrade?[4]
Which is not to say that I don't support the truckers' goals or despise Trudeau's goals. But we need to make the rather obvious separation of goals and methods and recognize Trudeau's tough response as refreshingly effective government action, especially compared to the squishy impotence of both Trump and Biden in similar situations.
What's wrong with Trudeau's response is not his "fascist" methods, but rather that they are being used to forward the plans of a Hostile Elite. In the hands of the people, or a government truly "of the people," they would be quite appropriate. If Trudeau had called out the militia to forcefully arrest, detain, and generally rough up a meeting at Davos or Jackson Hole or Silicon Valley, that might be "fascism" — but if so, I say, let's have more of it.[5]
We've seen that film: the European Revolution of 1933.
In fact, that's exactly what the Black Bloc was doing in Seattle in 1999 during protests against the World Trade Organization, before their target was shifted (no doubt due to bags of SorosGeld) to attack populist movements. Same tactic, different goals.
So there's that movie we've seen before as well.
Another movie conservatives have seen before was Justin's father, Pierre, invoking the previous version of the Emergency Measures Act, the War Measures Act, during the Quebec Crisis of 1970, in the course of which he made the goddamn greatest statement ever made by a North American politician:
"There's a lots of bleeding hearts around that don't like to see people with helmets and guns," said Trudeau. "All I can say is, go on and bleed. It's more important to keep law and order in this society than to be worried about weak-kneed people who don't like the looks of a soldier's helmet."
Ralfe then asked Trudeau how far he would go to protect Canadians' safety during the crisis.
With a shrug, Trudeau replied: "Just watch me."
Of course, everyone points out that kidnapping and murdering a cabinet minister was a far more serious "crisis." The line usually taken is something like, "All Trudeau had to do was go out and talk with the protestors, treat them like equal citizens with a right to be heard and negotiated with." Wie bitte? And what exactly was he supposed to say to them? "I feel your pain?" Or perhaps, like Nixon, he could have snuck in for a surprise early morning visit to "share" his feelings about the "bad vibes"?[6]
Trudeau's vaccine was effectively the face and nature of the globohomo regime: to give an inch would have effectively emasculated himself, just as the conservative mockers would have expected. Surprise! If Trudeau hasn't read Schmitt — from Pierre's library? Or Fidel's? — he's a natural Schmittian.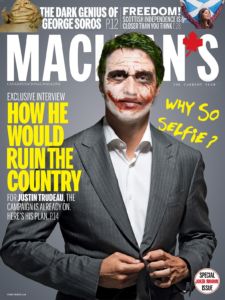 Now Trudeau has shown us what real sovereignty is. He is the most dynamic leader in the world, beyond Putin or Orbán. Where other "leaders" talk, Trudeau takes action. He's not afraid to send in the Cossacks, even if some citizens get trampled. You have to break some eggs to make an omelet, as I think Knute Rockne said, or maybe it was Bishop Fulton Sheen.
And there's another movie: a few years back, I wrote on Counter-Currents about Trudeau's sudden burst onto the public stage when he beat the crap out of a neocon talking head. Turned out the "lady boy" had a wicked right, and down went the neocon.
There is more than a little silly about Trudeau. Truth be told, there was a lot of silliness in Trump. And Huey Long, the last great fascist/populist. And though many on the Right may feel touchy about this, there was a lot of silliness in Hitler as well, making him a suitable role for Charlie Chaplin.[7]
Just as Trevor Lynch has suggested that in the current world, Rightist ideas can only be expressed in the media by villains and madmen,[8] perhaps silliness is the only way fascism can manifest itself in Clown World.
If Trudeau had met with a room full of truckers and conservatives, it probably would have gone down like this.
It would be a mistake to join our enemies in focusing on the silly purple glove rather than the iron fist which we can learn from.
As Mike Tyson could have told Patrick Brazeau, or the truckers, everyone laughs at Justin Trudeau — until they get punched in the face.[9]
*  *  *
Counter-Currents has extended special privileges to those who donate $120 or more per year.
First, donor comments will appear immediately instead of waiting in a moderation queue. (People who abuse this privilege will lose it.)
Second, donors will have immediate access to all Counter-Currents posts. Non-donors will find that one post a day, five posts a week will be behind a "paywall" and will be available to the general public after 30 days.
To get full access to all content behind the paywall, sign up here:
Paywall Gift Subscriptions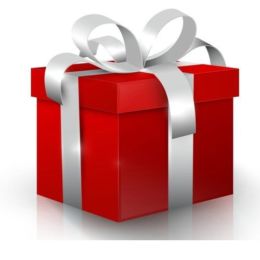 If you are already behind the paywall and want to share the benefits, Counter-Currents also offers paywall gift subscriptions. We need just five things from you:
your payment
the recipient's name
the recipient's email address
your name
your email address
To register, just fill out this form and we will walk you through the payment and registration process. There are a number of different payment options.
Notes
[1] See, perhaps most egregiously, Liberal Fascism: The Secret History of the American Left from Mussolini to the Politics of Meaning by the inimitable Jonah Goldberg (New York: Doubleday, 2009).
[2] "Stalingrad! How's that for catharsis!" Louis-Ferdinand Céline, Paris Review, The Art of Fiction No. 33. On the Civil Rights Act as a new Constitution, see Morris van de Camp's review of Christopher Caldwell's Age of Entitlement.
[3] William F. Buckley once said he ran into a Tennessee woman who claimed Goldwater wanted to take away her TV, meaning he opposed the Tennessee Valley Authority, as did Richard "Shoes Cause Liberalism" Weaver; see my review of his Ideas Have Consequences.
[4] H. P. Lovecraft was reflexively opposed to Franklin D. Roosevelt, until "conservatives" told him the New Deal was fascism, whereupon he immediately began to support it.
[5] He's already shown us the right way to deal with journos: "I was manhandled, I was shoved, my head was slammed into a wooden fence, my hands were cut open, and my equipment (and wristwatch) were damaged. " ("POLICE STATE: Trudeau's bodyguards assault media at Christmas party event"). Want some? Get some!
[6] "'The media the next day, the newspapers, went and talked to some of the students. And most of the comments they got, almost all of them said that the president was speaking flippantly, irrelevantly. And, in fact, he did. He tried to engage them on Vietnam, evidently. They didn't listen very much to what he had to say. He said he sympathized with their interest in peace,' he said. 'And then, when that didn't work, he said, where do you go to college? And if it was Syracuse, oh, you have got a good football team. Or if it was California, he would talk about surfing to them. He talked about foreign travel. And the next day, the media only had those kinds of comments, which is kind of the reason why Nixon a couple of days later decided to put down his memories of the visit for the historical record.'" See "Richard Nixon met in secret with Vietnam War protesters, feared for his life."
[7] In the famous "ranting" scene from Downfall, nothing Hitler says is wrong; it's the delivery that makes it so suitable for making memes. This is also what makes unironic neo-Nazis unintentionally funny, however "scary" or "impressive" their helmets and uniforms are.
[8] "In a 'free' society we can't suppress dangerous truths altogether. So we have to be immunized against them. That's why Hollywood lets dangerous truths appear on screen, but only in the mouths of monsters: Derek Vinyard in American History X, Travis Bickle in Taxi Driver, Bill the Butcher in Gangs of New York, Ra's al Ghul in Batman Begins, the Joker in The Dark Knight, etc." See "Christopher Nolan's Batman Movies: Weaponizing Traditionalism, Transvaluing Values."
[9] "Trudeau's patience, superior cardio, and longer reach paid off in round three. Brazeau's nose was bloodied. He looked like he was about to faint. The ref raised Trudeau's arm and declared him the winner. Worst of all: Trudeau was gracious in victory, while Brazeau was dazed and petulant." — "Shine Briefly, Little Pony"
Enjoyed this article?
Be the first to leave a tip in the jar!