The Counter-Currents Newsletter, September 2019
Greg Johnson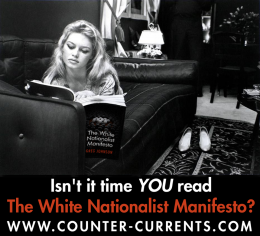 925 words
Dear Friends of Counter-Currents,
September was our best month ever in terms of traffic: 234,278 unique visitors, almost 100,000 over what we had in June! There has been a steep and steady rise in traffic since June. This is not merely due to a few viral articles, although those helped. There are also structural factors at work:
YouTube censorship is causing dissidents to leave that platform looking for more vital ones.
Twitter is increasingly dead due to censorship, so dissidents are leaving that platform as well.
The establishment continues to push multiculturalism, globalization, and the Great Replacement, driving people to look for alternatives, and more and more of them are finding Counter-Currents.
If you are a new reader, please tell us how you discovered Counter-Currents and why you come back. Just leave a comment below.
In July we were deplatformed from yet another credit card processor. This was a major blow. However, in August, we put another solution in place. Realistically, though, who knows how long these sorts of things will last.
For a few days, due to a software problem, we lost the ability to sign people up for new monthly donations. That problem has now been fixed. 
It is becoming increasingly clear that deplatforming might no longer allow us to continue supporting Counter-Currents through book sales and small donations from a large number of supporters. There may come a day — very soon, actually — when we simply can no longer take conventional online payments at all. At that point, we will only be able to receive money through:
Crypto currencies
The mail
And not a lot of our supporters will make that transition, unfortunately.
Realistically, that means that if Counter-Currents is going to continue to grow, we must cultivate a smaller circle of high-commitment, high-dollar patrons. I know you are out there. Until now, you have been part of a much larger donor pool, and you could take that into account when calculating your support. Now, we can no longer take that for granted. So I would like to talk to you about increasing your support to make Counter-Currents less vulnerable to deplatforming. If you want to help out, please contact me at [email protected].
In September, we added 75 pieces to our webzine, including four podcasts. Our Top 20 articles and full stats are below.
1.  Top 20 Pieces (with Number of Reads): 
This month, Scott Weisswald's viral article on Rammstein topped our chart. Robert Hampton had three of the Top 20 articles. Richard Houck had two articles in the Top 20, as did Jef Costello and Morris V. de Camp. Our new writer Anton made his Top 20 debut. And a list of established writers — including Ricardo Duchesne, Trevor Lynch, Alex Graham, Hugo Adrian, Mitch Smith, Travis LeBlanc, F. Roger Devlin, James O'Meara, and A. B. Rockwell — had single articles in the Top 20. Congratulations, and thank you!
2. Our Top 20 Countries
Here are the top 20 countries from which we received visits:
United States
France
Great Britain
Canada
Germany
Hungary
Australia
Sweden
The Netherlands
Russian Federation
Spain
Romania
Brazil
Poland
Bulgaria
Denmark
Norway
Italy
Ireland
New Zealand
3. Our Readership and Web Traffic
| Month | Unique Visitors | Number of Visits | Pages Viewed | "Hits" | Bandwidth |
| --- | --- | --- | --- | --- | --- |
| September 2019 | 234,278 | 439,839 | 1,667,120 | 2,371,312 | 50.37GB |
| August 2019 | 186,296 | 381,383 | 1,529,633 | 2,579,106 | 47.23 GB |
| July 2019 | 165,768 | 359,816 | 1,615,100 | 2,587,657 | 50.62 GB |
| June 2019 | 136,186 | 295,792 | 1,463,565 | 1,771,348 | 43.07 GB |
| May 2019 | 120,632 | 278,801 | 1,396,970 | 1,543,953 | 45.42 GB |
| April 2019 | 125,695 | 288,101 | 1,423,928 | 1,557,779 | 44.59 GB |
| March 2019 | 131,856 | 299,343 | 1,678,351 | 1,837,439 | 47.87 GB |
| February 2019 | 120,920 | 267,964 | 1,492,016 | 1,637,121 | 45.99 GB |
| January 2019 | 124,678 | 291,537 | 1,573,037 | 1,714,955 | 44.91 GB |
| December 2018 | 142,828 | 296,136 | 1,647,162 | 1,804,673 | 46.74 GB |
| November 2018 | 139,255 | 289,998 | 1,568,158 | 1,708,499 | 44.97 GB |
| October 2018 | 142,051 | 302,916 | 1,683,473 | 1,828,443 | 48.32 GB |
| September 2018 | 149,035 | 298,321 | 1,541,361 | 1,692,787 | 44.29 GB |
| August 2018 | 156,580 | 318,127 | 1,605,425 | 1,760,728 | 49.59 GB |
| July 2018 | 151,710 | 287,323 | 1,495,087 | 1,541,056 | 43.60 GB |
| June 2018 | 150,307 | 280,625 | 1,420,234 | 1,371,897 | 38.62 GB |
| May 2018 | 151,739 | 287,032 | 3,990,878 | 4,140,772 | 38.36 GB |
| April 2018 | 150,833 | 286,365 | 1,535,115 | 1,676,785 | 37.94 GB |
| March 2018 | 169,686 | 327,589 | 2,589,786 | 2,733,787 | 54.08 GB |
| February 2018 | 145,761 | 268,300 | 1,370,626 | 1,511,087 | 32.71 GB |
| January 2018 | 150,378 | 297,511 | 1,575,368 | 1,715,849 | 37.82 GB |
| December 2017 | 152,616 | 279,822 | 1,611,341 | 1,721,470 | 36.28  GB |
| November 2017 | 206,887 | 369,476 | 1,447,593 | 1,558,599 | 34.12 GB |
| October 2017 | 185,568 | 357,742 | 1,305,421 | 2,674,026 | 84.44 GB |
| September 2017 | 167,887 | 316,974 | 1,174,706 | 5,018,519 | 59.75 GB |
| August 2017 | 197,961 | 402,333 | 1,571,545 | 5,147,275 | 72.50 GB |
| July 2017 | 143,298 | 291,003 | 962,966 | 4,321,260 | 54.73 GB |
| June 2017 | 146,466 | 314,232 | 991,487 | 4,496,358 | 56.48 GB |
| May 2017 | 144,005 | 316,576 | 975,281 | 4,304,712 | 56.36 GB |
| April 2017 | 146,149 | 314,996 | 1,141,489 | 4,307,589 | 63.78 GB |
| March 2017 | 187,296 | 372,483 | 1,247,545 | 4,226,147 | 67.70 GB |
| February 2017 | 176,470 | 349,663 | 1,203,798 | 4,112,379 | 63.50 GB |
| January 2017 | 168,633 | 354,483 | 1,274,174 | 4,538,574 | 70.39 GB |
| December 2016 | 166,356 | 343,155 | 1,237,884 | 4,459,628 | 70.60 GB |
| November 2016 | 149,973 | 327,184 | 1,211,464 | 4,578,555 | 54.19 GB |
| October 2016 | 143,274 | 334,172 | 1,384,218 | 4,686,132 | 49.46 GB |
| September 2016 | 135,699 | 329,894 | 1,523,606 | 4,773,361 | 60.16 GB |
| August 2016 | 140,362 | 316,443 | 1,505,438 | 4,334,119 | 71.48 GB |
| July 2016 | 122,622 | 343,826 | 1,756,815 | 4,071,905 | 58.92 GB |
| June 2016 | 123,901 | 351,467 | 1,664,032 | 4,237,552 | 57.88 GB |
| May 2016 | 134,345 | 360,069 | 1,663,686 | 4,578,071 | 59.79 GB |
| April 2016 | 121,779 | 327,150 | 1,514,605 | 4,525,313 | 59.50 GB |
| March 2016 | 119,288 | 343,090 | 1,586,158 | 4,385,429 | 55.58 GB |
| February 2016 | 121,361 | 342,891 | 1,269,478 | 3,865,233 | 52.09 GB |
| January 2016 | 112,680 | 312,399 | 1,279,265 | 3,808,315 | 56.32 GB |
| December 2015 | 118,438 | 327,974 | 1,270,504 | 3,756,303 | 59.09 GB |
| November 2015 | 130,264 | 341,885 | 1,212,556 | 3,825,700 | 62.43 GB |
| October 2015 | 118,247 | 320,680 | 1,226,301 | 3,599,419 | 62.65 GB |
| September 2015 | 124,342 | 325,517 | 1,266,197 | 3,653,818 | 65.50 GB |
| August 2015 | 103,769 | 264,613 | 1,082,267 | 2,992,773 | 52.13 GB |
| July 2015 | 103,188 | 281,469 | 1,263,504 | 3,307,479 | 55.38 GB |
| June 2015 | 119,264 | 288,620 | 1,289,808 | 3,439,675 | 57.42 GB |
| May 2015 |  no data |  no data |  no data |  no data |  no data |
| April 2015 | 79,251 | 144,783 | 666,989 | 1,576,493 | 14.12 GB |
| March 2015 | 86,251 | 173,236 | 749,068 | 1,545,146 | 14.21 GB |
| February 2015 | 76,322 | 148,894 | 526,666 | 1,208,728 | 10.92 GB |
| January 2015 | 86,263 | 171,544 | 612,211 | 1,348,105 | 13.35 GB |
| December 2014 | 78,658 | 152,838 | 538,903 | 896,560 | 9.73 GB |
| November 2014 | 86,254 | 172,786 | 678,026 | 741,633 | 7.93 GB |
| October 2014 | 85,852 | 174,240 | 678,119 | 748,061 | 8.15 GB |
| September 2014 | 61,485 | 121,651 | 448,701 | 505,472 | 8.92 GB |
| August 2014 | 62,415 | 127,630 | 438,270 | 501,703 | 8.62 GB |
| July 2014 | 63,223 | 149,786 | 456,117 | 536,178 | 8.79 GB |
| June 2014 | 58,147 | 116,084 | 327,309 | 366,568 | 7.16 GB |
| May 2014 | 59,321 | 116,293 | 321,397 | 363,432 | 7.08 GB |
| April 2014 | 56,511 | 110,621 | 318,831 | 367,018 | 6.91 GB |
| March 2014 | 65,619 | 117,881 | 335,592 | 380,785 | 7.89 GB |
| February 2014 | 55,805 | 100,271 | 300,207 | 346,026 | 6.18 GB |
| January 2014 | 82,567 | 209,131 | 1,130,149 | 1,224,623 | 98.64 GB |
| July 2013 | 82,106 | 200,961 | 1,619,899 | 1,813,531 | 124.29 GB |
| June 2013 | 80,409 | 197,258 | 1,730,633 | 1,884,016 | 103.77 GB |
| May 2013 | 95,667 | 221,260 | 1,758,299 | 1,897,099 | 103.67 GB |
| April 2013 | 81,328 | 192,910 | 1,528,169 | 1,634,540 | 91.16 GB |
| March 2013 | 83,303 | 189,545 | 1,477,001 | 1,778,006 | 94.98 GB |
| February 2013 | 81,999 | 185,688 | 1,396,374 | 1,498,502 | 75.33 GB |
| January 2013 | 100,054 | 208,004 | 900,577 | 1,012,979 | 40.81 GB |
| December 2012 | 109,265 | 224,793 | 926,117 | 1,143,248 | 37.53 GB |
| November 2012 | 107,956 | 199,912 | 584,115 | 755,419 | 29.95 GB |
| October 2012 | 81,739 | 157,152 | 410,096 | 416,362 | 16.36 GB |
| September 2012 | 66,719 | 132,503 | 455,938 | 493,856 | 17.73 GB |
| August 2012 | 41,616 | 96,314 | 305,729 | 329,353 | 12.23 GB |
| July 2012 | 52,304 | 108,340 | 367,589 | 373,470 | 12.52 GB |
| June 2012 | 55,112 | 110,246 | 400,141 | 404,162 | 13.66 GB |
| May 2012 | 56,323 | 111,533 | 400,243 | 404,483 | 15.70 GB |
| April 2012 | 56,772 | 110,029 | 421,446 | 428,678 | 16.08 GB |
| March 2012 | 55,572 | 106,029 | 441,170 | 475,719 | 16.36 GB |
| February 2012 | 53,345 | 99,607 | 376,288 | 411,915 | 14.43 GB |
| January 2012 | 56,633 | 107,644 | 408,373 | 433,736 | 21.38 GB |
| December 2011 | 49,845 | 97,223 | 337,881 | 344,210 | 13.65 GB |
| November 2011 | 44,445 | 88,824 | 330,664 | 339,521 | 14.22 GB |
| October 2011 | 45,590 | 90,444 | 337,137 | 468,197 | 17.78 GB |
| September 2011 | 45,427 | 88,782 | 422,902 | 481,909 | 11.67 GB |
| August 2011 | 40,002 | 81,012 | 502,282 | 2,083,593 | 53.18 GB |
| July 2011 | 30,186 | 66,093 | 416,309 | 1,952,047 | 71.23 GB |
| June 2011 | 28,629 | 57,920 | 264,928 | 1,004,128 | 22.78 GB |
| May 2011 | 36,596 | 78,103 | 274,841 | 1,334,472 | 47.59 GB |
| April 2011 | 20,091 | 58,037 | 223,291 | 2,729,449 | 54.65 GB |
| March 2011 | 29,768 | 62,077 | 220,053 | 2,485,001 | 52.21 GB |
| February 2011 | 29,737 | 61,519 | 213,121 | 2,081,558 | 40.13 GB |
| January 2011 | 28,583 | 60,005 | 198,249 | 1,736,067 | 34.06 GB |
| December 2010 | 26,161 | 50,975 | 192,905 | 1,101,829 | 27.79 GB |
| November 2010 | 26,054 | 48,336 | 171,833 | 915,553 | 26.39 GB |
| October 2010 | 17,848 | 35,921 | 140,365 | 611,367 | 17.93 GB |
| September 2010 | 17,063 | 34,510 | 147,051 | 580,550 | 16.39 GB |
| August 2010 | 12,174 | 22,348 | 93,379 | 333,614 | 10.17 GB |
| July 2010 | 9,387 | 17,329 | 119,254 | 348,172 | 10.01 GB |
| June 2010 | 6,145 | 10,328 | 70,732 | 200,824 | 6.08 GB |
4. How You Can Help Counter-Currents
[give_form id="93964″]