An Esoteric Commentary on the Volsung Saga, Part VI
Collin Cleary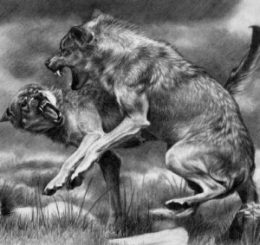 2,829 words
Part I here, Part II here, Part III here, Part IV here, Part V here, Part VII here
Chapter 8. The Vengeance of the Volsungs
In the last installment of this series, we told of the birth of the hero Sinfjotli, product of the incest of the twins Sigmund and Signy. When Sinfjotli is not yet ten, Signy sends him into the forest to live with Sigmund. He has been hiding out in a turf house for years, looking forward to revenge against King Siggeir, who was responsible for the death of his father and his nine brothers. Sinfjotli owes his very existence to Signy's desire to provide her brother with a male accomplice who can carry out that revenge. When Sinfjotli arrives at Sigmund's hideout, he passes a test of courage (killing a large snake hidden in a bag of flour), and Sigmund determines that this "pure Volsung" is well-suited to be his companion.
However, Sinfotli is still much too young to assist Sigmund in carrying out his plans for vengeance. So, Sigmund decides that he should spend a few years accustoming Sinfjotli to "hardships." In other words, he undertakes to train his young son (though it is important to bear in mind that at this point in the saga Sigmund is not yet aware that Sinfjotli is his own child). During the warm months, Sigmund and Sinfjotli travel "widely through the forests" and kill men "for their money."[1]
This period spent in the forest recalls the banishment of Sigi in Chapter One, which established a pattern we find in the saga. Over and over again, the Volsungs must literally or figuratively step outside the confines of civilized society in order to realize their potential as the "super-warriors" Odin intends them to be. This usually takes the form of breaking social conventions or moral norms (e.g., murdering a slave and lying about it, killing close relatives, incest, filicide, etc.). Sigmund's period of hiding in the wilderness recalls Sigi's banishment. Though Sigmund has been "banished" through no crime of his own, he is effectively removed from society: neither of the kingdom of Siggeir, his mortal enemy, nor of the kingdom of the Volsungs, which has been destroyed.[2]
We should be cautious, however, about labelling their career of killing travelers as yet another instance of the Volsungs' transgression of moral norms. As I noted in the first part of this series, such activities were not frowned upon in the Germanic world, so long as men did not victimize their own tribe and kin. Indeed, the act of raiding other tribes or slaughtering and robbing strangers was admired and served to enhance reputations. Nevertheless, it is still an act which fits the pattern I have already described. What is really key to the Volsungs' "transgressions" is that they place them outside the bounds of societal norms. Sigmund and Sinfjotli's acts of murder are acceptable precisely because they happen outside tribe or society, and thus occur in a kind of "state of nature."
Further, Kris Kershaw discusses (at great length) how the training of young warriors in Indo-European societies often occurred in a condition that placed them literally outside the perimeter of civilization, and in a kind of indefinite moral state. Kershaw mentions the ancient Cretan custom in which an older man "kidnapped" a young boy from his home and spent two months with him in the forest, teaching him how to hunt. In reality, the "kidnapping" was arranged in advance and with the consent of the parents: it was a rite of initiation.[3] Scholars have also argued that the Norse Sagas contain hazy recollections of ancient initiation rites – and Kershaw endorses the view that the story of Sigmund and Sinfjotli is one such case.[4] (The pattern of initiation cited by Kershaw fits the case of the career of the young Sigurd even more closely.)
To return to our story, one day Sigmund and Sinfjoti, while out robbing, come upon a house "where two men were sleeping who wore thick golden rings." We are told that these men were princes (literally "king's sons," konungasynir) who had "suffered an evil fate." Wolfskins (úlfahamir) hung over them. "They could only come out of the wolfskins every tenth day."[5] Sigmund and Sinfjotli put on the wolfskins and find that they cannot remove them. Their voices become wolf howls, but they are able to understand each other.
This episode is one of the most mysterious in the saga. Who are these princes? How did they come to suffer this "evil fate"? Why are they specifically described as wearing "thick golden rings"? And why on earth do Sigmund and Sinfjotli put on the wolfskins? Answers to these questions are not provided, and we can only offer some conjectures. First, the gold rings may very well foreshadow the cursed gold rings (there are more than one) that appear later in the saga, thanks to Sigurd slaying the dragon Fafnir and making off with his hoard.
Why Sigmund and Sinfjotli put the skins on, however, is a difficult matter. Surely, Sigmund at least must have been aware of the powers of such animal skins, and the lore concerning werewolves (including, quite possibly, the difficulty of returning from the werewolf condition). Indeed, it seems fair to suppose that the whole reason Sigmund puts on the wolfskin, and the young Sinfjotli follows his lead, is that he expects something magical to occur. Kershaw believes, and I think this is correct, that putting on the wolfskins is another rite of initiation (or a part of the initiation of Sinfotli already taking place).
Kershaw notes that "The werewolf life is part of the training of the young warrior throughout the [Indo-European] world."[6] Here, Kershaw means that it was common for young warriors to identify with the wolf. This identification, furthermore, may have been very literal – in other words, young warriors could have believed that they took on the spirit of the wolf, and were to some degree transformed into wolves. In the Norse tradition, such warriors were identified, of course, as the úlfheðnar (approximately, "those wearing a wolf cloak"). There are references to the úlfheðnar in several sagas, and one of the Torslunda plates (sixth/seventh century) depicts what seems to be an úlfheðinn.
These "werewolf warriors" were consecrated to Odin, and Kershaw argues for an interpretation of the god as "leader of an army of ecstatic wolf-warriors."[7] Kershaw is here drawing on the work of Otto Höfler, who "explained the many facets of this 'most multiform' of gods by deriving them all from his role as god of the ecstatic warrior brotherhoods."[8] Kershaw translates Óðr as ekstasis, a practice I have defended in a number of essays, in which I have discussed the concept of ekstasis at length.[9] In brief, an ecstatic state is one in which we "stand outside ourselves"; one in which we are transported beyond the ordinary level of our existence and feel transformed and inspired.
Certainly, the condition of the úlfheðinn qualifies as an ecstatic state. Let us note in passing that this is a way. In other words, it is a path to the transcendence of ordinary human existence, to the transfiguration of the self in identity with something greater. In this particular case, the úlfheðinn frees himself from human physical and social limitations through identification with a splendid beast noted for its power, courage, and rapacity – as well as its capacity to evoke fear in men and other animals. As Kershaw notes, the wolf belongs outside the village – as does the novice warrior, in training. We may add to this that, really, all warriors, in a certain sense, belong outside the village: their experience of death sets them forever apart, in spirit, from the realms of domesticity and social convention. The "lone wolf" represents the extreme case of one who completely identifies with this "apartness" and rejects home and hearth.[10] Certainly, Sigmund can be considered such a "lone wolf," since, as I have noted already, he is a man without a society or tribe. (The same, of course, is true of Sinfjotli.)
We must also consider the manner in which Sigmund and Sinfjotli take on wolf form. Claude Lecouteux in his Witches, Werewolves, and Fairies: Shapeshifters and Astral Doubles in the Middle Ages believes that the account of lycanthropy in the Volsung Saga is a kind of garbled recollection of shapeshifting, possibly influenced by Christian prejudices.[11] In classic Norse accounts of shapeshifting, individuals are said to possess more than one physical shape. The Old Norse term for this is hamr, which literally means "skin." Shapeshifting into animal form involved projecting an animal form ("skin"; hamr) that already dwelt within the body of the shapeshifter. Consider, for example, Ynglinga Saga 7: "Odin often changed himself; at those times his body lay as though he were asleep or dead, and he then became a bird or a beast, a fish or a dragon, and went off in an instant to far-off lands on his own or other men's errands."[12]
Note that this mentions that the shapeshifter lay as if he were asleep or dead. And what do we find in the Volsung Saga? The princes are found asleep in their beds, with the úlfahamir (wolf skins) "hanging above them." Recall that we are never told who these two princes are, or why they have suffered an "evil fate." It is entirely possible that this is, as Lecouteux suggests, a garbled recollection of an older version of the story in which the princes are asleep because they are projecting their "skins."[13] But why would the story have been so greatly changed? Why would an internal "skin" have become an external one?
Lecouteux discusses how Christianity sought to stamp out the pagan belief in a soul containing more than one hamr, and literalized accounts of lycanthropy (or other forms of shapeshifting) as involving "putting on skins." Lecouteux offers multiple examples of this, saying of the trial transcript of one man accused of being a werewolf, "There is no longer a question of a body in lethargy, and metamorphosis is here replaced by a wolf garment."[14] If this hypothesis is correct, I would suggest further that the "princes," in older versions of the tale, were probably Sigmund and Sinfjotli themselves – both of whom are of royal blood, of course, and who certainly have "suffered an evil fate," at the hands of Siggeir. The werewolf episode may thus have originally involved Sigmund and Sinfjotli lying down in their beds and shapeshifting through the projection of a hamr in wolf form. Furthermore, it may be that the episode originally involved Sigmund teaching Sinfjotli how to shapeshift into the form of the wolf, as a deliberate part of his training (as opposed to how the saga writer presents the discovery of the "wolfskins" as happenstance).
In any case, once Sigmund and Sinfjotli have transformed into wolves, they decide to go their separate ways, at least for a while. Before doing so, they make an agreement that, while alone, they will attack no more than seven men at a time. If they should encounter a larger group, they agree to call to the other for help. At this point, we should note the obvious: that the pair are no longer engaged in the activity of robbing men, but solely in slaughtering them. And, we might add, eating them and drinking their blood. In Helgakvitha Hundingsbana I, stanza 36, in the Poetic Edda, Sinfjotli is attacked by his opponent Guthmund with a series of accusations, amongst which is "You have eaten dead men's flesh . . . your cold mouth has often sucked wounds."[15] This seems clearly to be a reference to Sinfjotli's time as a werewolf. Kershaw notes, in addition, that "[d]rinking blood and eating raw meat were reputed to make warriors fierce and formed a standard part of the education of the adolescent Männerbündler."[16] This is yet another reason to think that, originally, the werewolf episode was orchestrated by Sigmund as part of Sinfjotli's training.
At a certain point during their adventures in wolfen form, Sigmund comes up against seven men, but finds he needs help nevertheless. He calls on Sinfjotli, who rushes to his aid and helps his father kill the men. Later on, Sinfjotli breaks their agreement by trying to take on eleven men by himself! Sinfjotli is badly injured, but Sigmund rushes to help him and dispatches the men. In response, not only does Sinfjotli express no gratitude for this, he taunts Sigmund over the fact that the older man had needed aid in attacking a mere seven men, while he, Sinfjotli, had boldly taken on eleven. This is a typical display of adolescent hubris, and were he in his right mind, Sigmund would probably only have chastised his son. But in his wolf form, Sigmund is possessed with the spirit of the beast, and drunk on the blood of the men he has slain. Thus, he responds by lunging at Sinfjotli and biting him in the neck.
The boy, in fact, is mortally wounded. Sigmund puts Sinfjotli on his back and returns to the turf house. There, filled with remorse, Sigmund curses the wolf skins ("saying the trolls could take them") – which neither he nor Sinfjotli are able to get out of. Sinfjotli lingers, and then one day Sigmund sees two weasels fighting. One bites the other in the neck, just as Sigmund had bitten Sinfjotli. The victorious weasel then rushes into the forest and returns with a leaf. He places it on the other weasel's wound, whereupon the poor beast springs up as if he had never been harmed. Presently, Sigmund sees a raven flying overhead, carrying the same sort of leaf. It lands and offers the leaf to Sigmund, who then places it on Sinfjotli's wound. Sinfjotli is immediately healed, just as the weasel was.
This motif of the Lebenskraut ("leaf of life" or "herb of life") shows up in more than one of the Kinder- und Hausmärchen of the Brothers Brimm. The example that is closest to the episode in the Volsung Saga occurs in "The Three Snake Leaves" (Die drei Schlangenblätter). A young man agrees to be entombed with his dead wife, a beautiful princess, and hacks to pieces a snake that he finds in the crypt:
After a time a second snake crept out of the hole, and when it saw the other lying dead and cut in pieces, it went back, but soon came again with three green leaves in its mouth. Then it took the three pieces of the snake, laid them together as they ought to go, and placed one of the leaves on each wound. Immediately the severed parts joined themselves together, the snake moved, and became alive again, and both of them hastened away together.[17]
The young man then uses the leaves to revive his dead wife, with unfortunate results: she is restored to life all right, but she becomes evil in the process. (If something similar happens to Sinfjotli, this is not made clear.) It is apparent that the Lebenskraut is a very old legend, a memory of which managed to survive in folktales. Astute readers of the stories collected by the Grimms will recognize quite a few survivals from pre-Christian, Germanic mythology.
In terms of its place within the saga, it is clear that the episode with the Lebenskraut has been orchestrated by Odin. The weasels are clearly assigned the task of pantomiming the confrontation of Sigmund and Sinfjotli, and the raven is, of course, one of the beasts most closely associated with Odin. Either the raven is one of Odin's messengers, or it is the god himself. Either way, it is obvious that this episode constitutes another of Odin's repeated interventions in the story. The god not only wishes Sinfjotli to live, but apparently also wishes Sigmund to succeed in his vengeance against Siggeir, for which he needs the help of the younger man.
We will see the terrible way in which father and son wreak that vengeance, when we continue our account of Chapter Eight in the next installment . . .
Notes
[1] The Saga of the Volsungs with the Saga of Ragnar Lothbrok, trans. Jackson Crawford (Indianapolis: Hackett Publishing, 2017), 10.
[2] "Liminal" is the term Kris Kershaw uses repeatedly to describe the state of certain warriors in the Indo-European tradition. See Kris Kershaw, The One-Eyed God: Odin and the (Indo-) Germanic Männerbünde (Washington, DC: Journal of Indo-European Studies monograph No. 36).
[3] Kershaw, 53.
[4] Kershaw, 57; 59-62.
[5] Crawford, 11.
[6] Kershaw, 60.
[7] Kershaw, 8.
[8] Kershaw, 69.
[9] See in particular my essays "The Gifts of Ódhinn and His Brothers" and "The Stones Cry Out" in What is a Rune? And Other Essays (San Francisco: Counter-Currents Publishing, 2015).
[10] Kershaw, 177.
[11] See Claude Lecouteux, Witches, Werewolves, and Fairies: Shapeshifters and Astral Doubles in the Middle Ages, trans. Clare Frock (Rochester, Vt.: Inner Traditions, 2003).
[12] Snorri Sturluson, Heimskringla, trans. A.H. Smith (Mineola, N.Y.: Dover Publications, 1990), 5.
[13] Lecouteux, 121.
[14] Lecouteux, 168.
[15] The Poetic Edda, trans. Jackson Crawford (Indianapolis: Hackett Publishing, 2015) 197, st. 36.
[16] Kershaw, 143.
[17] Grimms' Complete Fairy Tales, no translator credited (New York: Barnes and Noble, 2012), 227.
Enjoyed this article?
Be the first to leave a tip in the jar!