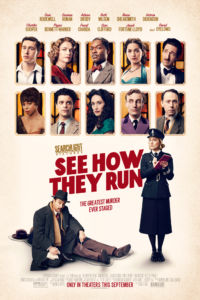 1,690 words
It seems ironic that Tom George's 2022 film See How They Run was released in England a day before Queen Elizabeth's death. The film, a whodunit that follows the genre's steps like following footprints in the snow, wants to be funny and breathe life into the old form. But, like recent events with the monarchy, this film is a kind of death watch on England and English culture, especially that middlebrow artifact known as the murder mystery.
George took the title from an original play from 1943 written by Phillip King that was a British farce full of mistaken identities, with doors opening and shutting as faux vicars run to and fro. It has lines like, "You can't shoot me! I have diabetes," and "Sergeant, arrest most of those vicars!"
The farce has nothing to do with a whodunit. Its name is merely grafted onto this film, which starts, as they all do, with a corpse, but this one is that of Leo Kopernick (Adrian Brody), who, like Joe Gillis in Sunset Boulevard, is equally dead but talks about himself.
Kopernick is a smarmy Jewish producer from Hollywood, but his smarm is appealing — unlike, say, anyone from the Biden family — and Kopernick is an engaging character, one of the film's gems.
When Kopernick is found dead onstage, the police are summoned, and that means Inspector Stoppard (Sam Rockwell), the name being a play on Tom Stoppard's show The Real Inspector Hound since the play where the murder takes place is Agatha Christie's The Mousetrap. Stoppard is bored and nondescript, and this is a problem in this film, but his assistant, Constable Stalker (Saoirse Ronan, who is perky and looking sharp in uniform) is a delight, and clearly the best thing about it. I wondered whether if she and Kopernick had been teamed together, what fireworks there might have been.
The film likes to dip into all of the whodunit genre with its names and references, and the setting, the early fifties, recalls a happier England: still dreary after the war and coping with rationing, but with a newly-crowned Queen, an Empire that was about to dissolve, and awash in the murder mystery story.
The continual self-conscious references to names and genres made the piece feel as if it was trying too hard. Even the teaming of Stoppard and Stalker recalled the BBC series Foyle's War, where a detective is teamed up with a younger, uniformed woman as his aide, but Sam Rockwell is no Michael Kitchen, and his disaffected manner dulls things. As a detective, he carries an artificial leg as a result of a war wound, exactly like a character did in Foyle's War. There seems to be a complete lack of imagination in this film, and references to the character's backstories don't add any interest. Fortunately, Stalker is energetic enough to carry the story until it runs out of steam halfway through.
The plot is the usual "connect the dots to the suspects," but a difference here is that political correctness infests the film, like everything else in entertainment these days. One of the suspects is Cocker Norris, a playwright — an obviously gay one, and he's played by a black. Note also that another suspect, Sheila Sim (Pearl Chandra), is Indian. A suspect, John Woolf, is white, but he has a black girlfriend. Ah, for the days of white Britain. You think that in a film set in the early fifties, that wouldn't be a problem, but no.
The action takes us to Agatha Christie's house, in another twist in the story. Shirley Henderson plays Christie as an acerbic and calculating writer unwilling to bend her plot to human considerations. In real life, Christie's second husband was Max Mallowan, an archaeologist, and sure enough, artifacts are scattered around the house, but did you know he was black? Well, he certainly wasn't, but here he's played by a girthful actor that reminds me of Al Roker.
The reason for so many ethnics in films and plays aren't just due to political correctness, but because they are kept as a watchdog on whites, reminding us that there is no more white world — and, judging by the rewriting of roles, that there never was, given that we have seen a recent black Anne Boylen, Edgerton with its black Princess of Wales and leading man, and so on.
Blacks and their dusky compeers are there to watch us and make sure we don't get any ideas about wanting to keep things white. Of course it will be said that we're supposed to ignore this, and that's it's all a matter of casting the best actor, but it means we have to shut off our critical faculties and believe what the screen or casting director tells us — that the black or colored person there is actually white. It's sort of a visual demonstration of 2+2=5.
Again, I won't give away any of the plot to say that none of the blacks are the killer. Oh, no.
Of course, putting Stalker in as a female assistant is also a stretch, but it's Saorise, so who cares? She's great.
The period and attempt to replicate older cinematic pleasures recalls a recent film, Mrs. Harris Goes to Paris, which is an adaptation of Paul Gallico's novel Mrs. 'Arris Goes to Paris, but apparently you can't imply that cockney women are uncouth. Played by Lesley Manville, Mrs. Harris does indeed go to Paris, gets a Christian Dior gown made for her, and has misadventures. It's a feel-good movie, much better than See How They Run. There are, yes, blacks in it, but since they are Mrs. 'Arris' fellow cleaning woman chum and a busman the chum goes with, it's a tad more believable than a gay, witty black playwright, fancy girlfriend, or archaeologist husband.
The attempt to offer a politically-correct format recalls another whodunit, Rian Johnson's 2020 Knives Out, which was released just before Covid closed the cinemas. Famous author Harlan Thrombey (Christopher Plummer) is murdered and all of his avaricious family are suspect. Besides the police, a private investigator (Daniel Craig) comes onto the scene. Craig plays the part with a deep, Louisiana accent, and he's especially protective of Maria, the Hispanic maid, who, astonished, inherits Thrombey's entire estate, cutting the family out.
I thought Knives Out was a dig at privileged whites, as Maria is forever shown as a decent, wonderful, admirable young woman. Craig repeatedly says this to her in almost apologetic, cloying terms. She is, in fact, the holy immigrant. When one member of the Thrombey family implies there might be a need to control immigration, he is reviled.
One young boy in the family is continually referred to as "that masturbatin' nazi" without any evidence of bad behavior. I thought this was an early example of Trump Derangement Syndrome, the constant sniping at whites meant to show how Trumpic they all were, although since this took place in Massachusetts and they were all involved with the literary/publishing world, they would be Hilary people to a T.
The new Hollywood or whatever can't keep up the old genres, although they try to grind them out. But the woke world, try as it might, can't entertain. It's beyond their abilities. Like most of the woke revolution, they're very good at proscribing and eliminating, but not very good at replacing the genres they destroy with any kind of meaningful entertainment.
The whodunit was a solid piece of middlebrow art, not really meant to be artistically smashing, but at least entertaining. I sense in the new revolution that such entertainment is beyond their pale. The middle-class entertainment forms can't survive the end of the middle class, which is what is happening as the white race, which created the middle class, is likewise being ebbed away and rubbed out of existence — at least on the TV screen and cinemas, with all those wonderful commercials showing bourgeois life galore . . . for the black actors enacting them. This includes Disney's remake of The Little Mermaid with a black actress as Ariel. Any hostile criticism of this change was immediately censored by Disney.
it is, in effect, a midrash on reality — that is, a Jewish concept that what you see onscreen is reality, not what is before you. The conversion of our popular culture has been going on for a long time, but really gained speed under Obama. I sense he was our Bolshevik Revolution. Perhaps we should continue the analogy with Bill Clinton as Lenin and Obummer as Stalin, since Clinton was raved about for allegedly being the first black President, even though the real color revolution came later. Yet, I can't think of anyone who sees Hilary as a soul sister. Her affectation of black English at a rally was as comical as Elaine in Seinfeld doing a freaky rut dance at an office party. I once noted that since Obama was inaugurated, almost immediately every other radio announcer became black. His spirit seems to guide pop culture, to lead us into — what?
Yes, exactly. There doesn't seem to be a new culture to take control over our old forms. After all, he may lead us into something, but he probably doesn't even know what it is, except to offer blacks and minorities "the dream" — a nebulous concept for equally nebulous minds. What happens is that minorities are simply given preference and allowed to move in until all the whites are gone. See How They Run isn't all black, but in time a new version of it will be, and by then, Western civilization as we know it will be finis except, perhaps, in the rural areas and their swaths of surviving populations — presumably the ones not watching TV or being exposed to the tattered shreds of the arts.
I sense that this film is a kind of adieu to that kind of entertainment. All we seem to have left is Marvel comics movies, and Disney's blackifications of anything they can get their hands on.
Now that we see how what culture we knew keeps running off, I need to get back to reading a book. I think that's all we'll have left.
* * *
Like all journals of dissident ideas, Counter-Currents depends on the support of readers like you. Help us compete with the censors of the Left and the violent accelerationists of the Right with a donation today. (The easiest way to help is with an e-check donation. All you need is your checkbook.)
For other ways to donate, click here.
Enjoyed this article?
Be the first to leave a tip in the jar!