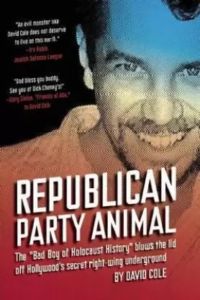 4,301 words
Part 2 of 2 (Part 1 here)
11. In addition to being prominent Holocaust revisionists, both you and your mentor, David McCalden, were outspoken atheists. Through people like Michael Shermer, you also had some engagement with the "skeptic" (as atheists were branding themselves at the time) scene. These were the 1990s equivalent of the people we now refer to as "fedora tippers."
Within the context of the late 1980s and early '90s, I could see the logic of trying to pair Holocaust revisionism with general skepticism rather than racial nationalism for marketing purposes. If one were thinking of groups other than hardcore anti-Semites who might be open to Holocaust revisionism, atheists would be a strong candidate, both because of their doubting nature and since there was still some social cost to being an outspoken atheist at the time, just as with revisionism. And yet it did not turn out that way. Were you surprised to find that Michael Shermer and the fedora-tipper crowd did not take up Holocaust revisionism?
Well, Shermer's just a uniquely bad person, so I don't like to use him as a yardstick. Here's a guy who wrote an entire book about free speech while not informing his readers that he tried, in the most literal sense, to get a book banned (mine). Not like Amazon's "Hey, you can't sell through us, but you can still sell from your garage" kind of "free market choices aren't censorship" thing. Shermer actually tried to get my book pulled from the market and pulped via court order.
He's too abnormally foul to be included in any sociological study. And Shermer's cultists — the "skeptics" who stood by him even after credible rape accusations, and the morons who think "disproving Bigfoot" is a worthy use of time — are equally unworthy of mention.
What I did in the early '90s was to take something revisionists were already working toward, and do it better. Starting with McCalden, there was a general sense that the best way to fight back against claims that revisionism was just a new packaging of old anti-Jewish tropes was to stress that it wasn't religious. No "Christ-killer" jargon, so "satanic Talmud" horseshit. The problem was that McCalden wasn't skilled enough to carry that off. Yes, he was an atheist, and yes, he would get into feuds with other revisionists/deniers (like Michael Hoffman) over their use of "happy merchant," Streicher-like imagery. But by the time I met McCalden, he was already dying from AIDS and not at his best. By his death, he hadn't achieved that goal of transforming revisionism into the skeptical thinking man's pursuit.
Plus you had Faurisson — always fucking Faurisson — going on about "ze liar Jews! Zee proof a Jew lies ees zat he's a Jew!" Well, that ain't gonna hook the skeptics! And you had Bradley Smith, atheist libertarian, but Bradley was incompetent in a manner that beggars description. You could ask him to make a bowl of Corn Flakes and he'd burn the house down.
But then I came along, the "Jewish atheist" (I don't call myself an atheist anymore, and I regret using the term back then), and it was the best of both worlds: a Jew racially and an atheist! I eschewed the standard revisionist talking points of the time — attacking survivors, relating everything to Israel, trying to "rehabilitate" National Socialism — and focused on doors, locks, walls, manholes. Yes, Ditlieb Felderer in the 1980s had been the first to notice the absence of blue staining, so that was not me. And yes, Fred "Yabba Dabba" Leuchter had taken wall samples in 1988. But Leuchter was such an incompetent, he failed to notice that the krema 1 door was locked from the inside, or that there was an escape manhole in the floor. He stormed through krema 1 like an ape, bashing walls, fouling samples, destroying evidence. It was like loosing a retarded bull in the Smithsonian.
So to be clear, I didn't invent the "physical evidence" thing. I just did it better. I just did it competently. My competence plus my verbal skills made it a thing. And boy, was that a fucking mistake. Because yeah, it brought in the "science" crowd — "The door opens in! The door does not lock! The latches work from both sides! This is not a matter of opinion, but objective science!" — but when it came time to start talking about wartime documents, which are the very foundation of Holocaust history, I realized I'd created a monster. The "science" twits were now convinced that if you couldn't see it and touch it in iron and brick, it was worthless as evidence.
When I was doing my "physical evidence" thing, it never occurred to me that I'd have to add, "Oh, but this isn't the only kind of evidence there is."
Without the Internet back then, it was hard to gauge just how many stupid people are out there. Now that I know, and now that we all know thanks to social media, I would have worded everything differently. I would have added a lot more disclaimers. I would've spoken to my audience like they were toddlers.
12. Some people say that atheism is inherently Left-wing. What say you?
Well, it depends. Lots of racialists are atheists. Lots of white racialists think Christianity is just a Jew plot to pussify Europeans with pacifism. Ben Klassen was no Leftist! There are plenty of hard far-Rightists who are irreligious.
13. You have stated that you believe that the Internet has been a net negative for Holocaust revisionism. This is counterintuitive, as you would think that it would make it easier for people to organize and exchange notes, but you've said that it has just made people lazy. People don't read books about the Holocaust anymore; they watch videos. Instead of doing old-fashion gumshoe detective work, they post memes. So what are some of the more constructive things that someone interested in advancing the cause of Holocaust revisionism could be doing? Where is there work that still needs to be done? Should they be learning German and going through archives? Tracking down surviving eyewitnesses? What would a young David Cole be doing if he were starting out today?
It's the advice I give in my video rants. Start by reading Gerald Reitlinger's 1953 masterwork The Final Solution. There's still no better Holocaust book. It isn't perfect, but it's unbiased, as it was written before Jewish groups began insisting on certain essential elements like "six million." Read the book cover-to-cover. Now you know the standard story, so when you encounter denial, you can intelligently challenge it, and when you encounter six million overstatement and hyperbole, you can challenge that, too.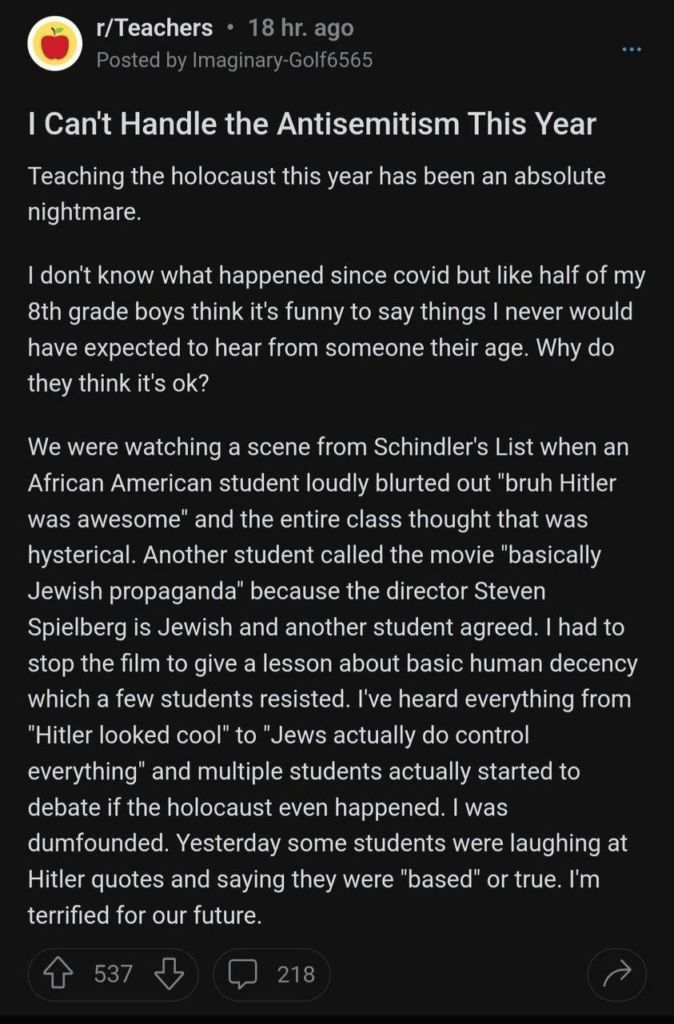 14. In recent years, I have occasionally seen these viral screenshots which purport to be from high school and middle school teachers claiming that their students have suddenly started denying the Holocaust. Some of these post might be fake, but I've seen enough of them over the years to think that this might actually be a real trend. After all, a typical high schooler today is four or five generations away from the Second World War, so I can believe that the Holocaust might not have the same kind of mystical aura to the youth of today as it did to previous generations. What do you think of this post (above)?
There's no way to gauge the veracity of that post. But sure, the denier memers will be more and more of a force as the Holocaust becomes more and more distant in time and memory. Denial's not "the future," but it's a future. It's what the dumb people will believe. By that I mean, in the 1980s, when Jewish groups had a monopoly on Holocaust info, dumb people — those who never question anything, those who can be easily tricked with wordplay and sleight-of-hand — would go along with any bullshit the Simon Wiesenthal Center (SWC) dished out, because there was no alternative.
But now, dumb people are being courted by all sides. It's like when you exit a plane: "We know you have many choices for BS, so thank you for choosing us." And the BS dished out by deniers via simplistic memes is more effective than the bullshit dished out by the SWC or ADL. So the future of the idiot caucus is denial. That doesn't mean denial will ever be mainstream; it won't. But it means it'll be dominant online absent Big Tech censorship (and as much as I despise denial, I'm never in favor of speech suppression).
15. When you were undercover as David Stein and working with Friends of Abe (FOA), did you ever have any close calls? Was there ever a time when you were at dinner with, say, Kelsey Grammer and ran into someone you had met at an Institute for Historical Review (IHR) meeting?
That's a good question, but I do want to take issue with the term "undercover." All I did was change my last name and stop mentioning my past. I was still the same guy. I really am generally politically conservative. There are some old clips from 32 years ago where I say I'm "fiscally conservative but socially liberal." But you gotta put that in context with what "socially liberal" meant in 1990. It meant abortion rights, no school prayer. It meant being against Tipper Gore and her music decency crusade. Nobody in 1990 thought that one day the "social" issues would be "Biological women don't exist! A dude in a dress is an actual woman! Men should be able to use little girls' bathrooms if they identify as a female! All whites must be taught from birth that they're evil! Police must be defunded and prisons abolished! The border must be opened!"
These days, with the very redefined concept of "socially liberal," I'd call myself socially as far fucking Right as you can get. So I wasn't "undercover" at FOA. I wasn't pretending.
But yeah, there was a close call. There was one Ron Paul guy in our group. The group was solidly neocon, so the Ron Paul guy was tolerated but not liked. But I liked him, and we became friends. Well, it turns out this Ron Paul guy was over at his anarchist friend's house one night, and the friend was like, "I need you to see this! It's the next step in your education: Behold, Holocaust revisionism!" and he shows the guy the Donahue Show.
And my Ron Paul guy is like, "Holy crap — that's my friend David Stein!" It could've been blown right there, but to his credit, the Ron Paul guy called me immediately and said "Don't worry, I'll never tell."
Also, the dude who brought me into FOA knew my history, but I knew he'd never tell, because he'd have been kicked out, too. And of course my abysmal girlfriend knew (she's the one who outed me).
But my trick — and I think this is kind of a Jewish specialty — is that I always try to become indispensable wherever I go. And I became so indispensable to FOA, nobody had any reason to want to do Internet sleuthing about my past. If you make yourself disliked, people look to find dirt on you. If you make yourself essential, people accept you with no questions asked.
16. You have said that you have since reconciled with a lot of your old Friends of Abe pals, but have you red-pilled any of them? Have any of them come back to you and said "Ya know, Dave, I watched your old videos, and by golly, I think that was an air raid shelter after all?"
I don't care to use the term "red-pilled" because it implies that I'm saying something more explosive than I am. I was on a radio show a few years ago and the host was hyperventilating, like "Oh my God, you're blowing my mind! Now I don't know what to believe!" And I was like, "Calm down, dude. I'm not blowing your mind. I'm not shattering your reality. I'm saying there were four extermination camps, not six. Three to three-and-a-half million murdered Jews, not six. A two-year extermination program instead of a three-and-a-half year one. A regional, limited-time mass-murder plan instead of a continental one. I'm not saying there are Morlocks at the center of the Earth.
Rational revisionism is indeed so rational that I used to discuss it all the time with the Abes. I just wouldn't call it revisionism. It's just history. And if I could have a book dust jacket with all the quotes from big-name people who've said to me, "I don't think your thesis is shocking at all; in fact, I kind of agree with it," I could maybe get back on Amazon. But most of those quotes were sent privately.
It's tempting to one day run those comments anyway, and just risk getting sued. But then I remember I have a house. I'm not some judgment-proof JaMarcus. I actually have shit to lose if I'm sued. But I'm tellin' ya, if I ever get that fatal diagnosis — that dreaded news everyone fears (you go to the doctor for a chronic cough only to learn you have six months to live) — I'm saying "fuck it" and releasing everything every coward ever wrote to me, every "Hey, I secretly like you but don't tell anyone, okay?" The stuff that could've helped me when I had a future.
Go ahead and sue me, then. I'll be dead before the paperwork even gets filed in LA's backlogged Superior Court.
17. People who follow your work even casually know that you are a connoisseur of zombie movies, so here is my zombie movie question. Different types of horror films resonate differently with different cultures. For example, the slasher film is distinctly North American. Slasher films have a very suburban flavor even when they don't take place in the suburbs. They play to suburban fears that in safe communities that rely heavily on trust, most suburbanites would be completely unprepared for actual danger and would be easy pickings for a committed lunatic willing to violate their trust. Plus, the slasher's weapon of choice, the knife, is a morbidly impractical and unnecessarily sadistic choice of murder weapon in a country where it's so easy to get a gun. So I get why slasher films resonate with New Worlders, But the British are more into ghost stories and the supernatural. When you hear "British horror," you think haunted houses and Hammer horror. That also makes sense, because the British are sitting on top of thousands of years of history, and they've got a lot of spooky-looking buildings everywhere. But what the hell is up with Italians and zombie movies? What is it about Italian culture that they dig zombies so much? I would have thought that they would be more into werewolves, because wolves had special significance in Roman mythology. Or maybe vampires, because vampires tend to be oversexed Latins. Why zombies?
It's Deborah Raffin syndrome. Raffin was a most unremarkable blonde American actress — not untalented, but not greatly talented. Not ugly, but not a one-of-a-kind beauty. But in the 1970s, she became an icon in China. Why? I don't know. Nobody does. It just happened. The Chins made her their #1 favorite star.
Same with Dawn of the Dead in Italy. It became the #1 film of that year. Why? I can't say. But after it happened, for about a decade after every Italian filmmaker tried to make their own version of the movie.
By the way, if you want to see the most quintessential modern-day British horror film, watch 1999's Lighthouse (aka Dead of Night). It's a terrible movie, but what makes it so very, very "this is what the Brits have become" is that the premise is that a dozen able-bodied men are stuck on an island with a knife-wielding maniac, and the entire film is them running and cowering in fear. The maniac is just a lanky dude with one knife. No gun, no other weapon. The 12 good guys could easily overpower him, but they're so scared of a single knife, they let him chase them all over the island, killing them one by one.
That's England today. The people who once subdued half the world now fear knives like they're howitzers. No American could watch Lighthouse without saying, "Why don't the 12 guys just beat the shit out of the skinny guy with the knife? Faggots."
18. Your drinking is the stuff of legend. For a few years, you were a 24/7 drinker and used to casually tell people that you expected to drink yourself to death and that you were at peace with this fact. Then you changed your mind, and now only drink seasonally. Still, your relationship with alcohol is part of your public image. This is in stark contrast to your early years, when you were a teetotaler. You didn't start drinking until your early 30s or something. Do you regret the day you started drinking? Do you think, "If I knew I would get so carried away, I would never have started!" or are you more like, "What took me so long? I should have started drinking sooner! I could have been so much less awkward at parties in high school! I could have been getting drunk and going to titty bars with Ernst Zundel!"
I've had lifelong insomnia. I tried everything: meds, "yoga," meditation, etc. Nothing ever worked. Then in the summer of 2003, I discovered booze. Booze had never been forbidden to me as a child or teen. It goes back to that "trust" thing with my folks. I tried it, I hated it. It never occurred to me to drink in my 20s. But in 2003 I realized that I could use alcohol for sleep, and it was the only thing that ever worked. And the best part was the ease of controlling the dosing. One sip at a time, until I was ready for bed.
But over the years that morphed into me realizing that I prefer walking through life buzzed. Being drunk doesn't inhibit my writing (drinking and writing go together like drugs and rock music), and it takes the edge off dealing with a world I like less and less with each passing year. But the thing is, while I don't fear death, I really fucking fear pain and being uncomfortable. So I drink until my liver tells me enough. Once I get a few weeks straight of nausea, I know, okay, time for a dry period. I'll usually do eight months drunk, eight months sober. I'm currently in month three of a drinking cycle.
I don't mind the thought of drinking myself to death, but I do mind drinking myself sick. So once I start feeling sick, I stop. The liver is an amazing organ, capable of regeneration if cared for properly. A real miracle of nature. So once I feel the signs, I stop. I'm drinking now (and I mean right now, as I write this). When will I stop again? Who knows. Next week, next month? Summer? When I need to, I will.
19. You favorite alcoholic writer?
You got me on that one. I never read fiction (not since I was a kid). I know there are some great alcoholic novelists, but I'm not well-versed enough in fiction to answer that one.
20. Leaving Las Vegas or The Lost Weekend?
Never saw the former, because I can't stand the "hooker with a heart of gold" trope and I can't get into the whole "ironically enjoying Nic Cage's bad acting" thing. So by default, the latter.
21. When you first started writing for Takimag, you reminded me of when the singer of a band goes solo. When that happens, the one thing the singer wants to do most is transcend the image of "the guy from that band." They wanna be like Ozzy Osbourne, for whom "singer for Black Sabbath" is the fourth or fifth thing you think about when you hear his name. Better Ozzy than, say, Robert Plant, who, despite a successful Grammy-winning solo career, is still largely thought of as "the guy from Led Zeppelin" half a century later.
In your case, Holocaust revisionism was like your old band. For several years, you seemed very reluctant to talk about the Holocaust too much so as to not reinforce the image of yourself as a one-trick pony. Do you feel that you have now done enough and gotten enough recognition for your writing with Takimag to have achieved that coveted Ozzy Osbourne status where "Holocaust guy" is no longer the first thing that springs to people's minds?
You don't march into someone else's house demanding your own space. Their home, their rules; you leave your self-indulgences at the door. Taki wasn't paying me to write about the Holocaust, so I didn't. Over eight years, I proved myself enough that I have leeway now. It's not like I was ever told, "Don't write about this!" Taki never tells his writers what to write about. It was me, respecting him, and not importing my obsessions to his site.
And yeah, I have a two-tiered fanbase, and I always will: those who know me from Takimag, and those who know me from my Holocaust work. Generally, people of note know me from Takimag, and Twitter users named @DirlewangerBrigade1488 with two followers know me from my Holocaust work.
22. I'm pretty sure that in a hundred years, people will still be watching your Auschwitz video. As long as the Holocaust is a hot topic of discussion, it will be part of the conversation. Would you mind if that one video you made in your early 20s ended up being the only thing you are remembered for?
Now that question's a real kick in the nads, because this is a genuine source of frustration for me. On one of my early Europe research trips, I landed the interview with the head of the Auschwitz Museum. Whereas previous revisionists had been content speculating that krema 1 was "remodeled" post-war, I decided to just go ahead and fucking ask for an on-the-record answer. It astounded me that I was the first to do so. It's not because I was so smart, but because my colleagues were so — well, I don't want to say dumb, so I'll say, "Content to play a he said/she said game" (because they liked the "we know the truth but they won't admit it" charade), whereas I was like, "Lemme just ask the guy and settle it."
So, the interview goes great. I come back home, and the IHR says, "We want to sell this as a movie," and they ask me to make a complete one-hour film of it. And I'm reluctant. But the IHR's director at the time, Tom Marcellus, explained that more people would see it if it could be presented as a "documentary." So I sit in my undies in my little one-bedroom apartment and I try to make a film out of the interview. And I send it to Marcellus, and he's unhappy. It's not "filmy" enough! It needs a firmer, more definite conclusion.
So reluctantly, I have another go. I did the thing practically in my sleep. Can't you tell? There are all these black patches where I'm doing a voiceover and I don't even have the bare desire to fill the blank screen with visuals.
Again, it isn't that I'm so great. It's that grading on a curve, me half-assing something is better than most people giving it their all. In a world of half-wits, the three-quarter wit is king. But I did make sure to put a disclaimer in the film that this is not my last word on the subject, but the first in a series of explorations of various Holocaust sites. I mean, I literally said that, verbatim. But people took it as a last word — an only word. "COLE DUN DISPROVED THE HOLLYHOAX!" about ten randos tweet every day.
I have to own up to my role in this mess. I can blame half-wits all I like. I can blame being barely 22 years old. But in the end, I never should've acceded to Marcellus' request. By putting a forced introduction and conclusion on the film, I gave it the appearance of being a self-contained "last word," even though I specifically said in the film that it wasn't. People use that movie on a daily basis to spread stupidity, and the one thing I never wanted to do with my life was empower stupidity. It was a terrible error. If I could, I'd go back in time and tell Marcellus to shove it.
As for the "legacy" question, no sane, intelligent human will watch a 32-year-old video without asking themselves, "Did the guy who made this do anything else in his lifetime? Is he still alive? Whatever happened to him?" And being smart and sane, they'll know how to use Google. So among smart and sane humans, my legacy will be the entire spectrum of my work.
But to Rain Men? To tards? Yeah, they'll only remember me for that video. They'll ignore everything else I've ever said or written, and they'll take that one film as the last word, the only word, on the topic. Their biases fulfilled, they'll feel no need to search further. I mean, there are people so absolutely stupid, they see one denier meme on Twitter and think, "Now I knows me all abouts da Hollycost." So if one meme can become a bible, a one-hour film becomes the Library of Alexandria.
I wish I'd foreseen how this would play out. But if I'd had that kind of prescience, I'd have bought Amazon stock in bulk when it was just a buck. Then maybe I'd own enough of the company today to get my book unbanned.
* * *
Like all journals of dissident ideas, Counter-Currents depends on the support of readers like you. Help us compete with the censors of the Left and the violent accelerationists of the Right with a donation today. (The easiest way to help is with an e-check donation. All you need is your checkbook.)
For other ways to donate, click here.