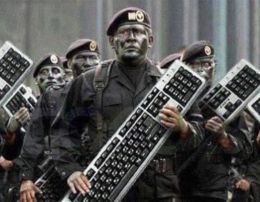 2,559 words
In the past I've made the argument that a study of the toys that a people makes for its children give us an insight into that people's cultural direction. Toys are a very interesting bit of material culture which are often overlooked as objects of study in anthropological and cultural research. They give us insight not only into what a culture and people are, but also what they hope to become in the future, because toys are the material cultural artefacts which a people produces for its children, and as such are training and development tools for what a child ought to become in the future. We therefore make baby-like dolls and tea sets for young girls, and toy guns, trucks and building blocks for young boys.
But there's an even more important category of cultural artefacts indicative of a people's present and future than toys: games. The reason is simple: Toys are made for young children, whereas games are meant for everyone.
Of course, certain games are not appropriate for all ages. It is a little embarrassing, not to mention dangerous, for pensioners in the park to be playing tag, just as it is irrational to expect that five-year-olds will play chess instead of strewing the chessmen around to be painfully stepped on at some unspecified future date. But since we're talking about chess, it is a game which has a very broad spectrum of age-appropriateness: the proverbial seven-to-77 type of game. More than that, chess has a certain culture which surrounds it: It is a shorthand, the rules are simple and easy to learn, and it is rich in archetype and life-analogue, which makes it a gold mine of metaphor and analogy, both of which lie in the shared heart of poetry and education. As I've mentioned before, if two strangers who've read the same book can immediately work out politically relevant alignments, then two strangers familiar with the same game can immediately work out a rudimentary strategy and coordinate towards a common goal.
Sports games, too, fall into this category. I don't intend to speak about mass-media commercial sports here, since such sportsball is everything wrong with the globalized, anti-nationalist world in a nutshell. Players become "us" or "them" on a whim; all it requires is a contract and a change of clothes. Fans will readily cheer on a team from a town they've never even visited, full of people who aren't from there and probably aren't even from the same country that the team is. Players are increasingly non-white, and even the white ones are more and more degenerate, embodying the very worst of modern hedonism, superficiality, and weakness.
The fans are encouraged to get fired up about this surrogate struggle as a means of getting distracted from the very real wars in which they're embroiled in the real world.
Sports had these problems long before they added the obnoxious virtue-signaling during halftime. You complain that they're trying to convince you that Bob is a Sheila in the ads, but you've already accepted that Ngubu is English on the pitch.
Of course, nobody treats sports as participatory games anymore, but as spectacles to be watched. Nevertheless, sports are games. They're meant to be played. In playing these games, the players act out rudiments of what they'll later have to do in real life. Team sports in particular serve as invaluable preparatory courses in both small-unit tactics and in strategic thinking. Combat sports teach valuable lessons in position, relative strengths and weaknesses, endurance, preparation, and determination. And, of course, games of chance such as poker teach the most important lesson of all, that luck is a factor and that courage is important. Poker in particular teaches one to play against the player, not against the game (a lesson easily missed in chess or team sports).
When people refer to games in the modern world, however, they rarely mean chess, football, or pattycake. When modern men say games and gaming, they usually mean video games. And here we run into a bit of a problem.
Whenever they see me playing video games, the elder womenfolk of my family are fond of complaining that I should set aside childish hobbies, especially now that I'm uncomfortably ensconced in my thirties. While the sentiment of leaving behind childish things certainly has a place, I'm not convinced that video games are as childish as all that, especially the grand strategy types which I enjoy playing. Indeed, there's nothing strange or childish about a 30-year-old man playing chess, poker, football, or throwing a few friendly punches with a friend. However, were I to start a game of Hearts of Iron 4 or Crusader Kings II — both of which exceed chess, football, and poker in complexity and concentration required, and can certainly not be played by children (at least not well, at any rate) — that is childish.
Of course, I did not get to where I am today by listening to the prattle of old women, and were these opinions confined to that benighted demographic, there'd be no problem to address. However, more often than not it is serious men, including White Nationalists who dismiss video games as childish and unserious. Indeed, this is part of two broader trends within this intellectual thought-space, the first being hostility toward the modern, and especially technologically modern; and the second the dismissal of leisure activities, including games, as frivolous and unproductive for the cause, and therefore to be shunned.
The first trend is too big to be addressed in an aside, and has already been written on by me. Briefly, rejection of technological progress is dangerous and wrongheaded, granting an incomparable advantage to our enemies, who enthusiastically embrace technology to promulgate their cause. The second trend is what we'll comment on briefly here: There is a growing joylessness to the Right-wing cause. Too many people are dour and permanently outraged, and most of the time it's because they've allowed themselves to believe that leisure is degenerate. Accordingly, they avoid leisure, and as a result they become humorless scolds, more often than not reminiscent of the robotic Randian reason-worshippers who likewise shunned frivolity. From the text:
Personal enjoyment, indeed, was also frowned upon in the movement and denounced as hedonistic "whim-worship." In particular, nothing could be enjoyed for its own sake — every activity had to serve some indirect, "rational" function. Thus, food was not to be savored, but only eaten joylessly as a necessary means of one's survival; sex was not to be enjoyed for its own sake, but only to be engaged in grimly as a reflection and reaffirmation of one's "highest values"; painting or movies only to be enjoyed if one could find "rational values" in doing so. All of these values were not simply to be discovered quietly by each person — the heresy of "subjectivism" — but had to be proven to the rest of the cult. In practice, as will be seen further below, the only safe aesthetic or romantic "values" or objects for the member were those explicitly sanctioned by Ayn Rand or other top disciples.
Now, exchange "whim-worship" for "degeneracy," "grimly as a reflection and reaffirmation of one's highest values" for "procreation of the white race" in the bit about sex, "rational values" for "implicit whiteness" in the bit about painting or movies, and "subjectivism" for "individualism," and you have a disturbingly accurate picture of the broader Dissident right in 2022, even if we lack the totalitarian control that a centralized structure like the Nathaniel Branden Institute provided for the Ayn Rand cult.
"So what?" you say to me. "We should practice self-denial and shun frivolity, for the cause. We all need to work harder. We all must give more." And indeed, we do. However, I'm not seeing more done for or given to the cause, least of all from the people who kvetch about others playing video games. But even aside from that, the notion of becoming a joyless scold is entirely unpalatable to me. Even if it weren't, discarding all leisure and frivolity is a recipe for creative sterility, which is a very dangerous position for an embattled movement desperately in need of creative ideas and solutions if it is to survive and succeed in the current political landscape. I suspect that this puritan streak is a carry-over from mainstream conservative political attitudes. I've written in the past about the Right's strange fetish for work and its incomprehensible belief that having ample leisure time is a sign of lower value. I hear jokes about "libtards not having a real job," and that the positions which liberals occupy involve no labor and are essentially sinecures. I agree that this is indeed so, but having more leisure is precisely what gives liberals an important edge over conservatives — and indeed, ample leisure time is historically the hallmark of aristocracy. When a conservative mocks the liberal for "not having a real job," it's like a medieval peasant mocking his lord for not toiling in the fields: absurd on its face, unless one is mind-fucked into believing the insidious nonsense we sometimes call conservatism.
I wrote the "Work Stinks" essay when I was still employed, and my contempt for working is palpable there. Since then, I've managed, through prudent economic and financial decisions, to earn ample leisure time for myself. I live well, work less than 10 hours a week, want little, and devote myself to pursuits I choose. The nationalist cause is one of many of those, if the predominant one. I read old books, I watch good films, I hike, I cook, I play chess, I roam the city with my friends for hours on end, learning and teaching all the while in an homage to Aristotle's purported peripatetic lessons. I scour vintage stores and those of artisan shoemakers for the very best in fashion. I go to the theater and to musical events. I train Wing Chun Kung Fu with a Sifu who's also a rock star. I make mead, liquors, and beer. On a whim, I drive to other towns to experience what they have to offer. I take month-long holidays in foreign lands. And, of course, I play video games. My life isn't exactly charmed, but it's certainly better than that of some wage slave locked up in an office with his lunch time and toilet breaks monitored and measured. I consider this ample leisure time I've attained for myself to be one of my life's crowning achievements.
I've been a gamer since I was 5, when my parents bought me a Nintendo SNES. Much of what I am — much of what you, esteemed reader, appreciate here on Counter-Currents — has been informed by that. Much of what I do is informed by the heuristics I practiced in those games. Of course, I also played sports, chess, and many other games, and developed many of those heuristics there. Moving with the physical body must not be neglected. But we must not lose sight of the fact that while video games seem childish and frivolous, they are far more culturally potent than movies and TV. While a movie is passively watched, a video game is acted out, which imprints more powerfully on the human mind, making the necessary assumptions and archetypes of the world sink in much more permanently. What video games people play is probably far more predictive of metapolitical trends than what movies or TV they watch.
A joking rallying cry often uttered on the Internet is "gamers rise up." Like all good jokes, however, it is based on certain truths. Gamers — especially people who play competitively online, or the much-maligned "Swedish map games" of Paradox Interactive such as Hearts of Iron or Crusader Kings — tend to be young, white, male, and contemptuous of the world which surrounds them. By virtue of having played Hearts of Iron, they already have a better-developed world-consciousness (here meaning awareness of the world beyond their immediate surroundings) than the average conservative, or even the average non-gaming dissident. The shared culture of a given game or a collection of games gives them a reference point they can then use to coordinate with other gamers, even if they personally do not know each other. They span multiple countries and are no strangers to confrontation. In short, they are a revolutionary class in the rough, waiting for a unifying and directing cause to help them rise up.
In the past, people have tried to direct this nascent revolutionary class by appealing to them while expecting them to drop their hobby and embody the archetype of the joyless, robotic White Nationalist criticized earlier. This is the wrong approach. Of course, appealing to gamers as white men is a step in the right direction, but it would be far better to develop pro-white video games, not only as an appeal to gamers but also as a means of recruiting the young to the cause.
Modern video games require a good deal more funding and talent than White Nationalists can currently muster, but at the very least the idea-space must be opened. We can begin by modding existing video games. Friends of Counter-Currents are already engaged in such activity. Someone has created a mod of Project: Zomboid called Project Dindu where the players are the last white people on an Earth overrun by diversity. More ambitious still is American Krogan's intended mod of Fallout 4, where all the non-whites are replaced by whites, many voiced by notable dissidents and white identitarians. These are baby steps. Future success for White Nationalist gaming will probably look something like Kingdom Come: Deliverance, the vast historical role-playing game focusing on Sigismund of Hungary's invasion of Bohemia, which in practice plays as a race war between white Czechs against Sigismund's Cuman mercenaries.
Speaking of Kingdom Come: Deliverance, Eastern Europe is often a hotbed of nationalist gaming. Indeed, Poland, Hungary, and the Czech Republic all have rising gaming studios which often produce unabashedly nationalist and historically revisionist content. Many industry figures in these countries are adjacent to the nationalist Right. Western White Nationalists who decide to enter the gaming industry would do well to cultivate business and political relationships with their Central and Eastern European counterparts. The games produced are of high and ever-increasing quality, given that they are made by white men instead of the diversity hires which increasingly infest Western game development.
European history, art, and folklore are a vast treasure trove of settings, drama, and struggle from which the gaming industry can draw inspiration. Historically, it did exactly that, producing the great video-gaming works which I grew up with. Now, as in many other types of media, the gaming industry has turned away from Europe and is glorifying the black and brown masses of the world while systematically deconstructing European identity and history. This, of course, doesn't mean that we should shun gaming, but rather that we should pick up this discarded European patrimony and bring it to life in new nationalist and identitarian games.
Indeed, gamers should rise up, but another path is open to us — a path that will allow us greater metapolitical power — and that is the path of the game developer. Rather than play through the games made for us, often by our enemies, we must define the game parameters ourselves and produce new frameworks for the new nationalists yet to come of age.
* * *
Like all journals of dissident ideas, Counter-Currents depends on the support of readers like you. Help us compete with the censors of the Left and the violent accelerationists of the Right with a donation today. (The easiest way to help is with an e-check donation. All you need is your checkbook.)
For other ways to donate, click here.
Enjoyed this article?
Be the first to leave a tip in the jar!