Greg Johnson Arrested in Norway for Thoughtcrime
Greg Johnson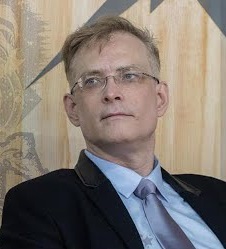 896 words
Czech version here
Greg Johnson was scheduled to speak at the Scandza Forum conference in Oslo, Norway today. Over the last few days, the Norwegian antifa were on a social media campaign against Scandza and Greg in particular, claiming that he supports terrorism and was therefore a threat — ludicrous given Greg's many diatribes against terrorism. Regardless, word about this apparently got to the Norwegian authorities, and he was arrested this morning before the conference on national security grounds. The police said that Greg was being deported, but he's been held incommunicado since then, so we don't know where he is now. Undoubtedly they will simply detain him until they can get him on a flight out of the country. This is the same routine that Jared Taylor and other thought criminals have been through before. The conference itself is proceeding and none of the other speakers or attendees were detained. Below is a statement that Greg wrote in connection with the accusations against him before his arrest.
Greg Johnson Responds to the Complaint
In connection with Scandza Forum's conference in Oslo on November 2, 2019, Filter Nyheter is agitating to stop my entry to Norway. They have therefore put together a campaign of lies against me which they are now spreading on social media.
Filter Nyheter suggests that I promote violence as a political tool. The reality is quite the opposite. I have always consistently condemned terrorism. In fact, I do not know of anyone else who has so clearly and unequivocally spoken against Right-wing terrorism as me. At the Scandza Forum in Sweden earlier this year, I gave an entire speech in which I addressed the evils of terrorism, and I have written numerous articles opposing it as well. I have never supported Breivik's crimes. These stories take quotes from my writings out of context, from an article in which I in no way defended Breivik's crimes. In fact, it was a text that discussed Breivik's own rationale for his crimes. At the moment, we are therefore looking at the possibility of taking legal action against Filter Nyheter.
The following are a selection of my statements that consistently condemn Right-wing terrorism:
Against Right-Wing Terrorism (speech at Scandza Forum in Stockholm, 2019), video below:

As a further reason as to why I should be banned from entering Norway, Filter Nyheter's "terrorist expert" claims that The Nordic Resistance Movement had published a link to the conference on their own website. But this group has not, and never has had, anything to do with the Scandza Forum, nor is the Scandza Forum's organizer aware of the alleged "advertisement" that Filter Nyheter claims is there. Maybe if, without their knowledge, I publish a link to Filter Nyheter, then their own journalists will receive travel bans?
Greg Johnson, Ph.D. in philosophy and author
Norwegian version:
GREG JOHNSON SVARER PÅ ANKLAGENE
I forbindelse med Scandza Forum sin konferanse i Oslo nå 2. november 2019 så agiterer Filter Nyheter for å stoppe min innreise til Norge. De har derfor satt sammen en løgnaktig bakvaskelseskampanje som de nå sprer på sosiale medier.
Filter Nyheter antyder at jeg fremmer voldsbruk som politisk virkemiddel. Realiteten er stikk motsatt. Jeg har alltid konsekvent fordømt terrorisme. Faktisk vet jeg ikke om noen andre som så klart og entydig har uttalt seg imot høyreorientert terror som meg. På Scandza Forum i Sverige tidligere i år, så holdt jeg en hel tale der jeg tok for meg terrorens ondskap, og jeg har skrevet talløse artikler IMOT høyreekstrem terror. Jeg har aldri støttet Breiviks forbrytelser. Ryktesprederne klipper og limer sitater ut av kontekst, fra en artikkel der jeg på ingen måte forsvarte Breiviks forbrytelser – det var en tekst som drøftet Breiviks egne PÅSKUDD for forbrytelsen. Akkurat nå ser vi derfor på mulighetene for å ta rettslige skritt mot Filter Nyheter.
Følgende er et utvalg av mine uttalelser som konsekvent fordømmer høyreekstrem terrorisme:
Against Right-Wing Terrorism (tale ved Scandza Forum i Stockholm 2019):

Som en ytterligere grunn til at jeg bør få innreiseforbud til Norge, så hevder Filter Nyheters "terrorekspert" at "Den nordiske motstandsbevegelsen" skal ha publisert en lenke til konferansen på deres egen nettside. Men DNM har ikke, og har aldri hatt, noe med Scandza Forum å gjøre. Arrangøren for Scandza Forum kjenner heller ikke til den angivelige "annonsen" som Filter Nyheter sikter til. Kanskje hvis jeg, uten deres kjennskap, publiserer en link til Filter Nyheter, så kan deres journalister også få reiseforbud?
Greg Johnson, dr. i filosofi og forfatter