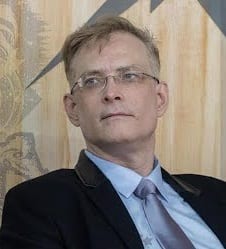 470 words
English original here
Greg Johnson měl dnes (2. listopadu 2019) promluvit na konferenci Scandza Forum, které se koná v norském Oslu. V uplynulých dnech proběhla na sociálních sítích kampaň norské Antify, cílící na Skandzu jako takovou a Grega především – prý podporuje terorismus a je proto hrozbou bezpečnosti země, což je ještě absurdnější ve světle Gregových opakovaně vyjádřených a veřejně dostupných odsudků teroristických aktů. Přesto se však informace zjevně dostala k norským úřadům a Greg Johnson byl tak dnes ráno ještě před zahájením konference zatčen jako ohrožení norské národní bezpečnosti. Podle policie bude Greg deportován, jelikož ho však drží v izolaci, tak dosud s jistotou nevíme, kde se nyní nachází. Velmi pravděpodobně ho však budou držet ve vazbě, než se jim podaří zajistit mu místo v letadle pryč z Norska. Tak to nedávno proběhlo v případě Jareda Taylora i dalších ideozločinců. Konference však probíhá podle plánu a žádný další z řečníků ani účastníků zadržen nebyl. Následuje prohlášení, které Greg Johnson předložil v reakci na obvinění ještě před svým zatčením.
Greg Johnson reaguje na obvinění
[Online deník] Filter Nyheter se v souvislosti s plánovanou konferencí Scandza Forum v Oslu snaží zabránit mému vstupu do Norska. Zosnovali proto proti mně lživou kampaň, kterou dále šíří prostřednictvím sociálních sítí.
Podle Filter Nyheter obhajuji násilí coby politický nástroj. Opak je však pravdou. Vytrvale totiž násilí i terorismus odsuzuji – a vlastně nevím o nikom, kdo by vystupoval proti pravicovému terorismu tak jednoznačně a rozhodně jako já. Na letošní švédské konferenci Scandza Forum jsem dokonce celý svůj projev věnoval odsudku zla terorismu, spolu s nespočtem svých článků a esejí. Nikdy jsem nevyjádřil souhlas ani podporu Breivikovým zločinům. Mí odpůrci tak vytrženě z kontextu citují úryvky z článku, v němž Breivikovy činy rozhodně nijak neschvaluji. Zamýšlel jsem se tam nad Breivikovým vlastním zdůvodněním jeho zločinů. Proto se momentálně intenzivně zabýváme eventualitou právních kroků proti Filter Nyheter.
Následuje výběr z mých článků proti pravicovému terorismu:
Against White Nationalist Terrorism (česky Bělošský nacionalismus – argumenty proti terorismu)
Understanding the El Paso Walmart Massacre
Understanding the Halle Synagogue & Kebab Shop Shootings
Author of The White Nationalist Manifesto Blames Trump for El Paso shooting
Understanding the New Zealand Mosque Massacre
Understanding the Sikh Temple Massacre
Understanding the Pittsburgh Synagogue Massacre
Understanding the Charleston Church Massacre
Understanding the Poway Synagogue Shooting
Understanding the Quebec Mosque Massacre
On the Necessity of a New Right
Jako další důvod, proč by mi měl být odepřen vstup  do Norska, zmiňuje "bezpečnostní expert" Filter Nyheter, že Severské hnutí odporu zveřejnilo na svém webu odkaz na stránky konference. Tato skupina však nemá a nikdy neměla se Scandza Forum nic společného a organizátorovi konference o údajné "propagaci", o níž Filter Nyheter mluví, není nic známo. Možná, že kdybych bez jejich vědomí umístil na svůj web odkaz na Filter Nyheter, nesměli by překročit hranice jeho lidé?
Greg Johnson, doktor filozofie a autor
Source: https://deliandiver.org/2019/11/greg-johnson-zatcen-v-norsku-za-ideozlocin.html
Enjoyed this article?
Be the first to leave a tip in the jar!