Father Coughlin, Ralph Ingersoll, & the War Against Social Justice
Margot Metroland
1,815 words
The public career of Rev. Charles E. Coughlin during the 1930s and early '40s is massively documented. Newsreels, publications, speeches, and broadcast recordings are all at your fingertips online. Yet the historical significance of this Canadian-American prelate (1891-1979) is maddeningly elusive. You may have read that he was an immensely popular but controversial "radio priest" with a decidedly populist-nationalist bent, or that he published a weekly magazine called Social Justice (1936-1942), whose contributors included future architect Philip Johnson and philosopher-to-be Francis Parker Yockey.
You may also know that his broadcasting and publishing endeavors were suspended in 1942, soon after American entry into the Second World War. Knowing nothing else, one would assume this was part of the same anti-sedition roundup that netted Lawrence Dennis, George Sylvester Viereck, and others. But in fact the anti-Coughlin campaign was much more focused and sustained, and it originated not from the Justice Department or any other government agency, but from an oddball Left-wing New York newspaper led by one of the most notable editors of the era: Ralph Ingersoll.
The paper was PM, and for the first two years of its existence (1940-42), it exulted in damning Father Coughlin as a seditionist, a yellow-journalist, a Nazi mouthpiece, and an impious opponent of democracy. PM began with a long series of articles in the summer of 1940. "Nazi Propagandist Coughlin Faithless to Church and Country: Hatred and Bigotry Spread Throughout the Nation by Priest," screamed one headline. After American entry into the war, histrionic, full-page editorials by Editor Ingersoll became a regular feature; e.g., one titled "Has Charles Coughlin Lied Again?"
Time and our mental institutions will take care of his unhappy and misguided followers. But these leaders who have served the purpose of the murderous Adolf Hitler must go . . . Hitler and Coughlin – their lies have been the same . . . (PM, May 7, 1942)
In March '42, PM started to print tear-out-and-mail questionnaires addressed to Attorney General Biddle, demanding that the government immediately investigate Coughlin and ban Social Justice from the US postal system. Forty-three thousand of these were mailed in by loyal readers, the paper reported, and soon enough Biddle lowered the boom. PM was cock-a-hoop:
The Post Office Dept. invoked the 1917 Sedition Act last night to ban from the mail Social Justice, founded in 1936 by Charles E. Coughlin.
Postmaster General Walker acted on a recommendation from Attorney General Biddle, who informed him that since the war [sic] Social Justice "has made a substantial contribution to a systematic and unscrupulous attack upon the war effort of our Nation, both civilian and military." (PM, April 15, 1942)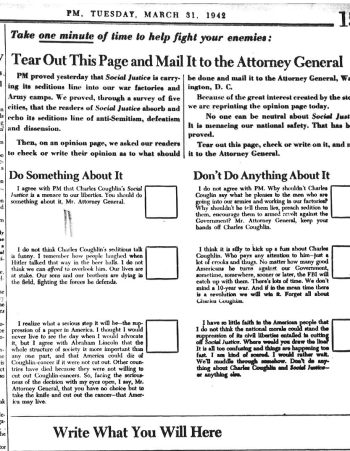 Coughlin was threatened with a Grand Jury investigation for sending seditious propaganda to military personnel and munitions workers. Eventually, an agreement was reached between Justice and the bishop of Detroit, whereby Coughlin would cease publishing and public speaking and slip off quietly to his rectory. Which, as it happens, he did.
Anyone familiar with the rhetoric of the time will recognize PM's hysterical tone as classic Communist cant of the Stalin era. (We will put them in mental hospitals!) Surprisingly enough, though, Ralph Ingersoll was not himself a straight-up commie. A Fellow Traveler, yes; one who sought favor with the Reds and sometimes aped the party line. But this was standard behavior among writers and editors of his time – one thinks offhand of Ernest Hemingway, Dwight MacDonald, Edmund Wilson, Mary McCarthy, and even James Burnham and George Orwell. Ingersoll readily admitted having spent a year in a Communist Party study group during the 1930s, but that was mainly because he was having an affair with Lillian Hellman and she dragged him along. That last fact is alarming enough by itself, but Ingersoll was a dilettante. He never understood the rules of political engagement. From Ingersoll's standpoint, he was a centrist kind of guy, the sort who would explain unironically that he was opposed to totalitarianism in all forms.
After he died in 1985, Ingersoll's obituarists and biographers would write that the hardest part of his job at PM was maintaining peace between the two extreme factions: the "pro-Communist" staffers and the "anti-Communists." Today, we would probably judge the feud as one of Stalinists vs. Trotskyites. PM's Washington correspondent, I. F. ("Izzy") Stone, certainly would fall into the first camp. And it's hard to believe an actual conservative would have found a warm berth at PM. He'd probably be tarred as a fascist Coughlinite.
PM lasted only eight years (1940-48), mainly because it didn't run advertising, and the millions invested by department store heir Marshall Field III eventually ran out. And perhaps the late 1940s were not a boom time for flaky, pro-Communist evening newspapers. But PM had some good points, and was a landmark paper in many ways. Its editorial cartoonist was Dr. Seuss himself, who until now had earned his keep mainly by drawing ads for a Standard Oil bug spray. (His cartoons, with their extreme racial caricatures of the Japanese, wouldn't pass muster today; more than anything else, they remind one of over-the-top Twitter memes.) Crockett Johnson's classic Barnaby comic strip was launched in PM, and so was Walt Kelly's Pogo. In its news reportage, PM was quite unlike any daily paper before or since. Its news stories were often written as highly personal, investigative features that went on for many hundreds of words. This basic style would later mature as the "New Journalism" of the 1960s and '70s.
From the start, PM was renowned for its crankiness and an eagerness to print facts and speculation side-by-side, journalistic taste be damned. For example, in 1941 New Yorker editor Harold Ross discovered that his male secretary had embezzled about a hundred thousand dollars from him over the years. Ross wanted to keep the story hushed up, especially after the greedy amanuensis gassed himself in his Brooklyn apartment and was revealed to be a homosexual who squandered the dough on boyfriends, the turf club, and maybe a blackmailer. This was Harold Ross' nightmare idea of a scandal. Most of his friends in the press were happy to help him bury the lurid tale. Not PM, though, which printed the murky details of the kitchen suicide, as well as the disarray of Ross' personal finances.
Coincidentally enough, Ralph Ingersoll had been one of The New Yorker's first managing editors. He knew all about Harold Ross' financial messiness. After Henry Luce hired him to edit the new Fortune magazine, Ingersoll turned in a long unsigned exposé (1934) of The New Yorker, in which he talked about salaries, advertising revenue, and other piquant details that Ross wanted to keep under lock and key. (Ross soon took his revenge with a satirical Wolcott Gibbs profile of the Luce enterprise, written entirely in 1930s Timese and famously ending, "Where it all will end, knows God!")
Ingersoll then became managing editor of Time, where Luce thought him the best helmsman ever. Ingersoll filled the editorial ranks with high-class Lefties like himself. Republican Luce didn't seem to mind. ("Goddamn Republicans can't write.") Luce was accordingly miffed when Ingersoll left in 1939 to launch his brainchild of a progressive evening paper. But just as Ingersoll was going out the door, in came portly, gloom-laden ex-Communist Whittaker Chambers, who started out by writing movie reviews, and wound up as senior editor. On his way up, Chambers had a heart attack and endless feuds with the other "Timeditors." They'd been hired by Ingersoll and were of a decidedly anti-Chambers political stripe.
Ingersoll thus has an offstage presence in the Hiss-Chambers case. When Alger Hiss' attorneys wanted to dig up dirt on Whittaker Chambers in 1948, they went to his enemies at Time, who dutifully reported that Chambers was delusional and often displayed signs of mental illness. These were Ralph's boys.
Both Chambers and Coughlin were the targets of far-Left smear campaigns, but so were many other conservatives in the 1940s. What is missing in the Coughlin case is Ingersoll's motive. It cannot have been personal. Ingersoll may have crossed paths with Whittaker Chambers, but Social Justice and Coughlin supporters were on a different planet entirely. Nor could he seriously have believed Fr. Coughlin was leading a vast and powerful Nazi underground.
So we have to make some educated guesses here. PM's "angel," Marshall Field III, was a patron of Leftist and Communist causes. The same year PM began publishing, Field endowed Saul Alinsky's radical-training school in Chicago (Industrial Areas Foundation). PM needed to be a far-Left paper to please its patron. And lacking advertising, it needed to make a big noise to survive on subscriptions and newsstand copies. Thus it needed a "safe" cause, one that could be sensationalized. Fr. Coughlin, of the Shrine of the Little Flower in Royal Oak, Michigan, fit the bill perfectly. Not many too people in New York City were going to complain. Moreover, Coughlin as Villain satisfied a Left-wing craving for anti-Catholicism, something badly needed since early 1939, when the Leftists lost the Spanish Civil War.
Ingersoll's life post-PM continued in an industrious, dilettantish, rather apolitical key. He ended up owning a chain of newspapers in the Northeast and Midwest (The New Haven Register, The Trentonian, etc.). When The New York Times reviewed a biography of him in 1985, the headline was "Crusading Editor Dies Rich."
As for Fr. Coughlin, from 1942 he entered a period of "radio silence," figuratively and literally, spending the rest of his life as a parish priest in Michigan. He was more obscure than you can imagine today, given his current notoriety. I've known parishioners of his from the 1950s and '60s. They told me that while they were aware their pastor had once been famous on the radio, they didn't know much about that, or why it all ended. So it seems Fr. Coughlin sought obscurity, and he got it: receding into the newsreel past, a fuzzy, half-forgotten figure like Huey Long and Hamilton Fish.
Fr. Coughlin lived until 1979, seldom remarked upon or remembered. Since that time, the smear campaign has begun anew, as though taken straight from the pages of the 1942 PM. All the trite pejoratives get leveled at him: fascist, pro-Nazi, conspiracy-thinker. And, of course, "anti-Semite." The website of Washington, DC's Holocaust Museum even has a page dedicated to him, and it's filled with every sort of twist and innuendo in the cliché barrel. For example, after Germany's Kristallnacht made the headlines in November 1938, the priest gave a radio talk explaining the background to the news. This is spun as Coughlin "defend[ing] the state-sponsored violence of the Nazi regime," although he did not, in fact, endorse violence, window-breaking, or persecution of Jews. From sites such as this, you might get the impression that Fr. Coughlin was a sort of Julius Streicher in a Roman collar.
But the ultimate target of such smears really isn't the long-dead Fr. Coughlin himself. Rather it is conservatives, Christians, and the image of a vanished America, here vandalized into a dystopia of hate and horror.
Enjoyed this article?
Be the first to leave a tip in the jar!