Yukio Mishima's The Sailor Who Fell from Grace with the Sea
Alex Graham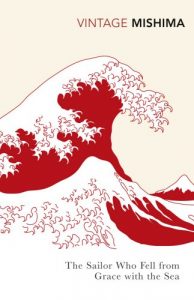 1,416 words
The Sailor Who Fell from Grace with the Sea remains imprinted upon the mind long after one has read it. It is one of Mishima's shorter novels, but its tightly-woven narration heightens the intensity of the atmosphere, simulating a taut bowstring upon readying an arrow.
The novel takes place in Yokohama, Japan's leading port city, during the American occupation, and unfolds mainly from the perspective of a 13-year-old boy by the name of Noboru Kuroda. Noboru lives alone with his mother Fusako, who runs a luxury shop that sells Western-style clothing; his father died when he was eight years old. He belongs to a gang of six precocious young boys who espouse a form of nihilism and hold mainstream society in contempt, reserving especial scorn for fathers.
Noboru is fascinated with the sea and ships. He convinces his mother to take him to a port, where a sailor by the name of Ryuji Tsukazaki, second mate aboard a freighter ship, shows him around his ship. The reader is introduced to Ryuji when Fusako invites him to the Kurodas' home and Noboru observes the two embracing through a hole in the wall behind a chest in his bedroom.
Ryuji is rough-hewn, muscular, and ruggedly masculine. As a young man he was drawn to the restlessness and vastness of the sea and its rejection of the static confinement of landbound strictures. He was convinced that glory lay in store for him: "At twenty, he had been passionately certain: there's just one thing I'm destined for and that's glory; that's right, glory!" (15). He wanted to lead a life of danger and adventure. Thus his vision of glory was inseparable from the perilous nature of seafaring: "They were consubstantial: glory and the capsized world. He longed for a storm" (15).
Ryuji becomes a hero to Noboru. As a young boy growing up without a father in postwar Japan, Noboru looks to him as a role model and worships the ideal of glory that he represents. He is in awe of Ryuji and likens him to "a fantastic beast that's just come out of the sea all dripping wet" (41).
Ryuji leaves when his ship sets sail again, and his return marks the beginning of Part Two of the novel. Upon returning, Ryuji proposes to Fusako and the two agree to marry, which enrages Noboru. By marrying Fusako and embracing a life of domesticity, Ryuji is forced to sacrifice life at sea. He realizes this and at one point briefly questions his choice:
Are you really going to give it up? The feeling of the sea, the dark, drunken feeling that unearthly rolling always brings? . . . Are you going to give up the life which has detached from the world, kept you remote, impelled you towards the pinnacle of manliness? The secret yearning for death. The glory beyond and the death beyond. Everything was 'beyond,' wrong or right, had always been 'beyond.' (87)
Noboru becomes disillusioned with his former hero. Having turned his back on a life of glory, Ryuji forsakes his status as a hero of mythical proportions and becomes an everyday sort of fellow. This is foreshadowed in a scene in which he encounters Noboru one afternoon and calls out to him while flashing a forced grin. Here Ryuji comes across as a sheepish, almost pitiable figure attempting to endear himself to the boys.
Noboru informs the gang of Ryuji's engagement to Fusako, and they decide it is necessary to "make that sailor a hero again" (107). There is a single means through which this can be achieved. The boys lure Ryuji to a secluded area under the pretense of getting him to talk about his adventures at sea. Ryuji begins to muse about the life he left behind. As he speaks, the immensity of his decision hits him just before he meets his end: "Now only embers remained. Now began a peaceful life, a life bereft of motion" (142).
The prose in the final scene is subtle and understated, which lends it a haunting effect. Mishima also refrains from inserting moral judgments that would color the reader's interpretation of the deed, recalling Ryuji's description of the sea's indifference to human moral schemes.
Like many of Mishima's works, the novel is essentially an allegory for the decline of traditional Japanese culture and the masculine spirit of the samurai amid the onslaught of Westernization and modernity.
Fusako embodies both the Westernization of Japan and the essence of the feminine. She leads a thoroughly Western lifestyle and decorates her home with Western furnishings, wears Western clothing, etc. She also represents the mentality of the modern West, one which prioritizes economic security, stability, and contentment above all other values. Such values are inherently feminine, eschewing adventure and heroism for comfort and safety. Fusako symbolizes the archetypal feminine, that which is earthbound and static, while Ryuji's youthful aspirations represent celestial masculinity, that which strives to attain glory and greatness. Female seduction represents a woman's attempt to lure a man into her domain and drag him down to earth, thereby derailing his quest for glory. Thus the gang scorns fatherhood because they realize that their fathers were each forced to compromise their individual quests for greatness and make concessions to societal custom.
The sense of glory that Noboru and the gang see in Ryuji is the antithesis of bourgeois, modern Western values, which in Mishima's view were eroding traditional Japanese notions of honor. Thus the ideal of glory that Noboru reveres symbolizes the martial ethos of the samurai, and Noboru and the gang serve to enforce bushidō, the samurai code.
Yet Ryuji himself falls short of fulfilling this ideal. The choice between land and sea that lies before him and his ambivalence in the face of this dilemma is a reflection of the uncertain identity of postwar Japan, a country that over the course of a single century had transitioned from a feudal state into a global military power and was forced to grapple with how to reconcile its indigenous culture with modernity. Ultimately Japan pursued the course of Westernization, reflected in Ryuji's rejection of his former life.
Thus Ryuji's rejection of his life at sea in order to marry Fusako represents a surrender to the West/modernity as well as to the feminine. Faced with the fall of his hero, Noboru comes to believe that Ryuji can only be redeemed through dying a heroic death. The gang's final act symbolizes an attempt to halt Westernization and restore heroism and glory to Japan. In this sense the gang parallels Mishima's militia, the Tatenokai ("Shield Society"). On the morning of November 25, 1970, Mishima and four Tatenokai members seized control of a Japanese military base and attempted to enact a coup that would restore prewar imperial rule in what is now known as the Mishima Incident. The coup failed but ultimately served as a symbolic ritual (like the murder of Ryuji) that set the stage for Mishima's suicide.
The Sailor Who Fell from Grace with the Sea is far more than an exploration of adolescent mischief gone awry. It illustrates that civilizations fluctuate between two opposite poles: a feminine spirit of bourgeois complacency and mediocrity and a masculine spirit that valorizes glory and greatness. The difference between the two is perhaps most evident in their respective attitudes toward death. In societies characterized by the former, an early or unnatural death is considered the worst fate that can befall a man. Many modern people expend an enormous amount toward artificially prolonging the degenerative state of old age for as long as possible. In societies characterized by the latter, it is held that weakness and dishonor are far worse than death. In such societies it is regarded as noble and heroic to sacrifice one's life for a great cause, the "Grand Cause" that Ryuji invokes while reminiscing upon his life at sea (142). Mishima sought to do the same and intentionally committed seppuku when he was in his prime.
The modern world is defined by that which Fusako embodies: a desire for contentment and economic security at the expense of glory and heroism. In Greek mythology, sailors who were lured to land by the seductive song of the Sirens invariably met their end. Likewise the prospect of easy living appears alluring in times of national uncertainty but in the long run leads to civilizational decline. Thus the final act of the novel represents not the depravity of disturbed teenagers but rather the role of gang violence in enforcing justice and restoring order to a disturbed world.