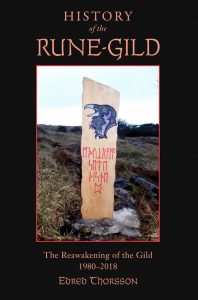 2.563 slov
English original here
Edred Thorsson
History of the Rune-Gild: The Reawakening of the Gild 1980-2018, North Augusta, S.C.: Arcana Europa, 2019.
Pozn. překladatele: Kniha má, snad trochu překvapivě, vztah i k České republice. Obsahuje totiž krom jiného také fotky české pohanky Šárky Sedlákové, která se setkala s Edredem Thorssonem/Stephenem Flowersem osobně, je členkou Runové gildy, a mimo jiné též stála za chaosmagickou edicí KIAton.
Edred Thorsson je jedním z mála lidí, u nichž jsem skutečně hrdý na to, že je znám. Mnohým se zdá být dosti zvláštní kombinací "protikladů" (ovšem jen zběžnému pozorovateli, jak osvětlím na konci této eseje). V prvé řadě je goði a znalec run, který mluví staroseverštinou s texaským přízvukem. Získal doktorát v germánských jazycích a byl studentem nejdůležitějších učenců tohoto oboru – ale je také autorem knih, označovaných mnohými za "New Age", publikovaných u nakladatelství Inner Traditions, Weiser nebo Llewellyn. Za své mentory považuje kapacity jako Edgara Polomého, Klause Düwela, ale také Michaela Aquina, kontroverzního zakladatele Setova chrámu. Edred je introvert, samotář a podle vlastních slov stěží průměrný organizátor, který ovšem hned několik organizací založil. Nikdy nechtěl následovníky, navzdory tomu si jich nemálo získal. A pak je tu Edredův proslulý zájem – a sotva to lze říct lépe – o BDSM (v čemž je velmi otevřený a upřímný). Mohl bych pokračovat. Ale všechno to nějak pasuje dohromady a dělá to z Edreda pozoruhodného člověka a nesmírně významnou postavu jak v hnutí Ásatrú, tak v "okultním undergroundu".
Netřeba dodávat, že vedl hodně zajímavý život, a proto kniha nabízí tak fascinující čtení. I když má být historií Runové gildy (Rune-Gild) v letech 1980-2018 (a skutečně ji lze v knize najdete), bylo by přesnější říci, že se jedná spíš o Edredovu autobiografii. Tento svazek byl původně vydán v roce 2007 Edredovou vlastní vydavatelskou společností Rûna-Raven (dnes zaniklé a nahrazené projektem Lodestar – pozn. DP). Nové, aktualizované a rozšířené vydání vydala Arcana Europa v edici "Gilded Books", vytvořené pro tituly související s Runovou gildou. Kniha obsahuje nejen několik stránek velmi zajímavých fotografií, ale i přílohu originálních tištěných dokumentů relevantních k obsahu příběhů z knihy. V následujícím textu se čtenáři pokusím ukázat smysl těchto příběhů a vysvětlit, proč je podle mne tento svazek tak strhující.
Edred Thorsson je "pseudonym" Stephena Edreda Flowerse, který se narodil 5. května 1953 v texaském Bonhamu. Od útlého věku se zajímal o temné, skryté a mysteriózní aspekty tohoto podivného vesmíru. Jeho otec mu v podobě klasické hororové kinematografie z třicátých let (vysílané místní televizní stanicí nebo znovu promítané v kině) představil hororové filmy. Šlo především o horory Toda Browninga, Jamese Whalea a dalších, kteří odvedli tak pozoruhodnou práci při zprostředkování podivna. I já jsem byl od útlého věku fanouškem hororu a netrpělivě jsem dohledával informace o okultních a paranormálních jevech. Moji rodiče to vše naštěstí tolerovali. I Edred byl podle všeho obdařen tolerantními a povzbuzujícími rodiči. Vlastně v každé fázi svého života měl zdá se štěstí na podporu od různých chápavých přátel i mentorů, z nichž někteří jako by se objevili v právě onom přesném okamžiku, kdy byli potřební. (Toto je společný rys životů všech lidí následujících esoterickou či iniciační stezku).
Po dokončení střední školy v roce 1971 Edred vyrazil za dobrodružstvím do zahraničí. Vycestoval do Německa, kde se "cítil jako doma" a brzy se naučil plynule německy (nadání na jazyky je jednou z mnoha Edredových vlastností, později se naučil číst i ve švédštině, norštině, holandštině, francouzštině, latině, staroseverštině, staroangličtině, gótštině a dalších starověkých germánských dialektech). Zatímco se zdržoval v Evropě, byl požádán, aby propašoval dokumenty do komunistického Maďarska, kde je měl předat jistému disidentovi. Byla z toho velice vzrušující historka a Edred jen těsně unikl zatčení tajnou policií. Když se vrátil zpět do Německa, zmínil se příteli o tom, že ho zaujal román Příhody dívky O, který se dotýká i sadomasochistických motivů. Na základě tohoto rozhovoru byl Edred zasvěcen do některých temnějších Erótových mystérií. Musíme říci, že Edred nikdy nevnímal sexualitu jako pouze profánní akt, ale vždy pro něj byla také nositelem posvátné, magické koncepce. Psal o tom mj. ve své knize Carnal Alchemy: Sado-Magical Techniques of Pleasure, Pain, and Self-Transformation (Alchymie těla: Sado-magické techniky potěšení, bolesti a sebe-transformace). Knihu napsal se svou ženou Crystal Dawnovou a původně ji publikoval v roce 2001 u Rûna-Raven, dotisk vyšel v roce 2013 u Inner Traditions. 1]
Hodně lidí má s tímto rysem jeho osobnosti problém. Dost možná je to spíš důkazem mého rozchodu a vzdálení se od mainstreamu, ale opravdu nechápu, čím jsou tak pobouřeni. Stejně tak mě neodrazuje ani Edredovo členství v Church of Satan, kam vstoupil někdy po návratu z Evropy. Sám jsem sice nikdy nebyl členem, ale jako teenager jsem LaVeyovy knihy četl a bral je opravdu velice vážně (v té době jsem ještě nechápal LaVeyovu ironickou stránku). Nejednou jsem tak večer trpělivě čekal, až rodiče odejdou spát, abych se vkradl do suterénu a mohl tam opakovat enochiánské klíče a provádět LaVeyovy rituály. Nevydrželo mi to. Stejně jako většina lidí jsem brzy zjistil, že satanismus není tím, co hledám. Edredův flirt s LaVeyem byl podobně krátký. Nepřestával však hledat (stejně jako já), přestože nevěděl přesně, co že to vlastně hledá – a pak to jednoho letního dne roku 1974 našel.
Edred, společně s několika přáteli, se vydal recesistickou výpravu nedaleko Houstonu, aby se tam setkali s údajným "tibetským šamanem". Šaman se ukázal jako podvodník a rychle je vypoklonkoval pryč. Na zpáteční cestě Edred zaslechl, jak k němu mluví hlas. Nebyl to hlas nikoho v autě, přesto jej však slyšel velmi zřetelně, jako by mu někdo našptával zblízka. Hlas pronesl: "Roonah" [rú-na]. Okamžitě věděl, že to má něco společného s runami. Později usoudil, že slyšel staré norské slovo runa. Edred se tak vydal na svou životní dráhu.
Začal číst akademické knihy jako Handbuch der Runenkunde od Helmuta Arntze i esoterická díla jako Runenmagie Karla Spiesbergera a snažil se dozvědět vše o runách a germánské tradici. Výzkum ho dovedl k vytvoření rukopisu Primer Rune Magic, který se později stal (s významnými úpravami a o mnoho let později) základem jeho dodnes nejslavnější knihy Futhark. (Jak Edred postupně nabýval rozsáhlé vědomosti a hlubší vhled, byl s Futharkem stále vice nespokojen a nyní ho považuje za svou "nejhorší" knihu – i když je v něm stále spousta věcí, z nichž může člověk mít užitek.)
V roce 1976 Edred získal bakalářský titul z němčiny na University of Texas v Austinu a dále tam pokračoval v magisterském studiu, které zdárně završil. Někdy v té době se dozvěděl o existenci skupiny Ásatrú Free Assembly a poznal Steva McNallena. Edred také říká, že se dostal do kontaktu s člověkem, který se prohlašoval za "severského papeže". Tento šílenec sice z vyprávění rychle zmizí, ale v Edredově životě se tento motiv objevuje znovu a znovu. Jedním z nejsnáze zapamatovatelných prvků knihy je totiž defilé různých "magorů" a šejdířů, s nimiž se Edred musel během let ke své smůle potýkat. Vzorec je celkem jednoduchý: Edred naváže kontakt s nějakým člověkem (nebo naopak), který působí slibně. Edred přehlíží určité zvláštní rysy dané osoby a snaží se v ní vidět to lepší. Někdy i vzájemně spolupracují nebo mu/jí Edred dokonce svěřuje povinnosti. Nakonec se však ukáže, že tento člověk nebyl hoden jeho důvěry. Jejich společné cesty se tak rozejdou, případně Edreda přímo zradí.
Podrobnosti těchto událostí působí, jako by je psal sám život a jsou plné – abych se dopustil edredismu – "okultostorek", tedy neuvěřitelných komických situací blížících se spíše fikci. Někdy jsou to příběhy velmi vtipné, jindy spíše smutné, jako např. kapitola věnována debaklu skupiny Ring of Troth. Edred organizaci založil, ale později ji ovládli politicky ultrakorektní pitomci, Edreda odsoudili a vyobcovali. Jeho popis spolupráce s nakladatelstvím Llewellyn je také střídavě smutným a vtipným příběhem, který velmi jasně ukazuje, co mnozí z nás už vědí: většina autorů z Llewellyn toho zná jen o něco více než jejich čtenáři (někdy i méně), takže jen cynicky a vědomě profitují na lidské důvěřivosti.
Ačkoliv by se mohlo zdát, že se knize propírá spousta špíny, ve skutečnosti z řádek znovu a znovu vystupuje na povrch Edredova velkorysost, zejména pak jeho ochota nabídnout lidem šanci bez ohledu na to, kolikrát byl zklamán. Sám je ostatně k lidem, kteří ho tak i onak zklamali, docela velkorysý. Kdokoliv trochu obeznámený s životními příběhy některých lidí zmíněných v knize si při četbě uvědomí, že se Edred o spoustě opravdu trapných věcí taktně nezmiňuje.
Samozřejmě ne všechny portréty v knize jsou negativní. Edred také ochotně chválí ty, kdo jeho život ovlivnili pozitivně nebo sehráli klíčovou roli ve vývoji Runové gildy: lidé jako Stephen McNallen, James Chisholm, Ian Read, Michael Moynihan, Crystal Dawnová a další. Edred jmenuje trojici svých životních mentorů, jež už jsem zmínil na začátku této eseje: Edgar Polomé, Klaus Düwel a Michael Aquino.
Největší chvály se dostává nejspíš Polomému. Tento belgický znalec germánských studií emigroval do USA a stal se vedoucím Edredovy disertační práce na Texaské univerzitě v Austinu. Čtenáři budou možná překvapeni tím, že Edred před svými profesory nijak neskrýval své neopohanské sklony. Polomé si tak byl dobře vědom, že Edred má o učení tradic svých předků hlubší než jen ryze akademický zájem. Jednou jsem se zeptal Edreda, jak se podle něj Polomé k těmto tématům staví. Odvětil, že podle něj s nimi Polomé na určité úrovni sympatizuje.
I o Düwelovi autor hovoří jen v těch nejpochvalnějších tónech. Edred s tímto německým runologem rok studoval na univerzitě v Göttingenu. Během tohoto studia v zahraničí Edred také navázal kontakt s Armanen Orden a Guido-von-List-Gesellschaft. Tehdy už také Edred založil (či obnovil) Runovou gildu. Došlo k tomu o Yule 1980, nedlouho poté, co získal magisterský titul (za práci zabývající se "znovuzrozením" v Sáze o Vølsunzích, později publikovanou Rûna-Raven Press a nyní vyprodanou). V roce 1984 obhájil svou ambiciózní doktorandskou práci Runes and Magic (později také ji publikoval u Rûna-Raven). Ta byla široce citována i navzdory tomu, že Edredovy "mimoškolní aktivity" jsou v akademických kruzích germanistiky všeobecně známé. Celkem nasnadě je také myšlenka, že i tam, kde ho akademici otevřeně necitují, se uplatňuje jeho alespoň jakýsi nepřímý vliv. Možná vás překvapí, že podle Edreda bývají akademici při zacházení s jeho vědeckou prací v zásadě féroví.
Tato férovost ale naštěstí nezahrnuje nabídku akademických pozic. Řekl jsem "naštěstí", protože kdyby uspěl ve světě akademického švindlu, ubíral by se Edredův život zcela odlišnými cestami. "Stařík" (jak Edred často označuje Ódina) s ním ale zjevně měl jiné plány. Existuje starý německý akademický vtip, že Bůh chtěl stvořit nejdokonalejší myslitelnou bytost a tak stvořil profesora germanistiky. Ďábel chtěl jako vždy zkazit Boží dílo, a tak mu vytvořil kolegu. Edred, osvobozený od nutnosti přizpůsobovat se očekáváním svých akademických kolegů, tak mohl strávit tři desetiletí psaním toho, co chtěl. Vše je podloženo solidním akademickým vzděláním – dovoluje si ale také spekulativní úvahy typu, nad nimiž konvenční akademici obvykle nesouhlasně kroutí hlavami. Ztráta akademického světa se však stala naším ziskem.
Celá kapitola je věnována Michaelu Aquinovi a Setovu chrámu (Temple of Set). Aquino byl Edredovým "magickým rádcem" a z Edredova popisu je zjevné, že to je charismatický člověk a zdatný mág. Edredova spolupráce s ním se však stala zdrojem kontroverzí, zejména během tzv. "satanské paniky" 80. let a 90. let. Jedním z vrcholů knihy je Edredův popis setkání s Aquinem ve slavném losangeleském klubu Magic Castle, kde mu Aquino předal originální dýku SS. (Koho zajímá, jak Edred chápe symbolický význam tohoto daru, bude si muset knihu přečíst).
Edredovy osobní vlastnosti vystupují ze stránek knihy v jasném světle. Už jsem zmínil jeho štědrost. Navíc je velice upřímný a otevřený i stran svých vlastních vrtochů. Na jednom místě dokonce popisuje, jak se v Gildě projevují některé z jeho osobnostních rysů: je tak podle něj "uzavřená, odtažitá, introvertní, spletitá, orientovaná na cílevědomost/vzdělávání/výsledek a vizionářská (ovšem s menší pozorností k detailům)". Edred také připouští, že není zrovna skvělým organizátorem. Snadno mu ale lze takovéto drobné chyby odpustit, protože jeho tvorba je tak plodná a důležitá.
Jednu z největších předností knihy spatřuji v tom, že zahrnuje i kompletní bibliografii Edredových děl (publikovaných pod vlastním jménem i pseudonymem). Rozsah těchto spisů je pozoruhodný. Patří mezi ně výše zmíněný Futhark, stejně jako Runelore (esoterické učení o runách), The Magian Tarok (pokus spojit tarot s mystérii mithraismu), Hermetic Magic (o magii Corpus Hermeticum), Carnal Alchemy (Alchymie těla), Lords of the Left-Hand Path (Páni stezky levé ruky), The Secret King: The Myth and Reality of Nazi Occultism (Tajný král: Mýtus a realita nacistického okultismu), The Northern Dawn: A History of the Reawakening of the Germanic Spirit (Severský úsvit: Historie obrody germánského ducha), At the Well of Wyrd: A Handbook of Runic Divination (U pramene osudu: Příručka runového věštění), The Nine Doors of Midgard: A Complete Curriculum of Rune Magic (Devět bran Migardu: Kompletní kurikulum runové magie), ALU: An Advanced Guide to Operative Runology (ALU: Pokročilý průvodce praktickou runologií) a mnoho dalších. Publikoval také překlady grimoáru Galdrabók, Tajemství run Guida von Lista, runových básní a dalších děl.
Edred sehrál klíčovou roli také ve vývoji Ásatrú, když byl mentorem či jinak pozitivně ovlivnil řadu talentovaných lidí, aktivních v germánském neopohanství, na okultní scéně i v akademické sféře. Rozhodně měl značný vliv i na můj vlastní život a práci. Projevoval jsem sice už jako dítě náznaky zájmu o staré bohy, ale nebýt Edreda, nikdy bych nezačal s runami ani Ásatrú. Mé vlastní akademické zázemí není nepodobné tomu Edredovu (i když moje formální vzdělání je v jiném oboru). Díky tomu v sobě mám "zabudován" jakýsi detektor nesmyslů, který se zpravidla hlasitě rozezní, kdykoli se setkám s "New Age" materiálem. V Edredovi jsem ale našel průvodce, který svá tvrzení zakládá na skutečném bádání. Trval také rozhodně na tom, aby se lidé okolo něj (tedy ti v Runové gildě) raději obeznámili s původními zdroji, než aby se opájeli čirou fantazií. Jako zakladatel Runové gildy a její vůdce (Yrmin-Drighten) vytvořil iniciační stezku spojující výsledky pečlivého studia s postřehy získanými z vlastního pohroužení se do různých stezek levé ruky.
V posledních letech se Edredova pozornost obrátila k zoroastrismu. Vydal na toto téma knihy The Good Religion (2014) a The Mazdan Way (2017). To se setkalo s kritikou některých přívrženců Ásatrú, kteří ho obvinili, že sešel z cesty. Edred ale trvá na tom, že tomu tak není – a má pravdu. Jeho cestou totiž nikdy nebylo Ásatrú, ale něco mnohem úžeji vymezeného: "odinismus", jak jej sám označuje. Tato stezka, jak Edred vysvětluje v mnoha svých knihách, je cestou toho, kdo Ódina neuctívá, ale snaží se jím stát. A kdo je to Ódin? Neklidný bůh usilující o moudrost a sebe-transformaci kdekoliv je možné ji nalézt, a to za každou cenu. Tento klíč umožňuje člověku spatřit jednotu všech Edredových zájmů. Pouze na svrchní úrovni mezi různými jeho stezkami jistě existují "rozpory". Některé z jeho "extrémnějších" zájmů jsou ale myslím šokující pouze pro ty, kdo si neuvědomují, že Ódinova cesta je už ze své podstaty transgresivní. Nakonec je tak i Ásatrú příliš malá škatulka na to, aby se do ní Ódin vešel.
Pro ty, které předchozí odstavce skutečně vnitřně oslovily, nejspíš Edred Thorsson bude moudrým a provokativním průvodcem. Doufám, že tato recenze jasně ukázala, proč se jedná o vysoce zajímavou a důležitou knihu. I tak jsem ale jen klouzal po povrchu. Najde se v ní totiž mnoho dalších fascinujících věcí. Dokonce i popisy mootů Gildy jsou zábavné čtení, třeba záznam událostí z prvního mootu, jehož jsem se kdy účastnil v texaském Bastropu roku 2011. Edred zde Gildu nejprve dramaticky zničil, jen aby ji sám následně znovu vytvořil. Historie Runové gildy je tak nejen povinnou četbou pro iniciované, ale také dobrým úvodem do Edredova díla pro začátečníky.
This translation originally appeared at Delian Diver.
* * *
Like all journals of dissident ideas, Counter-Currents depends on the support of readers like you. Help us compete with the censors of the Left and the violent accelerationists of the Right with a donation today. (The easiest way to help is with an e-check donation. All you need is your checkbook.)
For other ways to donate, click here.
Poznámka:
[1] Edred knihu publikoval pod svým rodným jménem. V této recenzi nerozlišuji mezi knihami napsanými "Stephenem Edredem Flowersem" a těmi od "Edreda Thorssona".
Enjoyed this article?
Be the first to leave a tip in the jar!