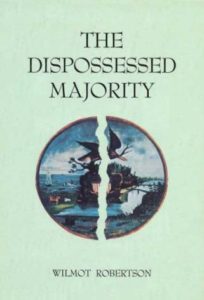 1.652 slov
English original here
"'Old Believer' (ten, kdo neochvějně důvěřuje zavedeným pořádkům – pozn. DP), ryzí moderní konzervativec, protože je ve své podstatě i ryzí klasický liberál, je zřejmě tím vůbec nejefektivnějším americkým typem, který většinu udržuje v bezpečném vakuu rasové apatie." – Wilmot Robertson, The Dispossessed Majority
V uplynulých týdnech a měsících jsme byli svědky obnoveného zájmu o konzervatismus, konkrétně o význam této ideologie v moderní Americe a to, jak se jí povede v současné Trumpově éře i po ní. Novější vývoj se dal shrnout jako malé krůčky kupředu naznačující jistou otevřenost k nacionalismu.
Manifest na webu First Things nazvaný "Against the Dead Consensus" (Proti mrtvému konsenzu), podepsaný poměrně vlivnými katolickými publicisty jako Sohrab Ahmari nebo Rod Dreher, vyvolal vlnu kontroverze a podnítil dosud probíhající bouřlivou debatu. Autoři ve své deklaraci ostře kritizují neschopnost konzervatismu bránit kulturu proti levici a vytýkají hnutí, že "až příliš často a ochotně ustupuje otrávenému a tyranskému multikulturalismu".
Nově vzniknuvší organizace Edmund Burke Foundation se označuje za "institut pro veřejnou činnost s cílem vytvořit obrozený konzervatismus pro nastávající epochu nacionalismu". Na červenec chystají v americkém hlavním městě setkání National Conservatism Conference, kde mají promluvit lidé relativně blízko pravicovému disentu jako Tucker Carlson, Amy Waxová, Peter Thiel  nebo John O'Sullivan. (Těžko říct, co pořadatelé slibují od nudného panáka jako Rich Lowry…)
Tradiční konzervativní publikace Human Events, která musela v roce 2013 po téměř 70 letech nepřetržité publikace "zavřít krám", byla letos v květnu oživena a svěřenou do rukou Raheema Kassama a Willa Chamberlaina. Kassamovi budiž přičteno ke cti, že otevřeně hájil Enocha Powella a upozornil na existenci muslimských "no-go zón" v Evropě.
Wilmot Robertson (1915-2005) věnoval konzervatismu celou kapitolu ve svém opus magnum z roku 1972, The Dispossessed Majority (Vyvlastněná většina). Knihu podle F. Rogera Devlina označil za "definitivní a autoritativní vyjádření bělošského nacionalismu naší generace" neváhal označit člověk natolik na slovo vzatý jako Sam Francis.
Dílo se dočkalo hned pěti vydání. Sám jsem vlastníkem toho dosud nejnovějšího (1996) a tedy poněkud aktualizovaného. Robertsonův několik desítek let starý popis konzervatismu však na relevanci nic neztrácí ani dnes a mnohé nám tak naznačuje i stran jeho budoucnosti, ať už bude nacionalismu nakloněna pozitivně nebo ne.
Konzervatismus s novou definicí
Robertson začíná kapitolu věnovanou konzervatismu důsledným rozlišením klasického a moderního konzervatismu:
Klasický konzervativec zachovává mystickou auru autority a společenské hierarchie. Rodem aristokrat, přirozeností antidemokrat a ze všeho nejvíc mu záleží na rodině, rase a kontinuitě. Řetěz je tak pro něj důležitější než jeho jednotlivé články. Přestože v člověku vidí jeho božskou inspiraci, ze zřetele neztrácí ani závratnost přirozených překážek, jimž musí tato jiskra čelit. Kolektivní moudrost lidu (jeho zvyky a instituce) chápe jako důležitější než moudrost vlád i jednotlivců (zákony a politika).
A kdo je to moderní konzervativec a čemu věří?
Do jisté míry upřednostňuje demokracii, věří v rasovou rovnost – nebo to alespoň tvrdí – a raději by viděl spíš méně vlády. Jakkoliv zapáleně horuje pro lidská práva, snad ještě větší výraz klade na práva majetková. Jelikož sám sebe rád vnímá jako racionálního a rozumného člověka, hledí na náboženství s jistou skepsí. Sečteno a podtrženo je to klasický liberál, vzdálený zdrojnicím klasického konzervatismu – Platónovi, Dantemu a Hobbesovi – asi stejně, jako moderní liberál Lockeovi.
Stručné dějiny amerického konzervatismu
Konzervatismus ve Spojených státech měl podle Robertsona až překvapivě silný start, přestože ty nejkonzervativnější elementy národa, tedy sto tisíc loajalistů, byly během války za nezávislost vytlačeny nebo samy uprchly do sousední Kanady. Washingtona, Hamiltona i stranu federalistů označuje za burkeovské konzervativce a domnívá se, že ústava byla pro muže, kteří právě založili zastupitelskou vládu, z níž byla evropská šlechta tolik zděšená, dostatečně konzervativní.
Z těchto pevných počátečních pozic však podle Robertsona konzervatismus rychle oslaboval a vadl, nejprve dílem jeffersoniánské a jacksonovské demokracie a následně i kvůli občanské válce, jež vrazila mocný klín mezi severní a jižní konzervativce. Citován je Theodore Roosevelt coby představitel "dost možná posledního projevu amerického konzervatismu prostoupeného silným národním vědomím". Dvojí direkt Velké krize a 2. světové války však už americký konzervatismus přežil jen tak tak.
Zatímco se Nový úděl směle pouštěl do řešení zásadních hospodářských problémů stále výrazněji industrializované společnosti, upnuli se konzervativci k obraně neomezovaného kapitalismu. Na jejich hlavy tak padla vina za recesi a liberálové proto lehce "slíznuli" zásluhy za zmírnění jejích následků. Následný vzestup fašismu v Evropě pak vtisknul levici do rukou další klacek, kterým mohla konzervativce tlouct. Podobnost se současnou situace je jistě pouze náhodná:
Nepochybně by daly nalézt jisté spojitosti mezi některými aspekty konzervatismu s "nietzscheizujícím" Hitlerovým smýšlením, podobně jako mezi některými prvky liberalismu a démonickým Leninovým politikařením. Liberálové i konzervativci těchto chabých nitek s oblibou využívají ke vzájemnému kydání špíny. Jelikož jsou však liberálové už od 30. let poměrně pevně usazeni v mocenských pozicích, mají jejich nepravdy podstatně vyšší úspěšnost.
Následkem této dvojice katastrof se obvykle konzervativní voliči na více než generaci přiklonili k demokratům. Úpadek však nepostihnul jen politický konzervatismus. Hnutí se v podstatě vytratilo i na frontě intelektuální. Díla Madisona Granta nebo Lothropa Stoddarda "získala špatnou pověst". Na burkeovské konzervativce jako Irving Babbitt a Paul Elmore More se zapomnělo. A dokonce i ekonomičtí konzervativci jako Wilhelm Ropke, F. A. Hayek či Ludwig von Mises se dočkali "jen letmého slyšení".
Teprve v průběhu 60. a 70. let černošská zločinnost, nucené svážení dětí do škol autobusy (desegregace) a pozitivní diskriminace přiměly řadu bělochů přehodnotit svou oddanost demokratům. Společně s obavami z inflace se právě z těchto témat zrodila politická vítězství konzervativců v 80. letech, jež by se však už dala označit za vítězství Pyrrhova. Liberálové totiž pevně ovládli všechny americké instituce a sami si určovali témata veřejné diskuse. Znovu – nepřipadají vám charakteristiky z následujících řádků důvěrně známé?:
Než se směl projevit na celostátní úrovni, musel moderní konzervativec demonstrovat svou příslušnost k loajální opozici a shodné smýšlení s liberály v tzv. citlivých otázkách. Tolerovány tak nebyly veřejné projevy klasického konzervatismu jako otevřené výpady proti demokracii nebo rasismu menšin. A když nešlo ohně menšinového iliberalismu a rasismu uhasit nesmělými a slabými výzvami k zachování dekora, bylo lépe nechat je plát. Jediné otázky, v nichž se moderní konzervativec směl od konsenzu poněkud odchýlit, byly ty "bezpečné". Směl tak projevit svou úctu k velkému byznysu, majetkovým právu, vlastenectví, náboženství, decentralizaci vlády či právu a pořádku. Dovolena byla také kritika socialismu, marxismu, Castra, přehnané regulace, odborů a rozpočtových schodků. Tyto přípustné rozdíly však byly kvantitativní, nikoliv kvalitativní. V těch skutečně důležitých otázkách ale moderní liberalismus s moderním konzervatismem často bezmála vzájemně splynuly.
Podle Robertsona se od těchto nepsaných pravidel neodchýlila byť jediná konzervativní ikona, včetně Roberta Tafta, Barryho Goldwatera i Ronalda Reagana. Umírnění jako Dwight Eisenhower a Richard Nixon pak "oba deklamovali základní pilíře moderního liberalismu stejně halasně jako všichni ostatní účastníci amerického veřejného života". Dokonce i samorosti jako George Wallace "vyhověli zápovědi veřejné debaty o rasovém problému. Ve svých předvolebních proslovech se tak místo otevřených prohlášení uchyloval spíše k náznakům, čímž svým příznivcům umožnil učinit si po jeho výpadech proti rasové integraci škol své vlastní závěry".
Proč tedy většina bělochů konzervativce a republikány i nadále volí? Robertson podotýká, že konzervativní politici skoro vždy bývají bílí a alespoň nominálně křesťané. Zpravidla nebývají tak agresivní, neomalení ani otevřeně protibělošští jako nemálo liberálů a demokratů. Neuráží bělošské cítění, protože se prezentují, jako by byli pro všechny, nikoliv jen menšiny. Robertson se o tom sice nezmiňuje, ale republikáni, kteří flirtují s rétorickými výpady proti "bělošskému rasismu" s cílem získat si přízeň menšin, často končívají s na jedné straně pozitivně nakloněnými médii, ale na té druhé jen nepočetnou voličskou podporou (stačí se vzpomenout na výsledky Jack Kempa v primárkách 1988 nebo Randa Paula v roce 2016). Trumpův tým usilující o jeho znovuzvolení v roce 2020 by na to nesjpíš neměl zapomínat.
Pro bělochy by tak dost možná bylo lepší, kdyby konzervativci byli stejně otevřeně protibělošští jako liberálové:
Spojením klasicky liberálních humanistických abstrakcí s moderně liberálními principy rovnosti a sociální demokracie totiž moderní konzervatismus příslušníky většiny ve výsledku uspává a zbavuje rasové ostražitosti právě v onom dějinném momentě, kdy ji potřebují nejvíc.
Proto jsou právě moderní konzervativci ze všech vědomých i nevědomých protivníků věci většiny ti nejnebezpečnější.
Stávající léčba nepostačuje
Není vyloučeno, že se americký konzervatismus skutečně obrátí směrem k otevřenějšímu nacionalismu. Dopis redaktorů First Things, skladba řečníků na "Konferenci národního konzervatismu" i nové Human Events jako by společně naznačovaly zaujetí bojovnějšího protilevičáckého postoje. V očích většiny čtenářů tohoto webu to nesjpíš bude znatelný "upgrade" oproti unavenému Konzervatismu s.r.o. a Bushovu/McCainovu/Romneyho republikánství posledních desetiletí. Noví tahouni konzervatismu tak po vzoru mj. Trumpa asi budou podnikat mnohem ochotněji výpady proti multikulturalismu, imigraci, politické korektnosti i "pozitivní" diskriminaci. Rozhodně pak je u nich patrná výrazně nižší ochota útrpně snášet invektivy, opovržení a dvojí metr levice.
Robertsonovi by ovšem neušlo, že se muži v čele těchto snah jmenují Sohrab Ahmari (perský konvertita ke katolicismu), Yoram Hazony (izraelský akademik) a Raheem Kassam (původem indický muslim, dnes se označuje za ateistu). Zcela jistě by je zařadil mezi příslušníky "neasimilovatelných menšin", které se kvůli svým rasovým a náboženským odlišnostem skutečnou součástí historické většiny stát nemohou. Přestože tak dost možná mají srdce na pravém místě, na záchranu ani zachováni americké většiny nejsou ti praví.
Je tedy konzervatismus bělochům – kteří dnes bojují s uzurpací mnohem hmatatelnější a reálnější, než tomu bylo v době vzniku The Dispossessed Majority – vůbec k něčemu užitečný? Robertson si to nemyslel, alespoň tedy v případě konzervatismu v jeho stávající podobě:
Moderní konzervatismus, který se nemůže spoléhat na rasový dynamismus moderního liberalismu, dosud byl a nadále i zůstane pro většinu zcela zbytečným prostředkem pro její misi sjednotit se a zařadit pomyslný nejvyšší rychlostní stupeň, nezbytný k obrácení současného úpadku. Naši lidé, polapeni v ničivém a stále nezvladatelnějším rasovém požáru, dnes totiž potřebují něco mnohem silnějšího, aby konečně dokázali bojovat zbraněmi protivníka, a tak unikli jisté záhubě v plamenech.
Jakákoliv forma konzervatismu, která by většině v jejím stávajícím obležení mohla být nějak užitečná, by musela být očištěna o balast zastaralých politických dogmat, atraktivní pro mladé i starší, cílit nejen na peněženku, ale i na srdce, rozněcovat nejen rozum, ale také imaginaci – stručně řečeno tedy vybudovat takový konzervatismus, který péčí o étos většiny posiluje kontinuitu společenství a jeho tradici.
This translation originally appeared at Delian Diver.
* * *
Like all journals of dissident ideas, Counter-Currents depends on the support of readers like you. Help us compete with the censors of the Left and the violent accelerationists of the Right with a donation today. (The easiest way to help is with an e-check donation. All you need is your checkbook.)
For other ways to donate, click here.