Sometimes, There's Just No Pleasing These Sodomites
Jim Goad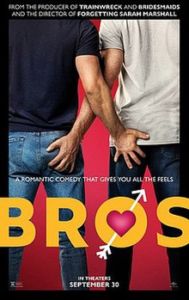 1,557 words
If one day I were to find myself in the improbable situation of being so well-heeled and immune to social ostracism that I convinced a Hollywood studio to produce a romantic comedy that was sympathetic to the KKK, you would find it incredibly undignified if I were to whine that no black people showed up in theaters to see it.
But that's precisely how Billy Eichner is reacting to the fact that his new homo-positive romantic comedy Bros tanked at the box office during its debut last weekend.
Lest you snort and scoff at the idea that I'm drawing an analogy between homosexuals and the KKK, I'm not sure whether the Klan ever lynched a single homo for being a homo, but I'd bet the house and farm that gay sex kills more gay men every doggone year than the Klan ever could have hoped to have killed in the entire annals of Klannery.
To mangle the analogies even further, think of the Klan as white cops and gay victims of the Klan as George Floyd, then think of gay people en toto as the savage hordes of blacks who kill countless other blacks every year. Statistics clearly prove that the main group homos should be homophobic about are other homos.
Billy Eichner is an alleged comedian and purported filmmaker. He's also gay and Jewish — which aren't the reasons I don't like him, although they're not helping, especially since he pushes his gay identity so hard that he might as well have a rubber phallus welded into his forehead. He's also stereotypically Jewish in that he seems to actively sneer at the vast swaths of this country that aren't predominantly composed of snooty gay coastal Jews. I suspect that, more than any female who's ever worked in Hollywood, Billy Eichner knows the precise answer to, "Who do you have to blow in this town to get a movie deal?"
He's blaming "homophobic weirdos" and "certain parts of the country" for the demonstrable fact that hardly any homos in Greenwich Village or the Castro district went to see his dumb gay movie, either.
It never occurs to unlikable people that maybe the reason people don't like them is that they're unlikable. They'll search for every other possible excuse except the obvious one.
There are women, and then there are the ones who act like cunts.
There are black people, and then there are the ones who act like . . . you know . . .
There are homosexuals, and then there are the ones who act like fags. Billy Eichner acts like a fag.
Bros cost $22 million to make. Universal Studios doled out another $30 million in promotion. When the film failed to bring in even $5 million on its opening weekend, Billy Eichner's fragile heart was crushed. In an attempt to save face that only resulted in him giving himself a black eye, Eichner live-tweeted his vengeful agony:
Rolling Stone already has BROS on the list of the best comedies of the 21st century. What's also true is that at one point a theater chain called Universal and said they were pulling the trailer because of the gay content. (Uni convinced them not to). America, fuck yeah, etc etc.
That's just the world we live in, unfortunately. Even with glowing reviews, great Rotten Tomatoes scores, an A CinemaScore etc, straight people, especially in certain parts of the country, just didn't show up for Bros. And that's disappointing but it is what it is.
Everyone who ISN'T a homophobic weirdo should go see BROS tonight! You will have a blast! And it *is* special and uniquely powerful to see this particular story on a big screen, esp for queer folks who don't get this opportunity often. I love this movie so much. GO BROS!!!
First off, when was the last time Rolling Stone was right about anything? Was it ever right about anything?
And which trailer for the film caused a solitary "theater chain" to complain? I've seen them both, and they're both gay enough to give you monkeypox pustules on your eyeballs.
The "NSFW Trailer" for the lazily and enigmatically titled Bros debuted in May. In a little over two minutes, unsuspecting movie audiences were treated to a brief glimpse of a gay foursome, the phrase "getting butt-fucked by Jason Mamoa," a scene where a fat dad mentions the "bottom dance" and his entire family — including toddlers — starts twerking, and the endlessly predictable potshots at "straight people."
The film's official trailer premiered in July. It has many of the same elements of the NSFW trailer but adds scenes of Bobby, Billy Eichner's character, at the "world's first" LGBTQ+ Museum, Bobby on a float at a Pride parade, insinuations that Abraham Lincoln was gay, and a slapping contest between Bobby and his gay jock crush that ends with them making out on a picnic blanket. It's unclear how the official trailer is any less aggressively gay than the "NSFW" version. Both of them essentially grab you by the hair and dunk your head into an overflowing toilet bowl of gayness.
Both trailers reveal quite a lot about American gay culture in 2022. There's all the shallowness. The vanity. The incurable cattiness. The reckless and possibly suicidal promiscuity. The endless contempt for the non-gay.
Regarding the non-gay, Eichner tweeted exactly how tolerant he is of them back in June:
GET YOUR FICTIONAL HATEFUL BIBLE STORIES AND YOUR FAKE FICTIONAL RELIGIOUS BULLSHIT OUT OF OUR FUCKING LIVES. FUCK YOU.
And after publicly popping a hemorrhoid like that, he has the gaydacity to wail that some people were turned off not only by his film's subject matter, but by the filmmaker's lousy personality?
What's next? Getting scolded if you don't order hot semen on your popcorn? How much affirmation do these people need? Exactly how insecure are they?
It's like purposely rubbing someone's nose in shit and then mocking them when they don't like the smell.
All of the film's marketing focused on how Bros was a progressive milestone, and how it was the first gay romantic comedy to be released by a major studio. Apparently marketing execs in Burbank envisioned a plumber in Topeka telling his wife, "Well, Madge, we went to see the first movie about Negro tennis players last week, so this week let's saddle up and go see the first romantic comedy from a major studio to feature fruitcakes in the lead roles."
Since the dawn of the millennium, I have forked out my own money to pay for a ticket to a grand total of one Hollywood movie, and that was The Wrestler in 2008. I probably paid about $10 for the ticket. That is all of the money Hollywood has been able to pry from me and likely will ever get from me. I freely admit to being intensely Hollywoodophobic. They've been churning out plastic, rehashed, formulaic garbage since the 1970s. I don't even need to address the endless Leftist propaganda that increasingly infests these celluloid abominations. Regardless of the political message, Hollywood abandoned any pretense of quality a long time ago, and its decline has precisely mirrored America's overall decline.
So whenever anyone blames a film's financial failure on racism, sexism, xenophobia, transphobia, or any of life's great pleasures that they're now denying us, I plead guilty. Blame me, me, and only me whenever a Hollywood film fails.
Regarding romantic comedies — someone shoot me in the head if I ever unironically use the word "rom-com" — aren't they gay enough without adding the homosexual element? Has a heterosexual man ever willingly attended a romantic comedy with a female partner without at least some level of coercion on the woman's part? The entire scenario is implicitly gay, so adding fisting and poppers and cock rings and cocaine enemas is severely over-gaying things.
I am highly amused at the idea of Billy Eichner being emotionally devastated that his film was a flop. If he contemplated self-harm, I would probably find that funnier than anything in his movie.
Despite the abject failure of Bros, Eichner is already busy milking his gay prostate gland for whatever it's worth. He's working with the openly gay Paul Rudnick on a movie, tentatively titled Ex-Husbands, about two bickering gay men who are getting divorced.
But what makes me hate Billy Eichner more than everything else I've already told you about Billy Eichner is the fact that he has signed a deal to do a biopic about comedic genius Paul Lynde. Even worse, Eichner is slated to play Paul Lynde, which is probably an even more egregious case of miscasting than Will Smith as Muhammad Ali.
Paul Lynde: Now there was a fag who everyone knew was a fag back when no celebrity in America openly admitted to being a fag, and yet, just as with Charles Nelson Reilly, everyone loved him either way because he was a tremendously funny fag. He didn't hide the fact that he was a fag — how could he? — but he didn't over-gay it, either.
He didn't hide his lack of talent behind his faggotry.
Paul Lynde, Charles Nelson Reilly, and, hey, what the hell — even Liberace. These were some solid fags with real talent who knew where the line was drawn and not to overstep it. And even the "homophobic weirdos" out in flyover country loved them for it.
These militantly unfunny neo-gays have it all ass-backwards.

* * *
Like all journals of dissident ideas, Counter-Currents depends on the support of readers like you. Help us compete with the censors of the Left and the violent accelerationists of the Right with a donation today. (The easiest way to help is with an e-check donation. All you need is your checkbook.)
For other ways to donate, click here.