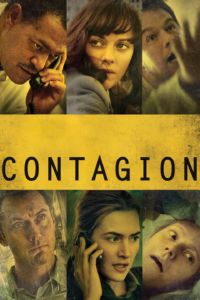 4,533 words
The 2011 film Contagion is truly a movie for our times, especially now. It's quite peculiar how the battle against infectious disease, ongoing for a century and a half, suffered a staggering setback in merely two years. For posterity's sake, I'll digress a bit about the present historical context in this rapidly-changing situation.
The most prominent development is Covid-19, of course. Its predecessor, SARS, was successfully contained in East Asia, where it burnt itself out. This time, things were much different. The new bug escaped the outbreak zone because the politicians pointedly refused to close the borders in time. "Racism is the real virus" — remember that line?
That game went long into extended play. ("Ten days to flatten the curve" — they sure had everyone fooled, didn't they?) New regulations and measures were announced right and left which were sometimes arbitrary, nonsensical, tyrannical, or even all of the above. One scary new variant after another bubbled up in the news cycle. Various number games inflated the statistics, further spreading fear. The Coof kept going, no matter what security theater measures were demanded.
Meanwhile, several top politicians who were telling everyone to stay home were caught getting their hair done during lockdowns, throwing parties, attending restaurants, and taking their masks off when they thought the cameras had stopped rolling. (They didn't seem too worried then!) Some critics began to suspect a dialectical strategy was in effect.
If someone wanted to devise a social experiment to see how far the public could be lied to and pushed around, it would've been hard to do better. Eventually the Wuhanic Plague got worn out from overuse. The Narrative was becoming shakier by the month. The peasants were pushed to the limit from two years of abuse. In several countries, serious resistance finally started taking shape. France and Australia in particular seemed pretty close to one of those Bastille moments of history. It was quite clear that revolutionary ferment was a possible outcome if things continued on that trajectory. Successes in one country obviously would embolden others elsewhere. There even was a possibility that the fallout ultimately could've brought down the entire rotten System like a house of cards, similar to the rapid implosion of the Marxist-Leninist behemoth in 1990.
As if reading from the same script, suddenly the mainstream media turned on a dime. After shrieking about the Chinese Sniffles for two years non-stop, it was moved to the back burner. Then the news drumbeat started pounding on the Ukraine mess.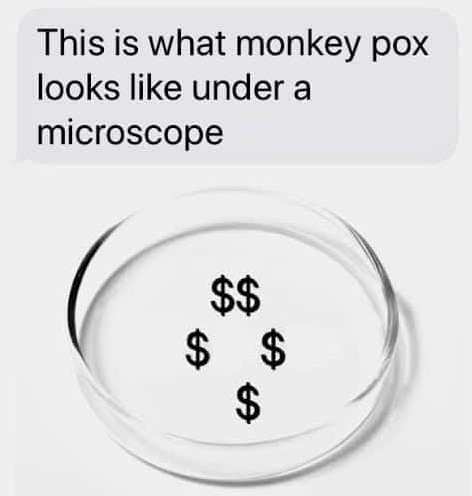 It wasn't long before another epidemiological distraction took shape, however. The Coof was the new old news, but — oddly, following one of those "tabletop exercises," damn the luck — there was an international outbreak of monkeypox. This is much like the Event 201 conference of 2019: a panel of top globalists and Non-Governmental Organization delegates discussing responses to a novel coronavirus, were such a thing happen to appear by chance. Then, about six weeks later, Covid-19 emerged. Do these guys have amazing powers of prediction, or what? I suppose a friendly mainstream media reporter might quiz them about their crystal ball any day now, right?
Monkeypox is typically a very rare disease. In the present outbreak, 1% of those afflicted are women. 95% are men who bang men. Of the remaining 4% — men who don't bang men — I'd estimate that three-quarters of them are lying about not banging men. Maybe one of the big LGBTQ foundations would be interested to know about the recent monkeypox research, since it became a sexually transmitted disease targeting 175ers. What possibly could be more homophobic than agonizing sores where the Sun doesn't shine?
Other than that, there's been an outbreak of Marburg virus in Ghana, a particularly horrible infection right out of Poe's "Masque of the Red Death." It could be just a coincidence, since that part of the world is where it naturally occurs — very rarely, quite fortunately. What seems a bit weirder is the reemergence of polio. This scourge had nearly been eradicated, with a mere handful of infections in remote areas of Afghanistan and Pakistan. Lately, though, cases appeared in London and then suburban New York, and the virus has been detected in the sewage in those areas. Was this because of badly-considered immigration policies, or something else? Who the hell knows? The nipah virus has made an occasional splash lately, including an uptick of interest by researchers. An apparently related bug was just discovered, something called Langya henipavirus which has the potential of becoming the very newest iteration of Chinese Sniffles.
There sure seem to be a lot of exotic diseases floating around lately, aren't there? It's like we're watching a disaster movie unfolding. As it happens, Contagion was indeed such a movie. Surely Hancock the Wanker, Britain's Secretary of Health, thought so too; seeing the movie helped inspire his response to the Wuhanic Plague. I figured it would be worth another look, as surely many others have done over the past two years. Here I'll consider a few of the takeaways from this very timely film.
The plot
Beth Emhoff is feeling under the weather after a business trip to Hong Kong, which she attributes to jet lag. It turns out that she had a fling in Chicago with some dude from her past before returning to her husband Mitch and her kids. Later, it turns out that she gave Chad Thundercock the kiss of death! Others become sick: a few in Asia, and in London another attractive blonde becomes the first to drop dead. One fellow in Kowloon (suburban Hong Kong) becomes so feverish that he stumbles into traffic and is quickly stuck down.
Back home in Minneapolis, Beth becomes very sick and dies, and one of her children follows suit. Her husband Mitch doesn't catch it, presumably because he's naturally immune. Others start becoming violently ill and dying as the disease spreads among the public. I have to wonder if the Hollywood types were trying to tell us something by casting the Nordic and highly attractive Gwyneth Paltrow as an adulterous plague-demon. Either way, the autopsy scene was cinematic sadism.
Message: A new bug could emerge which might be fatal within days. Danger! Beware! Fnord fnord fnord!
The public health authorities spring into action. The gears of bureaucracy never turn slowly for them! This includes the head of the Centers for Disease Control (CDC), Dr. Ellis Cheever. If he were a real person, he might've sued his parents over a name like that. Last names can't be helped, but pairing that one up with Ellis? Surely that got him a lot of persecution during junior high. It's almost as bad as calling him Gaylord Cheever. The best his parents could've done is to call him Over A. Cheever, which is the way he's portrayed.
The common Hollywood trope of casting a black in the role of a scientific authority figure does seem oddly conspicuous, since — let's be real here — a white or Asian is much likelier to qualify for a position like that. Still, these were the Obama years, and black ethnic nepotism appointees in top positions weren't too unusual. (For that matter, this was the administration that tasked NASA with helping the Muslim community feel proud of their scientific advances. I'm not making this up.) Lately, life imitated art when Tedros the Wanker became Director of the World Health Organization (WHO).
Cheever delegates Dr. Erin Mears to take point. She attends a meeting. A discussion arises about what to do. One of them argues that it's unjustified to risk spreading panic; it might harm businesses, since Black Friday is approaching. Dr. Mears, acting as the voice of reason, goes to the whiteboard and spells out that the danger depends on how fast it spreads.
Message: In a situation like this, it might be necessary to shut down the economy first and ask questions later!
Alan Krumwiede shows up, pestering the medical researcher Dr. Ian Sussman as he's leaving work. For what it's worth, the name means "crooked willow" and is pronounced here as "crumb weedy" or "crumb witty." Crooked, huh? Would you buy a used car from this dude? Besides, Limeys with Kraut names are trouble!
Krumwiede runs a conspiracy website, at first seeming like a consumer advocate with perhaps some valid points. Once the plague begins, fairly obviously he becomes a spin on someone like Alex Jones of InfoWars. (Say what you will about Alex Jones: It's quite true that he's been a canary in the coal mine regarding online censorship.) In a rather interesting exchange, the euro-trash conspiracy nut gets punked badly by the conscientious Jewish authority figure:
Krumwiede: Godzilla, King Kong, Frankenstein all in one. You've got it in there, haven't you? [. . .]
Sussman: You're not a doctor and you're not a writer.
Krumwiede: Yes, I am a writer. Yes, I am.
Sussman: Blogging is not writing. It's graffiti with punctuation.
Krumwiede: I am a journalist, and there's informed discussion on the blogosphere. This is a biological weapon!
Message: We'd better leave reporting to real journalists, our intrepid tellers of truth, not imposters! Alternative narratives are always fake news.
Krumwiede is played as a self-deluded zealot with loose screws in his noggin, and who later turns out to be even more disreputable than he appears. Some others also briefly entertain the idea that this new bug could be bioterrorism, however. Some high mucky-mucks from a government Three Letter Agency have a private discussion with Dr. Cheever, and the topic arises. He calmly reassures them, being the sagely voice of authority that he is, that it's only a natural occurrence:
TLA: Is there any way someone could weaponize the bird flu? Is that what we're looking at?
Cheever: Someone doesn't have to weaponize the bird flu. The birds are doing that.
He does have a point, since new zoonotic diseases do occur from time to time, as is common with new strains of the flu. On the other hand, he would've had no way of disproving its man-made origin. At that point in the movie, the closest they'd got to examining its viral genetics was to estimate how many base pairs it has. He could've told them that bugs like this do arise from time to time, but that so far there's no evidence that it was man-made. Instead, he is certain that it is of natural origin, which at the time is a case of jumping to conclusions.
Not too long after, they do some further research and discover that the new plague indeed was zoonotic, combining the DNA of a pig virus and a bat virus, with nothing remarkable otherwise. Dr. Cheever is briefed on the findings; his hunch was right.
Message: Bioterrorism? Why, there's no need to entertain the possibility. Perish the thought!
The situation is getting out of hand, with the virus spreading to new locales. One official estimates that there are 89,000 cases, "heading toward 267,000." (From what I've seen, projections sometimes can be rather like reading tea leaves.) In two days, it will be all over the world. The virus has mutated — uh oh, already there's a new variant!
Dr. Sussman is ordered to destroy the samples, since his lab didn't have the proper containment rating. Instead, he defies orders and becomes the first to get the virus to replicate in a laboratory setting. With this critical accomplishment, finally there is a way forward toward developing a vaccine. Unfortunately, the total number of cases worldwide has gone up to eight million by then!
Message: If the situation calls for it, then it's totally okay to cut corners and break the rules for the sake of vaccine development. What's the worst thing that could possibly happen?
Then Krumwiede comes back into the picture. He declares that a certain homeopathic floral remedy is the cure. He takes it himself after getting sick, which he announces on a podcast. This leads to a miraculous recovery, which he announces online as well. The marketing campaign is a success. This causes a run on the product, and we see a crowd storming a pharmacy. As things develop later, it turns out that he never was sick in the first place, so his floral remedy is worthless.
Krumwiede even gets to debate Dr. Cheever. (This is something you'll never see in real life; not in a million years. Fauci the Wanker would never agree to be grilled by Alex Jones, nor would any network exec dream of greenlighting that or anything similar.) Krumwiede calls out the pharmaceutical industry for profiteering, which turns out to be psychological projection on his part. Interestingly, in this scene Dr. Cheever briefly mentions research on drug therapies; it seems that only India is close to getting anywhere. The movie makes no further reference to trying existing drugs and treatment protocols. Otherwise, the official strategy puts all the eggs in one basket: waiting for a vaccine to arrive. Now why does that seem so familiar?
Later in the film, when someone confronts Krumwiede about selling a phony cure, he offers the lame justification that people profiteered from previous plagues. He mentions that the manufacturer of the upcoming vaccine was granted indemnification from product liability lawsuits. (Golly jeepers, that seems awfully familiar, too!) Moreover, Krumwiede predicts that the untested product could cause serious problems. "Just wait, they'll start listing side effects like the credits at the end of a movie." Then he announces his intention to discourage the public from getting vaxxed. But the other guy is wearing a wire, and Krumwiede is arrested for fraud after running his mouth.
The merits — or lack thereof — of alternative medicine make for a long topic. So does the deep rabbit hole of healthcare profiteering, which sometimes even gets liberals to quit being corporate suck-ups and return to their roots for a goddamned moment. In any event, Krumwiede is clearly portrayed as a fraud. This is not to say, of course, that all alternative medicine is phony, though the film doesn't make the distinction. If someone wanted to delegitimize certain counter-narratives from the last two years by depicting a crooked crackpot who advocates for vaccine skepticism, it's hard to do better than this. Likewise, the associative conditioning tends to discredit those who call out price-gouging and other unscrupulous practices of corporate medicine.
Message: See? Conspiracy nuts like this will only mislead you! Disregard alternative narratives or people who question the government or the benevolence of giant corporations. Especially don't listen to discussion about side effects! Just let your television think for you, okay?
Word starts spreading. Shoppers make panic runs on the stores. Soon it turns to looting. San Francisco starts to look slightly more trashed out than usual. The highways are jammed with motorists trying to bug out. Eventually, roadblocks close off traffic at state lines. Corpses get piled into mass graves. Unless the worldwide plague is stopped, hundreds of millions of deaths might occur. A montage shows us deserted businesses, public buildings, and landmarks — perhaps the result of a massive lockdown. Then there's a food riot. Deaths in the United States are up to 2.5 million.
Message: If a new virus emerges, we can expect an absolute catastrophe. We'll have to trade our liberty for safety!
What about the vaccine front? It's complicated. One of the scientists discusses the situation with Dr. Cheever. Even if there were a suitable release candidate, there would be lots of red tape; they'd have to run human trials requiring weeks, and all that jazz. I'll add that thorough vaccine research actually takes years. There are reasons why.
For example, last year some new vaccines were rushed to the market without the customary long-term safety studies. They were pushed aggressively through a broad campaign of enticements and threats. (That by itself was a pretty big red flag, as was the rogues' gallery of globalists like Bill Gates the Wanker and their pet politicos like BoJo the Wanker who demanded compliance.) The public was tricked into believing that getting injected with experimental biotech products was their ticket back to the way things were. Well, we can see how that went.
More recently, there's been a strange uptick in cardiovascular problems and clotting disorders. Also, healthy young adults have begun dying of unknown causes, and for lack of better explanation it has been given the new name "sudden adult death syndrome." Most shockingly, funeral homes noted an unprecedented increase in the demand for child-sized coffins. There are critics who discuss the elephant in the room: Maybe it has something to do with some of the new vaccines. (If the mainstream media weren't a Woke Capital echo chamber staffed by paid liars, reporters would be asking some questions about these ghastly developments, too.) Vaccination can be safe and effective, but one can't predict the results of new products without doing proper research.
Tirade over; back to the show. Right after the discussion with Dr. Cheever, the scientist finds a rhesus monkey that didn't die. Feeling confident, she shoots herself up with the experimental formula. Then she tests it by visiting her sick father and taking off her mask. (That much is symbolic: Masks stop viruses like underwear stops farts.) It's only a little over a month into the plague, and they already have something that works — how about that! Apparently they know it's safe for everybody because it's been tested on one monkey and one human, which I suppose could amusingly be considered an n=2 primate study. In the next scene, they're busily manufacturing the stuff. Unfortunately, mass production and distribution could take a year, and already there have been 26 million deaths.
Message: In an emergency, normal safeguards for medical research are burdensome. To hell with the rules, warp speed ahead!
By 133 days after the outbreak, they're ready to distribute the vaccine. They initiate a birthday lottery scheme to handle the demand. Curiously, it's delivered as a nasal spray. I find that a bit odd, since that's not typical. Perhaps the symbolism goes back to ancient Egyptian mythology, where the breath of life is delivered through the nose. Maybe that's too much of a stretch. Possibly it's because needles are scary.
Those who get vaxxed receive a bonus prezzieL A bar-coded bracelet permits access to public establishments. With the restrictions lifted, they can go shopping at the mall again! Hey, how about that? What a nice gift the government bestowed upon us. They gave us permission to go out in public like we had the right to do before, merely with some strings attached now — and it's all for our security!
What about those who haven't been vaxxed yet because they're waiting their turn — or who'd prefer to see the stage 3 clinical trials results first? It's obvious they'll be second-class citizens until they get their vaccine passport, and are basically under house arrest. Mitch's teenage daughter texts to her boyfriend, "In jail for another 144 days." The ethical and legal implications aren't explored about making people get scanned in everywhere as a precondition for restoring the freedom of movement necessary for normal life. Neither is there any discussion about the obvious tyrannical danger posed by electronic surveillance, the high-tech "Your papers, Comrade?" shtick, or the possibility that it becomes a stepping stone to a Chinese-style social credit system.
Message: It's going to be vaccines to the rescue. Do that, and everything goes back to normal. Oh, and welcome to your new vaccine passport! You have to get the mark to buy and sell.
The final scenes show us how the hapless Beth got the bug and became a plague-demon. Just as they said when the DNA results came in, "Somewhere in the world, the wrong pig met up with the wrong bat." (Again, it actually is possible.) In this case, the pig had contact with infected bat spittle and was served up by a chef with a blood-spattered smock, who proudly shook hands with Beth. The creation of the new virus was just the incarnadine alchemy of infected body fluids from different species coming together. It surely doesn't have anything to do with reckless "gain of function" research! There was no lab leak, or — ahem — bioterrorism, of course.
Message: Damn bats, always causing trouble!
Analysis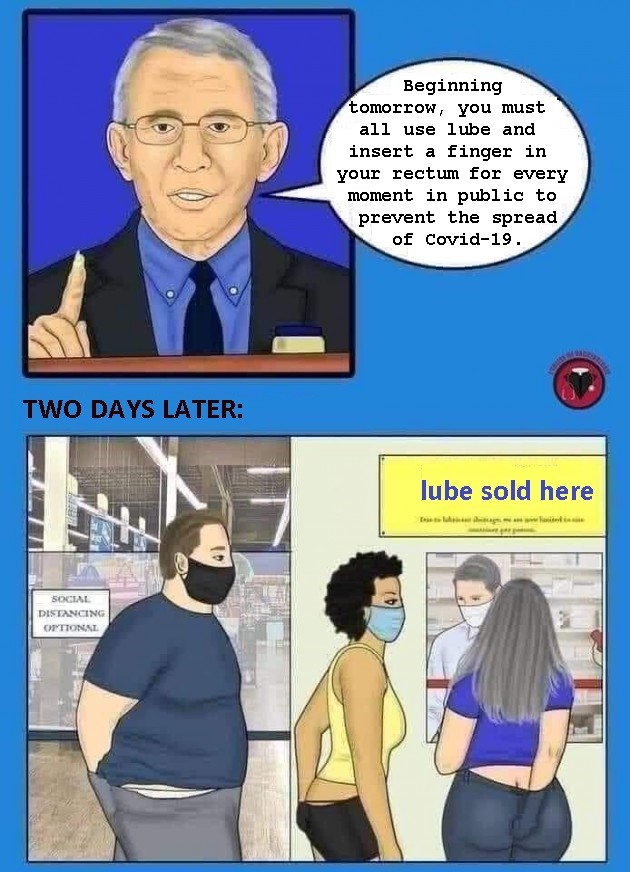 This is a cute little flick to replay while stuck at home, nursing a case of the flu. There is some interpersonal drama as well which I left out. Other than that, Contagion is a fairly unremarkable film, with little in the way of character development or elaborate plot twists. All told, there's not much under the hood dramatically. Still, the movie is watchable and is considerably better than some of M. Night Shyamalan's yawners, which made me want to march back to the box office and demand a refund. The Happening — really, dude?
Interestingly, Contagion features an inversion of the very common cinematic plot in which individuals fight back against major corrupt institutions such as tyrannical governments, unscrupulous corporations, cabals, secret combinations, and the like. The only character criticizing the government and the pharmaceutical industry turns out to be a skeezy crook who is profiteering from the great misfortune. There are no well-intentioned skeptics in sight. Also, there were no shady globalists acting like third-rate Bond villains, lining their pockets while countless small businesses closed for good, haughtily dictating terms as if they owned the world, and exploiting the crisis as a pretext for pushing their agendas while sometimes muttering about depopulation. Hey, what movie were you expecting, Moonraker or something?
In fact, Contagion is practically an advertisement for the government's competence, benevolence, trustworthiness, and sterling integrity. There's a fair amount of rule-bending, which in the real world would constitute unacceptable risks to public health — but the film portrays it as justified given the emergency situation. The only time a public official does something portrayed as unethical is when Dr. Cheever warns his girlfriend about the plague before there's been an official public announcement. This minor act of protective favoritism harmed nobody, and is merely an embarrassment for public relations. It's quite forgivable, especially given all his tireless miracle-working. Still, the black savior figure will have to own up to this lapse later and face a disciplinary hearing. This is a perfect picture of accountability, no less so than Týr pledging his hand to the Fenris wolf.
This movie might as well be an advertisement for the medical establishment. For one thing, it shows some of the fundamental technical challenges in the development of vaccines, but makes the process look too easy. Just four and a half months after the outbreak, they have a formula that works and is rolling off the assembly line. Earlier, I mentioned the importance of proper testing to verify safety. I'll add that effectiveness is another important factor.
To offer a real-life example, there was once a promising HIV vaccine undergoing clinical trials. It proved to be merely 80% effective, so it was back to the drawing board; although AIDS has killed tens of millions over the years, partial protection isn't good enough. For someone inclined to go to a bathhouse and party like it's 1979, it wouldn't be entirely reassuring that getting a shot means he only has a one in five risk of catching a deadly illness. This is another reason proper testing is necessary! In this case, following the rules prevented an insufficiently effective vaccine from going to market and giving false hopes.
Likewise, consider a vaccine that's only partially effective against a certain respiratory bug: Its effectiveness drastically wears off in a few months, necessitating an indefinite number of boosters, and it doesn't prevent people from catching or spreading the illness. It may be considered inadequate, or perhaps even a defective product. Taking it to market would be irresponsible. Making it a condition of normal citizenship would obviously be absurd and tyrannical. There'd be little benefit to it beyond helping the corporations that manufacture it make more money.
Life imitates art? Or . . .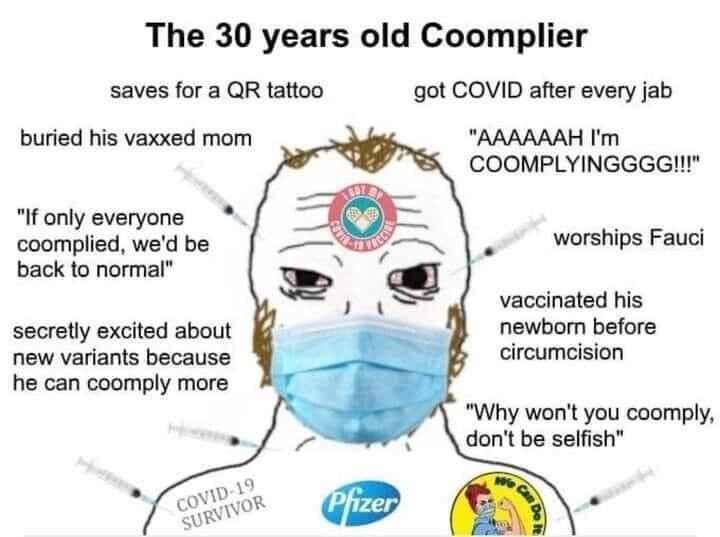 Finally, there's a subtext in the film about the spread of information. This is similar to Richard Dawkins' meme concept — one interesting bit in the most boring book in the English language. We tend to think of memes as funny pictures to be shared online, or sometimes amateur counterpropaganda, but it's really the concept that ideas "go viral." Naturally, this relates to the battle of narratives. Much like in an actual battle, success has much to do with being "the firstest with the mostest." For better or worse, prior exposure to a particular idea can inoculate a mind against accepting contradictory ideas. Now, to get "meta" here, could this movie be doing a bit of that itself?
It's an interesting phenomenon that disaster movies sometimes precede actual disasters. For example, soon after The China Syndrome appeared in theaters, there was an actual reactor accident at the Three Mile Island nuclear power plant. This nearly resulted in a meltdown such as depicted in the film. Catastrophe was narrowly averted, with about half an hour to spare, but the incident registered at a 9.9 sphincter factor.
This largely killed new developments in America's nuclear industry, and this continues up to the present day. That's too bad, since properly implemented atomic energy is free of carbon emissions. It's preferable to deindustrializing the Western world, like Klaus Schwab and his globalist buddies at the W6rld Ec6nomic F6rum want. But the timing of The China Syndrome and the Three Mile Island accident was purely coincidental — just an odd bit of Jungian synchronicity.
On the other hand, there are those who offer more cynical explanations for such prophetic movies: Perhaps sometimes it's a matter of predictive programming in which audiences are conditioned by pre-exposure to accept desired concepts, narratives, and so forth. This would be some pretty sneaky Edward Bernays stuff.
For argument's sake, suppose that someone wanted a disaster flick that would accomplish the following:
terrify the public about the possibility of a new hybrid bat virus emerging;
make them expect a cataclysmic number of deaths;
ensure they understand that it could start in a wet market (inquiring no further about its origins);
get them to trust the government, pharmaceutical industry, and the big NGOs;
introduce them to a broad spectrum of security theater measures;
convince them to give up liberty for safety, no matter what's demanded for compliance; and
get the rubes to accept mass vaccination without asking too many questions about the risks involved in being injected with bleeding-edge biotech goop.
If this was the case, then Contagion would fit the bill perfectly. On that note, for much of the public this movie was their introduction to that odious phrase "social distancing."
Still, this doesn't prove that the movie's creators had any advance knowledge of what was to begin just under a decade later. But it might be possible that one of the officials they relied on as a consultant might have owned a highly-calibrated crystal ball and slipped in some ideas. It's merely a possibility, though. Alternatively, maybe all this was random coincidence. There's no need to jump to conclusions about anything. I can't say one way or another, but I'll take this film over a documentary delving deep into the dark canyon of monkeypox infection.
* * *
Like all journals of dissident ideas, Counter-Currents depends on the support of readers like you. Help us compete with the censors of the Left and the violent accelerationists of the Right with a donation today. (The easiest way to help is with an e-check donation. All you need is your checkbook.)
For other ways to donate, click here.