So There's Been a Nuclear Attack, or, How I Learned to Stop Worrying & Love Eric Adams
John Morgan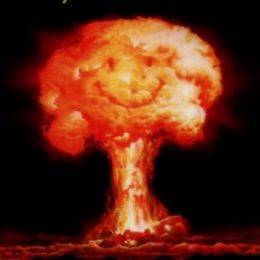 3,454 words
On Monday, New York City's Emergency Management agency released a short video (linked below) intended to advise residents on what to do in the event of a nuclear attack. The video rattled some, who questioned why it was being released now. While I think the reason for that is obvious, for me the video is more interesting in its utter ridiculousness, which I will detail here, as well as for what it says about how our rulers view themselves.
Nuclear war, a subject I've written about for Counter-Currents before, is a subject that has fascinated me since I was a kid in the early 1980s, when the threat of it was something very palpable and as much a part of the cultural fabric of the time as Michael Jackson or E. T. For this reason, even though I'm no expert on the subject, I feel I know enough about it to offer a few comments on the resurrection of this bogeyman we thought we'd banished decades ago.
While the danger from nuclear weapons receded after the Cold War ended, and most people forgot about it like an old nightmare, it never went away — no country that has attained the ultimate weapon is ever going to be inclined to give it up — and the nuclear genie has always been lurking in his bottle, waiting to be unleashed. But it's only now, with America's confrontation with Russia over Ukraine, that the prospect of nuclear conflict as an imminent possibility has reemerged in the public consciousness.
From the outset, however, I will say that the prospects for any use of nuclear weapons in the current conflict, let alone a full-scale nuclear exchange between the United States and Russia, are quite low — even if they are doubtless higher than at any time since the 1980s. Both governments are well aware that there is no possibility of either of them being able to use nuclear weapons on the other without suffering catastrophic death and destruction in return, and there really aren't any political goals that are worth blowing up the world over.
The only way that Russia would use its nuclear weapons would be if they felt that their very existence was at stake — or if they believed the US was about to use its own nukes. (I wouldn't rule it out entirely, however, simply because Russians don't think like Westerners do, particularly when it comes to war. The closest analogy to how Russia views Ukraine in a strategic sense would be how the US saw Cuba when the Russians moved in in 1962 — which was the closest the two powers ever came to a hot war.)
Nuclear Preparedness PSA (with captions)
The video, which is a minute and a half long, has the evocative title of Nuclear Preparedness PSA, which suggests to me that whoever made it simply pasted in the name of the item on his to-do list. It opens on a computer-generated, nondescript city street with some equally nondescript music on the soundtrack that seems more appropriate for an infomercial than for the apocalypse. Sirens can be heard in the distance. Everything looks more or less normal apart from some minor structural damage to a few of the buildings, what appears to be a bit of unidentifiable wreckage in the street, and some burned trees.
This is completely unrealistic if this is supposed to be anywhere in New York City following a nuclear attack of any sort, for many reasons, but to see why we have to know something about today's nuclear arsenals.
Russia doesn't publicize the number of its weapons or their characteristics, but in a recent study, the Bulletin of the Atomic Scientists estimated that Russia currently has approximately 4,500 nuclear warheads either deployed (1,600) or in storage, with a further 1,500 warheads waiting to be dismantled that could theoretically be reactivated in a crisis. Given that the US has always been Russia's primary nuclear adversary, Russia has the capability of delivering most of these weapons to the United States either on submarine-launched or land-based intercontinental ballistic missiles (SLBMs and ICBMs), or aboard long-range bombers. And since it is fashionable in the West these days to believe that Russia's military is "incompetent," even if we were to assume that half of these weapons would fail to operate, which is an extremely generous allowance, Russia would still have more than adequate firepower to send the US and its NATO allies to a radioactive medieval age.
The yield, meaning the explosive power, of these weapons is considerable. It is believed that Russia has in its arsenal strategic weapons ranging from 100 kilotons among its SLBMs, and of between 500 kilotons to one megaton among its ICBMs, with some weapons having a yield of even greater magnitude, up to several megatons. For comparison, the atomic bomb that was dropped on Hiroshima is estimated to have had a yield of approximately 15 kilotons. This means that the smallest weapons in Russia's strategic arsenal are seven times more powerful than that, with many of them being many times greater still. A one-megaton warhead has roughly 70 times the destructive capacity of the Hiroshima bomb. Further, the US at present has very little deployed in terms of anti-ballistic missile capabilities for defending its homeland, so essentially, once a weapon is launched, there isn't anything the US military can do to stop it.
To return to the video, let's assume that Russia decides to exercise moderation and only fires a single, 100-kiloton warhead at the city, set to explode in the air (called an airburst in nuclear lingo) and targeted on lower Manhattan. Fortunately, there is a handy website called NUKEMAP, which was set up by a civilian expert on nuclear weapons. It allows you to simulate what a nuclear weapon of your choosing would do to a target anywhere on the Earth's surface. It's only a very rough estimate, of course, but it can give you some idea of what would happen. See below: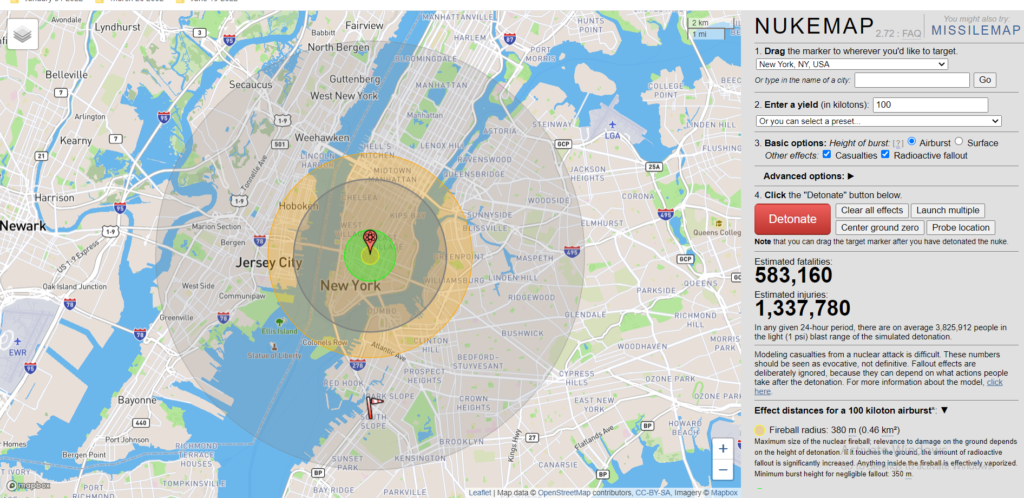 As you can see, all of Manhattan almost as far north as Central Park has been incinerated, as well as parts of Brooklyn, Queens, and New Jersey, with extensive damage also being inflicted on the rest of Manhattan almost as far north as Harlem and on large portions of the other three areas. There are nearly 600,000 people dead and almost a million and a half injured. In this scenario, the cityscape shown in the video might be accurate for Harlem, Staten Island, the Bronx, and the outer areas of Brooklyn and Queens.
But a 100-kiloton warhead is quite small. Let's assume the Russians instead hit the city with an ICBM carrying a one-megaton warhead: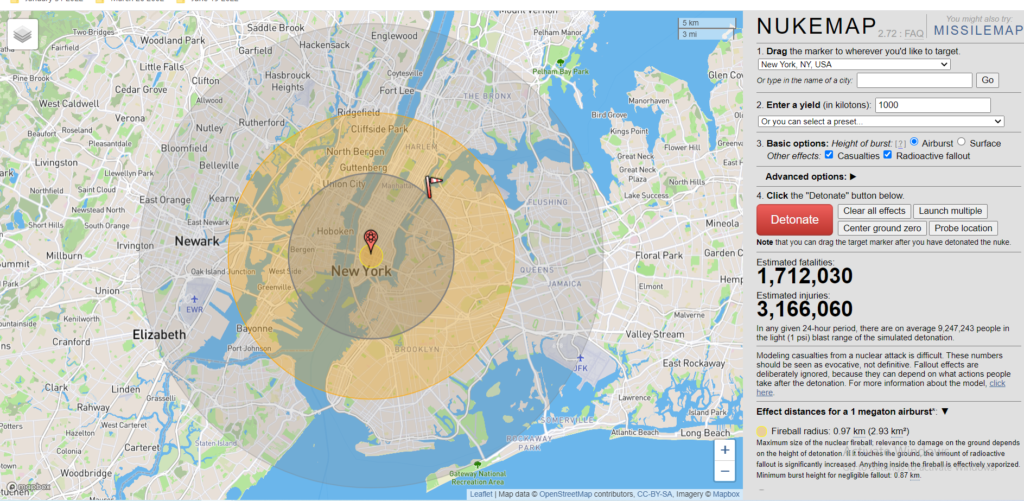 Now, all of Manhattan, most of Brooklyn and Queens, a big chunk of New Jersey, and even a sliver of Staten Island has been vaporized. All of the rest of Brooklyn and Queens, nearly all of the Bronx, and half of Staten Island have sustained heavy damage. The computer estimates 1.75 million dead and well over three million injured. If this type of weapon were used, the video's cityscape would make no sense whatsoever.
In the event that Russia's leadership actually made a decision to destroy New York — which would certainly be their primary urban target in the US, with the possible exception of Washington, DC — it is extremely unlikely that they would only use one warhead to do so, however. They would almost certainly use many warheads, both to ensure the city's destruction if one of the warheads were to malfunction as well as to guarantee that the entire city will be rendered useless. Russia's new Bulava SLBM carries six warheads with yields of 100 kilotons each. Let's see what would happen to New York if just one Bulava were fired at it, with its target spread designed to maximize destruction throughout the city: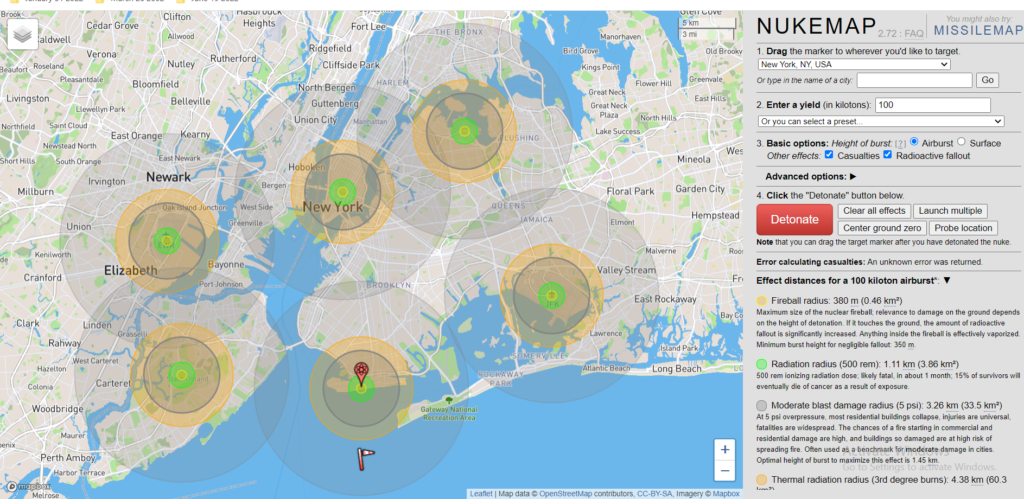 Here, nearly all of the city has been either vaporized or heavily damaged, apart from a few small areas on the outer edges and between impact points, with the blast radii now even extending into western Long Island. And again, it should be emphasized that it is highly probable that New York would be hit with many more warheads than this, and very possibly with some of considerably more explosive power. So this should be seen as a conservative estimate.
Thus, there's really no scenario where the scene depicted in the video could be considered in any way realistic.
Now, our narrator comes in to explain what's going on. She's a woman — or at least I patriarchially assume she's a woman, since she doesn't offer her pronouns — and of course, since we're in Current Year America, she's black, since only a black woman can be trusted to give us accurate information. If it were a white man, who knows what sort of white supremacist deceptions and distortions might be invisibly fed into it?
I watched the video several times to prepare for this article, and I can never help but laugh at her very first line: "So there's been a nuclear attack." Bummer, man! It reminds me of that bestselling book from a few years ago called So You've Been Publicly Shamed. There's nothing worse for a New Yorker's day than a nuclear bomb going off! Have you ever tried catching a taxi in midtown during a firestorm?
Have no fear, however, as the Magical Negress is ready to walk us through this. She tells us that we need to get inside — "fast" — and stay away from the windows, and then remain there with all the doors and windows closed.
While this would of course be safer than being outside, it wouldn't do much good if you are within the primary blast radius, as much of the city likely would be. You'll simply be vaporized, crushed as the building collapses around you, or pulverized by the blast wave and flying debris. Being inside might help to protect you if you're in an area that only sustains secondary damage, but then you will be presented with another problem, namely that one of the main effects of a nuclear blast is a thermal pulse. We're talking millions of degrees Fahrenheit, which causes everything in range that hasn't been vaporized to burst into flames. This produces what is called a firestorm, of the sort that we've seen before in places like Tokyo and Dresden. In short, most of the city in the blast radius that isn't immediately destroyed will soon be on fire, and the flames will spread outwards from there (there likely won't be much of the Fire Department left to stop it). So, while being inside a building might help to protect you from the blast, it's not a good place to be during a firestorm.
And beyond that, even a single detonation of a nuclear weapon anywhere within the city would undoubtedly shatter most of the windows throughout it, and also blow holes in many walls and rooftops. This presents an additional pickle. A city is likely to be targeted with an airburst, since a weapon that is detonated high in the air above a target wreaks destruction over a much larger radius than a groundburst, which is typically only used to destroy hardened underground targets like bunkers and missile silos. While there is less radioactive fallout produced in an airburst, there is still some, and buildings with holes and broken windows would offer very little protection from it. So even if you were to escape the flames, what about the fallout? Perhaps, then, the best reason to stay inside after a nuclear attack is in the hope that you will burn to death quickly in the firestorm rather than die a long, lingering death from radiation poisoning.
Our friend and humble narrator then advises us that if we are caught outside during the blast, we need to take off our clothes and bag them in case they have been contaminated with radioactivity, and then we need to take a shower. The bit about clothes is probably true, but I'm not sure how one could be expected to take a shower in a city after a nuclear attack, when it is very likely that the city's water mains and pumps will have all been broken by the explosion. Even if they somehow haven't, the water will very possibly also have been contaminated with radioactivity.
Furthermore, if one were caught outside anywhere near a nuclear explosion, people for many miles around will suffer severe skin burns and can also be temporarily or permanently blinded by the flash if they happen to be looking in the direction of the blast when it occurs. Changing your clothes and taking a shower isn't going to help that.
Her third instruction is to "stay tuned" by "following media," and to sign up for Notify NYC for "official alerts and updates." Notify NYC is an app, which means it only works on laptops and smartphones. During the Cold War, we were advised to keep a battery-operated radio around, with lots of batteries, for this scenario. While it's probably reasonable to assume that many fewer people have battery-operated radios now than then, does the City of New York really think that the Internet, cell phone towers, and electricity will still be functioning in the city after The Big One?
Her last order is to "not go outside until officials say it's safe." She says this from inside a cozy-looking, undamaged loft that looks more like someone's lazy Sunday afternoon than a survival shelter. Unless you have your own Geiger counter, I guess you would have to wait for those "officials" who have survived to tell you that it's safe to go outside (after several weeks), however they manage to communicate that to you (smoke signals?), although that pretty much leaves you on your own in the meantime if the fires and fallout decide to intrude into your studio apartment. But we all learned during Covid that the key to safety is to "trust the science" and "stay the fuck home," right? This is just the same, just with much better special effects!
This masterpiece's crowning moment, however, is our heroine's last lines: "All right? You've got this." That's right, just take a shower, stay inside, put on Netflix, and wait for Eric Adams to tell you that it's okay for you to go out for your latte. You'll need the caffeine to prep yourself for another Great Reset.
This video is so patently ridiculous that at first I couldn't imagine why the city felt compelled to make it at all, until I remembered that in today's bureaucracies what is really important isn't the result, but simply the illusion that a problem has been addressed. Thus, it looks like they've done something about it, even if that something is utterly worthless. So I'm sure "producing video to save New York from a nuclear attack" is now going to feature prominently in a few city officials' annual reports. Readers who are interested in an infinitely more accurate depiction of what a nuclear attack on a city would be like are urged to watch the 1984 British apocalyptic classic, Threads.
The fact that this video was released only a few months after the start of Russia's special military operation in Ukraine can't be a coincidence, although for whatever reason Christina Farrell, who is the Deputy Commissioner of New York's Emergency Management agency, told NBC New York that it isn't "tied to any specific threats," and that "[t]here's no overarching reason why this is the time we sent this out. . . . It's just one tool in the toolbox to be prepared in the 21st century."
New York's Mayor, Eric Adams, was more explicit. He told NPR that the video was part of "taking necessary steps after what happened in Ukraine," and that it was ordered "right after the attacks in the Ukraine and [Emergency Management] took a very proactive step to say let's be prepared."
I myself suspect that the authorities don't really believe a nuclear war is imminent. They have other motives for releasing this film. Besides their aforementioned bureaucratic desire to make it look like they're doing something, they've also grown accustomed to presiding over a population in a perpetual state of fear for the past two and a half years. Now that few are buying the Covid hysteria anymore, perhaps they think it's time to scaremonger over something else. Plus, the video perpetuates their drive to convince the masses to trust in their benevolent authority — which is more and more becoming the formula by which the new world of the technocrats is being built. You don't have to bother yourself about nuclear war, or anything else, because The Plan is already in place; all you have to do is obey, and all will be well.
But what's the most bizarre quality of this film for me is the fact that after 70 years, a branch of the US government is still incapable of producing a nuclear war survival film that isn't patently retarded. The video begs comparison with those infamous "duck and cover" films of the 1950s that have been the butt of jokes ever since. But really, ducking and covering during a nuclear blast, as insufficient as that would be on its own, is likely to be much more useful than any of the ideas presented in this new film, because at least doing so might protect you from being burned by the flash or hit with flying debris. Indeed, ducking and covering is the only thing they don't mention in the new video — probably because they knew it would invite mocking comparisons with its Cold War predecessors.
Duck and Cover (1080p) (Remastered)
The 1951 classic Duck and Cover, which ironically features New York City schoolchildren.
To be fair, however, the idea that there could be a truly effective civil defense plan for dealing with nuclear war is an absurdity to begin with. There simply isn't any surefire way to protect millions of people in urban areas from something as devastating as nuclear weapons. This is why the "duck and cover" films were made in the first place, since the authorities at the time had no better advice to give, but they were compelled to do something.
The Atomic Café – 1982 Documentary
The Atomic Café, a 1982 documentary that chronicles the early years of the Cold War and America's civil defense propaganda in particular.
In the 1950s and early '60s, the US contemplated various ambitious civil defense plans, including constructing massive complexes of bomb shelters under cities that could accommodate millions, but such plans were abandoned when their cost and doubtful effectiveness in the face of the ever-more powerful weapons that were being tested at the time became apparent. (There were also concerns that a massive civil defense program would be viewed by the Soviets as an indication that Washington was determined to start a war.) By the 1970s the US dropped nearly all civilian nuclear war preparation altogether, calculating that prevention of war was a better way of addressing the problem.
Possibly the only truthful nuclear war prep films ever produced were made by the British. During the 1970s, the British government produced a series of short films and accompanying pamphlets and advertisements that were intended to be released to the public only if a nuclear war was believed to be imminent, under the collective title of Protect and Survive. Word of the materials leaked, however, and ended up scaring the public so much — not least because of its creepy electronic soundtrack — that the authorities may have found themselves wishing they had never undertaken the project. (Some fellow nuclear obsessive has even remastered and compiled all of the videos in one place, if you're curious.)
Protect and Survive (Complete Nuclear Survival British Public Information Film) (REMASTERED)
In light of this, maybe a black hipster in a loft telling you that "you've got this" is akin to the airline telling you that you can survive a plane crash by wearing an oxygen mask and putting your head between your legs, or being told that wearing a mask and washing your hands will protect you from contracting a disease: It's mostly there to reassure you rather than to guarantee your safety. The truth about what is actually likely to happen is too terrifying. And in the end, fear of death is the factor which drives postmodern civilization's decadence more than any other. Our ancestors believed that death is a constant companion who should be respected and understood rather than feared, but postmodern man, who doesn't believe in anything higher than himself, wants to banish death forever, and the endless pursuit of safety through bureaucracy, which came to dominate the world with Covid, is part of that.
So, welcome to Cold War 2.0. It's the same old drill, just hipper, woker, and blacker than the last one.
* * *
Like all journals of dissident ideas, Counter-Currents depends on the support of readers like you. Help us compete with the censors of the Left and the violent accelerationists of the Right with a donation today. (The easiest way to help is with an e-check donation. All you need is your checkbook.)
For other ways to donate, click here.
Enjoyed this article?
Be the first to leave a tip in the jar!