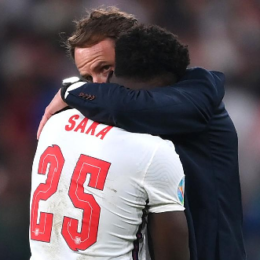 2,285 words
The outlook wasn't brilliant for the Mudville nine that day;
the score stood four to two, with but one inning more to play.
And then when Cooney died at first, and Barrows did the same,
a sickly silence fell upon the patrons of the game.
A straggling few got up to go in deep despair. The rest
clung to that hope which springs eternal in the human breast;
they thought, if only Casey could get but a whack at that —
they'd put up even money, now, with Casey at the bat. [1]
Watching the dramatic final of the Euro 2020 soccer tournament, you can't help but feel that someone up above must like us white nationalists. Even I, with all my creative powers, could never have dreamed up something like this fairy tale ending. It was just perfect. It was a miracle.
On one side, you had Italy, a team composed almost entirely of ethnic Italians. On the other side, you had the multi-racial ultra-woke England team, a mix of ethnic English and blacks from throughout the former British Empire. The symbolism of the match could not be missed. This was nationalism versus globalism. It was possibly the most politically symbolic sporting event since Larry Holmes fought Gerry Cooney, if not Schmeling versus Louis.
England invented the modern game of soccer. Of course, liberals, ever vigilant to find any way to deprive Europeans any credit for their innovations, can point to all sorts of examples of ancient cultures who played some sort of game involving kicking a spherical object around. But the game as it is played now originated in England in the 19th century.
After England invented soccer, it quickly became a global obsession. Europe, Africa, and Central and South America all became enthralled with the game. Ironically, the only place where soccer did not catch on was in white former British colonies like the United States, Canada, Australia, and South Africa, who chose different national games to cultivate distinct identities from the motherland. In America, they chose baseball and football. In Canada, it was hockey. Australia invented Australian football. Wales and South Africa took up rugby, a game that is considered an upper-class sport in England. In Ireland, there is some passion for the sport, but not nearly as much as they have for hurling or rugby.
For several decades after the invention of soccer, England briefly dominated the sport. So confident were the English in their soccer superiority, they declined to participate in the first three World Cups feeling they did not need to actually go out and prove that they were the best.
Since England finally entered international competition in the 1950 World Cup, they have been a persistent mediocrity. In the World Cup, they have only made it past the quarter-finals twice: once in 1990, when they were knocked out by Germany in the semi-finals, and then there was England's solitary major international trophy at the 1966 World Cup, when they were the host nation. Even that came with an asterisk attached to it, as one of the goals in the final match was of dubious legality. But the books record the 1966 World Cup as a win for England, and it came at an opportune time in England's history. England had just lost her Empire and her days as a major world power were officially over. The World Cup victory along with the ongoing musical British Invasion acted as a soothing balm for the country and gave hope that perhaps England could still continue being a world power in other ways, like culturally and in the world of sports.
The cause of English mediocrity in international soccer is something of a mystery, especially when considering that the English have gone through periods of dominance at a club level. Between 1977 and 1984, when English teams were still entirely white, English clubs won 7 of 8 UEFA Champion's League titles.
Different theories are floating around as to why that is. A common one is that English players train for a particular style of play based on speed and athleticism that works on the English club level but doesn't translate well internationally. Indeed, English players who have played in continental leagues have often struggled to adapt to different and more tactical styles of play.
But Flynn preceded Casey, as did also Jimmy Blake,
and the former was a lulu and the latter was a cake,
so upon that stricken multitude grim melancholy sat,
for there seemed but little chance of Casey's getting to the bat.
But Flynn let drive a single, to the wonderment of all,
and Blake, the much despised, tore the cover off the ball;
and when the dust had lifted, and the men saw what had occurred,
there was Jimmy safe at second and Flynn a-hugging third.
But England found hope and inspiration in that country that lay across the English Channel.
Until relatively recently, France was a country that was even more of a soccer mediocrity than England, and the French were more or less fine with that. The French had always been somewhat lukewarm towards soccer. Their own domestic league is firmly second-tier and is basically a feeder league for more popular and profitable European leagues. Any player with talent who rises to prominence in the French league will inevitably be snapped up by some club in England, Spain, Italy, and Germany.
However, as France became increasingly multicultural, it suddenly shifted almost overnight from being a soccer also-ran into a global titan of the sport. Until 1998, only six countries had ever won a World Cup. Uruguay and England had won fluke victories, but the World Cup had mostly been handed back and forth between Italy, Brazil, Germany, and Argentina.
But then a new multiracial French team emerged, led by superstar player Zinedine Zidane, an ethnic Algerian Muslim. In 1998, France crashed into the exclusive World Cup winner's club when they hosted the tournament, defeating tournament favorites and defending champions Brazil in the final. And the win proved to be no fluke. Two years later, the same French team would steamroll its way to victory in the 2000 Euro Cup. After a poor showing in the 2002 World Cup, France reached the World Cup final again in 2006, but lost to Italy in the final.
France claimed the World Cup again in 2018. By this time, France was now being celebrated as "the black team." Black soccer fans from all over the world started cheering on France as "their team."
Trevor Responds to Criticism from the French Ambassador – Between The Scenes | The Daily Show
The message was loud and clear and the anti-whites now had a new sales pitch for diversity beyond the rich and amazing array of restaurants: diversity makes your country good at soccer. I mean, just look at France. They sucked at soccer for decades. Then they went multicultural and now they are a powerhouse.
Then from five thousand throats and more there rose a lusty yell;
it rumbled through the valley, it rattled in the dell;
it knocked upon the mountain and recoiled upon the flat,
for Casey, mighty Casey, was advancing to the bat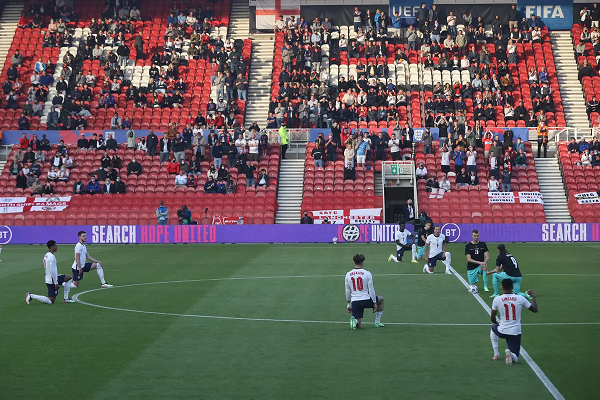 The Euro Cup tournament was supposed to begin last year, but was delayed due to Covid. Between then and now, George Floyd died of a drug overdose and virtue-signaling against racism became the fashion in all respectable quarters.
Even before the tournament began, the English team was going woke. They had started a tradition of kneeling BLM-style before each match in a protest of racism. The move was deeply unpopular with fans, who booed during the grotesque woke ritual. Not only did they not appreciate politics infecting sports, which are supposed to be an escape from the troubles of the real world, all that BLM stuff is American. The English's love of footie was one of the remaining defining characteristics that separated British and American culture. It was one of the last things that kept the British from being merely Americans with funny accents. But now, even their national game, a game that the British themselves invented, was being Americanized.
However, once the tournament began, TV broadcasters started muting the boos of the crowd during the kneeling ritual and inserting cheers in their place to make it look like the fans enthusiastically supported the woke American garbage.
England started the tournament slow, winning two of their group stage games 1-0 and drawing with the Czech Republic 1-1. Still, it was enough to progress into the knockout stage. Once there, England began to pick up steam, beginning with a 2-0 win over their bitterest of archrivals, Germany. They followed this up by a dramatic 4-0 thrashing of non-slouches Ukraine in the quarters and a 2-1 win over above-weight-punchers Denmark in extra time. England was headed to their first major cup final since 1966.
The media went into full propaganda mode. They wanted everyone to have no doubt in their mind as to what was behind England's revived soccer prowess: diversity. If football were to come home, they wanted there to be no uncertainty that it was a direct result of England accepting hordes of brown people.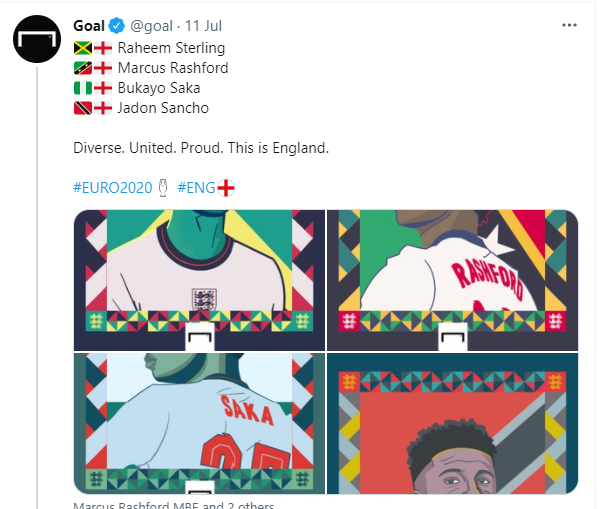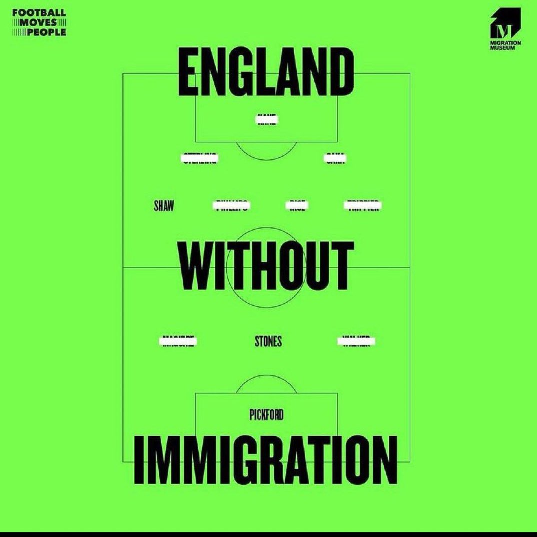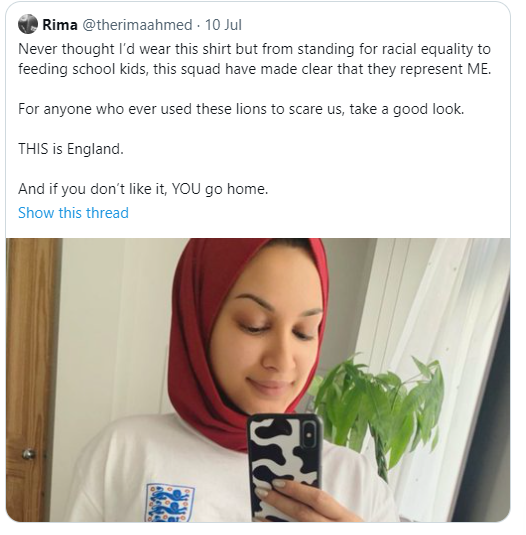 There was ease in Casey's manner as he stepped into his place;
there was pride in Casey's bearing and a smile on Casey's face.
And when, responding to the cheers, he lightly doffed his hat,
no stranger in the crowd could doubt 'twas Casey at the bat
The final started well for England when Manchester United defender Luke Shaw scored in the second minute. Right off the bat, the globalists were salivating at the prospect of gloating over the ignorant nativist rubes about how POC were able to achieve what white England had struggled in vain to do for the last 55 years: to bring football home.
But England was not out of the woods yet. With 23 minutes remaining, Juventus center-back scored an equalizer for Italy off a corner kick which sent the match into extra time. After extra time, the score was still 1-1, which meant the match and thus the entire tournament would be settled by penalty kicks. 
Ten thousand eyes were on him as he rubbed his hands with dirt;
five thousand tongues applauded when he wiped them on his shirt.
Then while the writhing pitcher ground the ball into his hip,
defiance gleamed in Casey's eye, a sneer curled Casey's lip.
It was in the penalty kick phase when a Christmas-in-July miracle occurred.
England and Italy were to do five penalty kicks each. Whoever scored more would win.
England manager Gareth Southgate (whose missed penalty kick cause England to crash out of the Euros in 1996) selected his five penalty takers. The first two were to be white players: Tottenham Hotspur's Harry Kane and Manchester United center-back Harry McGuire. The next three penalty takers were black: Man U's Marcus Rashford, Jaden Sancho of German club Borussia Dortmund, and Arsenal's Bukayo Saka.
The objective was clear. This England team was there to represent the new diverse and multicultural Britain. Whether it was Southgate's own idea or an order that had been passed down from on high, the plan was to have the title-clinching penalty kick scored by a black guy. The front pages of all the newspapers would show a black guy celebrating in their glory as the new multiracial diverse England team triumphantly bought football home at last.
And you know that was the plan, because white English midfielder Jack Grealish, an expert penalty kicker for his club Aston Villa, was not selected. If the goal was to win, you would want your five best penalty kickers out on the field, and yet they left out one player who specialized in them and who just happened to be white.
Of their five penalty kicks, Italy missed two of theirs. England had to beat three penalties. Shouldn't be too hard.
England's first two white penalty takers Kane and McGuire nailed theirs. If only one of the black players scored their penalties, it would have sent the match into extra penalties. If two landed theirs, England would have won. Easy-peasy. According to statistics, since 2009, 75.49% of all penalty kicks taken around the world have resulted in goals. You are three times more likely to make a penalty than you are to miss it.
And yet a miracle happened. All three black players missed their penalties. A miracle. Atheists BTFO.
The globalist plan failed. Not only did they not get their "diversity won England the cup" narrative, they got the exact opposite: Diversity cost England the cup.
And it was pure greed and hubris on the part of the globalists. If they had just put out their best penalty takers regardless of race, they probably would have won and still could have had their "multiracial England wins the cup" headlines, but no. The cake by itself wasn't enough. They just had to have the icing, too. They wanted the image of the black guy scoring the winning penalty in the history books and on the headlines.
Instead, the headlines all look like this: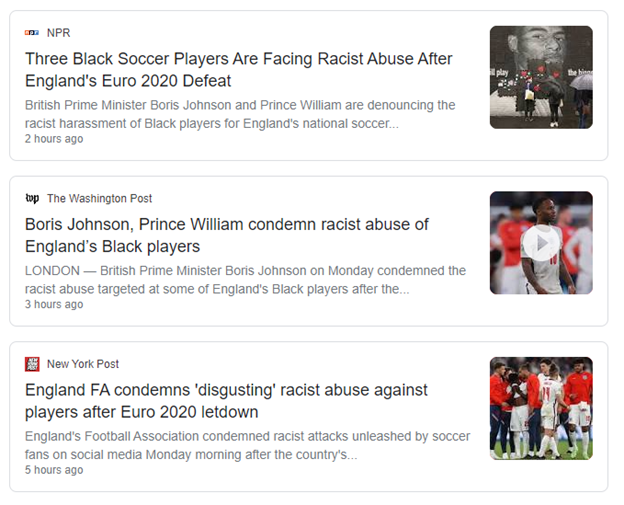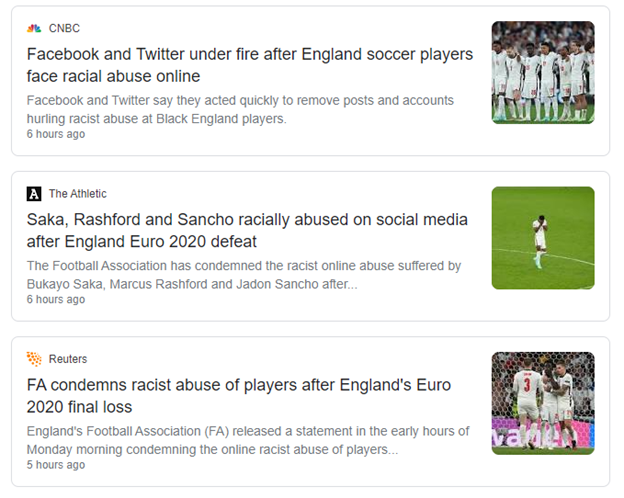 Oh, somewhere in this favored land the sun is shining bright;
the band is playing somewhere, and somewhere hearts are light,
and somewhere men are laughing, and somewhere children shout;
but there is no joy in Mudville — mighty Casey has struck out.
*  *  *
Counter-Currents has extended special privileges to those who donate $120 or more per year.
First, donor comments will appear immediately instead of waiting in a moderation queue. (People who abuse this privilege will lose it.)
Second, donors will have immediate access to all Counter-Currents posts. Non-donors will find that one post a day, five posts a week will be behind a "paywall" and will be available to the general public after 30 days.
To get full access to all content behind the paywall, sign up here:
Notes
[1] Excerpts from Ernest Lawrence Thayer's "Casey at the Bat," 1888.
Enjoyed this article?
Be the first to leave a tip in the jar!