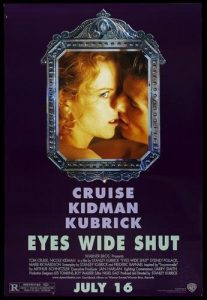 4,473 words
The day Jeffrey Epstein turned up dead in a New York jail cell, I decided I needed to write something about Eyes Wide Shut (1999), Stanley Kubrick's last and weakest movie.
Epstein has quickly faded from the headlines, so let me remind you briefly of who he was. Epstein was an American Jew who enjoyed immense wealth from unknown sources, hobnobbed with the global elite, including Bill Clinton and Prince Andrew, and was a pervert with a taste for underage girls, meaning that he was a serial rapist. He is also accused of sharing these women with his wealthy and powerful friends, which would have implicated them in marital infidelity and rape, making them subject to blackmail.
In 2006, the FBI began investigating Epstein, tracking down over 100 women. In 2007, he was indicted by the federal government on multiple counts of sex trafficking and conspiracy to traffic minors for sex. If convicted, he and his co-conspirators could have spent the rest of their lives in prison. But US Attorney Alex Acosta was told to go easy on Epstein, because "he belonged to intelligence." Epstein received a sweetheart deal. He pled guilty to two state prostitution charges and spent 13 months at a Florida county jail with generous work release. Epstein's co-conspirators were not prosecuted at all. The records were sealed, and would have remained so, were it not for the efforts of reporter Julie Brown, whose stories led to the unsealing of Epstein's records, followed by his arrest and death in custody.
The most plausible explanation for Epstein's mysterious life and death is that he was a pimp who implicated rich and powerful men and then blackmailed them, financially and politically. If he enjoyed the patronage of "intelligence," it was most likely Israeli. When he was first arrested, he called in favors from his patrons (and probably from his victims as well), to avoid federal prosecution, which could have embarrassed many powerful people. When Epstein was re-arrested, there was no way he could escape prosecution, so he was murdered to protect the secrets of any (or all) of his patrons and victims.
Eyes Wide Shut is relevant to the Epstein case because at the core of the film, Stanley Kubrick—who was something of a renegade Jew—gives us a glimpse into how a specifically Jewish financial and political elite uses sexual perversion and anti-Christian occult rituals to promote internal cohesion and control.
Eyes Wide Shut is set in the late 1990s. Tom Cruise plays Dr. Bill Harford, the protagonist. Nicole Kidman plays his wife Alice. They have a seven-year-old daughter named Helena. Bill is a medical doctor and obviously does quite well for himself. The Harfords have a huge, beautifully decorated Manhattan apartment, nice clothes, and a spiffy Range Rover. But the first clue that something might be amiss in their marriage is the fact that they have only one child, aged seven. Did the flame go out? Does Alice no longer want to bear Bill's babies?
The movie opens with the Harfords preparing for a Christmas party to be held at the mansion of Victor and Illona Ziegler. Victor is played by Sidney Pollack. Ziegler is obviously supposed to be Jewish, so the Christmas party seems a little odd. The Harfords also celebrate Christmas, but there appeared to be a seven-branched candelabrum in their dining room. Apparently, religion doesn't mean much in the world Kubrick is portraying.
The Ziegler mansion is immense and magnificent. They clearly belong to the upper one percent of the one percent. Kubrick makes it clear that the Harfords don't belong to Ziegler's social set. He has been invited because he is Ziegler's doctor. "This is what you get for making house-calls," he declares to Alice.
As soon as they arrive, Bill and Alice go their separate ways. Alice gets rapidly drunk and ends up being pursued by a Hungarian Pepe Le Pew named Sandor Savost, who regales her with one cynical quip about marriage after another as they stand at the bar or whirl around the dance floor to "I'm in the Mood for Love."
Bill ends up strolling around arm-in-arm with a couple of models, both of them taller than him. (Come to think of it, virtually every woman in the movie is taller than him, including Alice.) Cruise spends practically the whole movie grinning in a manner that seems both smug and desperately ingratiating, entitled and needy. It is bizarre and unsettling, but I am sure theater people have a word for it, as might the DSM.
Bill notices that the piano player in the band Ziegler has hired is Nick Nightingale (played by Todd Field), someone Bill knew from medical school. They strike up a conversation while Nightingale is on break. Nightingale invites him to look him up one night while he is playing at the Sonata Café.
Then Bill is interrupted by Ziegler's butler, who guides him upstairs. Now we see the kind of house-calls that account for his lavish lifestyle. We are ushered into a bathroom bigger than many New Yorkers' entire apartments. Ziegler is struggling into his clothes while a nude model sprawls unconscious on a chair. Her name is Mandy, and she has overdosed on cocaine and heroin during a quickie with our gracious host. Doctor Harford rouses her and gives her a stern talking to. Apparently, a visit to the emergency room is not required.
Ziegler is clearly a member of the inner party of the elite: ambiguously Jewish, fantastically rich, utterly degenerate. The Harfords come from a lower, outer stratum of the elite. (For instance, Bill actually knows Nightingale, who is merely someone Ziegler hires to play the piano.) Bill is a doctor. Alice used to manage an art gallery. They probably come from money. They might be faintly Jewish, or maybe just New York goys steeped in a Jewish atmosphere.
As soon as they enter the Ziegler party, the Harfords are bombarded with opportunities to cheat, but neither does so. The higher one climbs in the social hierarchy, the closer one approaches the inner party, the greater the degeneracy and the more ferocious the assault on marital fidelity. While something is wrong with their marriage, they are at least faithful to one another. After the party, we see them naked on the bed. Dr. Bill is feeling frisky, but Alice is not into him and looks away.
The next day, we catch a glimpse of the Harford morning and evening routines. Once Helena is tucked into bed, Alice smokes a little pot and gets paranoid and combative with Bill. The topic is sex and infidelity. Bill states flatly that he would not cheat on Alice. He also states flatly that he thinks Alice would not cheat on him, simply because she's his wife. Alice mocks this. We are animals after all. Does Bill expect her to believe that "millions of years of evolution" can be stopped dead by Bill's fidelity to his marriage vows? Doesn't he at least think about cheating?
Alice is particularly incensed at how cocksure Bill is that she is faithful. Bill is a typical modern conservative. He seems to think that only men have strong sexual desires, which are still weak enough to be kept in check by vows and a sense of honor.
But women—at least the kind of women one might marry—don't face the same temptations. Without men constantly bothering them, women would be sexually inert. He's not quite sure about women like Mandy, but he probably thinks she is merely a fallen woman who sleeps around only for the money. The possibility of female promiscuity, infidelity, and hypergamy—the desire to "trade up"—is not something that he takes seriously.
"If you men only knew," Alice responds ominously. She then proceeds to red-pill her husband by telling him of her fantasies of sleeping with a handsome Naval officer who stayed at the same hotel as them the previous summer.
But Alice is careful to add that even when she fantasized about cheating on Bill, she still felt tender, sad feelings for him and found him "dearer than ever." In short, Bill is like a child to her, not a man. Apparently, after Helena was born, Alice did not need to bear a second child. She simply turned her husband into one. Which is why, of course, their marriage has fizzled.
Bill understands nothing about female psychology, and precious little about male psychology, for that matter. He does not understand that part of the sizzle of marriage is the possibility of infidelity. We all value our partners more when we see that other people want them. But we also value them more if we believe that they are capable to taking advantage of these other options.
Alice feels contempt for her husband because he is surrounded by attractive women all the time and is not tempted by them, which means that she can take him for granted, that he would never cheat, that the moral man is fully in control of the animal man. He's sexually inert, gelded.
Beyond that, she is enraged by the fact that he takes her fidelity for granted, that he thinks of her as sexually inert and incapable of pursuing other options. This is why she needles and nettles him into stammering incredulity and rage with the story of the Naval officer. She wants to make him jealous. She wants to make him angry. In her heart of hearts, she would respect him more if he blew up and hit her.
But not our Bill, who is simply aghast.
Bill is saved by the bell, literally. The telephone rings. One of his patients, Lou Nathanson, has died. (Another fabulously wealthy, presumably Jewish character with a Christmas tree in his apartment.) Bill feels he needs to go over and spend some time comforting his daughter Marion. This is the kind of house call that ushered him into high society.
The visit to the Nathanson apartment is the beginning of a series of temptations—an implausibly long series of temptations that comes to resemble an allegory like The Pilgrim's Progress. In an intensely awkward scene—one of many to come—Marion kisses Bill and confesses her love for him only a few feet from her father, lying on his deathbed.
After Bill departs, he sees a couple kissing. This makes him imagine Alice making love with the Naval officer. Then he passes sex shops. Then he is taunted as a faggot by a bunch of drunken frat boys. (All of them taller.) Next he bumps into a beautiful prostitute, Domino (also taller than him), who takes him back to her apartment. But Bill chickens out, pays her for her time, and flees.
Then, close to midnight, Bill arrives at the Sonata Café just as Nick Nightingale is finishing up his set. Over drinks, Nick tells Bill of a party he is going to play at starting at 2 a.m. It is a masked ball/orgy, where he plays blindfolded. But the last time he played, the blindfold was not secured, and he caught a glimpse of "such women." Bill of course wants to attend and wheedles the location and password out of Nick. The password is "Fidelio," which means "fidelity"—rather ironic, considering what he is contemplating. But as it turns out, the possibility of infidelity actually strengthens fidelity.
Bill then rushes off to the Rainbow Costume shop and rouses its owner, Mr. Milich, from his bed to rent a tuxedo, hooded cape, and a mask. The scene is overlong, padded, and excruciatingly awkward, with Cruise grinning and whipping out his New York State medical ID card. When Milich enters the shop, he finds his teenage daughter engaged in some sort of sex play with two middle-aged, cross-dressing Orientals. Mercifully, the scene eventually ends with Bill in a cab on his way to an estate in Long Island.
The ball/orgy is the most famous sequence in Eyes Wide Shut. The scene, like the story as a whole, is based on Austrian-Jewish Decadent novelist and playwright Arthur Schnitzler's Traumnovelle (Dream Story). In the novel, the ball takes place at the time of Carnival or Fasching (Mardi Gras), when traditionally people indulge themselves and invert the Christian virtues before the beginning of Lent.
In the movie, the ball is before Christmas, but there's nothing Christian, or even rebelliously Christian, about this event. Indeed, it is most definitely anti-Christian, a profanation and inversion of Christianity. The orgy begins with a ritual to the sound of Nightingale's spooky organ music and Romanian Orthodox liturgical chant played backwards. The ritual is presided over by a masked figure dressed as a Catholic Cardinal.
In the novel, the protagonist, Fridolin, is definitely Jewish, and the ball/orgy is represented as a gathering of members of Austria's Christian elite. Kubrick first read the novel in 1968, and after 2001: A Space Odyssey, considered adapting it with Woody Allen as the explicitly Jewish protagonist. But Kubrick later decided to tone down the Jewishness of the character. He even considered casting Steve Martin in an explicitly comic adaptation. But when he finally made the film, he explicitly told his Jewish screenwriter, Frederic Raphael, that Bill would be played by a non-Jewish actor, and that the ball would be a gathering of America's specifically Jewish elite.
To subtly underscore the Jewish elite nature of the gathering, parts of it were filmed at Mentmore Towers, the country house of Baron Mayer de Rothschild (1818–1874). In addition, some aspects of the costumes were modeled on the famous 1972 surrealist costume ball thrown by Marie-Hélène de Rothschild (1927–1996) at the Château de Ferrières-en-Brie.
So why would the power-elites of a society engage in group perversion? The richer a person is, the more opportunities there are for self-indulgence. After a while, though, such people get jaded and hunger for exotic pleasures, including ones that violate the rules of morality and the laws of society. It takes a highly developed sense of honor not to abuse the freedom granted by great wealth. Even when such an aristocratic ethos was cultivated, there were many spectacular failures. Moreover, today's oligarchy has dispensed with the pretenses of honor entirely.
But this is not merely another night at the Playboy Mansion. Beyond routine degeneracy, elites also use sexual perversion as a tool of control. Just as street gangs require prospective members to sully themselves with crimes to join, elites have similar rituals, the more morally repulsive the better. Pedophilia and cannibalism probably top the list. Simple rape and murder are mere vanilla.
The prospects are eager to incriminate themselves because joining the gang will bring them power. But self-incrimination also gives the gang power over its members, who must obey lest they be exposed and humiliated. And of course worse sanctions are waiting in the wings, as Jeffrey Epstein reminds us.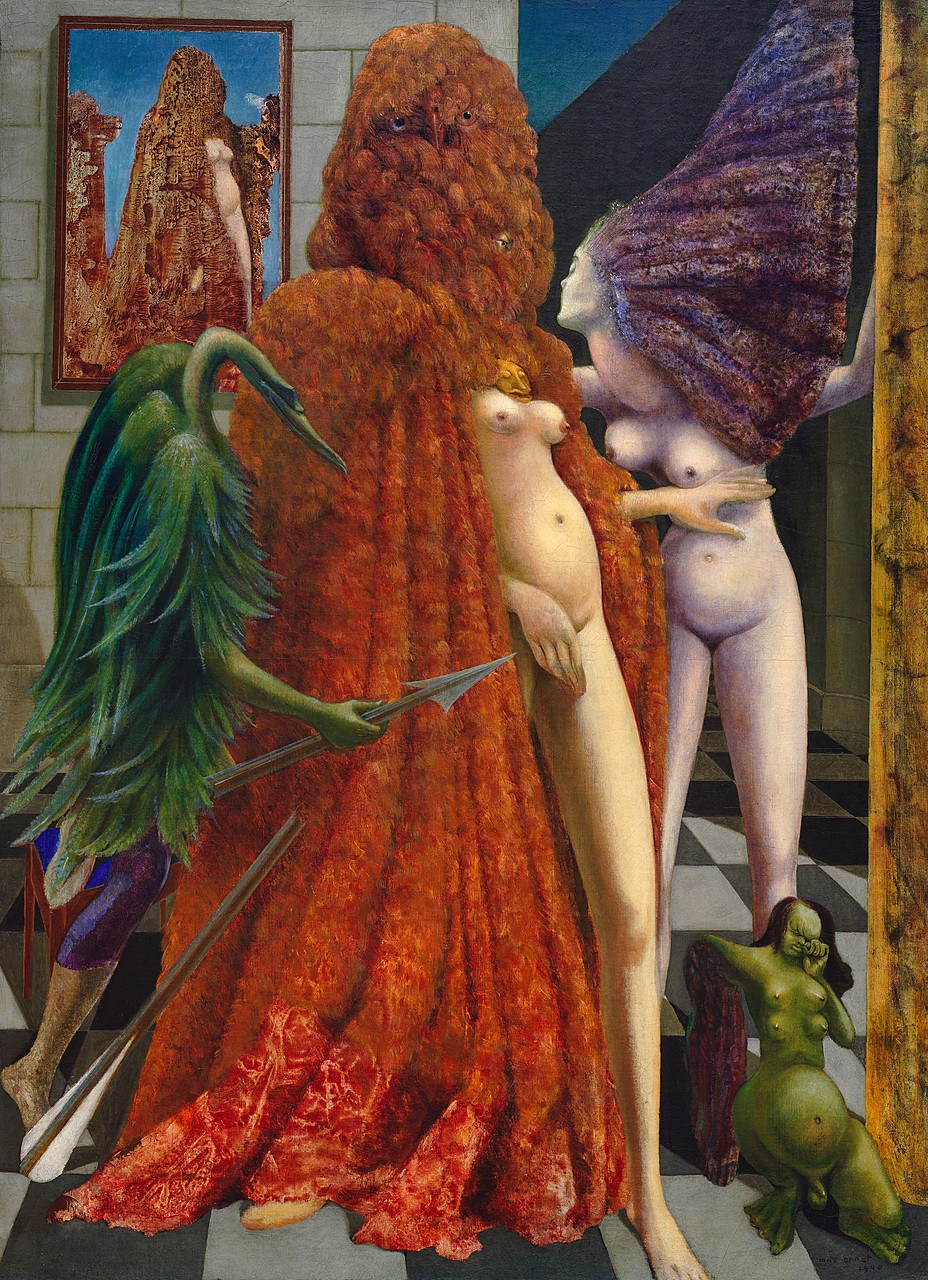 When Bill arrives, the ball is just beginning with a ritual, presided over by the "Cardinal" figure who is surrounded by a circle of beautiful women, whose costumes are clearly inspired by the 1940 painting Attirement of the Bride (La Toilette de la mariée) by German Surrealist artist Max Ernst (1891–1976). When the ritual ends, the strumpets, who are almost nude except for their masks and footgear, fan out and take up with people in the crowd. Then the ball/orgy gets down to business.
One woman takes up with Bill. Needless to say, she is taller than him. Then things stop making sense. Immediately, she states that Bill does not belong there and warns him to leave. He is in mortal danger, and so is she for warning him. But there's really no way that she could know this. When Bill entered, she was engaged in the ritual. There was no time for anyone to figure out that Bill was an interloper, and no way to communicate this to the woman. There was also no way that she could have figured this out on her own, for he was masked like the rest of them.
Bill strolls around the orgy, taking it all in. In one room, same-sex couples are dancing to "Strangers in the Night." In others, people are rutting with various strumpets.
Bill is then approached by one of the servants, who tells him that his driver has a question for him. He is then shown back into the ritual chamber where somehow, everyone we have just seen in flagrante is waiting for him. He is then unmasked as an imposter and told to disrobe. He's really gonna get it now.
But then the tall woman who warned him speaks up. She will take the punishment for him. She is then led away by a hooded figure with a huge golden nose. Bill is released with a stern warning not to speak of anything he has seen, lest he and his family pay the price.
We later learn that Bill's unmasking had a simple explanation. He drew attention to himself by arriving in a cab, not a limousine. When he checked his coat, the pocket contained a costume rental receipt made out to someone who was not on the guest list. But this still does not explain how the woman could have known who he was. Nor does it explain how the whole party could instantaneously gather back in the ritual chamber to unmask him.
Either Kubrick's script and editing are incoherent, or he wanted the scene to have the illogic of a dream. In a dream other characters just know things about you because they are you, and events occur without any plausible transitions. Of course, the whole story is based on a novel called Dream Story. But there's nothing else about the film that would lead one to think the ball is just a dream. The rest of the film seems like real life, and in real life, the characters make references to the ball. So if the ball is a dream, the rest of the movie would have to be a dream as well. But it does not seem like a dream, which to me means that Eyes Wide Shut is simply incoherent and unworthy of Kubrick.
Next we see Bill at home. It must be very, very early in the morning. But his bad day is not over yet. Alice is giggling in her sleep. He awakens her, and she tells him about her dream. She was in a deserted city, naked and ashamed, and blamed him for her plight. The lifeless realm of artifice is her marriage. Blaming him for her nakedness and shame points to Bill's mysterious dereliction of manliness that has sapped the life out of their marriage. Bill, white knight that he is, looked upon his naked wife . . . and decided to find her some clothes. Millions of years of evolution, and Bill passed up a perfectly good opportunity for sex.
As soon as Bill left, however, the deserted city turned into a verdant garden, and Alice's shame and anger turned to happiness. She was still naked, though. The Naval officer emerged from the words, looked at her, mocked her, then made love to her. Because he knows what to do with a naked woman. Then they were surrounded by couples coupling. Then Alice began to have sex with countless other men. She knew that Bill was watching her and started laughing at him. Then he woke her.
Dr. Bill has been through a rather long day, and I can't imagine a more humiliating bit of news to cap it all off. In a normal man, millions of years of evolution might have led to anger, even violence. But not our Bill.
If this is starting to seem like a very long story, don't worry: There's only one hour left.
The next day, a very tired Bill runs a bunch of errands. He tries to locate Nick Nightingale, using his grin, doctor card, and lies to wheedle his hotel out of a waitress, but when he gets to the hotel, the creepy gay desk clerk describes how a visibly bruised and shaken Nick checked out in the wee hours in the company of two burly men. Then Bill returns the costume he rented (without the mask, which he has lost). He discovers that Mr. Milich is now prostituting his daughter to the Orientals—and to Bill as well, if he is interested. These scenes are all annoying padded and awkward, with plenty of Cruise's cringy grinning.
Cut to Bill at his office, brooding over the Naval officer. Then he drives to the estate, where a bloodless, vampiric looking butler hands him a threatening note. Back at his office, Bill continues to brood. He calls Marian Nathanson, clearly hoping to hook up with her. When her fiancé answers, he hangs up the phone. Then he goes back to the prostitute Domino's place and finds her gone. Her roommate Sally (taller, etc.) lets Bill in, and he begins flirting with her intensely, grinning idiotically and repeating everything she says back to him. Sally manages to cool his jets by informing her that Domino has just tested positive for HIV, which means that Bill has dodged a bullet.
Bill then walks the streets and realizes he is being followed. Ducking into a coffee house, he glances at the evening paper. Miss Amanda Curran, a former Miss New York, was admitted to the hospital with a drug overdose. This is the Mandy at Ziegler's party and, he suspects, the woman who warned him at the orgy. Bill goes to the hospital, pretending to be her doctor, and is informed that she died at 3:45 that afternoon. When he views her body in the morgue, he seems certain that she is the woman who warned him that both their lives were in danger. And now she is dead.
At this point, Victor Ziegler summons him to his mansion. This is no ordinary house-call. Ziegler informs him that he was at the orgy the previous night. He also tells Bill that he has had him followed that day. He knows that Bill has been investigating what happened. He wants to know if Bill plans to pursue his inquiries any further. He wants to scare him into silence, so he tells Bill that he would not sleep very well if he knew who it was behind those masks.
But then Victor tries a strange gambit. What if everything that happened that night—the warnings, the threats, etc.—were just a charade to scare Bill into silence. This is impossible, of course, for reasons explained above. Beyond that, Bill asks what kind of charade ends up with someone being killed. Victor replies that Mandy simply had her brains fucked out and was sent home. The overdose was her doing. The door was locked from the inside. The police were satisfied.
Victor knows a disturbing lot of details, in short, which makes one suspect foul play. But if they intended to kill her, she would have been found dead. They would not have left her alive, to be rushed to the hospital where she might have regained consciousness. Victor sums it up glibly: "It was always gonna be just a matter of time with her," which of course makes it easier to hide foul play but less necessary to risk it.
Then Victor concludes on a jocular note, while patting Bill on the back (never in a million years would I turn my back to Victor Ziegler): "Somebody died. It happens all the time. But life goes on. It always does . . . until it doesn't. But you know that, don't you?" A nice parting threat to Bill. It is a chilling but ambiguous scene, a bit static and draggy, but well played by Pollack.
Bill returns home to find Alice sleeping. The mask he wore to the ball is on the pillow next to her. Is it a threat? Did she find it and place it there herself? It is never made clear, but Bill breaks down in tears. Waking her, he says he will tell her everything. They seem to spend the rest of the night talking. Once Helena is up, they take her Christmas shopping. Frankly, under the circumstances, I would not have let Helena out of my sight. But once she runs off to look at toys, Bill asks Alice what they should do.
Alice thinks they should be grateful that they survived their little adventures, whether they were dreams or real. Bill insists that a dream is not just a dream, which Alice acknowledges. Alice also acknowledges that a person cannot be judged by what he does in a single night. Both of them can accept the situation.
Then Alice says, "We're awake now—and hopefully for a long time to come." They are awake regarding their relationship. They are also awake regarding their own psychological motivations. Finally, they are awake to the dangers of the world—and they realize that things may be a little dicey, hence the "hopefully for a long time to come" line.
This element of threat also throws light on Kidman's lines that bring this movie to its thudding and vulgar end: "But I do love you, and know that there is something we need to do as soon as possible—fuck." Because Bill has strayed, Alice respects him again. She wants him again. Beyond that, however, his little adventure has revealed that their world is a much stranger and scarier place than either of them imagined. So it is natural that a wife would cleave to her husband for protection.
Eyes Wide Shut was Kubrick's last film. He died six days after showing his final cut to Warner Brothers. Of his mature films, it is definitely the weakest, but it still has some virtues. The sets, costumes, locations, and photography make it a gorgeous film to look at. The music is well chosen. It also contains fine performances by Sidney Pollack and Todd Field.
The main weaknesses are a flabby script, overly long scenes, and intensely annoying performances by Cruise and Kidman. I could forgive them if they were supposed to start as unlikable characters who then grow deeper and more sympathetic through their trials. But they don't. If that was Kubrick's intent, then we have to judge this movie a failure. The first time I heard Nicole Kidman say "fuck," fade to black, I felt such revulsion and rage that I would have pushed a button and blown the whole film to hell.
But for all its faults, Eyes Wide Shut has two important messages to which today's Dissident Rightists are particularly receptive. It dramatizes important truths about man-woman relationships and displays how sexual perversion is a tool of elite control. If you already know the score on these matters, however, you might not want to suffer through two hours and forty minutes of Cruise and Kidman.
Enjoyed this article?
Be the first to leave a tip in the jar!