593 slov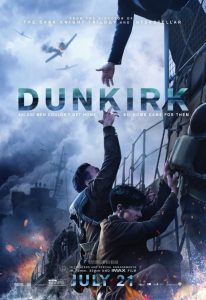 English version here
Dunkerk je emocionálně nejsilnější a nejpůsobivější snímek Christophera Nolana. Vypráví o evakuaci 400 000 britských, kanadských a francouzských vojáků, kteří se za 2. světové války po porážce od Němců ocitli v pasti na plážích u Dunkerku.
Jde o zvláštní film, tím spíše v kontextu tvorby Christophera Nolana, který obvykle točí dlouhé snímky se složitými zápletkami, propracovaným rozvojem postav a spoustou dialogu. Dunkerk však trvá jen 106 minut, nemá jednu příběhovou linku a skládá se skoro výhradně z akčních pasáží. Sice se v něm objevuje mnoho postav, většina jich však zůstává bezejmenných, ztvárněná neznámý herci. A hrstka slavných jmen pak hraje vedlejší role. Nesledujeme žádný skutečný vývoj postav a ve filmu se vlastně ani moc nemluví.
Film jednoduše začíná přímo v Dunkerku, bez dalšího zasazení do souvislostí. O Němcích se tu mluví jen jako o "nepříteli". Setkáme si sice s německými letouny, němečtí vojáci se však na plátně objevují až v závěrečných minutách a nevšiml jsem si jediné svastiky. Dozvídáme se, že nepřátelské tanky zastavily svůj postup, ne už však důvod. (Hitler byl podle všeho k Britům příliš mírný.)
Namísto jediné dějové linky se ve filmu odvíjejí hned tři: příběh vojáků, kteří se znovu a znovu pokoušejí uniknout z pláže, pilotů stíhaček, kteří kryjí ústup a evakuaci, a soukromého plavidla, které se přidává k flotile shromážděné na záchranu obklíčených. Příběh vojáků na pláži je nejtemnější a nejtrýznivější, dějová linka pilotů a lodi jsou velice hrdinsky inspirující. Režie přepíná mezi těmito třemi proudy, nikoliv však lineárně, což je nejvíc patrné při prokládání denních a nočních záběrů.
Nolanovi se v Dunkerku mistrně daří budovat napětí. Střídání tří linek vyvolává u diváka pocit, že spíše než příběh sleduje hudební fugu. Soundtrack Nolanova obvyklého spolutvůrce Hanse Zimmera je ponurý, elektronický a industriální. Hudba i zvukové efekty jsou nápadně hlasité. Znovu a znovu jsem se v kině přistihl, jak se různě cukám nebo kroutím v sedačce. Jsou to zhudebněné letectví, průmysl, válka a rychlost – italský futurismus na plátně.
Jak se snímek propracovává ke svému vyvrcholení, všechny jeho dílčí prvky zapadají jako dílky skládačky do série emocionálně drtivých vyvrcholení: když Zimmerův elektronický kravál přechází do Elgarova Nimroda z Variací na vlastní téma a my vidíme, že onen jeden člun, který jsme sledovali, je součástí ohromné flotily; když vidíme dva mladé zachráněné vyhlížet z okna vlaku; když znovu sledujeme zelenou a přívětivou anglickou krajinu nebo když se přestane točit vrtule stíhačky, jíž došlo palivo. Dunkerk dojme k slzám i ta nejzatvrzelejší srdce. Jedná se o mistrovské dílo a Christopher Nolan patří mezi naše největší žijící režiséry.
Kulturu dusící a úzkoprse fanatičtí vyznavači kultu diverzity si pochopitelně stěžují, že Dunkerk je příliš bělošský a mužský, protože bělochy je třeba odpreparovat nejen z budoucnosti Anglie, ale také vyretušovat z její minulosti. Levici ovšem tento film znepokojuje vcelku právem. Na rozdíl od drtivé většiny snímků o 2. světové válce totiž Dunkerk není multikulturní propaganda. Nejedná se o další z řady kusů o těch svinských, Židy vraždících Skopčácích, jejichž skutky – jak neustále dokola slyšíme – nějakým způsobem anulují veškeré nacionalistické cítění, a to i u národů, které proti Němcům bojovaly.
Místo toho je Dunkerk filmem o Anglii, o návratu domů. Vypráví o vlastenectví, společenské solidaritě, vynalézavosti, dřině a odvaze nesčetných pokorných bělochů, jejichž jedinou chybou bylo uvěřit vůdcům, kteří je nahnali do dvou světových válek a nyní dohlížejí nad jejich výměnou a přenárodněním odpadem Třetího světa. Levičáci se Dunkerku bojí, protože dává bělochům byť jen letmo nahlédnout do pěkné bělošské země, již bychom jednoho dne mohli znovu mít, i na ctnosti, které v sobě musíme znovu nalézt, máme-li protentokrát porazit našeho skutečného nepřítele.
Překladatel: Tomáš Kupka
Source: https://deliandiver.org/2017/07/dunkerk-christophera-nolana.html