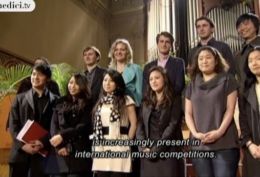 1,339 words
South Korea has taken the classical music world by storm over the past few decades. Koreans are increasingly overrepresented among high-level classical musicians. Hundreds of Koreans have been finalists and prizewinners in prestigious international music competitions. The Korean Musical Mystery (2012) is a documentary by Belgian filmmaker Thierry Loreau that seeks to understand this fascinating phenomenon.
The documentary points out that in 1995 there were no Korean candidates in the first round of the Queen Elisabeth Competition in Belgium, while in 2011 there were 22. Since the documentary was released this trend has only continued to progress, and several Koreans have garnered top prizes at competitions. In 2015, Seong-Jin Cho and Ji-young Lim became the first Koreans to win the Chopin Competition and Queen Elisabeth Competition, respectively, the latter as a violin laureate. In 2017 Yekwon Sunwoo became the first Korean to win the Van Cliburn Competition. And last year, 18-year-old Yunchan Lim became the Cliburn's youngest-ever winner and the first to have been educated solely in Korea.
South Korea is almost as populous as Italy, being smaller by about seven million, but it is a much bigger presence on the world stage. There are 25 Korean competitors in the Tchaikovsky Competition this year, compared to seven Italians. The contrast is particularly striking given that Italy is one of the birthplaces of classical music.
Asians' success in classical music is generally credited to strict parenting and a strong work ethic. Human biodiversity enthusiasts would also be quick to note that they have relatively high IQs, which is an advantage insofar as the study of classical music is moderately g-loaded. All of the above are factors, but there is more to the story.
Arguably the most important contributor to Korea's success in classical music, as highlighted by this documentary, is that the Koreans understand the important role that the arts play in cultivating a nation's standing internationally and in fostering national pride. In America, artistic endeavors are regarded as mere diversions whose purpose is to provide pleasure and entertainment. In Korea the arts are regarded as an arena in which national excellence can be demonstrated and are taken very seriously. Just as national rivalries catalyze technological innovation, they also lead to artistic achievement.
Korea has a government agency devoted to culture whose purposes include promoting the arts and providing financial support to artists. In 1993 the agency founded the Korea National University of Arts (K-ARTS), which encompasses music, drama, film, dance, the visual arts, and the traditional Korean arts. Most elite young Korean musicians have studied there. K-ARTS has a preparatory division, the Korea National Institute for the Gifted in Arts (KNIGA), which was established in 2008. Even though it is only 15 years old, it has already made its mark on the classical music world. Yunchan Lim, who currently studies at K-ARTS, studied at KNIGA as a teenager. KNIGA's Director has remarked that the program has resulted in a more sophisticated selection process for K-ARTS, as the university already has an intimate knowledge of many of its applicants.
The Korean government is generous in providing support to talented young musicians. The tuition fees at KNIGA are covered by the government. K-ARTS students can also receive government assistance; the documentary profiles a young musician who came from a struggling family and received a free education.
Korea's educational system used to be founded on a one-size-fits-all approach, but since the 1980s the government has become more attuned to gifted students' potential. A turning point in the history of gifted education in Korea was the passing of the Gifted and Talented Education Promotion Act in 2000: from 2003 to 2013, the number of institutions offering gifted education went from 400 to 2,868. The act's nationalistic underpinnings are made clear in its stated purpose: "to encourage [talented students] to develop innate potential, seek self-realization and contribute to [the] development of the nation and of society." This kind of language is absent from Western gifted education laws, which only mention meeting students' individual needs.[1]
Another factor is that classical music is a ubiquitous presence in South Korea. Korean children are exposed to classical music in school and in popular culture, so even those who are not musicians are familiar with it. An important effect of this is that musically-talented youth are more readily identified, just as athletic children are quickly identified in America, since everyone here knows what athletic ability looks like.
Koreans' celebration of prominent Korean classical musicians has also likely played a role in furthering Korea's success by inspiring younger people to follow in their footsteps. When Lim won the Cliburn last year, he became a rock star in Korea. His stunning performance of Rachmaninoff's Piano Concerto No. 3 currently has 11 million views and hundreds of comments in Korean.[2] The Korean Minister of Culture, Sports, and Tourism personally congratulated Lim on his victory, writing that he expected "to see more Koreans [show] their interest in the Korean classical music world after hearing about [his] achievement."
Yunchan Lim 임윤찬 – RACHMANINOV Piano Concerto No. 3 in D Minor, op. 30 – 2022 Cliburn Competition
The Korean mania for musicians such as Lim and Seong-Jin Cho is reminiscent of Van Cliburn's reception in America after his historic victory at the Tchaikovsky Competition in 1958, a year after the Sputnik launch. He was greeted with a ticker-tape parade upon his return to New York City and became a national hero. It is hard to imagine something similar happening in America today. Beyond the fact that Americans don't care about classical music, they don't take pride in the accomplishments of other Americans. There is nothing that unifies Americans apart from the fact that they occupy the same land mass. Meanwhile, South Korea is one of the most homogeneous countries in the world and boasts a population that is 96% Korean.
Homogeneity is conducive to civilizational achievement because it is easier for people to identify with and be inspired by the accomplishments of those who are like themselves. A common criticism of the concept of racial, ethnic, and national pride — which is exclusively directed toward white people — is that it is foolish to take pride in anything but one's own accomplishments. But we are heirs of past generations' creations and are part of a larger tapestry that includes them. This fact in itself does not confer innate superiority upon any individual white person (which seems to be what critics of White Nationalism think we believe), but it does mean we will have an affinity for our heritage and are entitled to take pride in it. Most people understand this intuitively, which is apparent in Leftist talking points about the importance of "representation" and "role models." (Their belief that the underrepresentation of minorities in certain fields is due to a lack of "role models" is obviously wrong, but their underlying premises are sound.) The effect of nationalism on national achievement is therefore twofold: national rivalries spur countries to innovate and create things, and national pride inspires subsequent generations to follow suit.
The documentary likewise attributes Koreans' success to their traditional Confucian values. Young Koreans respect their elders and want to honor their parents and teachers, which motivates them to work hard. This can be a double-edged sword, as they are accustomed to following instructions and can be reluctant to challenge authority. A German piano professor in the documentary comments that asking questions is an important part of European culture. This questing, independent spirit should be nurtured. A healthy balance should be found between entirely submitting to authority and discarding it altogether. Right now, white children are generally too disconnected from their elders and are overly influenced by their same-age peers.
Nationalism, inegalitarianism, and traditional values have all played an important role in Korea's rapid ascent in the classical music world. None of the above are especially popular with modern Westerners, but the West must embrace them if it is to regain its former prominence.
* * *
Like all journals of dissident ideas, Counter-Currents depends on the support of readers like you. Help us compete with the censors of the Left and the violent accelerationists of the Right with a donation today. (The easiest way to help is with an e-check donation. All you need is your checkbook.)
For other ways to donate, click here.
Notes
[1] Jaeboon Lee, Byoungjik Kang, & Deoknan Lee, "Law for Gifted and Talented Education in Korea: Its Development, Issues, and Prospects" (Turkish Journal of Giftedness and Education 2016, Vol. 6, Issue 1, 14–23).
Enjoyed this article?
Be the first to leave a tip in the jar!