Project Veritas Board Commits Organizational Suicide
Cyan Quinn
1,539 words
On February 10, Project Veritas' Board of Directors forced James O'Keefe out of the organization he founded in 2010. A statement released by the Board alleged financial misappropriation and mistreatment of employees — but his donors and followers aren't buying it.
Board minutes pasted in a video of James O'Keefe's final staff meeting suggest financial misconduct, indicating that he was reimbursed for a $12,600 downpayment on his wedding[1] O'Keefe is unmarried), and this memo presented to the Board on February 6 alleges that he ate a pregnant woman's sandwich.
While it is uncertain if the sandwich story is true, other allegations, such as the claim that a donor was denied a picture and "humiliated to the point of tears," are false. We know this because the donor came forward with a video of her own here criticizing the memo's author for misrepresenting their interaction. Andy Ngo of Post Millennial obtained a letter her husband wrote to Project Veritas disputing the grievances against James O'Keefe.
The husband of Dianna Remmers, a donor to Project Veritas, also sent an email to them disputing some of the grievances against @JamesOKeefeIII that resulted in him being placed on leave by the board. pic.twitter.com/9Sha9vMj1z

— Andy Ngô 🏳️‍🌈 (@MrAndyNgo) February 14, 2023
Furthermore, as reported by podcaster Tim Pool here, some of the employees who signed the letter acknowledged not having witnessed or experienced abuse, but they signed it anyway.
James O'Keefe later revealed text message conversations in a letter to his staff in which employees were offered a raise if O'Keefe was removed from the organization.[2] Thus, the Board member fishing for dirt was quite literally bribing employees. The Board meeting's agenda proposed "dissolution of PVA [Project Veritas Action] as an entity."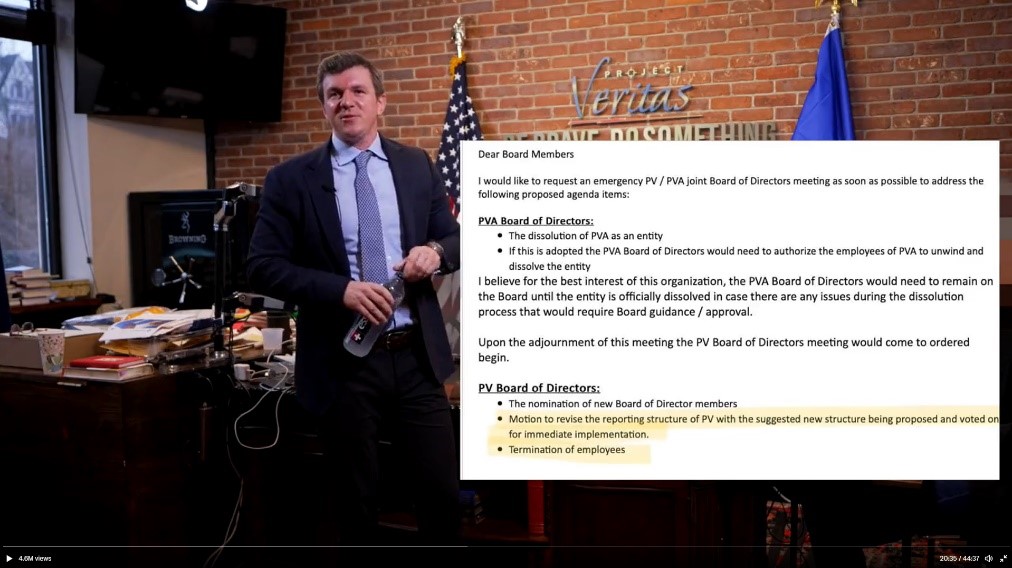 To those donors who are threatening to sue Project Veritas for violating Virginia charitable solicitation law for their actions against O'Keefe, Project Veritas doesn't exist without its visionary founder and public figurehead.[3] Whistleblowers who made this video in support of James O'Keefe reinforced in their media statement that "without James O'Keefe, there is no Project Veritas."[4]
We, the Whistleblowers of Project Veritas stand with James O'Keefe.

Retweet, if you #StandWithJames. pic.twitter.com/BCvRftLMkc

— Zach Vorhies / Google Whistleblower (@Perpetualmaniac) February 24, 2023
So who's behind this coup?
According to Old Row founder Michael Schwartz as well as others on social media, the coup's other "ringleaders" — albeit this is unverified — are:
Barry Hinkley: A man who includes pronouns in his LinkedIn bio and briefly served as Chief Strategic Officer before he was fired by O'Keefe after a disagreement regarding donor strategy.
Tom O'Hara: Chief Financial Officer, a recent hire also fired by O'Keefe.
Matthew Tyrmand: a Wall Street financial consultant and son of Polish-Jewish novelist and holocaust survivor Leopold Tyrmand. Tyrmand writes of himself that "[i]n America, I roam around Brooklyn and make money on Wall Street. In Poland, I love women and I drink mad dogs [a fortified wine]."[5] It is believed he is the initiator of a text conversation promising a Project Veritas employee a raise if O'Keefe is ousted, according to this report.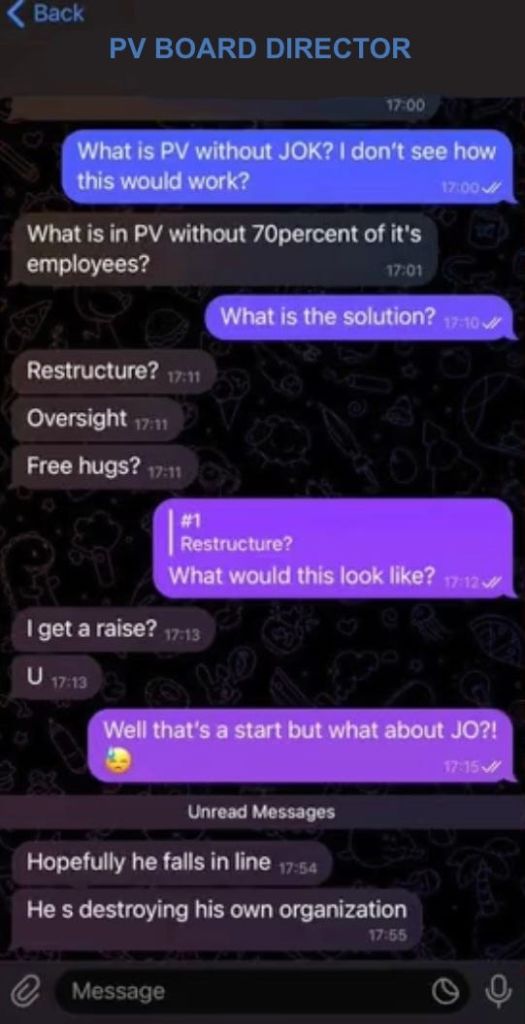 The Board was split 3-2 regarding O'Keefe's suspension, according to their meeting minutes.[6] In addition to Matthew Tyrmand, these other two Board members are:
Joe Barton: identified as "not the Congressman" by Schwartz, according to unverified reports this director reportedly was fishing for complaints about O'Keefe from employees. He was a director of Project Veritas Action Fund, according to the organization's 2020 tax forms.[7] He first appeared on the organization's tax forms in 2018.
John Garvey: Longtime Board member who wrote to O'Keefe that "[n]o one thinks managing people is in your wheelhouse, James."[8]
Board members who voted against O'Keefe's suspension include:
Steven Alembik: founder of a data analyst firm for corporations, political campaigns, and non-profits. He has also donated to Donald Trump, Laura Loomer, and Ron DeSantis. According to The Forward, he is generally pro-Israel but was ejected from the Florida chapter of the Zionist Organization of America's own board for tweeting "FUCK THE MUSLIM NIGGER" regarding Obama. The tweet was later deleted. He then apologized and donated to the Black Caucus.[9]
George Skakel: unknown. One of three directors of Project Veritas Action, according to the organization's 2020 tax forms referenced above. He has been there since at least 2015.
On the surface, the situation looks rather like a ham-fisted power-grab. But through its fearless reporting, Project Veritas has made some influential enemies, and this inspired additional suspicion of foul play among O'Keefe's supporters.
The Board's actions come just over two weeks after Project Veritas released the biggest story in its history. A Project Veritas journalist, posing as a homosexual love interest for Jordon (yes, that's how it's spelled) Trishton Walker, Pfizer's Director of Research and Development for its strategic operations and mRNA scientific planning, elicited information from Walker that Pfizer is engaging in questionably legal gain-of-function research by mutating the COVID virus. [10]
The sting garnered 50 million views, according to O'Keefe's meeting presentation, and provoked lawmakers, including Wisconsin Senator Ron Johnson, Michigan State Rep. Neil Friske, and Georgia Rep. Marjorie Taylor Greene to pressure Congress into investigating Pfizer and other vaccine manufacturers of colluding to profit off the American public, presumably by manufacturing more virulent strains of COVID for which they can continue producing boosters.
Unlike this exposé, in which a Food and Drug Administration employee suggested vaccinating blacks via blow darts, the Pfizer sting was too big to ignore. Given the timing, Right-wing commentators such as Stew Peters are quick to suggest that the sudden ouster is directly related to Pfizer.
Everyone should unfollow Project Veritas.

If you are a donor to Project Veritas, make sure you let them know that @MatthewTyrmand is the reason you're unfollowing and stopping donations.

This happened because Pfizer wanted James gone.

Let them know. https://t.co/QsZAcMvzgV

— Stew Peters (@realstewpeters) February 20, 2023
There's no doubt Pfizer and Big Pharma would like to destroy Project Veritas; so does the FBI, given that they've been trying to nail O'Keefe for 13 years. In November 2021, the FBI raided O'Keefe's home, as well as those of former employees Spencer Mead and Eric Cochran (the Pinterest whistleblower), searching for Ashley Biden's diary. Project Veritas purchased the diary from a woman who found it at a property where Ashley Biden had stayed. Project Veritas originally decided not to publish the diary — although it was later leaked to National File, here. Note that you can't Google it, but you can find it through a Duck Duck Go search. One of Ashley Biden's lawyers, Roberta Kaplan, who also filed Sines v. Kessler, is believed to have spurred the FBI investigation.[11]
This isn't the only time Project Veritas has ruffled the Biden administration's feathers. In December 2022, they exposed a child cheap-labor and sex trafficking scheme in which the Department of Social and Health Services (DSHS) places children with sex predators. The mainstream media was silent about it.[12]
The FBI has been harassing Project Veritas from its inception. In the letter he had been reading to his employees in this video (published by the Post Millennial here), he remembers
back in the carriage house days 13 years ago, the feds would come to my home to make sure I was inside my house — administer random drug tests, and rifle through my small expenses to make sure I wasn't lying about what I was spending a few dollars on. But back then, I was truly alone.
The FBI is now under scrutiny from the Select Subcommittee on the Weaponization of the Federal Government chaired by Rep. Jim Jordan of Ohio. The subcommittee was formed after the Twitter Files uncovered election interference through suppression of information, such as the Hunter Biden laptop story, and other suspicious activity, such as the FBI's regular "weekly syncs" with former head of Twitter moderation, Yoel Roth.[13]
Were Tyrmand, Hinkley, O'Hara, Barton, and Skekel so detached from reality that they thought they could relieve themselves of O'Keefe's human resources issues without destroying the organization he created? Or did Pfizer and/or the FBI give them an offer they couldn't refuse?
Regardless, we need to support James O'Keefe and his whistleblowers. In my role at Counter-Currents, I talk to people every day who are afraid of expressing their political views due to intimidation and harassment. We have our own whistleblowers who share with me the corruption and anti-white hate in their schools and their jobs. They write under pseudonyms in the hope they can change enough minds and encourage whites to organize for their own self-interests before we become a minority — and it's too late.
O'Keefe has gone on the offensive at great personal risk to himself to build an organization that makes them afraid. If you're an educator passing out butt plugs, a researcher for Pfizer, or a DSHS employee placing an illegal immigrant child with a sex offender, you might be talking to a Project Veritas journalist.
Sure, James O'Keefe may have human resources problems. And someone should get that pregnant woman a new sandwich. But as he put it in his staff meeting:
Leadership has a price and results often come at a human cost . . . Many people want the fruits of leadership such as its power, results, Twitter followings, secondary effects — but the price of the responsibilities, burdens, trials, hardships, difficult decisions, or just sheer suffering, I don't think people want that.
*  *  *
Counter-Currents has extended special privileges to those who donate $120 or more per year.
First, donor comments will appear immediately instead of waiting in a moderation queue. (People who abuse this privilege will lose it.)
Second, donors will have immediate access to all Counter-Currents posts. Non-donors will find that one post a day, five posts a week will be behind a "Paywall" and will be available to the general public after 30 days.
Third, Paywall members have the ability to edit their comments. 
Fourth, Paywall members can "commission" a yearly article from Counter-Currents. Just send a question that you'd like to have discussed to

[email protected]

. (Obviously, the topics must be suitable to Counter-Currents and its broader project, as well as the interests and expertise of our writers.)
To get full access to all content behind the paywall, sign up here:
Paywall Gift Subscriptions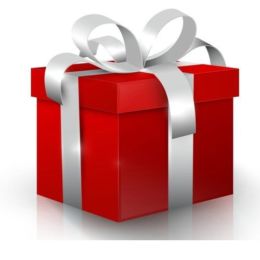 If you are already behind the paywall and want to share the benefits, Counter-Currents also offers paywall gift subscriptions. We need just five things from you:
your payment
the recipient's name
the recipient's email address
your name
your email address
To register, just fill out this form and we will walk you through the payment and registration process. There are a number of different payment options.
Notes
[1] https://twitter.com/JamesOKeefeIII/status/1630273732953382914?s=20 (44:35)
[2] "My Dear Project Veritas Team – Google Docs," uploaded by The Post Millenial on Scribd https://www.scribd.com/document/626914644/My-Dear-Project-Veritas-Team-Google-Docs#download&from_embed
[3] https://twitter.com/OldRowSwig/status/1624093172639887361?s=20
[4] https://twitter.com/Perpetualmaniac/status/1629234773590958080?s=20
[5] https://www.newsweek.com/matthew-tyrmand-project-veritas-james-okeefe-1782681
[6] https://twitter.com/phruzz/status/1627830615822282756?s=20
[7] https://projects.propublica.org/nonprofits/organizations/471809663/202141959349301979/full (p.7)
[8] Isaac Stanley-Becker, "Project Veritas claimed James O'Keefe risked group's nonprofit status," The Washington Post, February 21, 2023
[9] Ben Fractenberg, "Donor Gave $5K To Florida Black GOP Caucus Day After Report He Used N-Word," The Forward, October 10, 2018
[10] "Pfizer Executive: 'Mutate' COVID via 'Directed Evolution' for Company to Continue Profiting Off of Vaccines… 'COVID is Going to be a Cash Cow for Us'… ' That is Not What We Say to the Public'… 'People Won't Like That' … 'Don't Tell Anyone'," Project Veritas, January 25, 2023
[11]Andrew Rice, "Will Ashley Biden's Diary Take Down Project Veritas?," New York Magazine, January 16, 2023
[12] Eugene Gant, "Project Veritas Exposes Biden Regime Trafficking Sceme," VDARE, December 5, 2022
[13] Jason Kessler, "Twitter Files 1: Know Your Spooks," VDARE, December 13, 2022
Enjoyed this article?
Be the first to leave a tip in the jar!