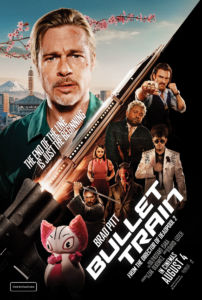 1,579 words
I am reviewing two films together because they don't merit stand-alone reviews, but I want to say something about them anyway. It is just a coincidence that they both star Brad Pitt.
First, the good news. If you like Guy Ritchie's comic crime capers like Snatch or Lock, Stock, & Two Smoking Barrels or The Gentlemen, you will love David Leitch's Bullet Train.
Guy Ritchie basically took Quentin Tarantino's formula of eccentric, wise-cracking criminals, non-linear narratives, and blood and guts, then purged it of all auteur pretensions. In other words, he sped it up. Tarantino also depicts non-whites as extremely cool, whereas Ritchie makes them figures of fun. Finally, Ritchie heightens Tarantino's dark comic aspects to the point of hilarity. Then, after getting us to laugh at some pretty sick stuff, he lets you escape the charge of complete nihilism by wrapping the film up with a more or less morally satisfying ending.
Leitch simply takes the Ritchie formula — lock, stock, and two smoking barrels — and combines it with breathtaking fights and stunts. This makes sense, since Leitch is a former stuntman and stunt coordinator turned action director. This is the first of his films I have seen, but I will definitely see more.
Bullet Train is set in Japan and takes place for the most part on a bullet train between Tokyo and Kyoto. Naturally, with a name like Bullet Train, this is a very fast-paced film. Naturally, given that the train is filled with assassins, there are plenty of bullets, but also knives, poison, and explosives. This being Japan, there are also swords, lots of swords, and the occasional geyser of blood.
Oddly, though, the cast contains very few Japanese. Most of the villains are white, even the local yakuza, but some are black and mestizo. Hollywood can get away with this sort of racial displacement in the West, largely because it is well-advanced in the real world, but it seems ridiculous in Japan. Maybe the Japanese should take it as a warning: This is their future if the Western establishment has its way.
Somehow Bullet Train stops on a dime, right on time, one station short of being just fun nihilism: technically perfect but morally empty, like most of contemporary culture.
There aren't any heroes in this movie, but at least some of the villains are relatively likeable: Brad Pitt, who is not a killer but merely a smash-and-grab artist, code-named Ladybug; a Japanese grandfather, who is a former yakuza; and his son, who is presently a yakuza, both of whom are looking out for their blood family, not a crime family.
There is, of course, a backstory to how all these characters end up on the same train trying to kill one another, but from then on, the plot is pretty much a series of increasingly hilarious accidents.
If you are looking for a witty, fast-paced crime caper, I highly recommend Bullet Train. Yes, I'll admit it is a guilty pleasure, but it is a genuine pleasure nonetheless.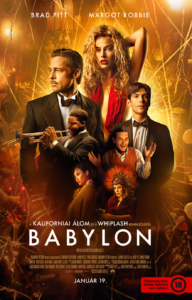 Now for the bad news. Damien Chazelle's Babylon is one of the worst films I have seen in years. Based on the buzz, I had no intention of seeing or reviewing it, but then I had the chance to view it with a friend in an old-fashioned movie palace from the era in which the movie is set. It seemed like a nice night out. Big mistake. At least it was a bonding experience to suffer through this abomination with a friend.
Babylon stars Brad Pitt as Jack Conrad, a silent movie leading man. Margot Robbie plays Nellie LaRoy, an up-and-coming silent movie actress. Diego Calva is the Mexican diversity casting. Li Jun Li is the Asian diversity casting (and plays a lesbian, to boot). Jovan Adepo is the black diversity casting.
Babylon is set in Hollywood the 1920s and '30s, the era in which silent movies gave way to the talkies. This was no minor transition, like the invention of color film. People still make black-and-white movies. But nobody makes silent films anymore. The invention of the talkies was what Heidegger called an "Ereignis": an event that changed the meaning of everything. Sound pictures ended the careers of many major actors and directors. But beyond that, sound so radically transformed how people view movies that silent cinema seems like an entirely different world. Indeed, it is a lost continent, like the fabled Mu or Atlantis, for in the rush to sound, an astonishing amount of silent cinema was never preserved, including the works of major actors and directors. (A major factor was the extreme flammability of the film stock, which made it dangerous to store.)
The shift to sound has been depicted before in the talkies: poignantly in films like Sunset Boulevard, farcically in films like Singin' in the Rain. Which brings us to the first problem with Babylon: It doesn't know what it is, a comedy or a tragedy. Why not both? A competent director could have pulled it off. But Chazelle doesn't.
There are some genuinely hilarious scenes in this film, but they are consistently undermined by excess or bad taste. One of the funniest sequences illustrates the early difficulties of shooting talkies: the need for silence on the set, the noisy camera enclosed in a soundproof booth, the fixed microphones. But the sequence is ruined when the cameraman drops dead of exhaustion.
The tragic elements of the plot don't really work, because before Hollywood destroys Jack Conrad and Nellie LaRoy, they needed to have been established as real and likeable characters, not just talents. But they were never more than cartoons.
The message of Babylon is also confused. The movie depicts Hollywood as utterly decadent. At first, it is just cartoonish, over-the-top, Elagabalus-level decadence. But somewhere in the third hour, Tobey Maguire as a drugged-out mobster appears and leads us into the depths of hell. It is genuinely unsettling, but like everything in this movie, it is deformed by excess.
The main characters, Jack Conrad and Nellie LaRoy, are dumpster fires as human beings: addicted to drugs and/or drink, and highly neurotic. But, as three of the film's best sequences illustrate, they are also phenomenally talented. Somehow, amidst the chaos of their own lives, as well as the chaos on the sets, they suddenly deliver moments of pure magic.
Okay, fine. But does the momentary magic redeem the utter decadence Chazelle displays on screen? Chazelle apparently wants us to believe it. But in the end, he's an industry spokesman who repeatedly demonstrates shockingly bad taste and judgment, so I am not buying it. He's either dishonest or nuts if he doesn't think that any healthy society would destroy his Hollywood with fire and then salt the earth.
This film's racial politics are disgusting as well. The basic plot arc is that the white characters die and the non-whites persist. We call this the Great Replacement.
Diego Calva's character ends up running a store in New York City. Li Jun Li's Chinese lesbian character goes on to success in Europe. Jovan Adepo's character, a black jazz trumpeter who lists his influences as Scriabin and Rachmaninoff, has a brief career in the movies but leaves after being asked to don "blackface": makeup to darken his skin to counteract the bleaching effects of the spotlight. I guess we are supposed to believe that this was some sort of racist atrocity akin to lynching.
I was astonished in the third hour when Diego Calva's Mexican character, whose name never even registered with me, reappears 20 years after all the other principals are dead or departed. He's also the first character on screen, so I guess that makes this movie about him, whoever he is.
Babylon has many superb performances. Margot Robbie is truly outstanding. Chazelle's technical skills are remarkable as well. But Babylon, like its characters, is destroyed by excess and bad taste.
In the film's first few minutes, we are treated to an elephant shitting on a man's head, then a whore pissing on a disgustingly fat man. Then there's an orgy. Then the whore ODs. In the second hour, there's a cartoonish sequence where Nellie LaRoy fights a rattlesnake and loses, with absolute oceans of blood. In the third hour, we are treated to projectile vomiting. Then there's incessant spitting, the circus geek who eats live rats, and a double murder with more oceans of blood. In the fourth hour, there is an endless montage of clips from other movies, then some trippy blobs and swirls of Technicolor's basic pigments.
Yes, there is a fourth hour. Babylon runs 189 minutes. Three hours and nine minutes. With no intermission. This Chazelle kid doesn't know when to quit.
But the decadence on the screen pales by comparison to the decadence behind the scenes that made such a movie possible. Babylon is an expensive box-office bomb. In fact, it has to be one of the most predictable box office bombs in all of history. Moreover, it did not have to come out this way. There is enough excellent material here to produce a good two-hour film. But apparently, there were no adults in the room, nobody with the sense to say "no" and demand a radical recut. This is how we ended up with the Covid debacle, months of BLM riots, and the Biden presidency. This is how we will end up with Trump 2024. Civilizations end when there's nobody in power to say "no" to bad ideas. Fortunately, at least moviegoers can say no to Babylon.
*  *  *
Counter-Currents has extended special privileges to those who donate $120 or more per year.
First, donor comments will appear immediately instead of waiting in a moderation queue. (People who abuse this privilege will lose it.)
Second, donors will have immediate access to all Counter-Currents posts. Non-donors will find that one post a day, five posts a week will be behind a "Paywall" and will be available to the general public after 30 days.
Third, Paywall members have the ability to edit their comments. 
Fourth, Paywall members can "commission" a yearly article from Counter-Currents. Just send a question that you'd like to have discussed to

[email protected]

. (Obviously, the topics must be suitable to Counter-Currents and its broader project, as well as the interests and expertise of our writers.)
To get full access to all content behind the paywall, sign up here:
Paywall Gift Subscriptions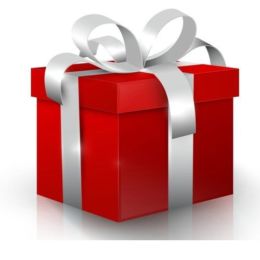 If you are already behind the paywall and want to share the benefits, Counter-Currents also offers paywall gift subscriptions. We need just five things from you:
your payment
the recipient's name
the recipient's email address
your name
your email address
To register, just fill out this form and we will walk you through the payment and registration process. There are a number of different payment options.