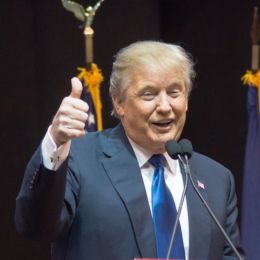 1,123 words
Victor Hugo famously said that nothing can stop an idea whose time has come. Unfortunately, that also applies to bad ideas. Daniel Patrick Moynihan reportedly quipped that affirmative action is a bad idea whose time has come. I feel the same way about Donald Trump's third run for the White House.
In 2015-2016, I was a fervent Trump supporter because he dared question the establishment dogma that economic globalization and immigration are good things. But, although Trump was successful in injecting nationalist and populist ideas into political debate, most of his policies came to naught because of a hostile establishment, political naïveté, and his own weak character.
By 2020, I supported Trump's reelection simply because he was better than Joe Biden. I had given up on the idea that Trump would do anything to stop the Great Replacement, but I thought that he would at least slow it down, which would give our movement more time to do something about it. As I predicted, Biden has accelerated white dispossession, but at least we can console ourselves with the fact that he has also accelerated the rise of white racial consciousness.
However, we are not going to win by losing, as the accelerationists think. Eventually, we will need actual political victories, principally on immigration. At this point, it is unclear if any prospective Republican presidential candidates will offer credible immigration reform. What is clear, however, is Trump's record of failure on what for us should be the central issue. What's he going to do? Promise us a wall? Indeed, Trump's failure on immigration is so embarrassing that he will probably try to avoid the whole issue.
Trump won in 2016 on a national populist platform with the slogan Make American Great Again. By the 2018 midterms, he was a shadow of his former self, but when he floated the idea of ending birthright citizenship, I felt a shred of hope. By 2020, the swamp had consumed him. In 2020, he ran and won again as a normie Republican with the slogan Keep America Great, as if he had spent the past four years keeping his promises and had really Made America Great Again. Trump discovered that the American political establishment is fanatically opposed to any policies that would help preserve the white majority and our way of life. Eventually, he threw in the towel and took the path of least resistance. There's no opposition to giving favors to Jews and blacks, so he did plenty for them, including the flurry of shameful pardons he gave to Jewish swindlers and black rappers as he exited the White House, leaving the January 6th protestors to be tormented by his enemies for the last two years.
Trump's midterm endorsements were a mixed bag. Some were good, like Vance and Masters, but others were terrible, like Herschel Walker and Mohammed Genghis Oz. What do these endorsements have in common? Commitment to nationalist and populist principles? That would explain Vance and Masters, but not Walker and Oz. In truth, the only thing these candidates have in common is that they buttered Trump up sufficiently to get his endorsement. Trump, in short, is an unprincipled egomaniac, and it would be very foolish to depend on him for anything. Trump was worth a try in 2016. He was better than Biden in 2020. On a whim, Trump might say and do good things in the future. But at this point, it is silly to expect anything good from him.
Trump's speech announcing his candidacy was shockingly bland in content and low-energy in presentation, focusing on such traditional Republican themes as economics, law and order, and foreign policy, with precious little on immigration. Instead, Trump's main objections to the collapse of our Southern border are now the flow of drugs and "human trafficking" rather than the flow of millions of migrants. The whole speech sounded like it was the product of many hands: pollsters, political consultants, and focus groups. It was heavy on bragging and superlatives, which are definitely Trump's hucksterish touches. What it lacked was the old Trump energy and the nationalist, populist red meat that put him in the White House in 2016. Is Trump trying to "normalize" himself? Is he counting on a backlash to put him into power? Backlash politics didn't produce a Red Wave in 2022, and it won't sweep Trump back into the White House in 2024.
I am old enough to remember how the hapless Bob Dole became the Republican nominee to save us from the Clintons in 1996. Did anyone, even Bob Dole, believe that he was the best candidate? Probably not. Did anyone think he was a particularly strong candidate? Again, probably not. Then how did he become the candidate? Why weren't people more willing to open up about their reservations? Because, although nobody was particularly thrilled about him, he had "name recognition," and he had been around for a long time. So doesn't that mean that at least some people think well of him? He's been elected to the Senate, after all. Doesn't that mean he is "electable"? Besides, the most important thing is beating the other guy. We have to come together to beat the other guy. And isn't the other guy so terrible that we don't really have to come up with the best candidate? So why fight about the best candidate, when really any candidate will do? Come to think of it, this is precisely how the Democrats ended up with Joe Biden as their champion in 2020. This is how bad ideas triumph. 
The bad idea of Trump 2024 will be unstoppable only if people are willing to keep their reservations to themselves because they are intimidated by real or imagined opposition, or if they think that giving in to cynicism is the mature thing to do. Thus, it is important to create safe spaces where people can share their reservations about Trump and dream a little about what would constitute an ideal candidate. Counter-Currents is one such safe space. What are your thoughts?
The most widespread argument for supporting Trump in our circles now is that he would trigger the Left and further polarize the electorate. This is true. Another Trump campaign will certainly be destructive. It will also provide a lot of nihilistic entertainment for the extremely online. But this argument pretty much concedes that no pro-white policy victories can be expected from Trump. It is essentially an accelerationist position.
But, again, we will not get a white homeland with an ever-snowballing losing streak. We won't win simply by triggering and owning the libs. At a certain point, pro-white policies have to win out. That's going to be a long journey, and the first step is to articulate pro-white policies and organize ourselves as a political bloc that politicians must cater to. We should begin that journey today.
* * *
Like all journals of dissident ideas, Counter-Currents depends on the support of readers like you. Help us compete with the censors of the Left and the violent accelerationists of the Right with a donation today. (The easiest way to help is with an e-check donation. All you need is your checkbook.)
For other ways to donate, click here.